Frontier
Our Fully Indoor Riding Arena
The Frontier indoor riding arena is a fully indoor equestrian facility designed for year round riding. This clear span structure features high-quality cedar and Douglas fir siding that will add value and interest to your property.
This kit is designed with durable wood posts and angle-iron steel trusses, this arena doesn't just look beautiful, it's simply a better investment than a metal building. With a skilled builder and proper maintenance, this elegant arena will serve generations of equine lovers.
Options & Upgrades
The Frontier arena kit has a timeless and dependable design that allows for countless options and upgrades. From barn wood to horse stalls, you can customize your kit to accommodate all of your equestrian needs.
Materials
The Frontier riding arena kit comes complete with a comprehensive materials package.
Enclosed Riding Arena

16' Sidewall

5' Rub Rail

4/12 Roof Pitch

Steel Trusses

Steel Gable Vents

6" x 12" Pressure Treated Arena Posts

Select Tight Knot Cedar Board and Batten Siding on Gable Ends

Select Grade Douglas Fir Tongue & Groove Siding

Select Tight Knot Cedar Trim & Fascia

1/2" CDX Roof Sheathing
Sets Classic Equine Steel-Framed Black Powder Coated Sliding Barn Doors w/Select Grade T&G Wood Fill

2" x 6" Wall Framing on Shear Walls

T&G Shear Wall Int Coverings

Rain Screen Exterior Wall Protection System w/Vapor Barrier on Shear Walls

Connection Hardware

Detailed Blueprints w/Engineering (county specific engineering upgrades available)

Detailed Digital Blue prints w/Standard Structural Engineering

Builder Support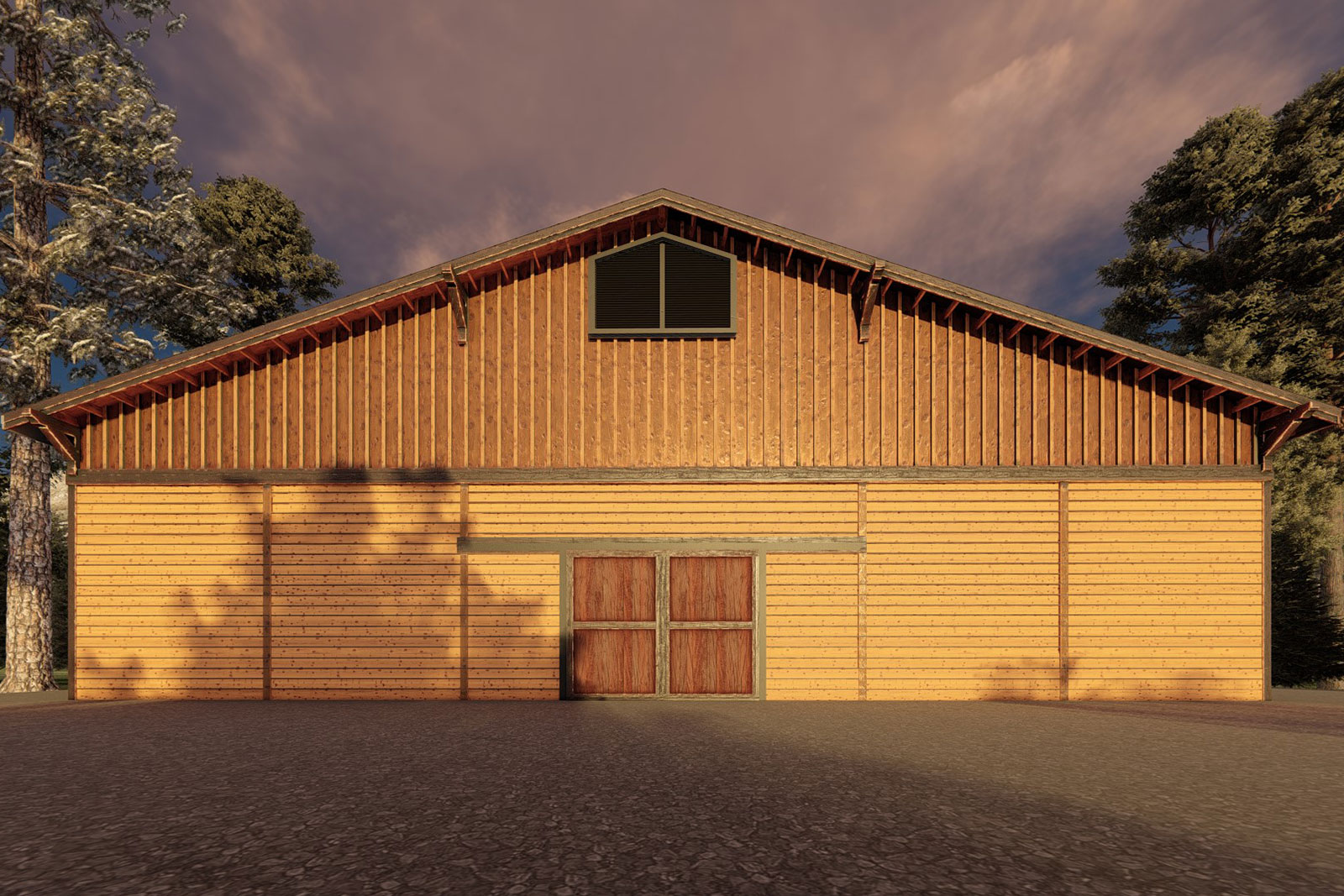 "I'm not that easy to please, but I can tell you DC structures not only met but exceeded my expectations."

— Bob Coen—Damascus, OR

"Our animals are around us constantly; we are able to have our dogs, horses and cats in one location so we don't have to be commuting to take care of them."

— Jeff Meyer—Fairplay, CO

"We've lived on this property for 22 years and it's a wonderful piece of property with spectacular views. The barn looks like it should have always been here."

— Brian Sonnenberg—West Linn, OR

"This is just the most beautiful landscaped structure; we love looking at it."

— Leslie Schoradt—Penn Valley, CA

"It's the best when you start to see to see it all come together, when you realize that the choices you made were the right ones."

— Chris Higley—Bend, OR
Looking for more kits?
Our kit collections have been carefully designed to accommodate any purpose or function. Explore our other barn kit options to find the best fit for you.