THE 
PRAIRIE 60′
The Prairie 60′ is perfect for equestrian enthusiasts.
This covered riding arena kit is the simplest way to build an attractive all-weather riding facility. Starting at 7,200 sq. ft. of wide-open riding space, this 60′ wide arena is the perfect addition to any property. All kits can be extended from 120′ to 240′ in length.
Designed with durable wood posts and angle-iron steel trusses, this arena doesn't just look beautiful, it's simply a better investment than a metal building. With a skilled builder and proper maintenance, this elegant arena will stand for decades.
Don't let the weather rain on your parade with this all-seasons riding arena.
Prairie 60′
Specifications
This arena kit is builder-ready.
16′ Sidewall
60′ Steel Trusses
4/12 Roof Pitch
120′ to 240′ Length
"I'm not that easy to please, but I can tell you DC structures not only met but exceeded my expectations."

— Bob Coen—Damascus, OR

"Our animals are around us constantly; we are able to have our dogs, horses and cats in one location so we don't have to be commuting to take care of them."

— Jeff Meyer—Fairplay, CO

"We've lived on this property for 22 years and it's a wonderful piece of property with spectacular views. The barn looks like it should have always been here."

— Brian Sonnenberg—West Linn, OR
Prairie 60′

Floor plan

This arena kit can be adapted to meet your property's needs.
Floor Plan Details
All-weather riding in your own backyard.
This example floor plan shows our standard 120′ arena length, great for the amateur riding or equestrian enthusiast. The Prairie 60′ can be extended up to 240′ in length.
Additional resources include:
Build support from real builders
All hardware necessary for assembly
Site-specific structural engineered blueprints
What materials come with the Prairie 60′ arena kit? Download our materials list and learn more!
See how our clients have modified their kits.
With hundreds of upgrades to choose from, the possibilities are plenty.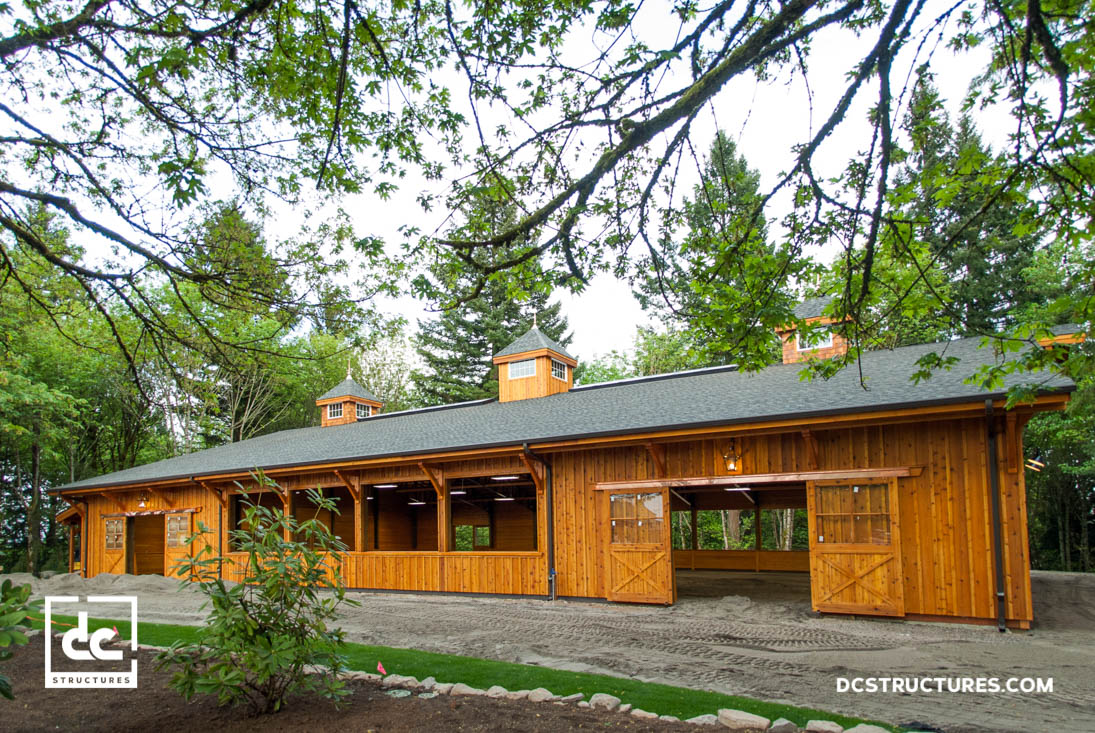 West Linn, OR
This stunning Prairie arena kit is perfect for all-weather riding. With ample space for the horses to roam and a heated and enclosed viewing space, everyone is comfortable regardless of the temperature.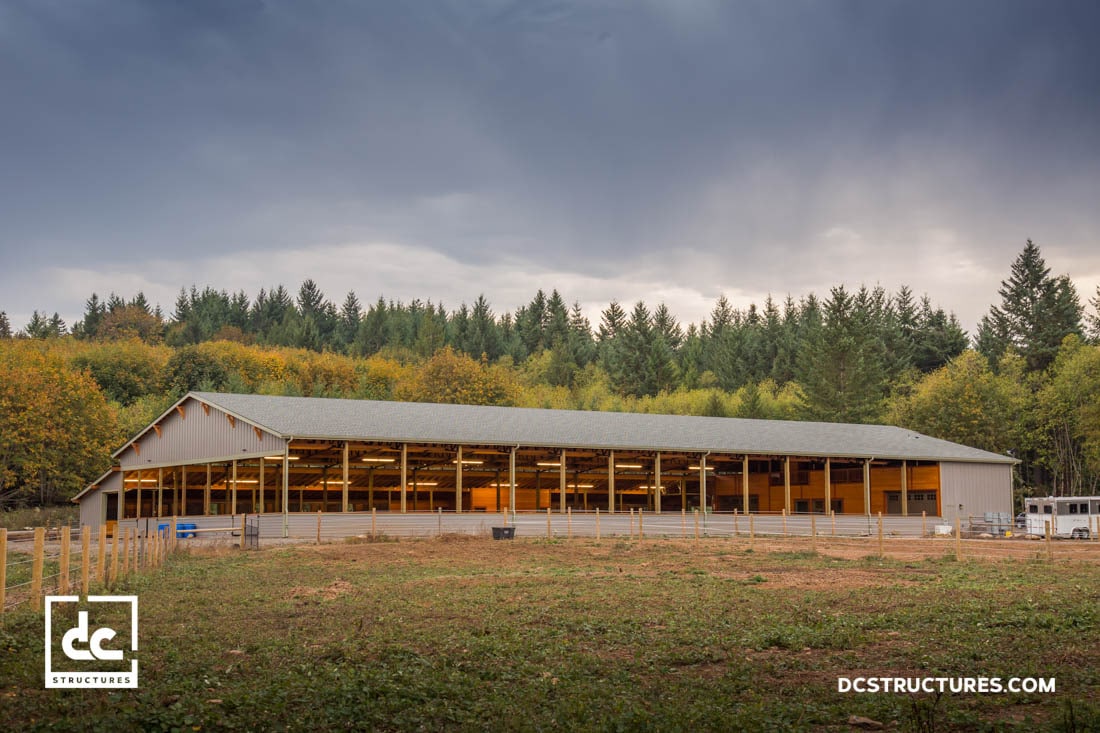 Oregon City, OR
This one-of-a-kind equestrian facility built out of a Canyon 80′ arena and stables kit features ten horse stalls, two wash bays, a beautiful tack room, an 80' x 168' riding arena, two 24' x 24' garages, and a 1,300 sq. ft. apartment.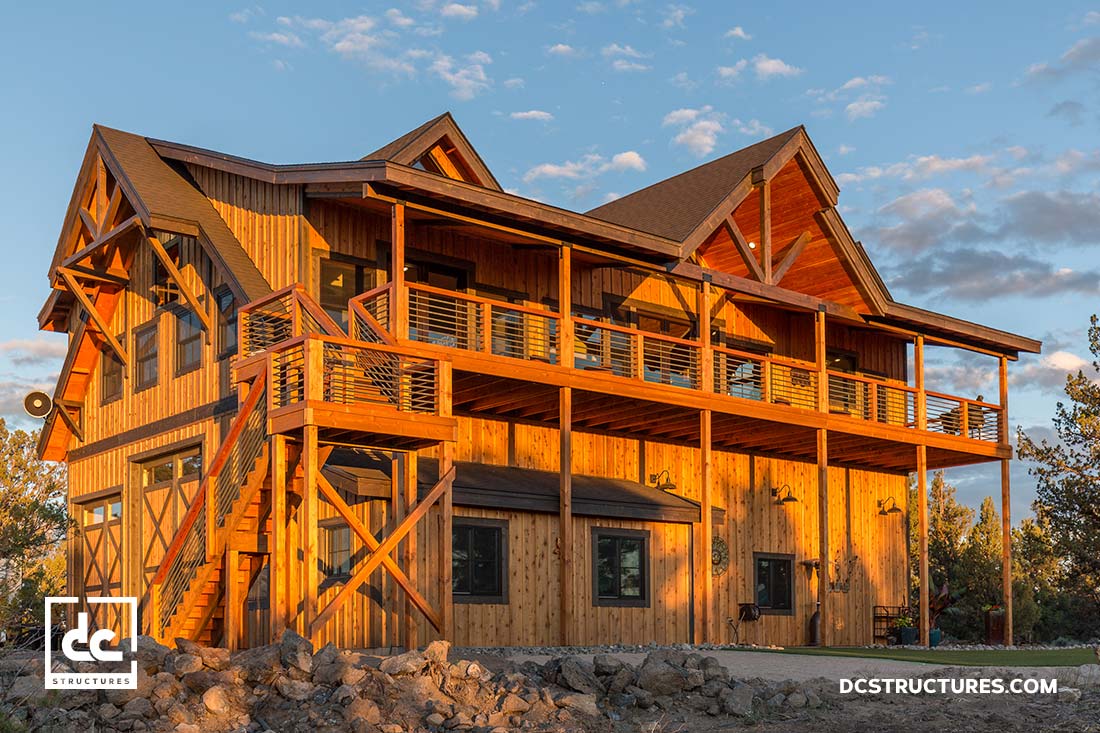 Bend, OR
This massive Oakridge garage with living quarters is a perfect example of how work and play can coexist elegantly. Above the ground-floor multi-use garage sits a spacious two-bedroom home replete with open-concept kitchen, living and dining area.
Need a different size? Great news!
The Prairie arena kit comes in four sizes! View the other sizes below!