FLEX Design
Sometimes you need a little flexibility.
DC Structures offers an innovative line of building kits that are easily modified to suit your lifestyle needs. While we stand behind our diverse selection, we also understand that sometimes you need a little flexibility. That's why we've added our new Flex Design process, so you can get the most out of your pre-engineered materials package.
Somewhere between a standard kit design and a custom build, our Flex Design option enables you to make structural adjustments that honor your vision more fully. This includes fundamental changes to the building such as height or width, removal of posts, changes to roof pitch and custom upgrades like a deck or covered porch—all for less than a custom build!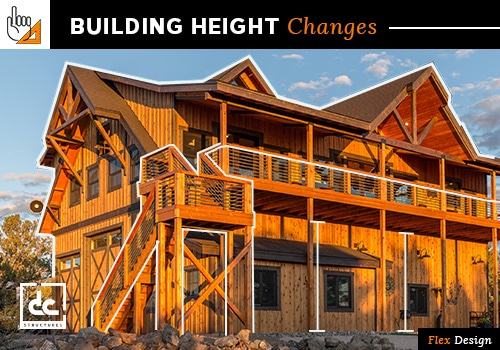 Take your building to new heights with our Flex Design building height option. If our general floor height doesn't quite satisfy your vision or lifestyle needs, we can bring things up to your standards. Here's what you can do with all that extra height:
ENJOY DRAMATICALLY OPEN INTERIORS
DC Structures' kits already enjoy sweeping interiors due to their post-and-beam construction style. Upping the building height will increase this effect.
MAKE ROOM FOR YOUR HOBBIES
If you need more storage space for your RV or room to spread out and hone your craft, taller ceilings become less of an aesthetic perk and more of a necessity.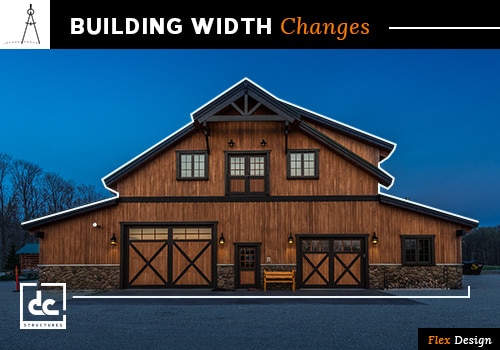 Broaden your structure's appeal with our Flex Design building width option. If you're looking for a wider span than our standard kit models, we can grow into your expectations. Here's what that extra width can net you:
ADD TO YOUR COLLECTION
Do you consider yourself a collector? Whether it's classic cars or outdoor equipment, we can up the ante so you definitely have enough.
MORE ROOM FOR ACTIVITIES
Are you clumsy? Do your kids need extra space to run around and burn off energy? If so, expanding your space is a great way to make indoor activities safer for all.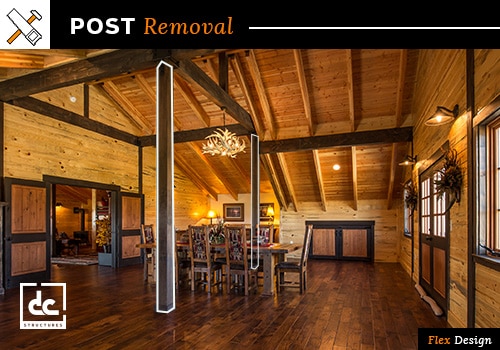 Embrace the less is more mentality with our Flex Design post removal option. If our post-and-beam placement is getting in your way, we can maintain structural reliability without the columns. Here are some benefits to paring down on posts:
OPEN UP THE SPACE
We really enjoy wide open interiors, but if you don't think our sweeping layout goes far enough, we can remove posts to open the space further.
BRING YOUR WORKSHOP UP TO SNUFF
If your structure will be used for a home business or manufacturing operation, we can give you all the space you need sans pesky post impediment.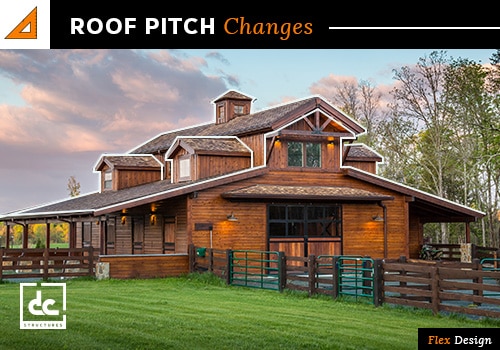 Approach your building's canopy from a new angle with our Flex Design roof pitch option. Whether your reasons are aesthetic or structural, we can adjust the crown of your structure to better suit your needs. Here are some reasons for altering roof pitch:
INCREASE STRUCTURAL LOAD BEARING
If you live in a place with heavy snowfall or severe winds, structural improvements like larger posts and beams or specialized connection hardware may be desired to ensure your building can stand up to extreme weather conditions.
ALTER SECOND-STORY SPACES
Not really feeling what's going on upstairs? Changing your roof pitch will also change the look, feel and function of your top-level rooms.
REQUEST A FREE DIGITAL CATALOG
---
Start planning the barn of your dreams with the latest DC Structures product catalog, containing loads of information on pricing, materials, options and upgrades, photos, videos and more.