THE 
Columbia 48′
This classic American barn can house up to eight horse stalls.
This mid-sized Columbia barn kit is a functional and attractive structure that can be adapted to suit your requirements. With 1,728 sq. ft. of space, the Columbia 48′ is the perfect barn for up to eight horses or plenty of vehicles and equipment. This barn comes with a center aisle loft that can be upgraded to a full loft to nearly double your square footage.
The Columbia 48′ was designed to be constructed using the durable post and beam method, meaning this barn will stand for generations to come. All our Columbia barn kits include two steel-framed breezeway doors, a steel-framed hayloft door, center aisle loft, an open shed roof and an iconic cupola. This classic barn is an elegant solution for your equestrian, workshop, or creative needs.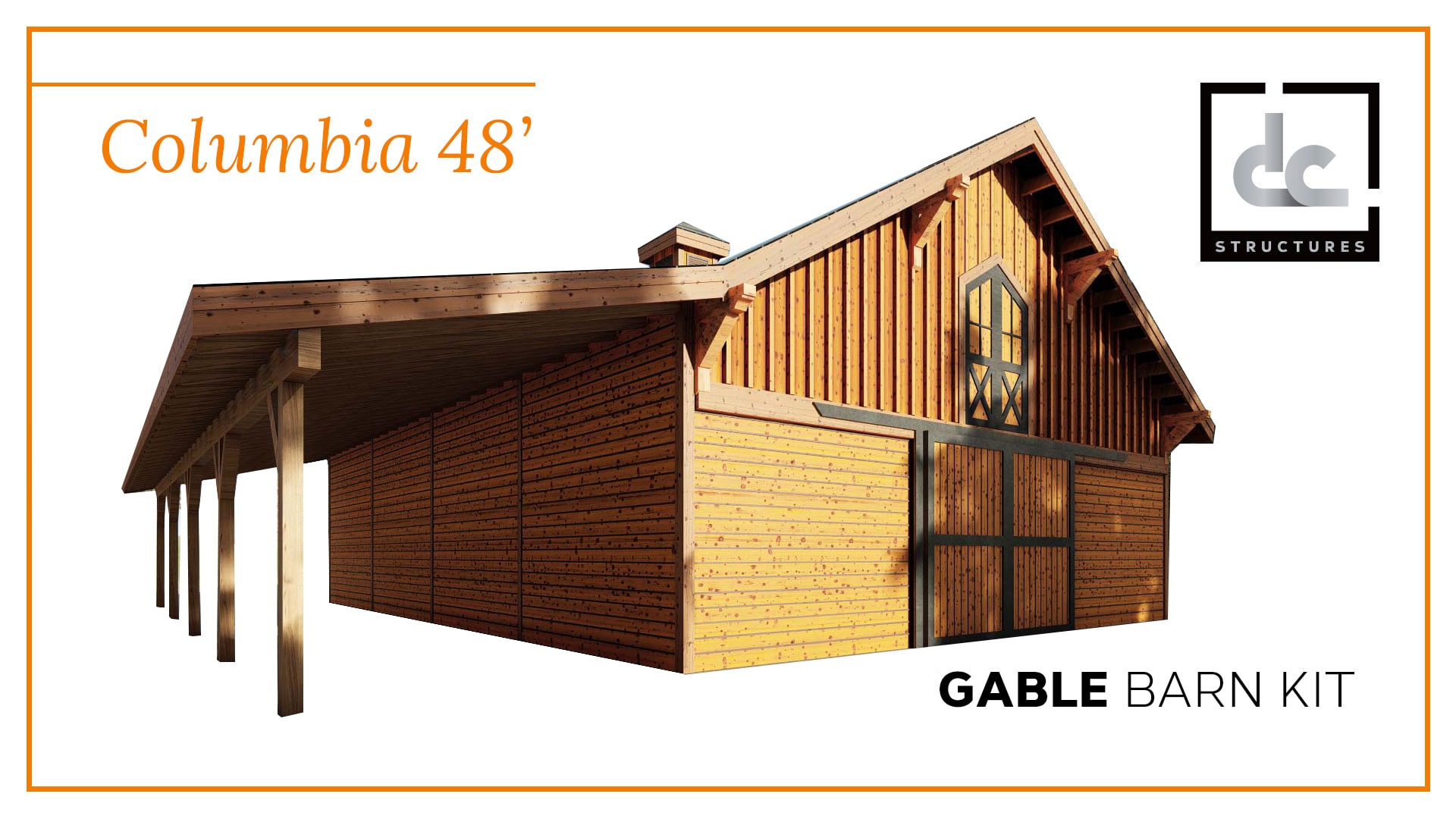 Durable post and beam construction means this barn is built to last.
Columbia 48′
Specifications
This builder-friendly barn kit is ready for construction.
12′ Breezeway
48′ Open Shed Roof
Custom Cupola
Cedar Siding
Center Aisle Loft
Douglas Fir Posts
2 Breezeway Doors
Hayloft Doors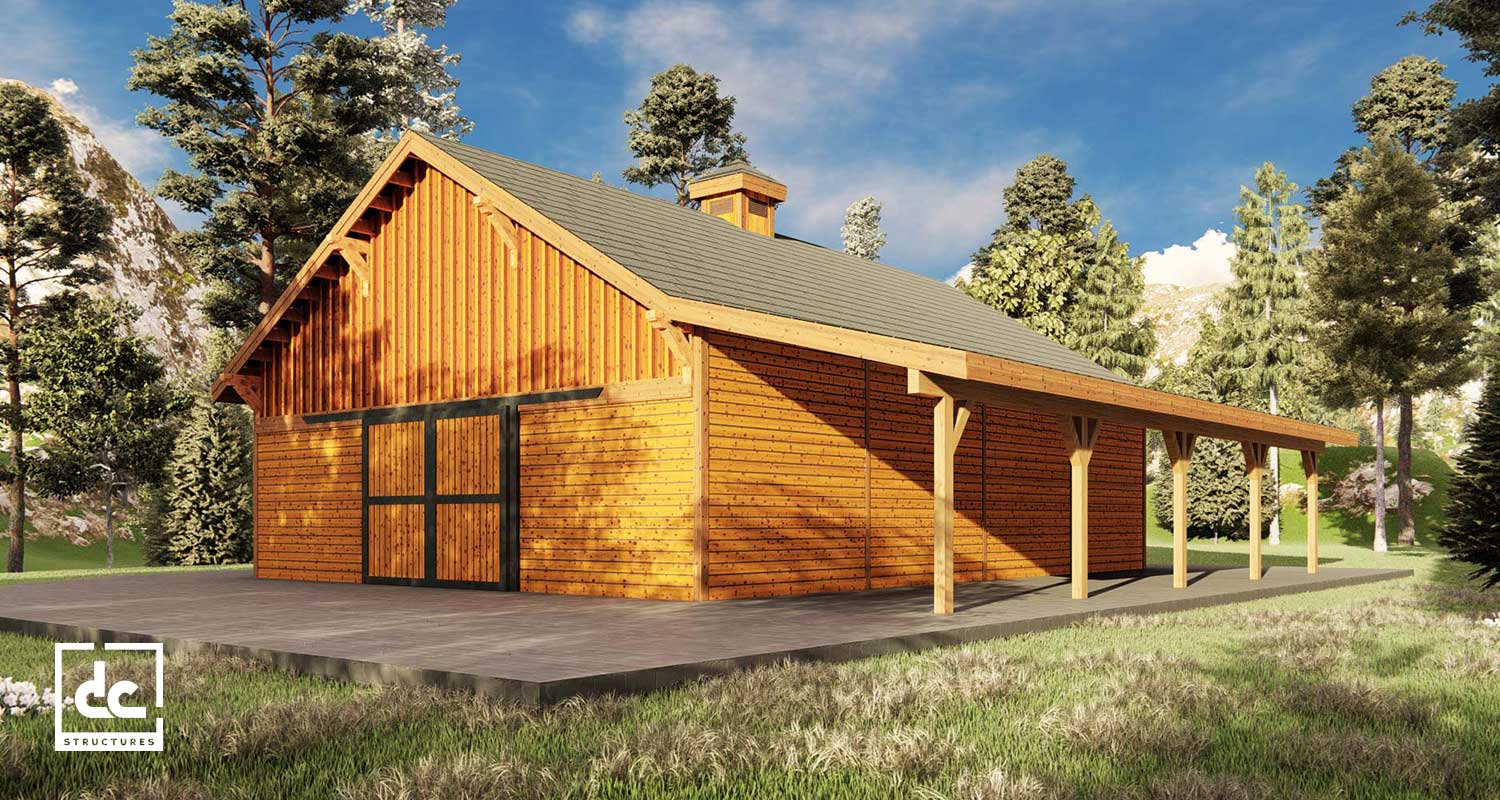 "I'm not that easy to please, but I can tell you DC structures not only met but exceeded my expectations."

— Bob Coen—Damascus, OR

"Our animals are around us constantly; we are able to have our dogs, horses and cats in one location so we don't have to be commuting to take care of them."

— Jeff Meyer—Fairplay, CO

"We've lived on this property for 22 years and it's a wonderful piece of property with spectacular views. The barn looks like it should have always been here."

— Brian Sonnenberg—West Linn, OR
Columbia 48′

Floor plan

This construction-ready barn package can be modified to suit your needs.
Floor Plan Details
Your dream barn awaits you.
This example floor plan is just one of many possible configurations for the Columbia 48′. With six horse stalls and rooms for wash and tack, this pre-engineered barn package has all the equestrian amenities you need. Opt for up to 1,728 sq. ft. of additional space by upgrading your second-story loft. Your selection of upgrades will make this highly adaptable and attractive package the barn of your dreams.
Additional resources include:
Build support from real builders
All hardware necessary for assembly
Site-specific structural engineered blueprints
What materials come with the Columbia 48′ gable barn kit? Download our materials list and learn more!
Need some inspiration for your own barn kit project?
See how these clients modified their plans to suit their needs.
West Linn, OR
This Prairie arena provides a covered space for riding in all seasons. With an enclosed viewing room and top-of-the-line infrared heaters, weather never has to rain on these clients desire to pursue their equestrian hobbies.
Damascus, OR
This backyard party barn offers a great mix of work and play. The modified Columbia features a workshop and mudroom, as well as a custom bar and upstairs loft. Upgrades to the second-floor deck make for a great place to gather, rain or shine.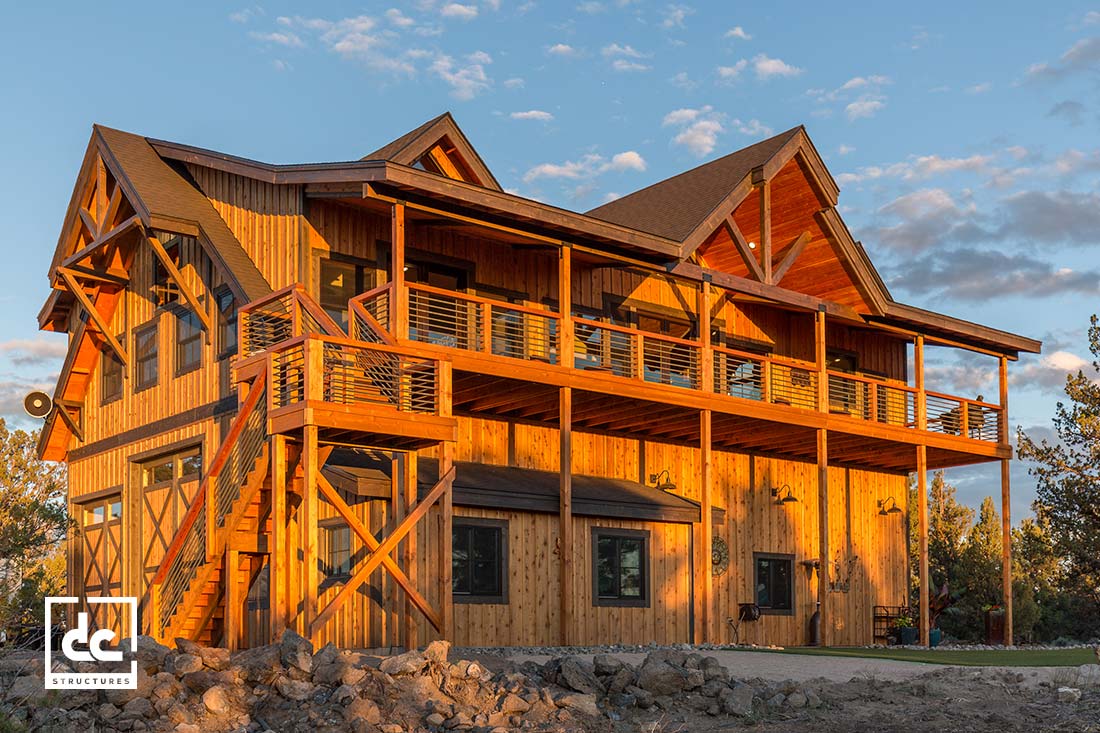 Bend, OR
This modified Oakridge garage with living quarters sits on a gorgeous piece of land in Central Oregon's high desert landscape. Upstairs, a sweeping open-concept kitchen, dining and living room area makes for an inviting and luxurious home.
Need a different size? Great news!
The Columbia gable barn kit comes in five sizes! View the other sizes below!