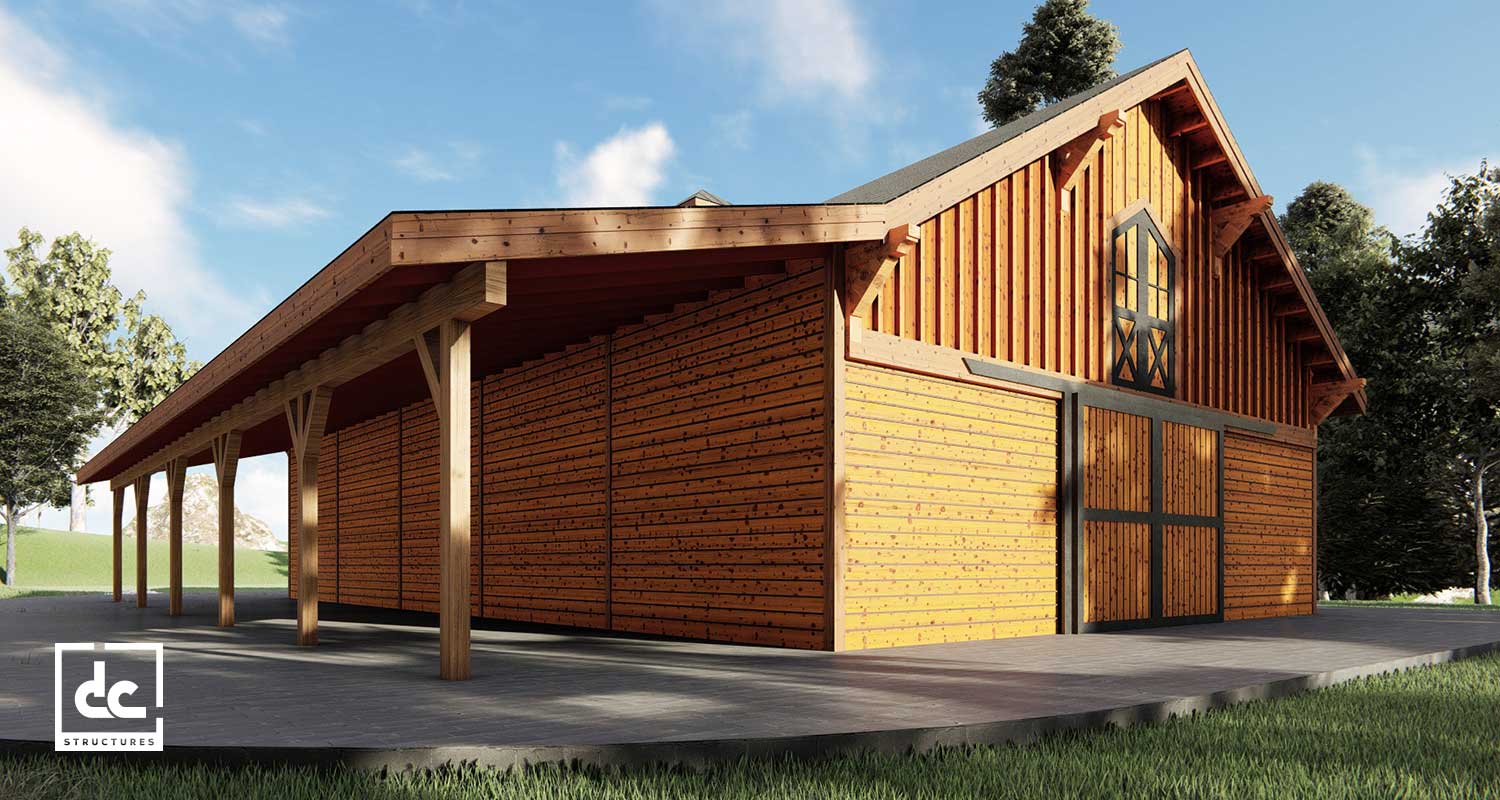 The Columbia 60′
Horse Barn Kit
This stunning barn package can host up to 10 horses.
THE 
COLUMBIA 60′
This gable-style barn kit is a deluxe best-seller.
The Columbia 60′ boasts 2,160 sq. ft. of space to house your horses. With a number of upgrades and finishes to choose from, this deluxe barn package can be adapted for your equestrian needs with our high-quality galvanized steel-framed stall fronts and dutch doors, as well as stall mats, chew protection and stall dividers.
This barn package is built to last, as the design relies on the proven method of post and beam construction. All kits come standard with two steel-framed breezeway doors, a steel-framed hayloft door, 60′ open shed roof, center aisle loft and an iconic cupola. Pacific Northwest Douglas fir exposed posts add a touch of rustic elegance to this classic barn design.
The Columbia 60′ is our most popular large barn package.
Columbia 60′
Specifications
This classic gable-style barn package has everything you need to get started.
12′ Breezeway
48′ Open Shed Roof
Custom Cupola
Cedar Siding
Center Aisle Loft
Douglas Fir Posts
2 Breezeway Doors
Hayloft Door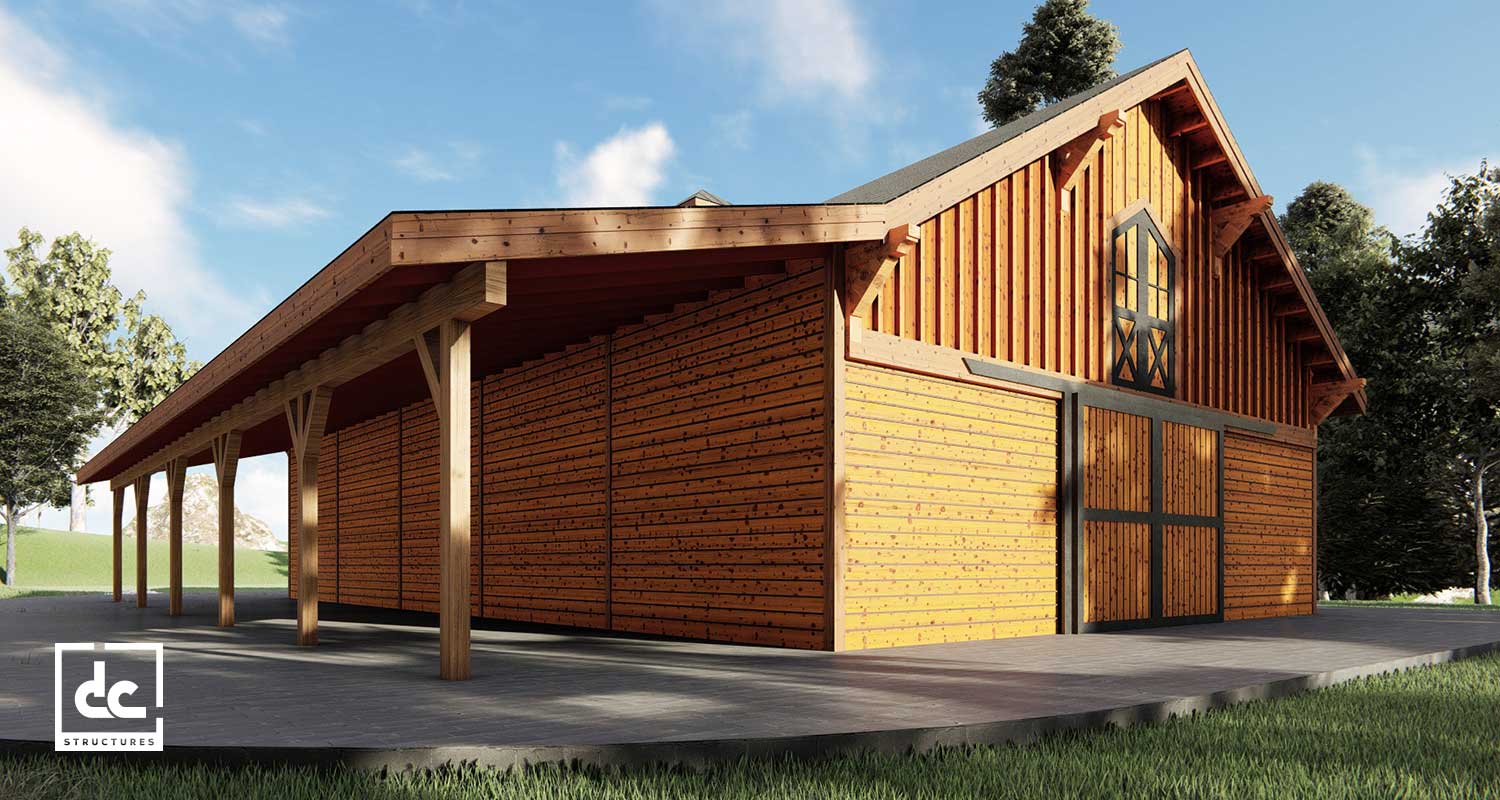 "I'm not that easy to please, but I can tell you DC structures not only met but exceeded my expectations."

— Bob Coen—Damascus, OR

"Our animals are around us constantly; we are able to have our dogs, horses and cats in one location so we don't have to be commuting to take care of them."

— Jeff Meyer—Fairplay, CO

"We've lived on this property for 22 years and it's a wonderful piece of property with spectacular views. The barn looks like it should have always been here."

— Brian Sonnenberg—West Linn, OR
Columbia 60′

Floor plan

This pre-engineered barn package can be adapted to suit your lifestyle.
Floor Plan Details
Welcome your horses to the good life.
This example floor plan is just one example of how the Columbia 60′ can be modified to meet your needs. Featuring eight spacious horse stalls and two rooms for wash and tack, this pre-engineered barn package is a practical and attractive solution for your property. Upgrade from the standard center aisle loft to a full loft and nearly double the overall square footage.
Additional resources include:
Build support from real builders
All hardware necessary for assembly
Site-specific structural engineered blueprints
What materials come with the Columbia 60′ gable barn kit? Download our materials list and learn more!
Our flexible designs make it easy to modify your kit.
See how our clients have made their kits their own.
Cornelius, OR
This apartment barn boasts two horse stalls with amenities on the ground floor and over 1,000 sq. ft. of living space on the second. With a host of sustainable upgrades like a solar panel and electric car charging station, this modified Oakridge is practical and efficient.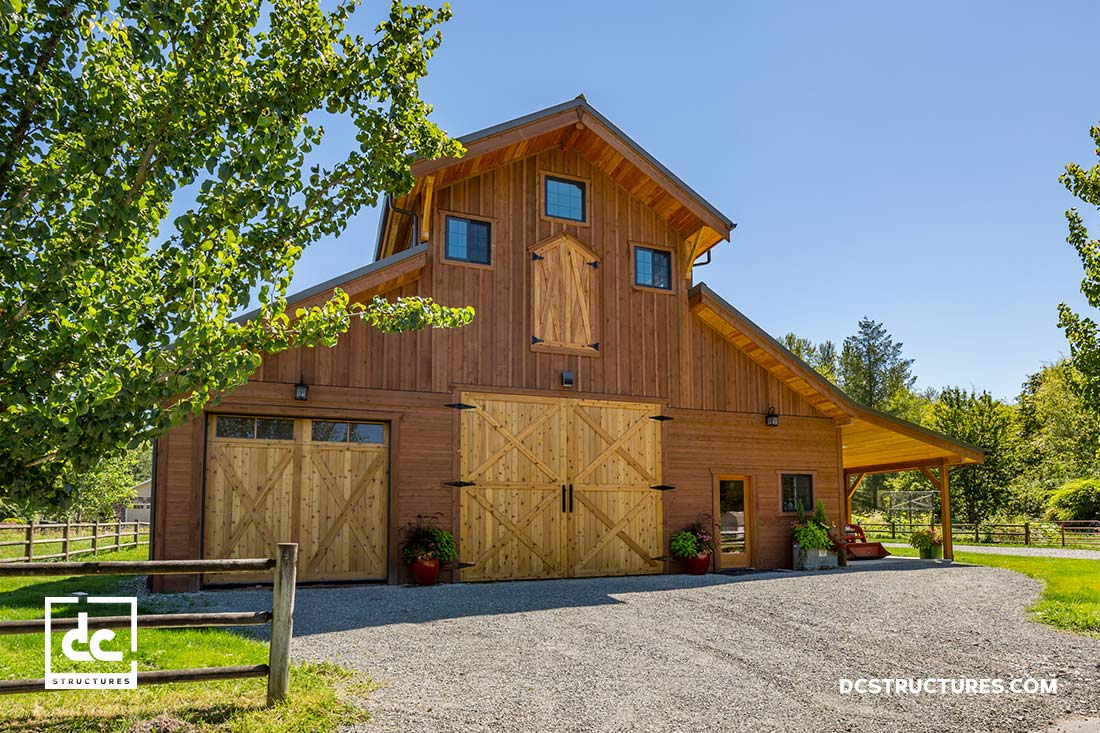 Fall City, WA
This barn-style workshop was built to serve as the headquarters for a home business. The Powell barn kit was modified to include 10 additional feet of width and double-wall construction for all exterior walls.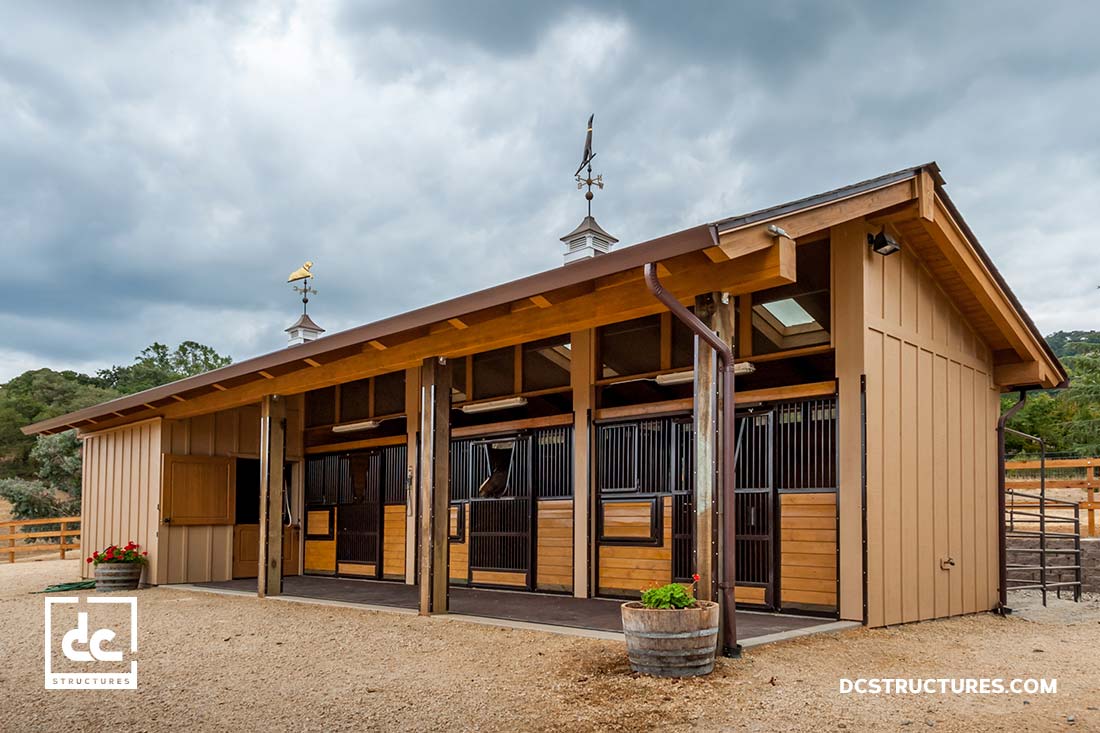 San Jose, CA
This Pendleton shed row barn boasts three horse stalls, a tack room, hay storage and an outdoor wash rack. The barn is designed to maximize natural lighting and ventilation, making it a low-maintenance and low-impact structure.
Need something bigger? Great news!
The Columbia gable barn kit comes in five sizes! View the other sizes below!