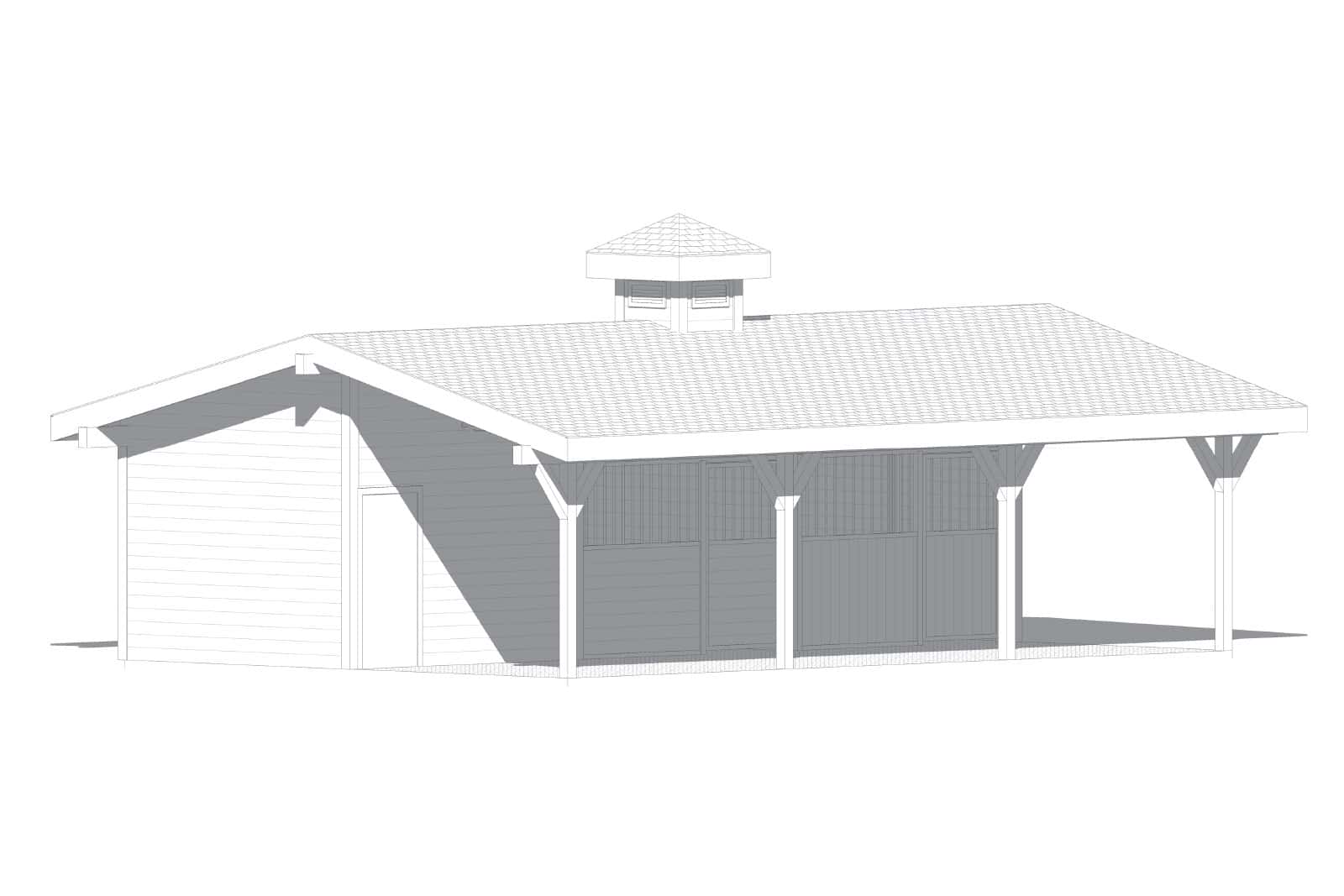 The Pendleton 36′
Shed Row Barn Kit
This space-conscious horse barn package is compact elegance.
THE 
PENDLETON 36′
The Pendleton 36′ is the perfect barn for two.
Named after the home of one of the world's largest rodeos, the Pendleton horse barn kit is a flexible, functional, and budget-friendly barn design. With room for two horse stalls and a tack room, this charming and compact structure has everything you need to pursue your equestrian hobbies.
Relying on the proven method of post and beam construction, the Pendleton 36′ will remain standing for generations to come. All kits include two steel-framed stall fronts and dutch doors, a tack/storage room and an iconic cupola. Beautiful Douglas fir posts add a touch of rustic elegance.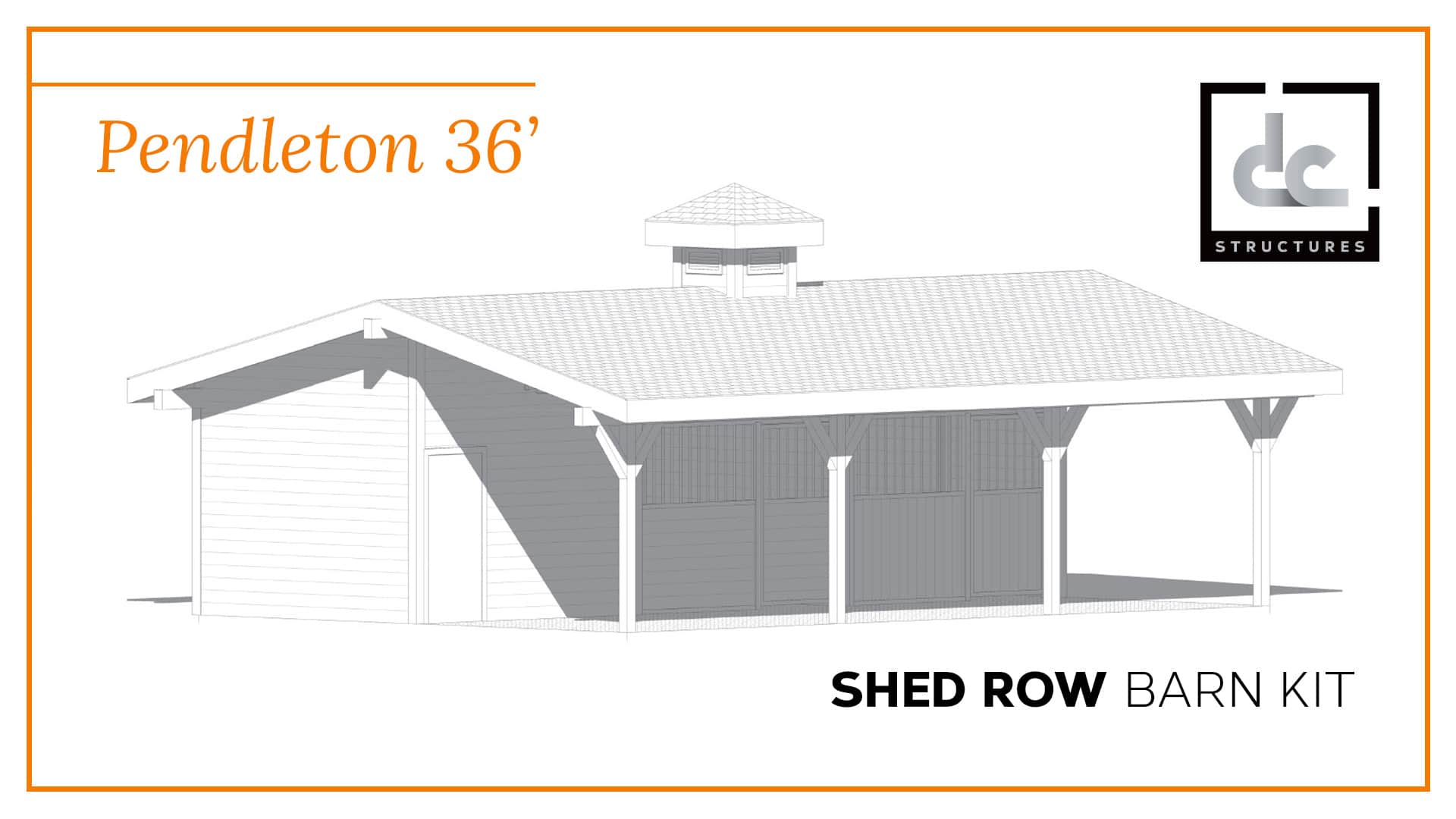 The Pendleton offers efficient use of space without compromising on quality or comfort.
Pendleton 36′
Specifications
The Pendleton 36′ shed row barn kit is builder-ready.
12′ Breezeway
9′ Sidewall
Custom Cupola
3/12 Roof Pitch
Douglas Fir Posts
2 Horse Stalls
"I'm not that easy to please, but I can tell you DC structures not only met but exceeded my expectations."

— Bob Coen—Damascus, OR

"Our animals are around us constantly; we are able to have our dogs, horses and cats in one location so we don't have to be commuting to take care of them."

— Jeff Meyer—Fairplay, CO

"We've lived on this property for 22 years and it's a wonderful piece of property with spectacular views. The barn looks like it should have always been here."

— Brian Sonnenberg—West Linn, OR
Pendleton 36′

Floor plan

Adapt the Pendleton's design to suit your lifestyle.
Floor Plan Details
Two is company.
This example floor plan features the Pendleton 36′ with two roomy horse stalls and a tack room. The overhanging roof creates a covered patio area, so you can work in all seasons or catch some shade next to your horses. Choose from a number of finishes and modifications to create the perfect barn for your property.
Additional resources include:
Build support from real builders
All hardware necessary for assembly
Site-specific structural engineered blueprints
What materials come with the Pendleton 36′ barn kit? Download our materials list and learn more!
Our wide selection of upgrades makes it easy to customize your kit.
Take a look at some finished projects to see where clients have taken their kits.
West Linn, OR
This modified Prairie arena kit is the perfect solution to rainy and snowy winters. With ample space for covered riding and an enclosed viewing room, pursuing equestrian hobbies year round is easy.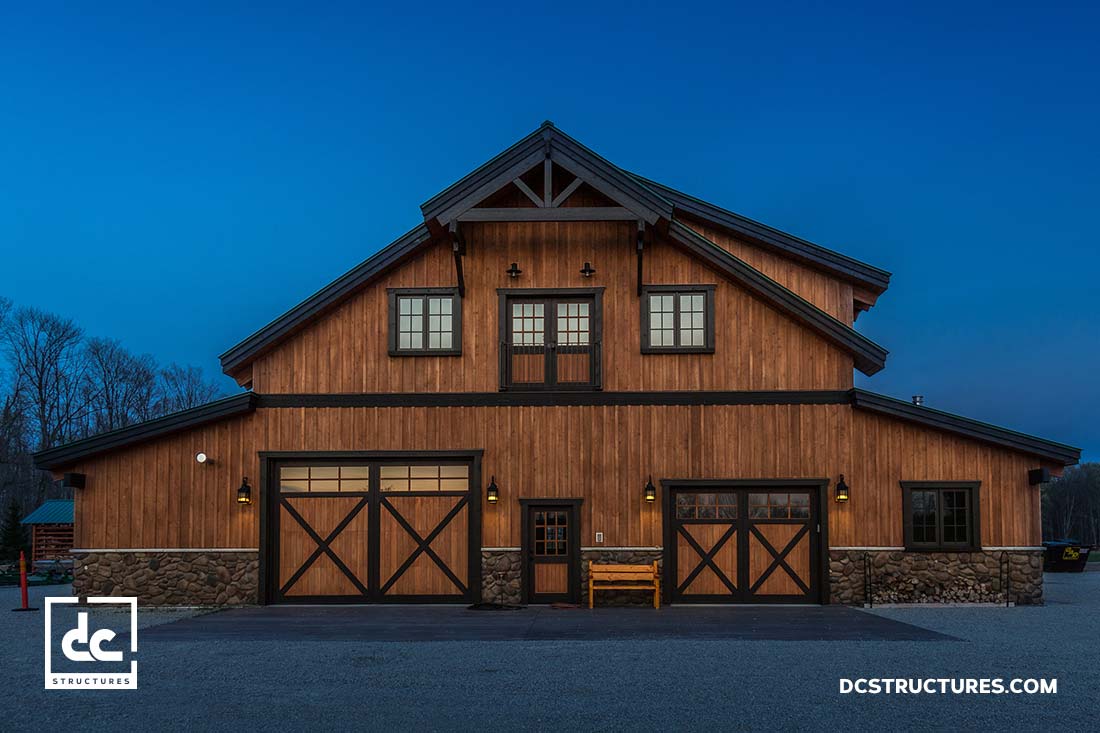 Daggett, MI
This modified Oakridge was designed for entertaining during hunting season. With ample storage space for outdoor equipment and a cozy, two-story living area, this functional and attractive cabin is a great home base for cold-weather outdoor activities.
Cornelius, OR
This attractive and efficient modified Oakridge is home to a couple and their two dogs and two horses. These clients opted for a number of sustainable upgrades, including a solar panel and additional skylights to optimize natural lighting.