THE 
POWELL 24′
The Powell 24′ can house up to six horses comfortably.
The Powell 24′ is the smallest version of our classic monitor barn. This compact barn package is perfect for housing up to four horses, but it also makes a fine workshop or garage. The Powell kit design also includes a raised center aisle loft area with a cedar handrail —great for extra storage or a place to kick back and hang out.
Drawing on the proven construction method of post and beam, the Powell 24′ monitor barn package is built to withstand the tests of time. All barn kits come standard with two steel-framed breezeway doors, a steel-framed hayloft door and an iconic cupola. Select-grade Douglas fir posts from the Pacific Northwest raise this barn kit above the rest.
Add a Shed Roof to the Powell 24′ for vehicle parking and storage
Powell 24′
Specifications
This monitor barn kit is ready for construction.
12′ Breezeway
12′ 6″ Sidewall
Custom Cupola
12′ x 24′ Loft
Douglas Fir Stair Material
7/12 Roof Pitch
Douglas Fir Posts
2 Breezeway Doors
Hayloft Door
12′ x 12′ Tack Room
"I'm not that easy to please, but I can tell you DC structures not only met but exceeded my expectations."

— Bob Coen—Damascus, OR

"Our animals are around us constantly; we are able to have our dogs, horses and cats in one location so we don't have to be commuting to take care of them."

— Jeff Meyer—Fairplay, CO

"We've lived on this property for 22 years and it's a wonderful piece of property with spectacular views. The barn looks like it should have always been here."

— Brian Sonnenberg—West Linn, OR
Powell 24′

Floor plan

Make it your own with hundreds of upgrades and finishes to choose from.
Floor Plan Details
The Powell 24′ is easy to customize.
This example floor plan shows a standard version of the Powell 24′ with a 12′ x 12′ room with stairs to a full loft. Note that this barn kit only requires two interior posts and has no load-bearing interior walls, making it easy to build a floor plan that meets your needs. Opt for the upgraded stair package to make them a centerpiece of your structure.
Additional resources include:
Build support from real builders
All hardware necessary for assembly
Site-specific structural engineered blueprints
What materials come with the Powell 24′ barn kit? Download our materials list and learn more!
With hundreds of upgrades to choose from, the possibilities are endless.
Take a look at how our clients have modified their designs.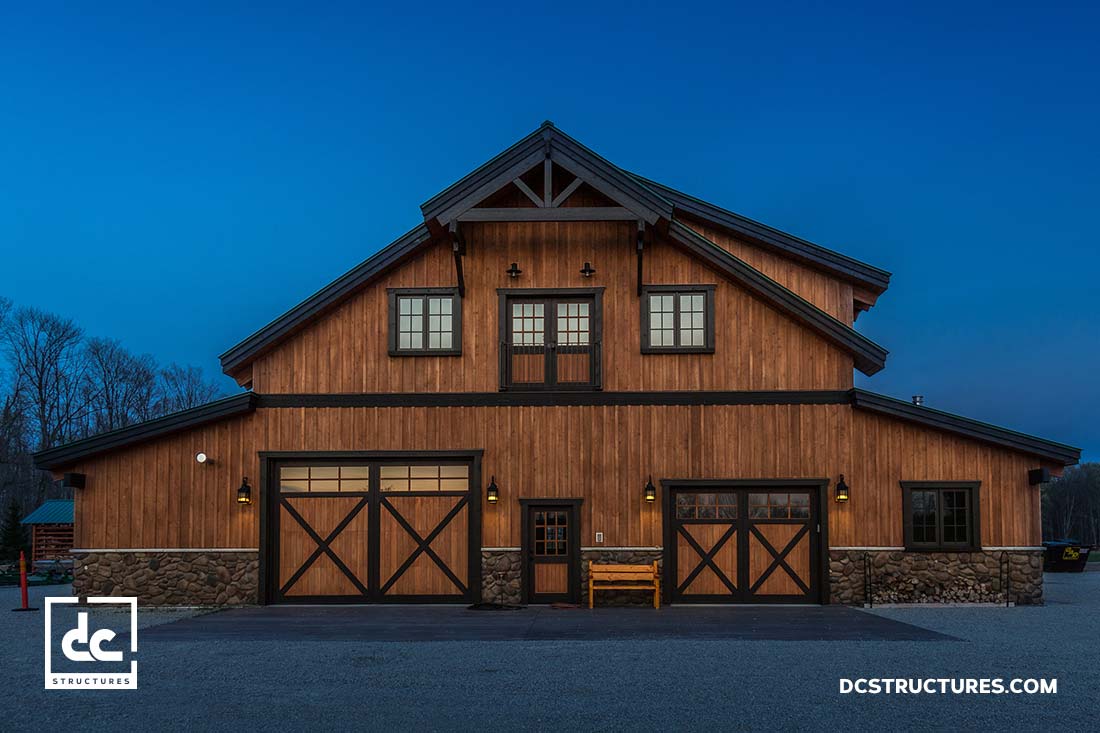 Daggett, MI
This heavy-duty garage with living quarters boasts ample space for outdoor equipment storage and access. A perfect home base for hunting season, this modified Oakridge includes all the familiar comforts of home and is great for entertaining friends and family.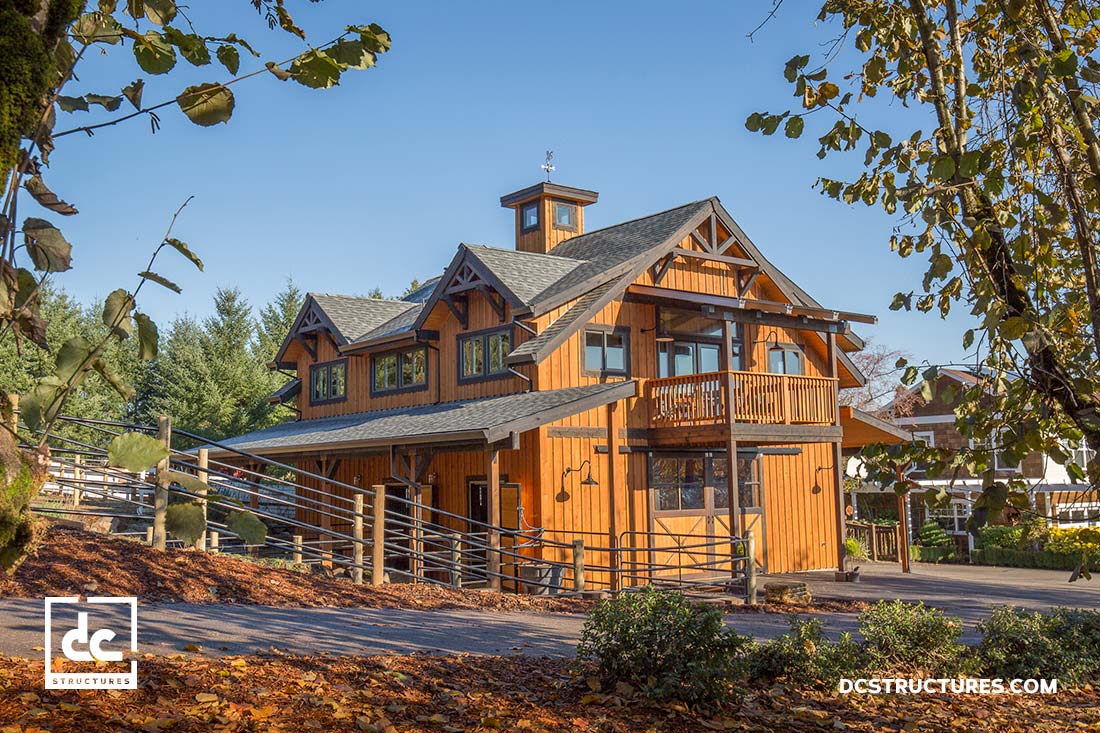 Cornelius, OR
This attractive and functional modified Oakridge boasts a reduced carbon footprint due to a host of sustainable features. With ample skylights to take advantage of natural brightness, as well as a solar panel and electric car charging station, energy bills are certainly low.
West Linn, OR
This big and beautiful Prairie arena offers repreive from the elements for year-round riding. An enclosed viewing area and quality infrared heaters make this a cozy place to pursue equestrian interests in all seasons.
Need a different size? Great news!
The Powell monitor barn kit comes in five sizes! View the other sizes below!