Georgia Coast Home & Stables
St. Simons, GA
Oakridge 48′ + Columbia 48′
PROJECT SUMMARY:
---
This incredible post and beam structure is located on St. Simons, a historic island off the Georgia coast. These clients combined a Columbia barn kit with an Oakridge apartment barn kit to create a top-of-the-line equestrian facility with room for twelve horses on the main level and a modern three bedroom home above!
The first floor of this 48′ x 96′ structure includes twelve standard horse stalls, each well-equipped with a sliding stall front that includes a removable yoke and a grain door from Classic Equine, a steel-framed Dutch door, removable stall partitions, automatic waterers, and chew protection on exposed corners. There's also a grooming stall, a feed storage room, a tack room, a powder room, and an office–everything you need to manage a self-sufficient equestrian facility! The Dutch doors open out to covered turnouts under the 6′ x 96′ covered shed roof on the south side of the building, or the 12′ x 96′ partially enclosed shed roof with gabled entry on the north side.
Upstairs, the living area is dominated by a spacious open-concept kitchen, dining and living area with exposed heavy timbers and vaulted ceilings. The dining area opens up to a 294 sq. ft. deck with an exterior staircase and an overhang framed with a custom heavy timber truss. The second floor also includes a master suite with large en suite bathroom and walk-in closet, two additional bedrooms, another full bathroom, a walk-in pantry, and a laundry room. A hallway opens up to a center aisle loft over the barn where skylights, a vented cupola, and a functional hayloft door create a rustic space to enjoy the company of your equine friends. This project is currently under construction. Check back later for photos of the completed structure!
48′ x 48′ COLUMBIA & 48′ x 48′ OAKRIDGE
6,122 SQ. FT.
(12) Horse Stalls
(2) 96′ Shed Roofs
(2) 3′ x 3′ Cupolas
Covered Deck Overhang with Timber Truss
FIRST FLOOR (3,767 SQ. FT.)
Horse Barn
Feed Room
Tack Room
Office
Powder Room
SECOND FLOOR (2,355 SQ. FT.)
3 Bedrooms
2 Bathrooms
Open-Concept Living Area
Walk-In Pantry
Barn Loft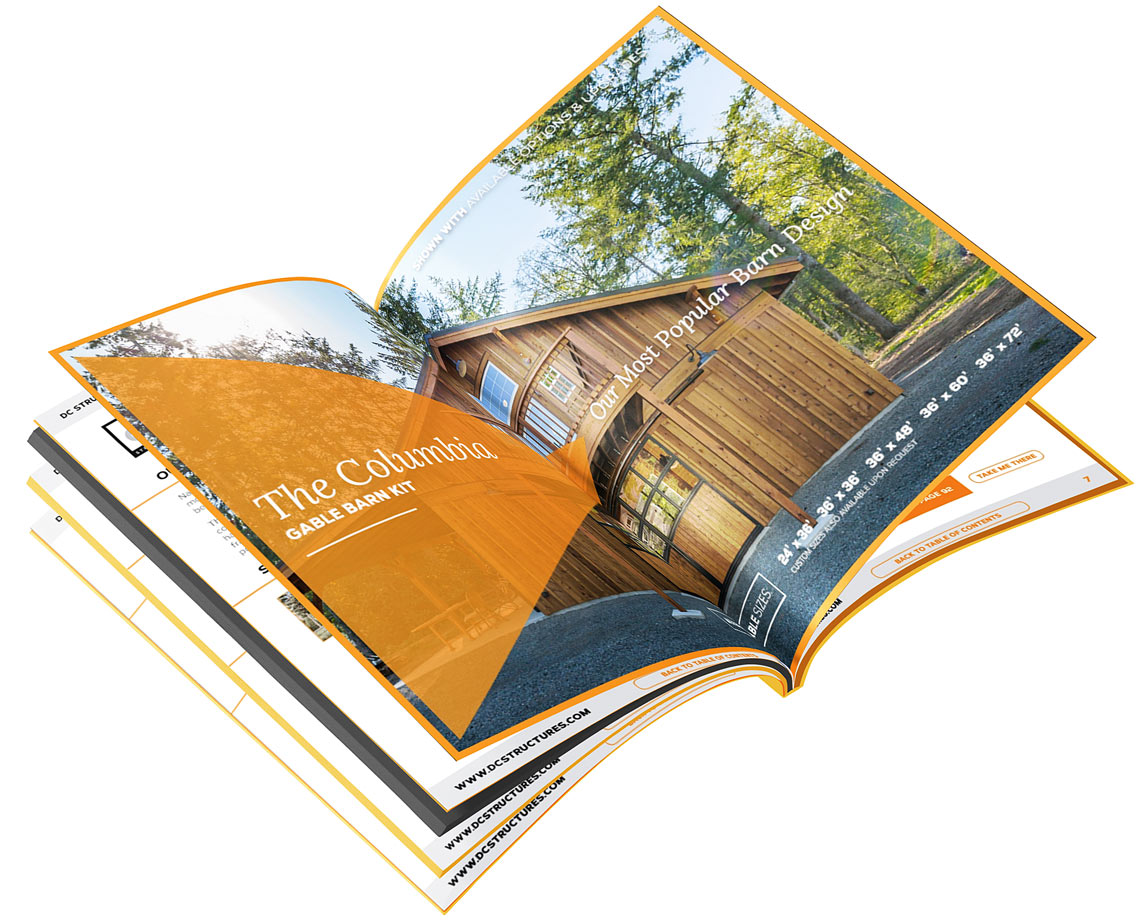 REQUEST A FREE DIGITAL CATALOG
---
Start planning the barn home of your dreams with the latest DC Structures product catalog, containing loads of information on pricing, materials, options and upgrades, photos, videos and more.