OUR COMMITMENT
to Fire Safety
Anyone accustomed to living in the western and southwestern regions of the United States is all too familiar with wildfire season. Driven by warmer, drier conditions and increased drought, wildfires pose a major threat to thousands of homes, lives, and ecosystems every year. As wildfires continue to intensify as the result of a warming planet, it's more important than ever to ensure your building kit investment is equipped to protect you and your loved ones in the event of a wildfire. At DC Structures, we frequently work with clients in high-risk states like California, Texas, and Colorado to develop fire-resistant building solutions for their residential and commercial projects.
Read below to learn more about our commitment to fire safety, as demonstrated by our add-on design services and fire-rated options and upgrades.

OUR WILDLAND URBAN INTERFACE Add-On for Residential Projects
At a minimum, all of our residential structures are designed to meet the International Residential Code, or IRC, in addition to state, city, county, or municipality codes. Depending on your county, there may be additional requirements for your building than those outlined by the IRC or state codes. For instance, if you live in an area that is considered at risk for wildfires, your county will require your structure to comply with something called the wildland-urban interface code. Otherwise known as WUI, the wildland-urban interface is defined by the U.S. Fire Administration as "the zone of transition between unoccupied land and human development," meaning your property is more likely to experience wildfires if it borders undeveloped wildland or vegetation.
For clients with projects in WUI-designated areas, we offer a WUI add-on that involves adding fire-safe materials to your building design. These materials include fire-resistant soffits, fire-rated sheathing, and fire-safe vents that are installed in the soffits. The windows of the building are also designed with tempered glass, as tempered glass is heat-treated to provide four times more protection than regular glass.
FIRE AND LIFE SAFETY

in Commercial Projects
Commercial projects require the involvement of a Design Professional of Record or licensed architect. In these instances, DC Structures works with clients to coordinate architectural services with the assigned architect for an additional service fee. The architect coordinates with civil, mechanical, and electrical consultants to prepare a plan set ready for building department submittal. Our designers also work closely with the architect in designing the project to meet the commercial building code. This is done by verifying egress widths, exit distances, fire extinguisher cabinet locations, and total building occupancy, among other important areas of focus that ensure code compliance for fire and life safety. This combined effort allows for a smooth submittal review process with state and local jurisdictions.  
This service does not include fire sprinkler plans but we can coordinate them for an additional fee.
OUR FIRE-RESISTANT
Options & Upgrades
While no building is completely fireproof, there are plenty of precautionary measures you can take to ensure your structure is less vulnerable to severe fire damage. View some of our fire-resistant options and upgrades below to get a better idea of how you can improve your building's performance in an emergency scenario.


Hardie fiber cement siding is a non-combustible cladding material that is recognized by fire departments nationwide. In the event of a fire, James Hardie™ siding products will not ignite if exposed to a direct flame nor add fuel to the fire. As a bonus, many insurance companies offer a discount for homeowners with Hardie siding, as its non-combustible, fire-resistant qualities make it a safer investment than traditional wood or vinyl siding.

ANDERSEN™ & PELLA® Windows
While Andersen™ and Pella® do not offer a line of fire-rated windows, clients can enhance the fire-resistant qualities of their selections by adding high-performance glass upgrades. For example, dual- and triple-pane windows offers greater protection than single-pane, as it takes longer for fire to break through two or three layers of glass. Tempered safety glass is also an available glass offering with Andersen™ and Pella® windows. Because vinyl instantly melts when exposed to fire, windows with wood or aluminum exteriors like the Pella® Lifestyle Series or Architect® Series are recommended for clients in high-risk areas.

All Andersen™ and Pella® patio doors come standard with tempered glass. As a material, tempered glass is a much safer glass option for homes or buildings in wildfire-prone areas. This heat-treated glass option is often used when required by code or to increase the strength of the glass itself.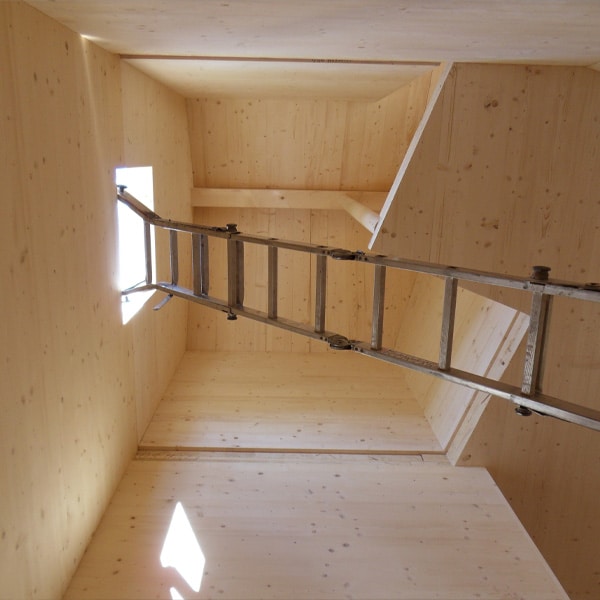 Cross laminated timbers are multi-layer mass timber panels that are comparable to steel and concrete in terms of durability and performance. Considered to be the future of mass timber production, cross laminated timbers are not only eco-friendly but offer superior fire resistance because of their sheer size and load-bearing capabilities. The IBC classifies heavy timber construction that uses cross laminated timbers as Type IV construction, which is considered more fire resistant than most wood-framed homes and buildings. Because of this, cross laminated timbers are permitted for use in larger commercial and recreational buildings and often yield lower fire insurance rates.
REQUEST A FREE DIGITAL CATALOG
---
Start planning the building of your dreams with the latest DC Structures product catalog, containing loads of information on pricing, materials, options and upgrades, photos, videos and more.