BARNDOMINIUM KITS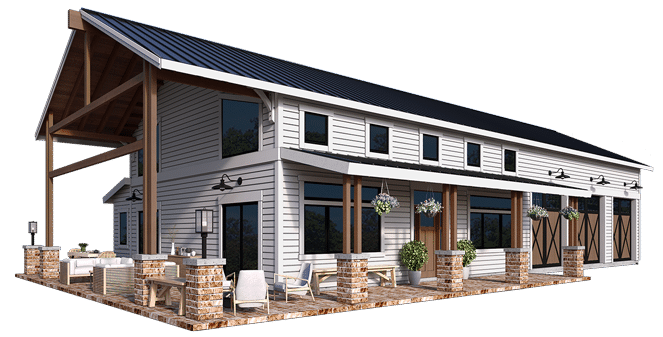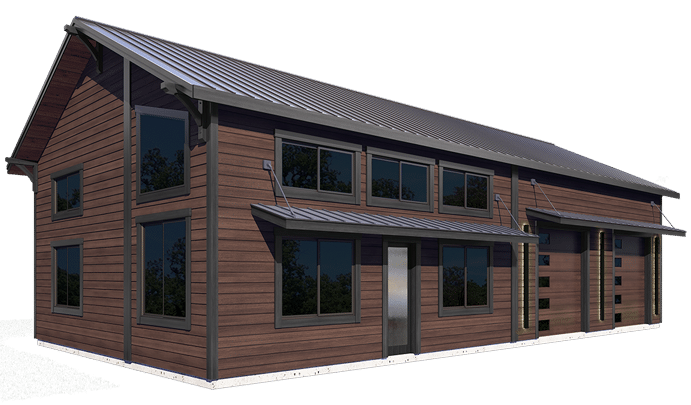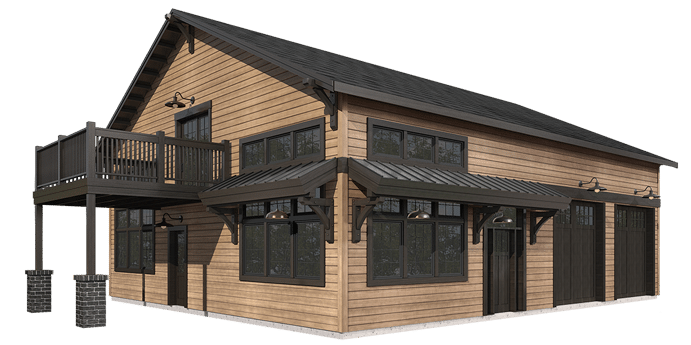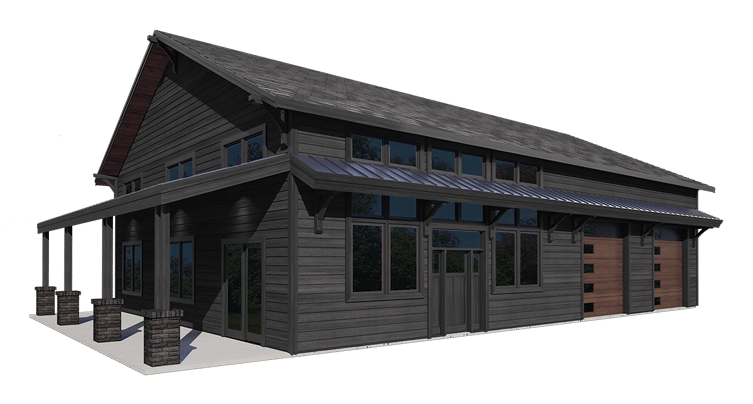 Barndominiums, charmingly dubbed "barndos," are contemporary dwellings that combine the allure of barn-style living with modern adaptability. These unique homes are shrouded in ambiguity, with their definition being as varied as the preferences of those who treasure them. While some envision barndominiums as converted barns with cozy living spaces, others see them as prefabricated steel-framed or wood-framed structures that arrive ready-made on the job site. No matter what your definition of a barndominium may be, one thing is clear: these buildings offer endless possibilities for your space, and plenty more benefits for you and your loved ones.
Learn more about what we offer in the way of barndominiums and why our offering surpasses any other pole barn or steel-framed alternative on the market.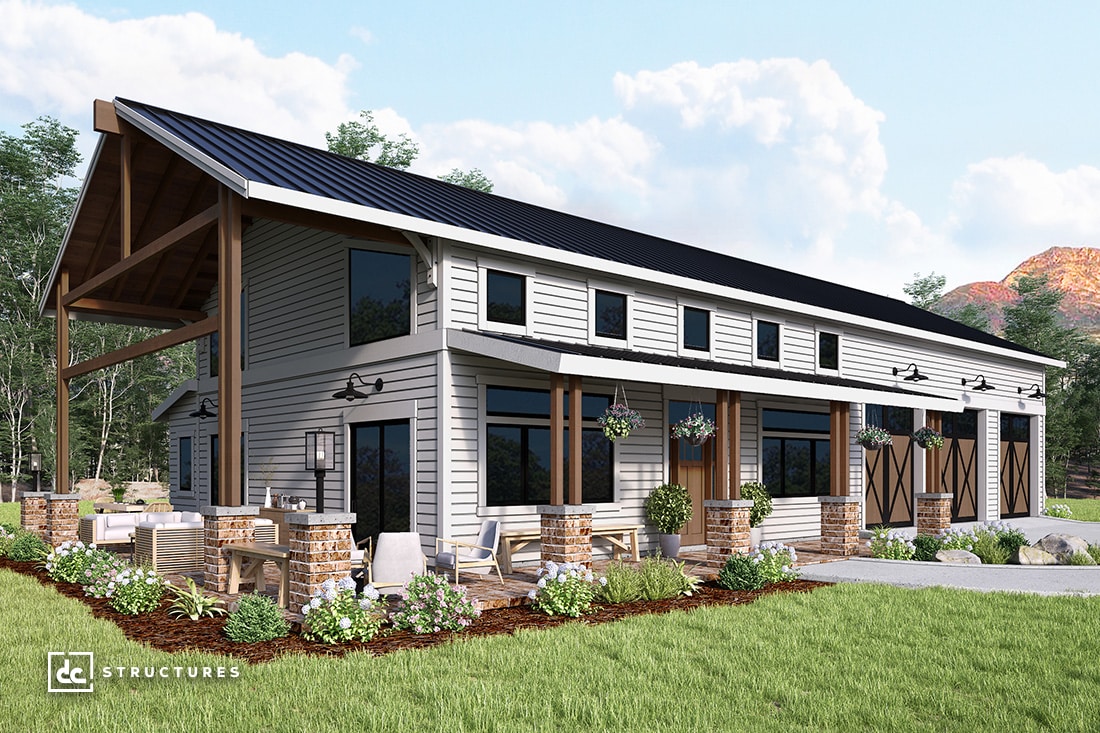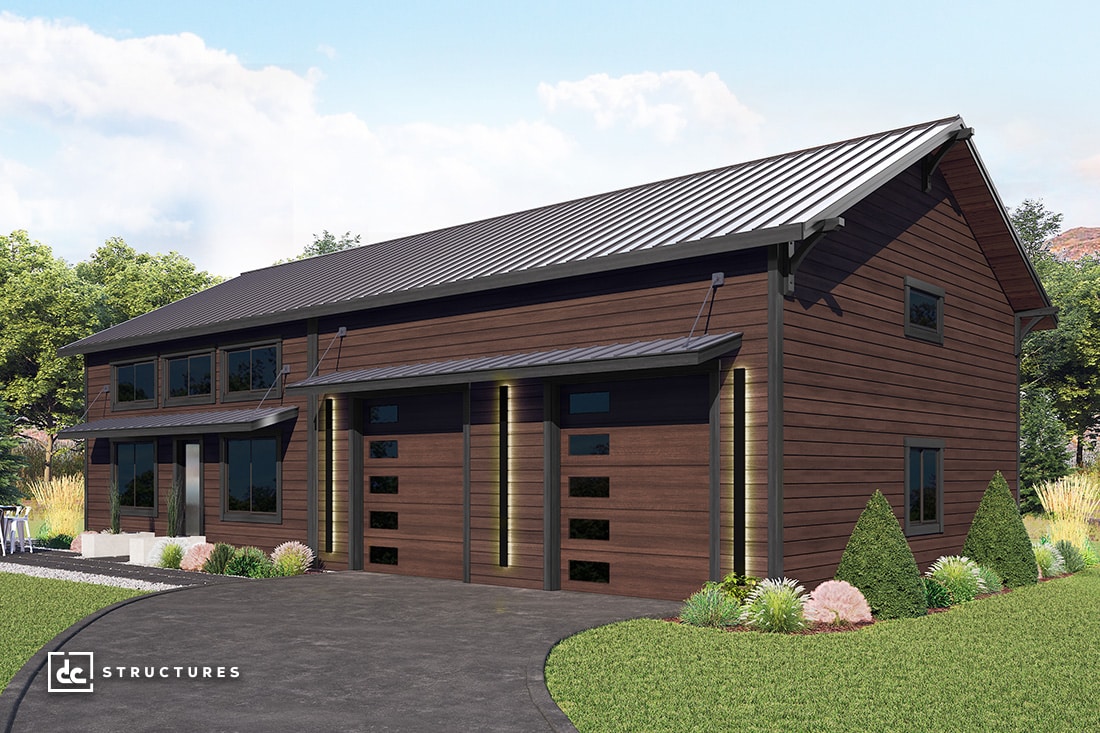 What is a Barndominium Kit?
Our Meridian Barndominium Kit is a clear-span structure designed with pre-manufactured vaulted wood trusses that create wide-open and versatile interiors. With no interior posts to work around, this structure provides a blank canvas that you can easily customize to meet your needs and vision. Complete with highly detailed blueprints, all wall framing, siding, hardware, and more, our Meridian pre-engineered building package comes with everything you need to assemble the frame of your structure quickly and accurately. Utilizing off-site manufacturing and CNC precision machinery, we deliver an easy-to-build and cost-effective solution that expedites your framing process, reduces waste and pollutants on the job site, and ensures top-quality results for your build.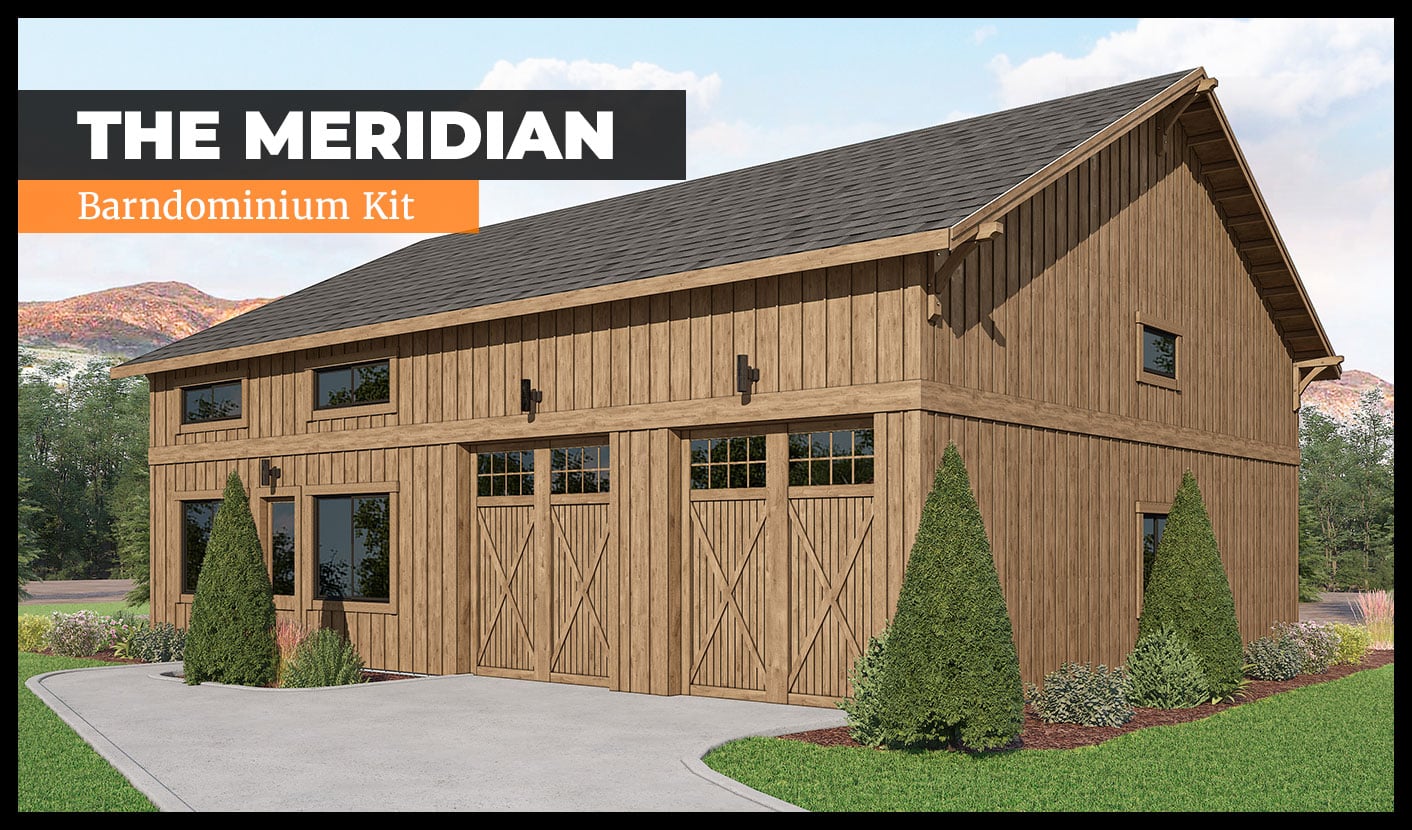 THE MERIDIAN BARNDOMINIUM KIT
Whether you envision an ultra-modern abode, a farmhouse-inspired living space, or an eclectic home with various design influences, our Meridian Barndominium Kit offers dozens of unique and attractive options for your interior and exterior. With help from our talented designers, you can tailor your Meridian to include custom features like trapezoid windows, glass-paned garage doors, fiber cement siding, and more. Additionally, you can modify your kit to include structural additions like decks, awnings, and upstairs lofts that complete your vision for the space. 
See how versatile our Meridian can be by viewing our sample renderings below.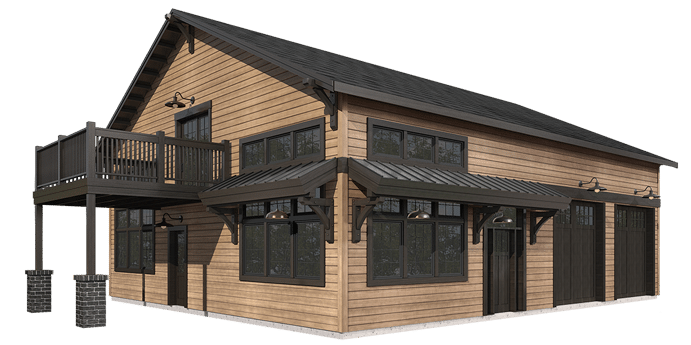 Versatile Floor Plan
Experience the ultimate in open-concept living with our Meridian Barndominium Kit! Designed with a flexible living space and garage area, this pre-engineered building model allows you to infuse your personality, style, and desired function into every corner. Our sample floor plans provide a great starting point for your design, with several boasting 1-2 bedroom layouts with ample garage space. No matter what you have in mind for your barndominium, our team is here to help you tailor your home to your lifestyle and ambitions.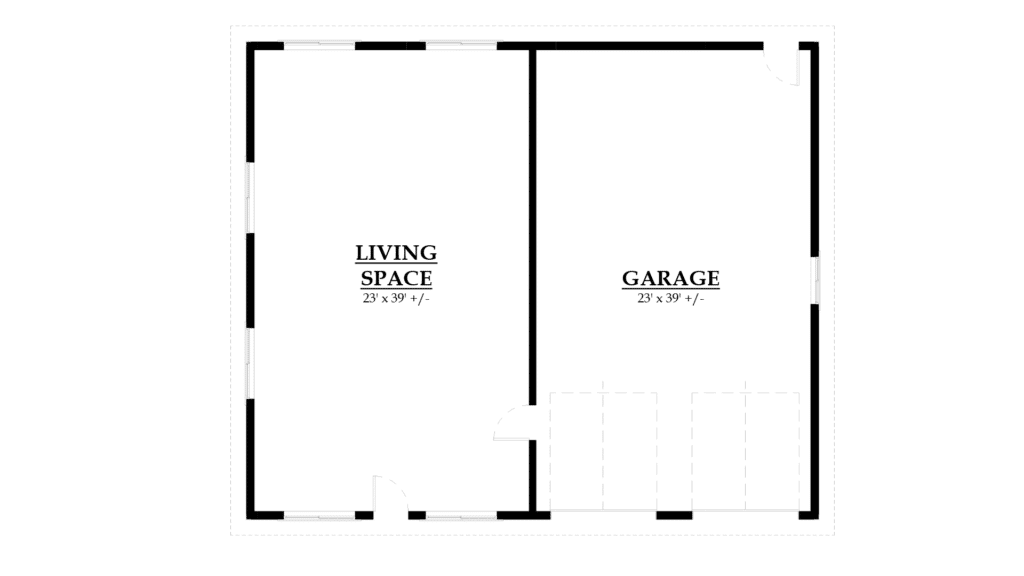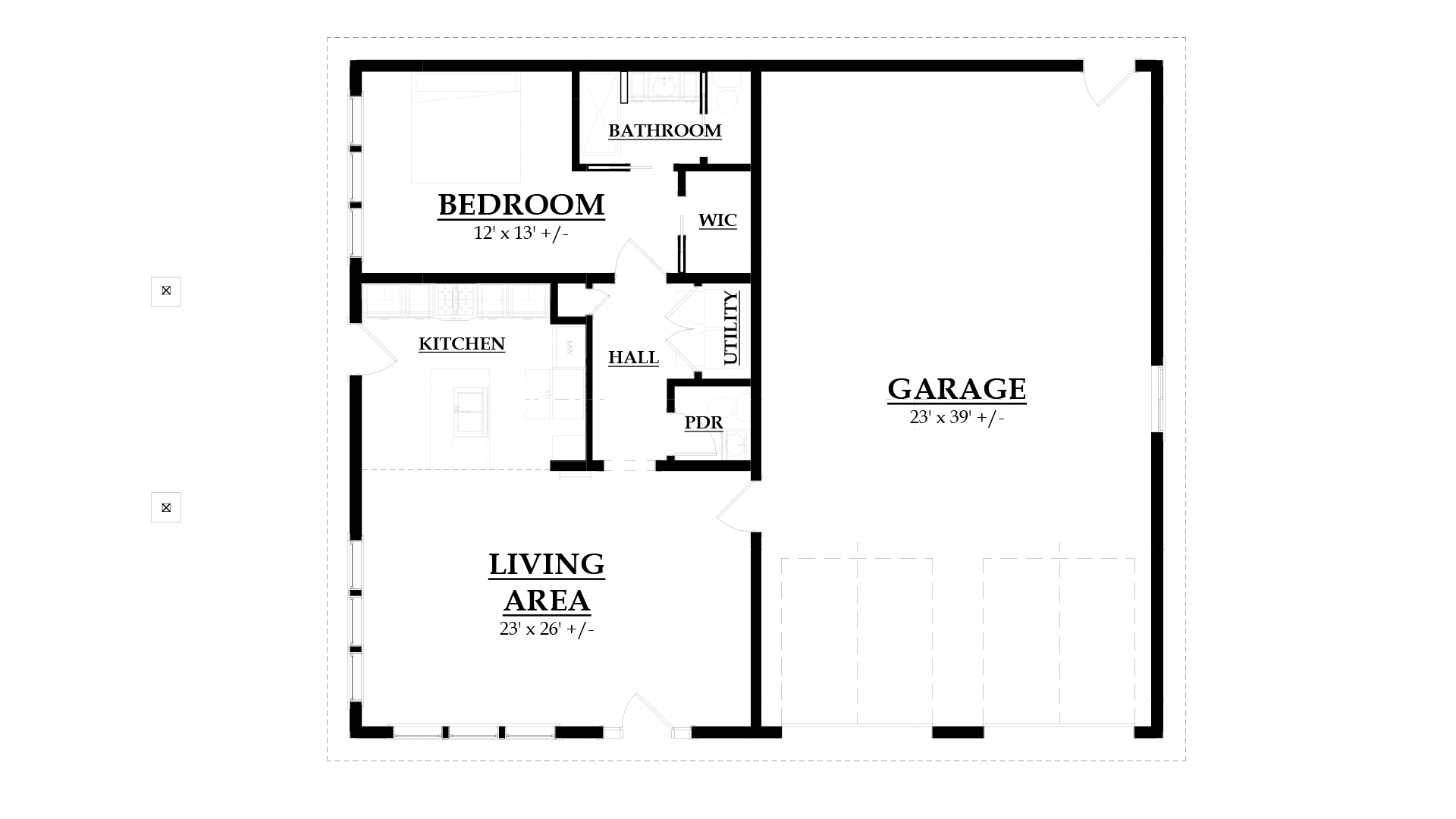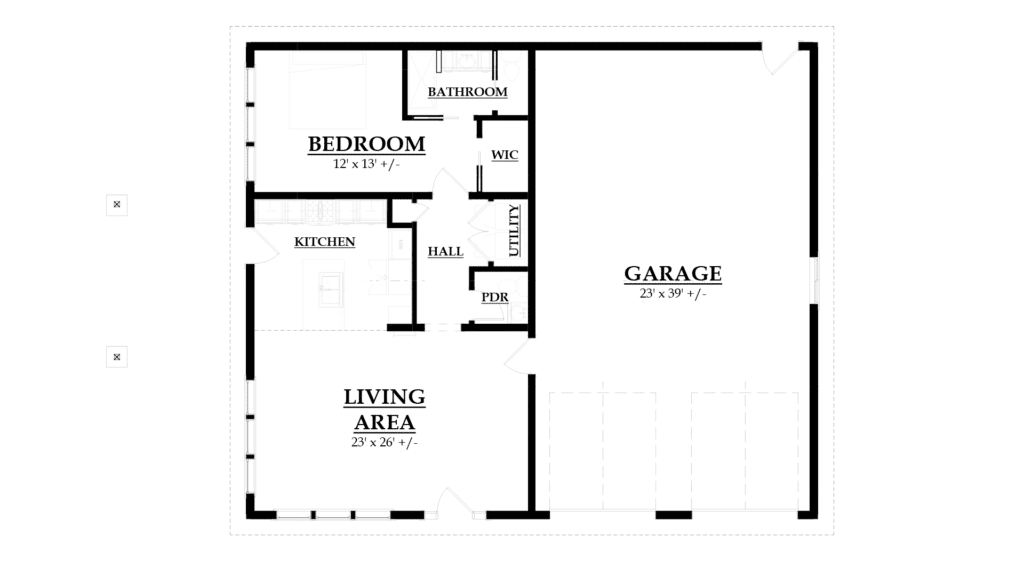 Interior Design Services
Imagine opening the door to a barndominium home that's distinctly yours. With our interior design team overseeing your design, selections, and purchasing, you can look forward to an impressive and collaborative process that adds value and efficiency to your building investment. Our interior design services include design plans and documents, fixtures and finishes, material orders, and detailed cost breakdowns, with our designers working directly with you at every step. With several unique design collections and customization opportunities available, you can trust your complete interior to embody your preferred style and function according to your needs.
Our Barndominium Building Methods
At DC Structures, we've combined traditional stick framing methods, clear-span construction, and fiber cement supplements to develop a first-of-its-kind barndominium kit. Unlike standard pole barn barndominiums, which rely on pressure-treated posts embedded directly in the ground, our Meridian Barndominium Kit utilizes premium wood posts built on sturdy concrete footers to support its durable frame.
This method makes for a much stronger, longer-lasting structure than traditional pole barns, considering your posts are far less susceptible to rot, moisture damage, and cracking. Additionally, our use of pre-manufactured vaulted wood trusses allows us to create a wide-open interior with all materials concealed and no interior load points, so you can do anything you wish with your design and configuration.
Learn More About Barndominium Kits
BARNDOMINIUMS 101: WHAT THEY ARE & WHAT WE OFFER
Barndominiums, or barndos for short, are some of the most popular home designs to emerge in the 21st century; and for those who love the look of classic American barns, it's not difficult to see why!