Prefabrication
Your barn kit assembly process is easier than ever before!
Prefabrication is now a standard offering included in the price of most DC Structures building kits. This service, unparalleled in the industry, allows our clients to jump-start their construction process, saving them thousands of dollars.
The controlled environment of prefabrication allows for more accurate construction, tighter joints and better overall quality. All prefabricated pieces are prepared by an experienced crew in a weather resistant factory with multiple quality checks throughout the process. Some components of the building are constructed using precise machine equipment to ensure conformity.
Prefabricated construction projects often take 30% to 50% fewer framing man-hours than conventional builds.
That means fewer days with carpenters on-site and less vulnerability to weather delays or illnesses that can extend deadlines by days or weeks. Reduce your equipment rental expenses thanks to shorter rental periods and more efficient building methods that require fewer specialized machines. The simplified construction process also reduces traffic on your job site and cuts down on noise, pollution, waste, and other common irritants.
Since prefabrication is done in a factory environment utilizing dry material, there is less risk of problems associated with moisture, environmental hazards and dirt. An indoor construction environment also presents considerably fewer risks for accidents and other liabilities.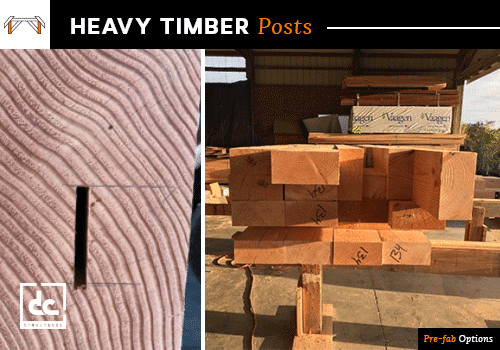 Our celebrated post and beam construction method relies on select grade Douglas Fir posts that connect to custom knife plates and column caps for a modern heavy timber look and feel. Put up your posts with ease by having these connections prefabricated for lightning-quick assembly.
Prefabrication Process Includes:
All posts cut to length
Each post slotted for knife plates
Bolt connections drilled
Top of posts routed
Posts are fitted with column caps and hardware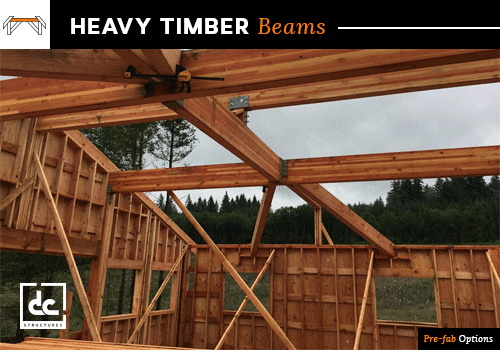 Our buildings feature beautiful heavy timber glulam beams that connect to our posts and remain exposed in the living and/or working space.
Prefabrication Process Includes:
All beams cut to size
Bolt connections drilled
Beams routed to accept column caps
Rafter and joist layout completed
CONVENTIONAL FRAMING Elements
Your construction costs will surely plummet when your rafters and wall components arrive at the job site pre-cut and ready to install. Exterior wall packages are bundled by wall with each component labeled and stud placement and connection points marked. For structures utilizing open-web floor trusses, those pieces can also be prefabricated.
Prefabricated Elements Include:
Floor joists and/or floor trusses
Roof rafters and blocks
Jack rafters
Exterior wall framing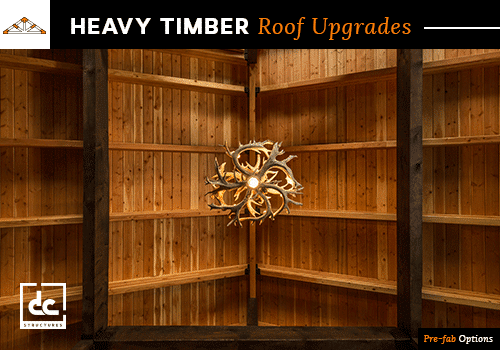 HEAVY TIMBER Roof Upgrades
Clients that opt into our heavy timber roof upgrade will see their 2″ x 12″ rafters replaced with massive exposed 4″ x 10″ rafter beams placed every four feet. The rafters and ridge beam can be precut and slotted through our prefabrication process.
Prefabricated Elements Include:
4″ x 10″ Douglas Fir rafters
6″ x 12″ Douglas Fir ridge beam
REQUEST A FREE DIGITAL CATALOG
---
Start planning the barn of your dreams with the latest DC Structures product catalog, containing loads of information on pricing, materials, options and upgrades, photos, videos and more.