OUR Prefabrication
A standard offering included with our building kits.
At DC Structures, every piece of framing lumber used to create your exterior walls, roof, and floor components is pre-cut, drilled, and labeled before arriving on your job site. This process, called prefabrication, makes it easier than ever to assemble our building kits while saving you time and money during construction. All exterior framing components are prepared by our experienced craftsmen in our weather-resistant facility in Oregon, and undergo multiple quality checks throughout the process. The prefabrication process doesn't just save you time and money, it also ensures more accurate construction, tighter joints, and better overall quality.
Once your plans have been modeled in our design software, our craftsmen can start translating your design into detailed instructions that are then fed into our specialized woodworking machine. Our CNC machine is programmed to expertly pre-cut, drill, and label every piece of framing lumber used for your exterior walls, roof, and floor components, ensuring each building component fits together perfectly. With these framing components cut and drilled to length and primed for hardware, our craftsmen will then prepare your building package for shipment.
Our building packages come with exterior wall sections bundled together and a set of detailed installation instructions that make assembly a breeze for your framing crew. To ensure the best results for your project, our building kits also include a user-friendly 3D model that helps project managers visualize your framing details, along with on-call assistance from our licensed Builder Support team and helpful instructional videos for visual guidance.
WHY WE OFFER
Prefabrication
Our prefabrication process allows our building kits to be assembled faster, more accurately, and with far less labor than any conventional build. In fact, our prefabrication method is so efficient that our construction projects often take 30 -50% fewer framing hours than conventionally built structures. This means fewer days with carpenters on site, less risk of weather delays, and reduced equipment rental fees due to shorter rental periods and fewer specialized machines on site — all of which results in our clients saving thousands during the construction process. Our prefabricated building packages also greatly reduce waste, noise, and pollution on your job site. That way, you can enjoy safer and cleaner job site conditions, in addition to an assembly process that moves quickly without compromising quality.
The structural components included in our prefabricated building packages can be thought of as the bones of your structure. These are the key framing elements that ensure your building provides superior protection from the elements and remains strong and stable for decades. Our prefabricated building packages include heavy timber posts and beams, conventional framing elements, and heavy timber roof upgrades (if applicable) to form the exterior shell of your structure. Learn more about what our prefabrication process entails for these framing components:
Our timber frame and post and beam building designs rely on FOHC select grade Douglas fir timbers that connect to custom knife plates and column caps. During the prefabrication process, these heavy timber posts are cut to length and drilled for bolt connections, with each post slotted for knife plates and routed to fit better into column caps and hardware.
Much like our heavy timber posts, our FOHC select grade Douglas fir and appearance-grade glulam beams are cut to size, drilled to allow bolt connections, and routed for column caps. Our heavy timber beams are crafted to connect to our posts, resulting in an incredibly durable structure that's made to last.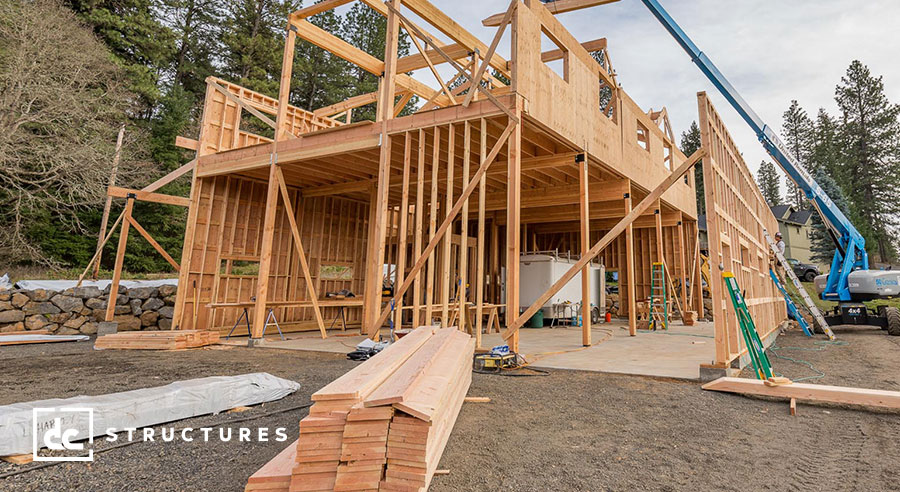 CONVENTIONAL Framing Elements
In addition to our heavy timber posts and beams, our building packages come with a number of prefabricated conventional framing elements that arrive pre-cut and ready to install on your job site. These conventional framing elements include floor joists and trusses, roof rafters and blocks, jack rafters, and exterior wall packages that are separated by section, with each wall component labeled and stud placement and connection points clearly marked.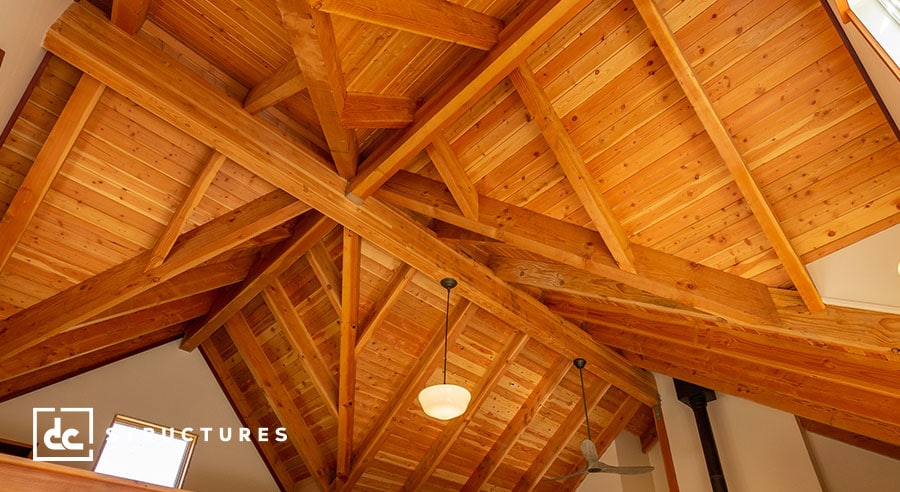 HEAVY TIMBER Roof Upgrades
Our heavy timber roof upgrade replaces our standard 2" x 12" rafters with massive 4" x 10" rafter beams placed every four feet. For clients who select this upgrade for their structure, our team can pre-cut and slot your 4" x 10" Douglas fir rafters and 6" x 12" ridge beams through our prefabrication process.
REQUEST A FREE DIGITAL CATALOG
---
Start planning the building of your dreams with the latest DC Structures product catalog, containing loads of information on pricing, materials, options and upgrades, photos, videos and more.