TIMBER FRAME HOME KITS
Much like a luxurious mountain lodge, our timber frame homes feature a striking design characterized by massive heavy timber trusses and grand entryways. Built in the time-tested method of timber frame construction, these stately residences are crafted with select grade heavy timbers that allow for dramatic interiors with exposed posts and beams. Our flexible design capabilities give you the ability to personalize your timber frame home according to your needs. If you're seeking a one-of-a-kind home with a myriad of impressive features, look no further than our attractive line of timber frame home kits.
What is a Timber Home Kit?
A timber home kit is a pre-engineered design and materials package that features all the high-quality components needed to frame your structure once shipped to your site. This includes framing materials, premium window and door packages, connection hardware, builder-ready blueprints, builder support services, and much more. Our mill-direct relationships in the Pacific Northwest make it possible for our team to provide you with the finest heavy timbers available. As a result, each DC Structures client receives a building package that reflects our high standards for quality and is guaranteed to stand strong and beautiful for ages. Why DC Structures?
DC Structures is home to America's best and most complete line of pre-engineered building kits, boasting over fifteen years of experience in designing the most beautiful and durable heavy timber structures in the nation. We rise above the competition by providing our clients with the highest quality buildings made from the finest materials available, including select grade Douglas fir lumber sourced from the Pacific Northwest. Our wide selection of options and upgrades give you the ability to customize your timber frame home with premium building materials tailored to your needs. No matter your vision, we're committed to crafting a timber home that exceeds your expectations and exemplifies our passion for your project.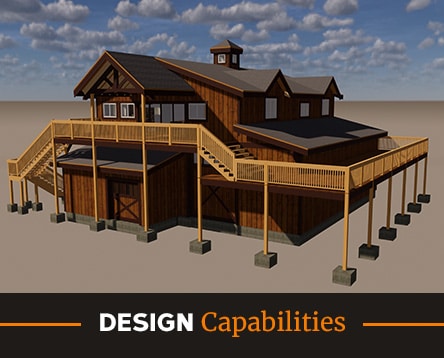 DESIGN
Our simplified kit process makes it easy for clients to personalize their desired timber home kit according to their style and interests. With the help of one of our project coordinators, you can customize the existing blueprint of any timber frame home by selecting from hundreds of available options and upgrades. This includes adding heavy timber stairs or replacing our standard cedar board and batten siding with DC Barnwood cedar siding that is made to resemble reclaimed wood. When it comes to designing your dream timber home, the possibilities are endless!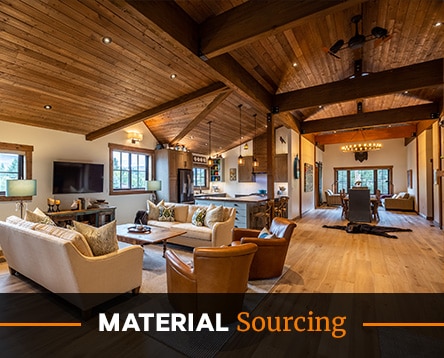 MATERIALS
We source the finest wood materials from our mill-direct connections in the Pacific Northwest to provide you with a timber frame home you're guaranteed to love. All of our timber frame home kits are framed with premium quality lumber, including Douglas fir purlins and rafters and heavy timber trusses. Our kits also come standard with high-quality knotty alder doors and window packages from our partners at Pella. If you're seeking something a bit different than our standard offering, you can easily choose from a wide array of available options and upgrades that add value to any timber frame structure.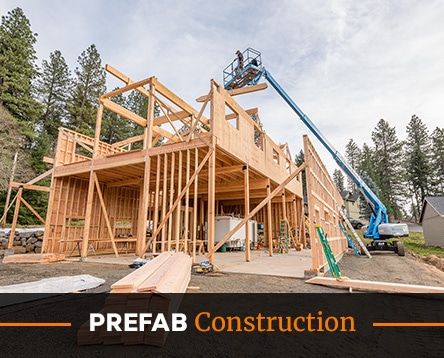 PREFABRICATION
At DC Structures, we provide an unparalleled prefabrication system that is designed to take the guesswork out of the construction process and ensure a fast and cost-effective build. Through the prefabrication process, our experienced craftsmen pre-cut, drill, and label the wood framing materials used to create your exterior walls, floor components, and roof. This process ensures that no materials are wasted on your job site and your structure is constructed in an efficient and precise manner. Prefabrication also allows for 30% to 50% fewer framing man-hours than a conventional structure, saving our clients thousands of dollars in equipment rental fees and labor costs.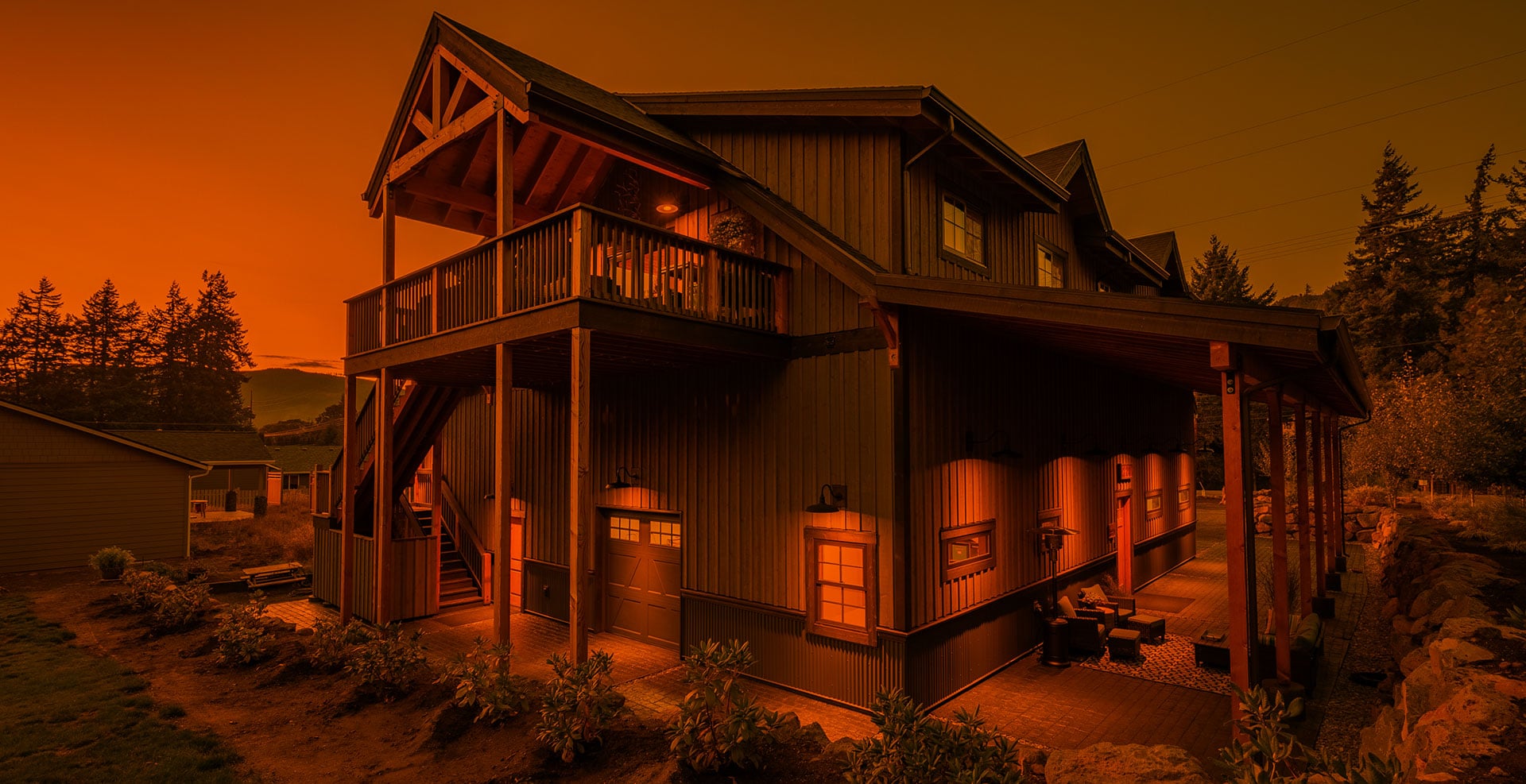 The Process
Our simplified process makes it easy for our clients to design their ideal structure with the help of one of our experienced project coordinators. Learn more about our process and what to expect after selecting your timber frame home kit: Our Timber Home Expertise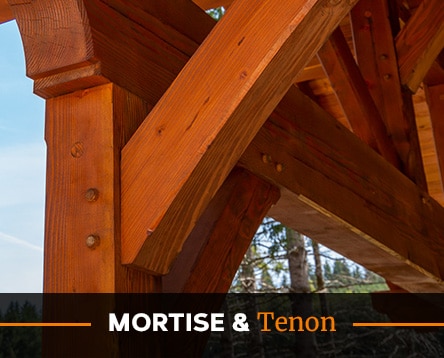 WHAT IS MORTISE AND TENON AND WHY IS IT USED IN TIMBER FRAMING?
Timber framing is an ancient building method that uses wooden joinery instead of metal brackets to connect the large posts and beams that form the frame of a structure. We use some of the strongest woodworking joints, including mortise and tenon, to frame our timber homes. The mortise is a cavity that is cut into a piece of wood. It is designed to secure a wooden tongue, otherwise referred to as the tenon, on the end of another wood piece that is then inserted into the mortise. When cut to precision, mortise and tenon joints ensure posts and beams are securely fastened to each other and create a durable frame that can stand for generations.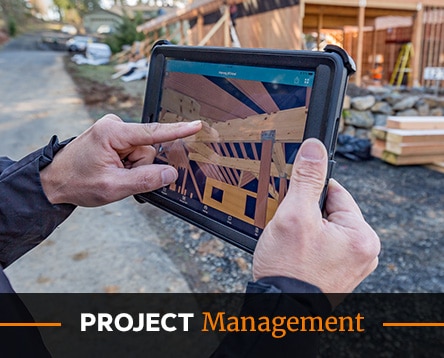 VIRTUAL PROJECT MANAGEMENT
We use an industry-leading virtual project management platform to provide our clients with real-time, 24/7 access to their project details. This cloud-based technology allows you to manage your project from anywhere and communicate with our team and your builder using helpful in-app messaging tools. Taking control of your building kit process has never been easier!
OUR SIMPLIFIED KIT SELECTION PROCESS
Before signing on to a materials package from DC Structures, one of our project coordinators will walk you through our product line and the available options and upgrades to help you choose a home that is uniquely yours. Once you've approved the proposal and selected a ship date, we'll review the building plans with your contractor to answer any questions about the design, materials, construction methods, and delivery. Our craftsmen will then prefabricate the wood components included in your package and send them to the destination of your choosing. Finally, our team stays on call for the duration of your build to ensure everything goes according to plan.
Learn More About Timber Home Kits
CHOOSING THE RIGHT LIGHTING FOR YOUR TIMBER HOME
Timber frame homes feature a more complex design than conventional homes. Because heavy timber homes are designed with an exposed frame, these structures often require greater attention to detail when it comes to planning and installing lighting. This article offers recommendations for lighting your timber home and the type of lighting appropriate for each room.
ROOM WITH A VIEW: PLANNING FOR A WINDOW WALL
Window walls make stunning additions to any heavy timber structure, but before adding one to your building, it's important to consider a few key factors, including the positioning of the window wall and materials used in the design. This post explains what you want to consider before investing in a window wall for your custom home.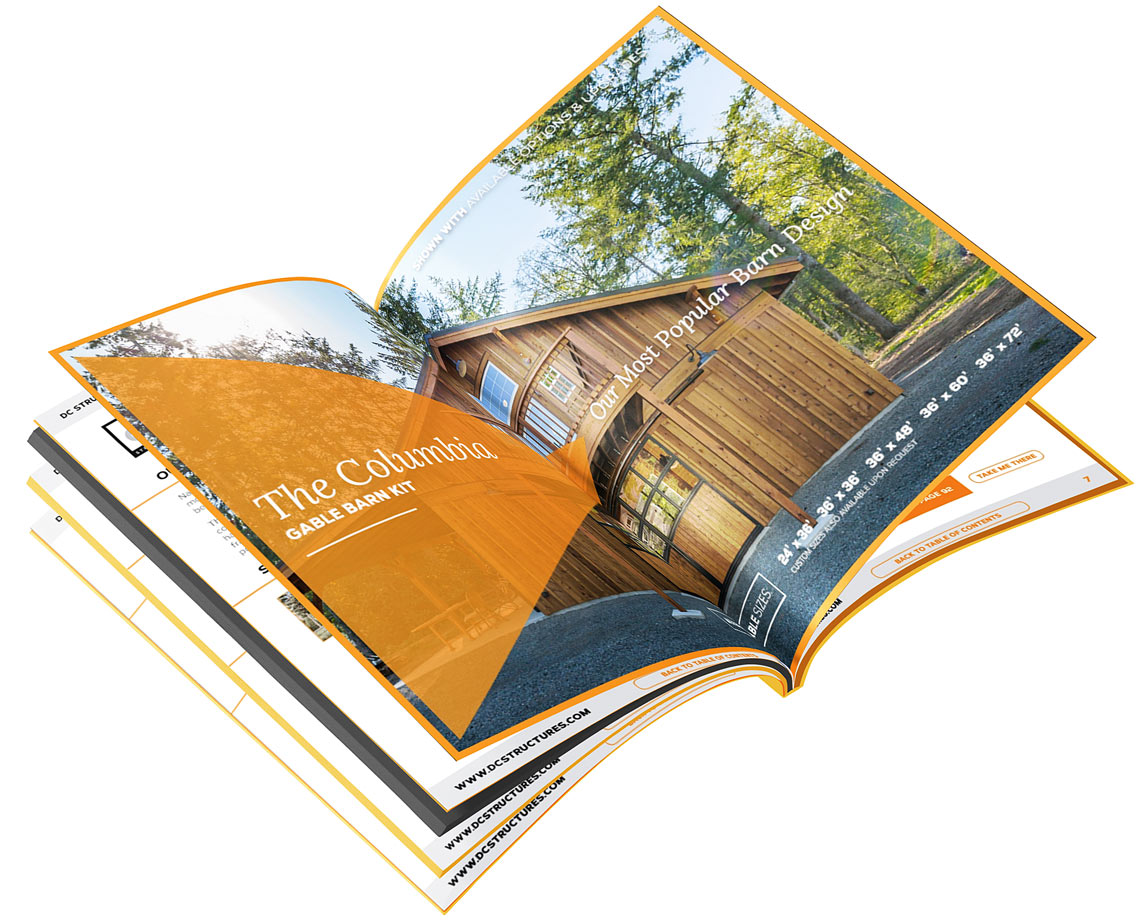 REQUEST A FREE DIGITAL CATALOG
---
Start planning the barn of your dreams with the latest DC Structures product catalog, containing loads of information on pricing, materials, options and upgrades, photos, videos and more.