A-FRAME CABIN KITS
Since their official introduction to the public in the 1950s, A-frame cabins have enjoyed a steadfast reputation as premier mountain getaways and vacation rentals; and once you've stayed in one, it's easy to see why. Characterized by their distinct triangular shape, dramatic pitched roofs, and attention to minimalism, these attractive cabin designs offer equal amounts of style and functionality, making them perfect for anything from Airbnb rentals to cozy private offices, workshops, and more. At DC Structures, we offer two beautiful A-frame cabin models — the Mazama and Wallowa — for our clients to choose from and personalize for their properties. If you're interested in building a cabin like our Mazama and Wallowa, keep reading below to learn more about what you can achieve with your customized A-frame cabin design!
What is a Pre-Engineered A-Frame Cabin Kit?
Our A-frame cabin kits are pre-engineered design and material packages that will expedite your framing process and create a solid structural foundation for your project. These prefabricated building kits come standard with everything you and your crew need to assemble your structural frame, including highly detailed blueprints, premium framing materials, window and door packages, hardware, and more. Once we've modeled your structure in our state-of-the-art 3D design software, our team will translate your project into precisely pre-cut, drilled, and individually labeled pieces of framing lumber used to create your exterior walls, roof, and floor components. By prefabricating your wood framing materials ahead of time, we can facilitate a highly efficient, fast, and accurate installation process guaranteed to save you considerable time and money throughout construction.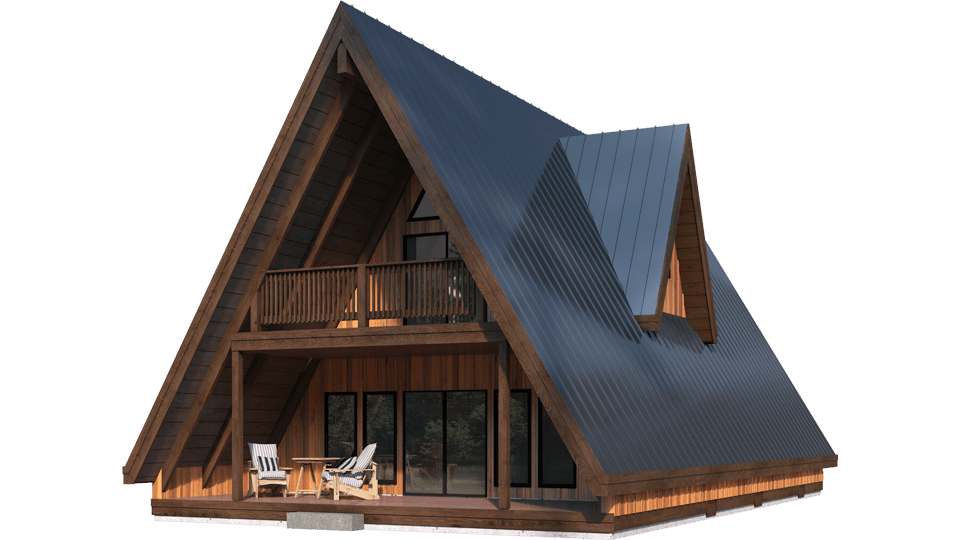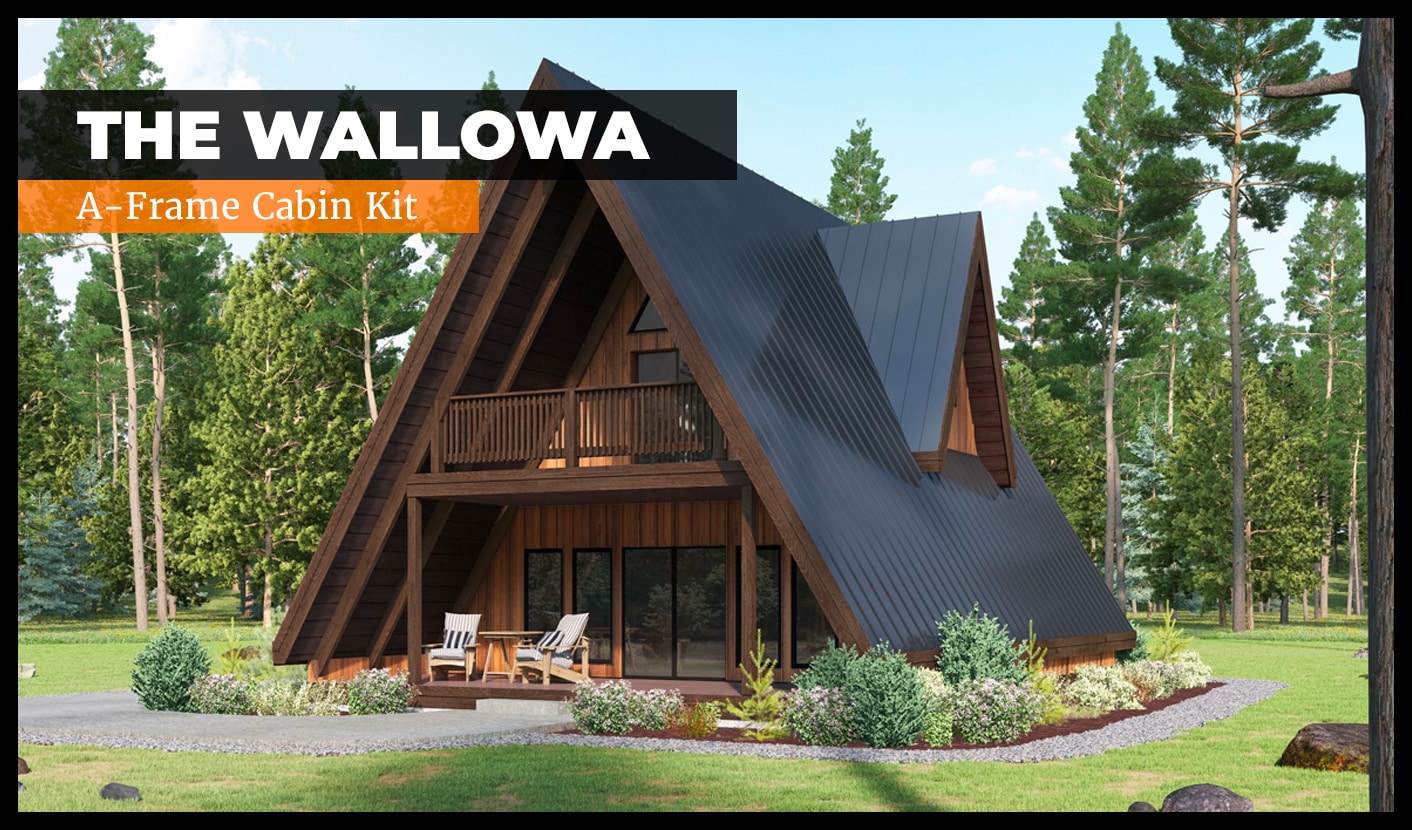 Our Wallowa A-Frame Cabin Kit comes in two standard sizes — the Wallowa 40′ and 50′. The Wallowa 40′ offers a one-bedroom floor plan with an open-concept living, dining, and kitchen space and an upstairs and downstairs deck. The Wallowa 50′, on the other hand, offers an expanded version of the 40′, with two additional bedrooms on the first floor and an extra lounge space upstairs.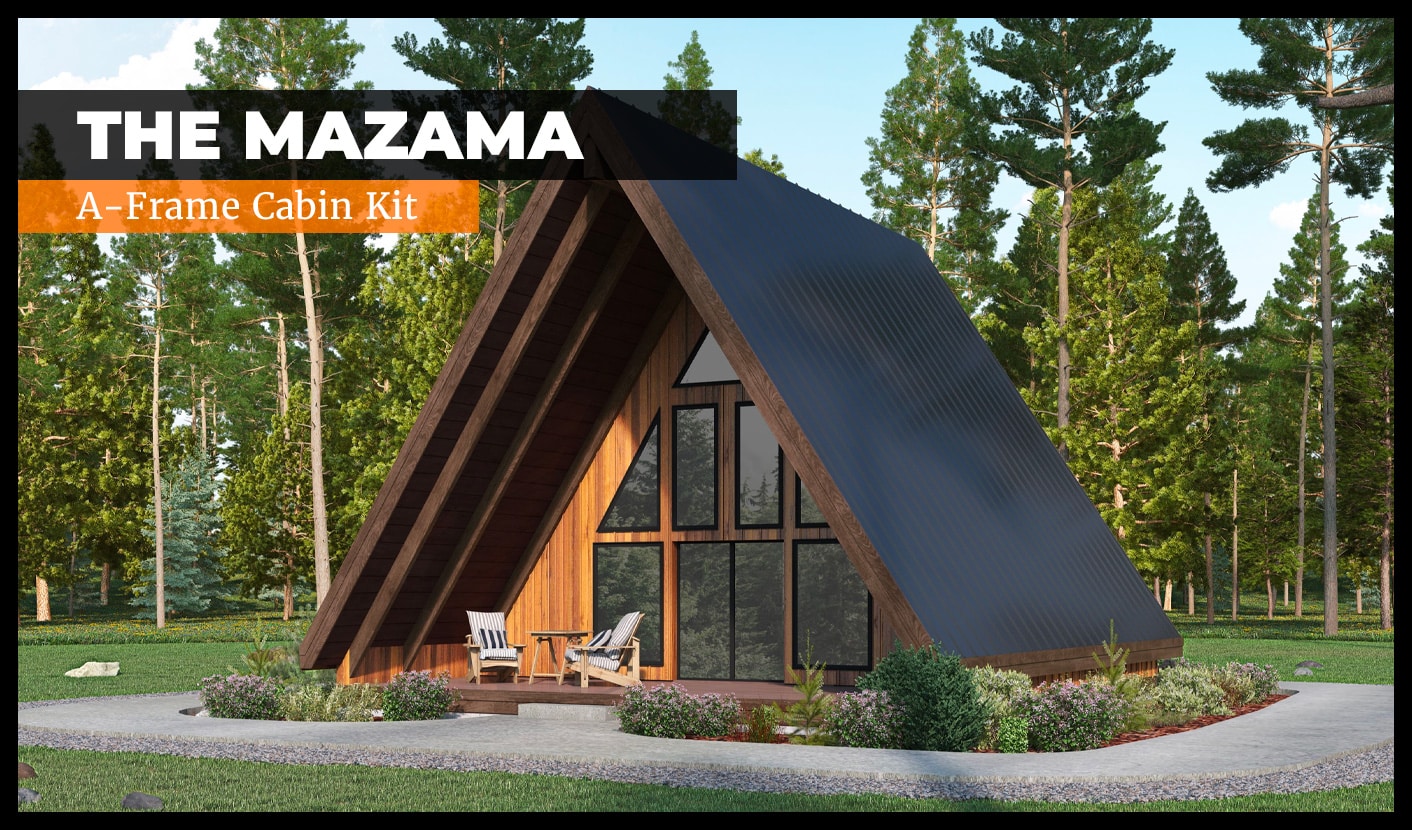 The Mazama is a studio-sized A-frame cabin kit with tons of charm and flexibility. With 495 sq. ft. of conditioned living space, plus a 274 sq. ft. deck, you can enjoy a cozy yet comfortable structure that makes the most of your indoor and outdoor space. This kit offers the ideal floor plan for mother-in-law suites, resort cabins, and vacation homes, though you can easily tailor your layout to suit just about any use. Why DC Structures?
No one knows the value of a heavy timber structure quite like DC Structures. Headquartered in Portland, Oregon, our team treasures the ability to create one-of-a-kind wood buildings using rare materials grown right in our backyard, including select-grade Douglas fir, Western red cedar, and coastal redwood; and our A-frame cabins are no exception. With an A-frame cabin design from DC Structures, you can trust that your structure will reflect the extraordinary beauty of the Pacific Northwest while boasting the strength and longevity that makes a custom building a worthwhile investment. Not only that, but with our team guiding your design and material procurement from start to finish, you can ensure your experience and structure from DC will be nothing short of exceptional in every sense of the word.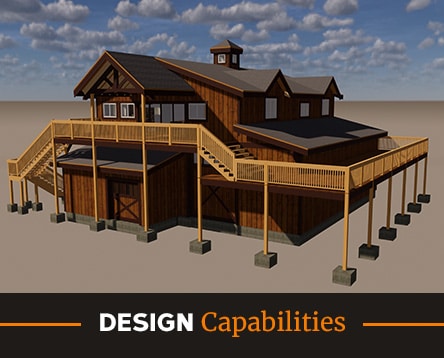 DESIGN
With the help of our talented in-house design team, you can easily modify and personalize your preferred A-frame cabin kit to suit your needs, budget, and style. Using our state-of-the-art 3D design software, our designers will create a dynamic 3D model of your building that allows you to visualize how every area of your space will look once it's finished and remove, add, or change any elements as you go. While we consider our Mazama and Wallowa models to be great starting points for clients, we also offer the ability to create a fully custom A-frame cabin based on your unique design ideas and feedback. No matter the complexities of your design, our team provides the expertise, flexibility, and resources to bring your dream cabin to life; and the tools to ensure you're more than satisfied with the result.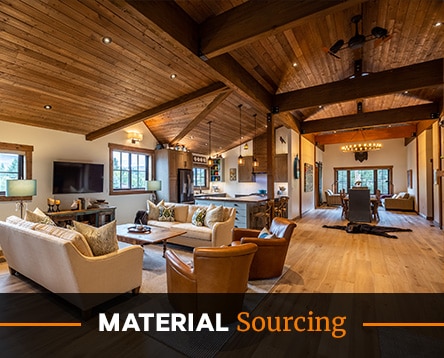 MATERIALS
At DC Structures, we partner with the region's top mill-direct suppliers to provide our customers with only the finest heavy timbers for their projects. From Western red cedar to Douglas fir, we source some of the world's most valuable timber exports for use in our buildings and utilize industry-leading practices to ensure each piece is prepared to perfection. All of our framing lumber comes free of heart center, otherwise known as the soft pith in the middle of the tree, to bolster the structural integrity of your frame. Our lumber is also pre-surfaced on all four sides (S4S) and subject to the highest standards for kiln drying to achieve its desired moisture content and strength.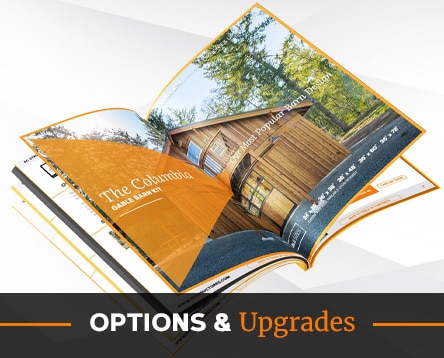 OPTIONS & UPGRADES
Our team offers a wide selection of premium options and upgrades for clients to choose from for their A-frame cabin designs. From industry giants like Andersen and Pella to James Hardie, we work with some of the nation's top-rated material suppliers to provide our clients with dozens of high-end material options for their builds. Whether you're seeking a traditional cabin look or something more modern, our team can help you select the right windows, doors, siding, and more to match your style, location, and preferences. Additionally, if you have something in mind that our team doesn't already list as part of our options and upgrades, we can always help you source those materials for your cabin. At DC, we want to make sure you love your cabin design through and through, and our options and upgrades are just one of many ways we can facilitate that.
Learn More About A-Frame Cabin Kits
INTRODUCING OUR NEW A-FRAME CABIN KITS
Our new A-frame cabin kits are perfect for those seeking a classic yet highly unique structure to add to their property. While A-frame cabins often serve as popular vacation rentals, you can use these versatile structures for any number of purposes, from backyard offices to mother-in-law suites, workshops, and more.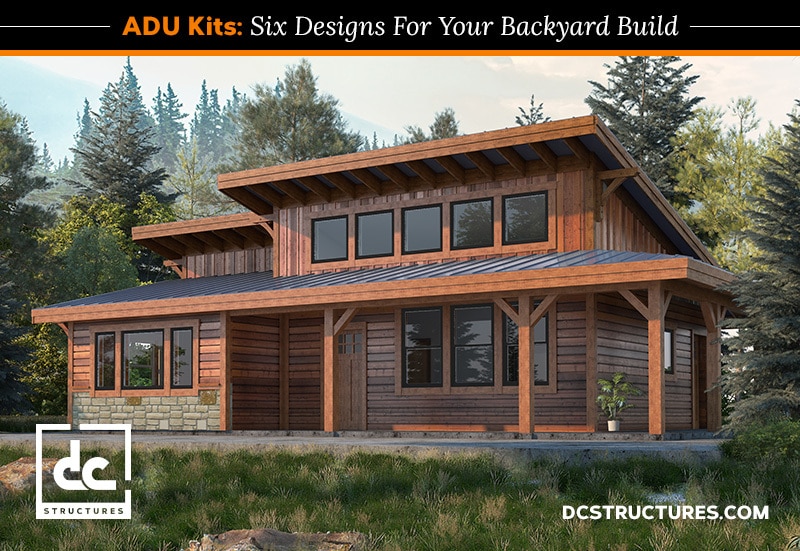 ADU KITS: SIX DESIGN FOR YOUR BACKYARD BUILD
If you're looking for ways to increase the value and profit back on your property, consider investing in an ADU kit that you can rent out to family, friends, and responsible tenants. We offer several pre-engineered models under 1,000 square feet that you can easily tailor to your needs, style, and budget, including our studio-sized Mazama A-Frame cabin.