For the dedicated equestrian hobbyist or professional, a barn with living quarters is a cost-effective and energy-efficient choice. Apartment barns are multi-use structures that house both people and their horses. While sharing an address with your horses might not sound like the most glamorous of lifestyles, the truth is that these structures are well geared toward an upscale, rustic aesthetic. Barns with living quarters that are designed with a dedication to quality craftsmanship and the lifespan of the building are a smart investment in the long run. Inherently sustainable as a result of its efficient resource utilization, the apartment barn allows horse owners to stay close to their equine friends and even closer to the lifestyle they love.
RELIABLE BUILDING Methods
Barns with apartments are a long-term investment and a milestone in the homeowners' lives, and as such they should be built to last. Wood barns with living quarters designed using the reliable style of post-and-beam construction will remain standing for several generations with proper attention to upkeep over time. In fact, timber frame structures are often the only buildings to survive in the wake of a natural disaster, and can more than double the lifespan of their pole barn counterparts. Further, barn apartment kits designed with post-and-beam methods allow for dramatic interior spaces and high ceilings. These open-concept interiors give the home an added touch of elegance, and are great for relaxing with family or entertaining friends.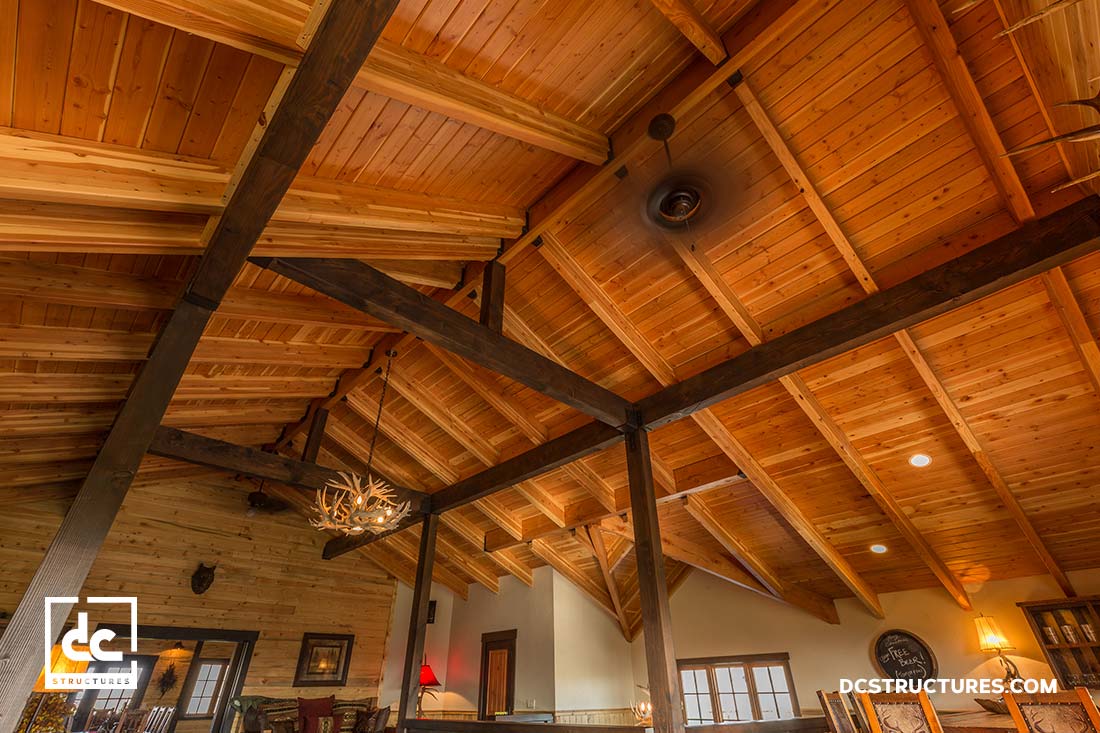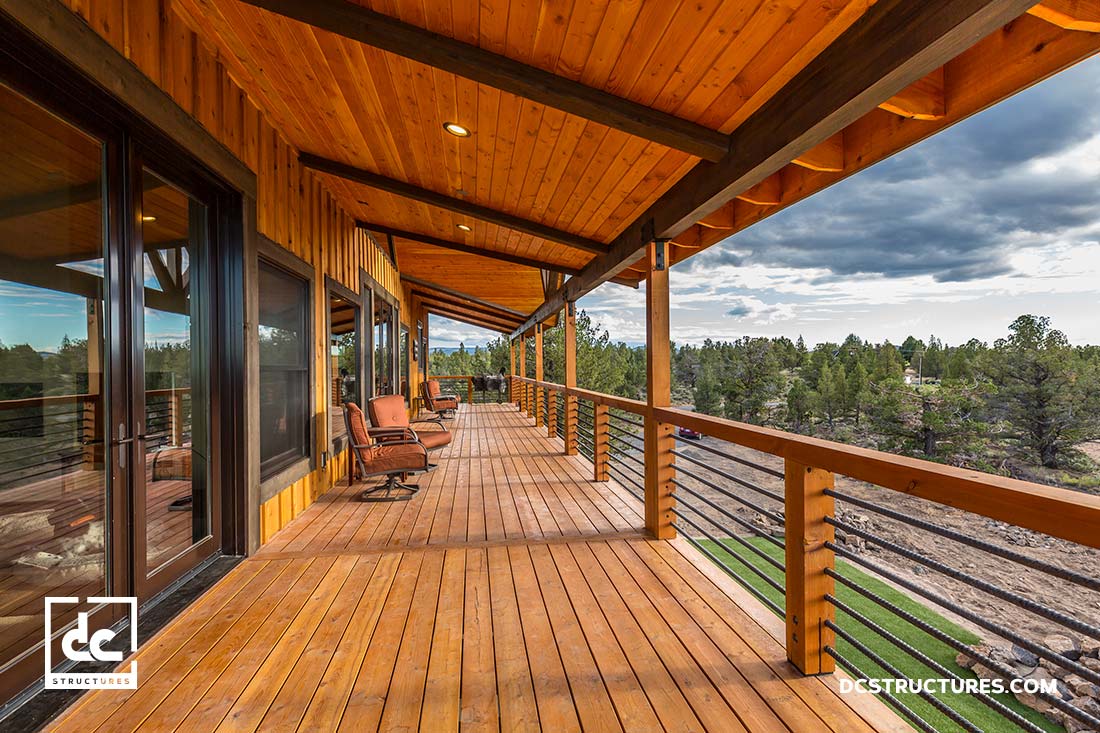 Sometimes people want to know if they can convert an existing barn into an apartment barn by adding or transforming a loft space to serve as living quarters. While it's certainly possible, the unfortunate reality is that barn conversions can be a costly, regulatory nightmare. Fumigation costs and re-engineering fees will often rack up a bill that is ultimately more expensive than a brand new apartment barn would have cost. So, unless the existing barn is in fantastic shape and up to local building codes, designing an all-new custom apartment barn design will likely be a better decision in the long run. In addition to saving on costs, a new barn with living quarters will have guaranteed longevity and more opportunities for personalization.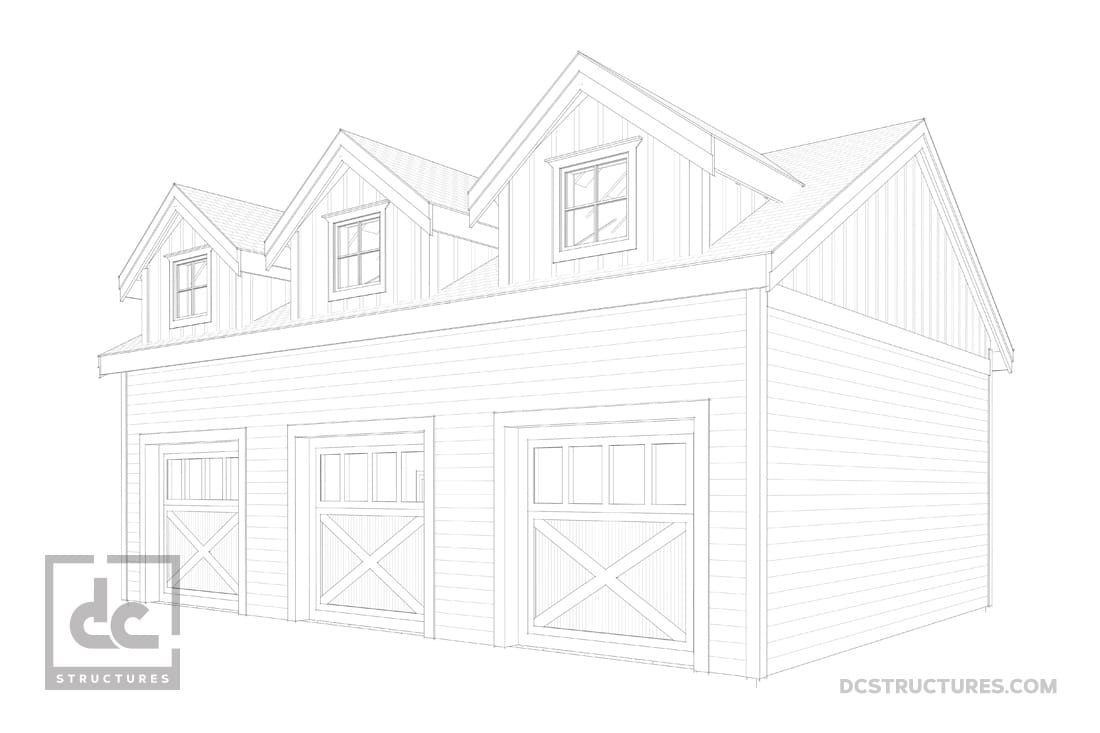 One-of-a-kind Apartment Barn Kits
DC Structures designs and assembles pre-engineered apartment barn kits that can be modified in any number of ways to meet our clients' visions. While it might seem counterintuitive, prefabricated building kits don't have to be cheap or lacking in original character. To this day, no two DC Structures apartment barn packages have ever looked alike. We serve imaginative clients who take great pride in collaborating with our designers to generate unique barn apartment ideas. That's why we've put so much effort into creating a design process that involves clients throughout the development of their apartment barn plans. Our simplified process is highly navigable and offers plenty of opportunities for personalizing an apartment barn kit to complement the homeowner's lifestyle.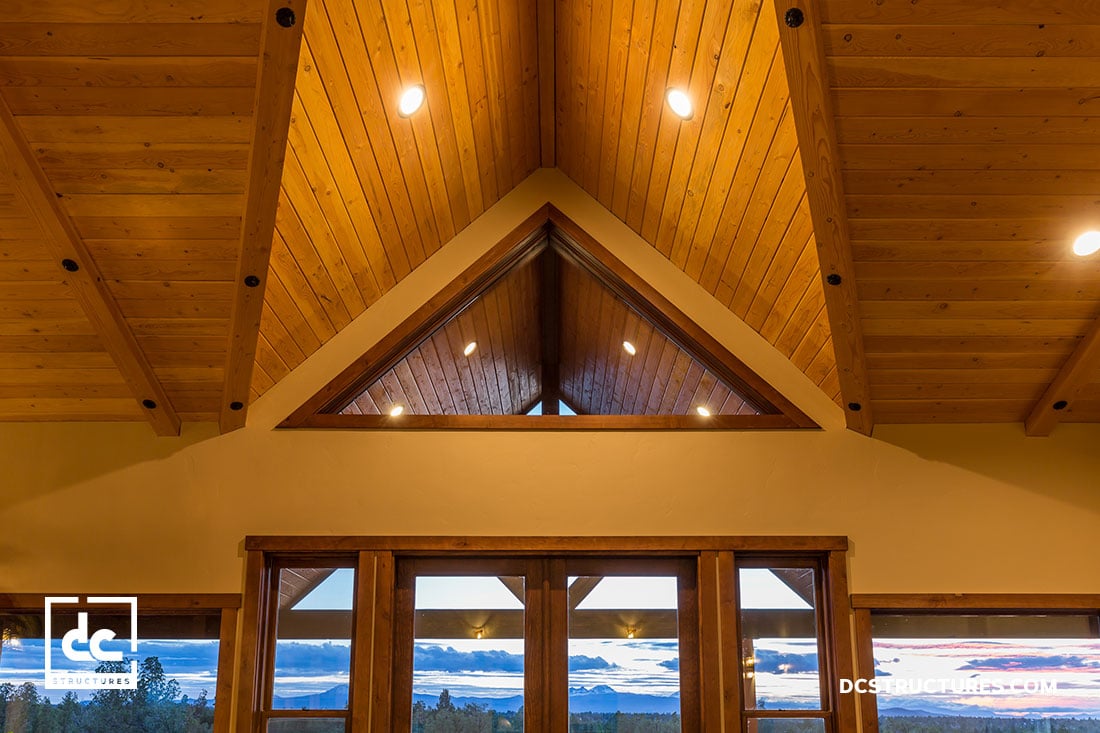 The DC Structures streamlined design process entails having our clients work closely with the project management team to choose an apartment barn kit model, make structural adjustments as the client sees fit, and personalize the kit through our diverse selection of options and upgrades. If our customers wish to make structural changes to any of our standard apartment barn kit models—including building height or width adjustments, removal of posts and custom additions—we offer a flexible design option. It's just one of many ways we demonstrate our willingness to meet our clients' visions.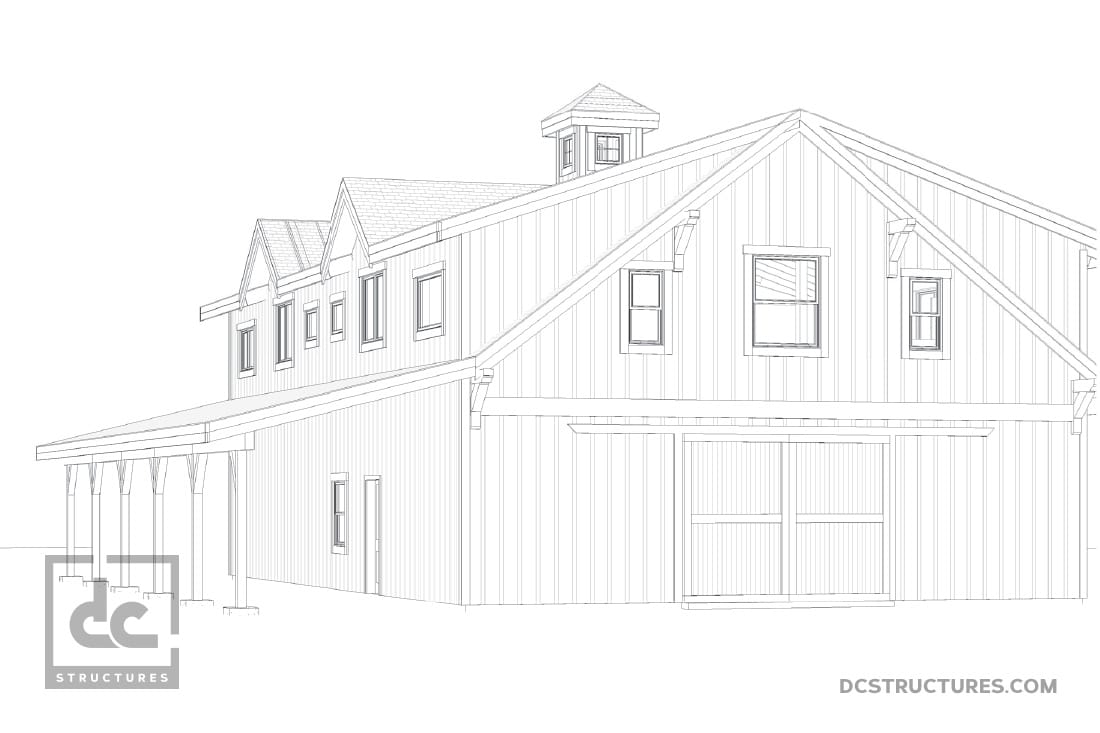 Quality Plans for Barns with Living Quarters Kits
From the attentive, one-on-one guidance provided by our project management team to the impeccable craftsmanship of our apartment barn kits, DC Structures takes its promise of quality products and services to heart. We source the highest quality of materials we can find, including select-grade heavy timbers from our Pacific Northwest mill-direct relationships. Unlike our competitors, we provide our clients and their chosen contractors with builder support throughout the construction of their barn with living quarters project. This ensures the apartment barn is built in a timely manner without complication.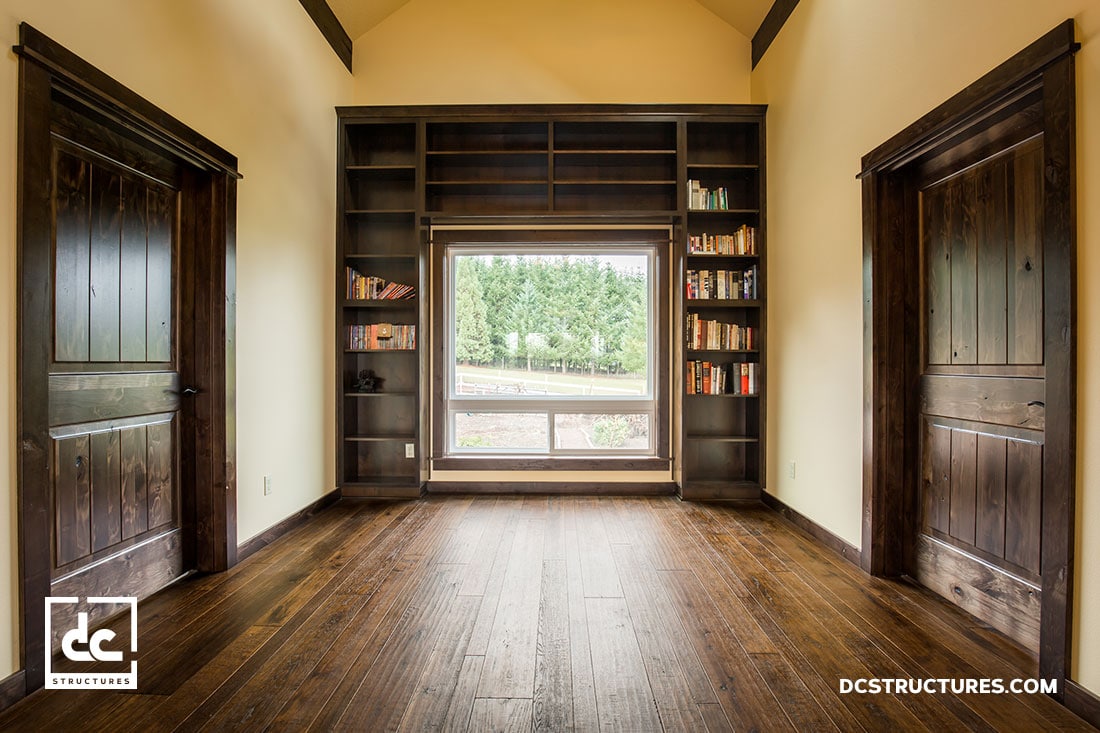 DC Structures' quality promise is about making good on our clients' vision for their pre-engineered apartment barn materials kit. No request is too big or too small for our design team; and with all our experience, there's a good chance we've already accommodated a similar ask. We treat our customers like partners and co-collaborators throughout the process of designing their apartment barn kits. From our superior customer service to the high-quality materials we use in our packages, we stand behind our ability to take our customers' dreams and transform them into plans for the future.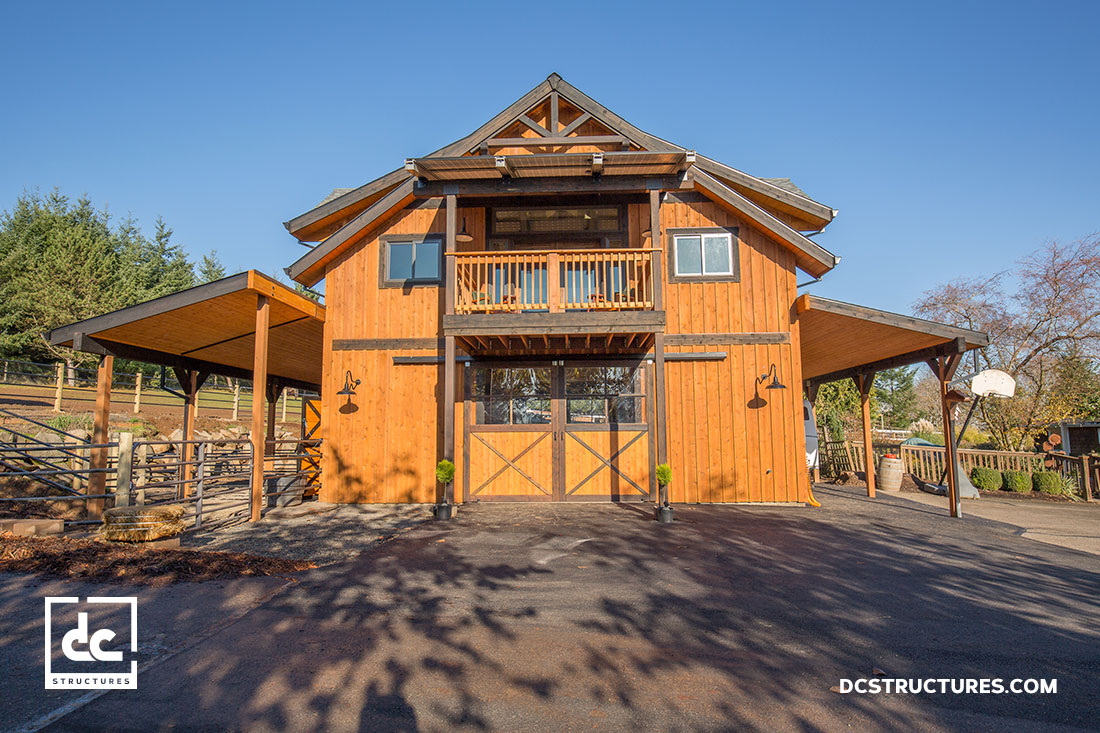 Flexible Apartment Barn Designs
The selection of apartment barn kits from DC Structures varies in style, size and price, and comes with several opportunities for special features and custom additions. For clients with room to spare who are looking to go all in on their equestrian pursuits, a barn with living quarters and attached covered riding arena—like this one in Oregon City, Oregon—means more time in the saddle. Customers looking to lessen their carbon footprint, on the other hand, can design for sustainability with things like compost systems, skylights and solar panels. This apartment barn in Cornelius, Oregon is a shining example of how a barn with living quarters can be both elegant and eco-friendly.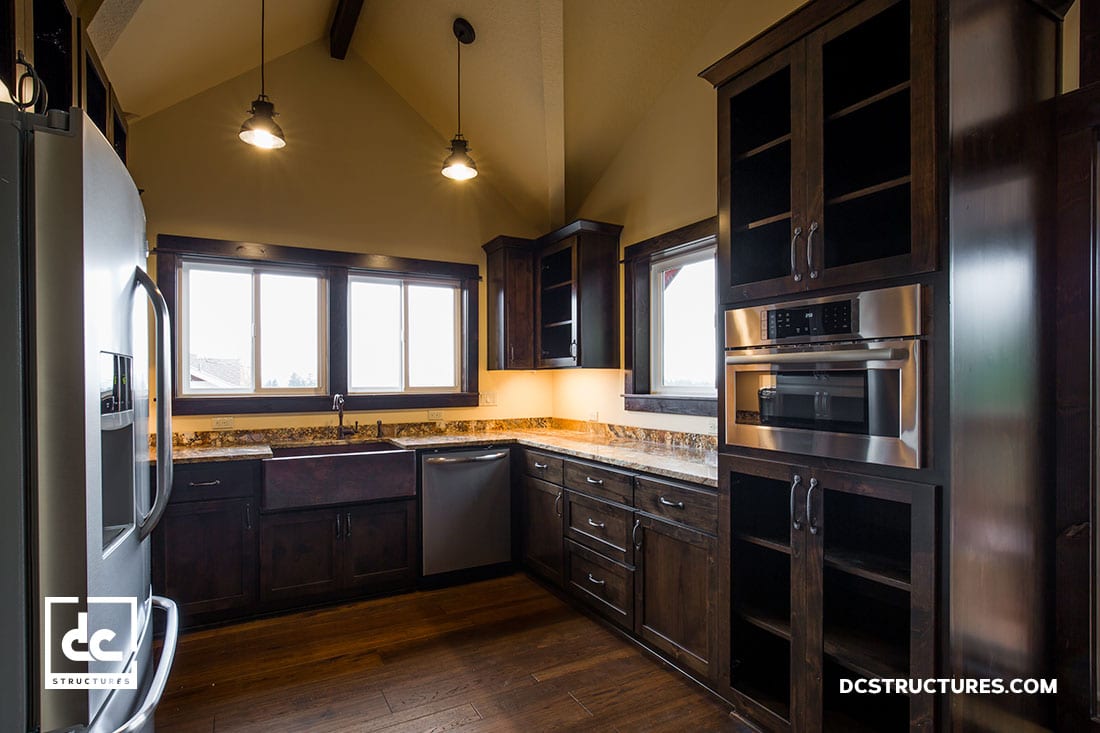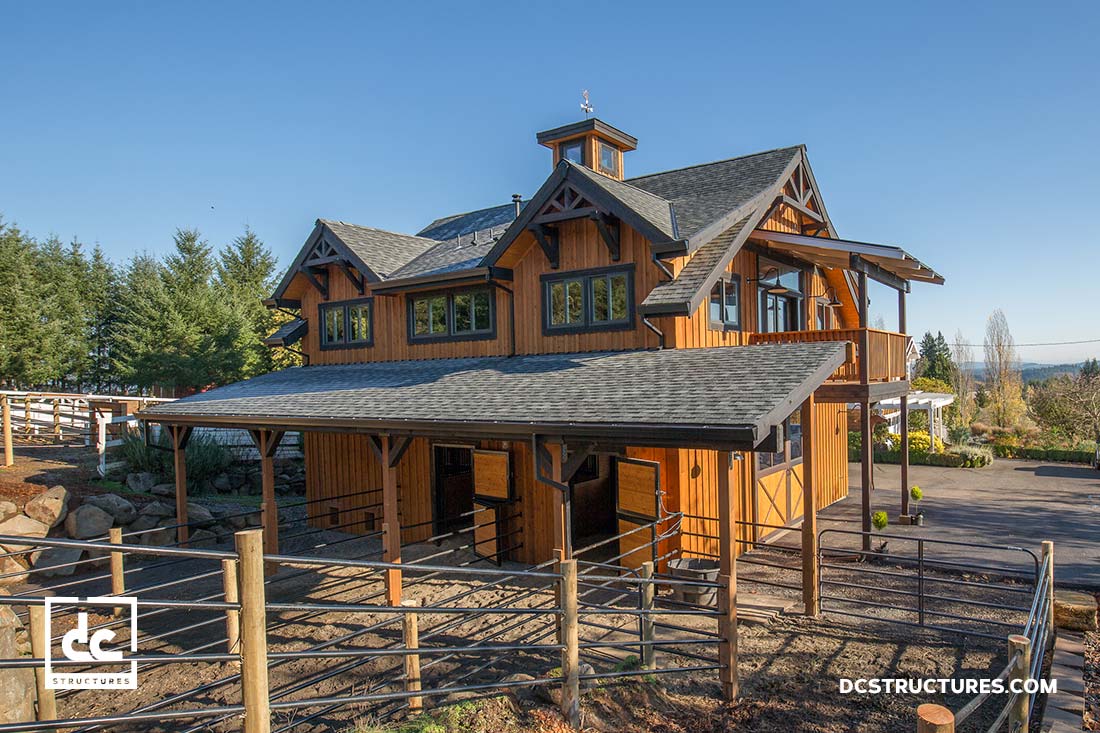 Choosing an Apartment Barn Design Partner
Whatever it is our clients are hoping to accomplish, we understand what a monumental event it is to design a new apartment barn. That's why we go the extra mile to ensure our customers know we are a trustworthy design partner. Our experience working one-on-one with a diverse roster of clients from across the U.S. to turn their unique barn apartment ideas into plans has helped us to better refine our process. We truly listen to what our customers are thinking, which allows us to serve our mission more effectively. Download our digital catalog to imagine the possibilities for a barn with living quarters or request a free quote to get started on an apartment barn kit design today!
Get Started Today!
Start planning the barn home or apartment barn of your dreams with the latest DC Structures product catalog, containing loads of information on pricing, materials, options and upgrades, photos, videos and more.