APARTMENT BARN KITS
As multifunctional spaces grow in popularity, so does the allure of living close to the work you love. Our apartment barn kits are designed specifically for those seeking a multi-purpose space with a floor plan tailored to their individual hobbies and passions. We design apartment barns with everything from horse stalls to RV garages, and even wineries with upstairs living quarters. At DC Structures, we offer endless possibilities for our apartment barn layouts to ensure your versatile home fits your unique lifestyle.
What is an Apartment Barn Kit?
Our apartment barn kits are prefabricated building packages that include all the materials necessary to assemble the structure when it arrives at your site. These post and beam homes are framed with beautiful select-grade Douglas fir posts and glulam beams sourced from the Pacific Northwest. Each apartment barn kit model boasts our signature DC Structures heavy timber look, while featuring an efficient and modern design. Our in-house team of experienced designers have created a line of apartment barn kits with multifunctional floor plans that can be customized to match your vision.
APARTMENT BARN KIT MODELS
The Oakridge is our most popular apartment barn kit, with a flexible design perfect for any creative professional. This durable two-story structure can be turned into a garage for vehicles and outdoor toys, a horse barn, or a workshop with upstairs living quarters.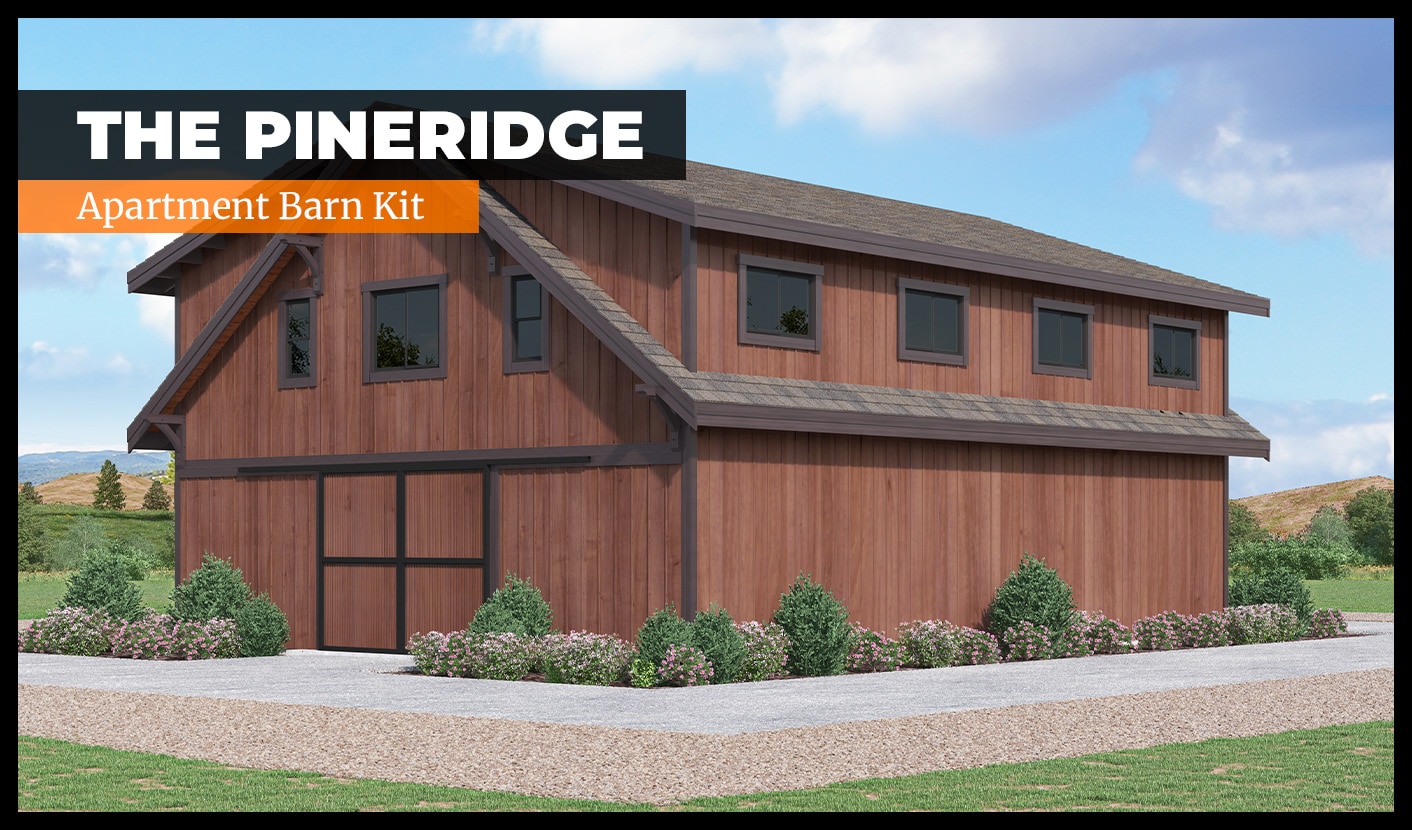 The Pineridge is a highly adaptable apartment barn kit with spacious dormers for added headroom and architectural appeal. This simple yet multifunctional building can be used for any combination of purposes.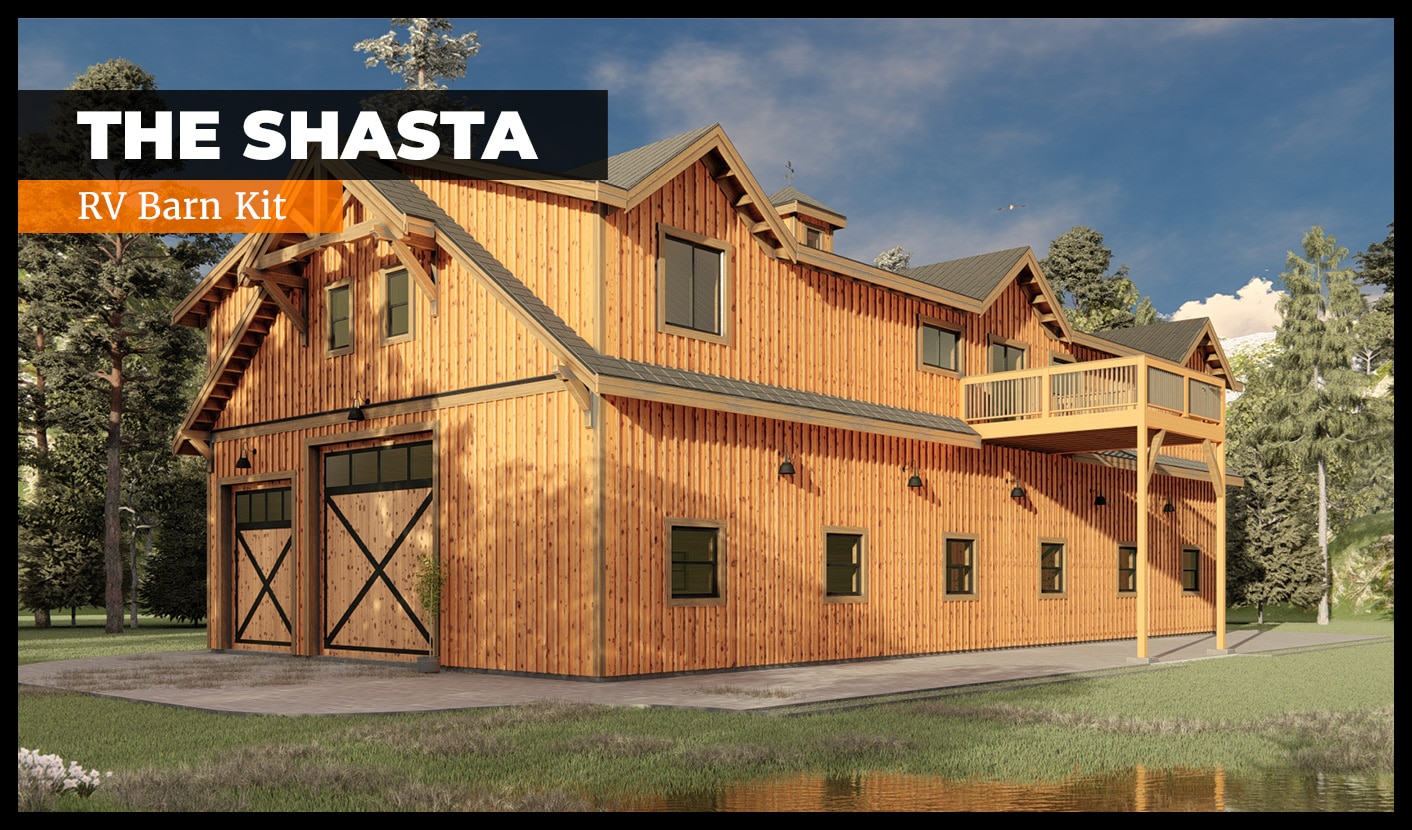 The Shasta is a large multi-purpose structure with the clearance to house a recreational vehicle or a heavy-duty workshop. This beautiful barn-style home is one of our most popular kit models and makes the perfect residence for a homeowner with large vehicles or equipment. Why DC Structures?
DC Structures provides the best and most complete line of post and beam building kits in the nation. We rise above the competition by offering the highest quality materials packages with the most powerful design capabilities in the industry. After selecting your apartment barn kit, our talented team will work with you to create a personalized floor plan that matches your vision for the space. Our flexible design process makes it possible for you to take control of your project and modify it to fit your lifestyle.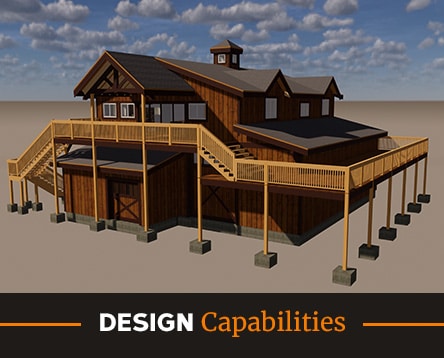 DESIGN
Our apartment barn kits are designed in the reliable method of post and beam construction. This style features dramatic open interiors with beautiful exposed heavy timbers. Not only do these heavy timbers look incredible, they create a sturdy frame that can stand up to high wind and snow loads. Our Flex Design process allows you to make structural changes to your apartment barn kit to meet your individual needs. You can add skylights and solar panels for sustainability purposes or convert the main level into an all-inclusive horse barn for your equine friends.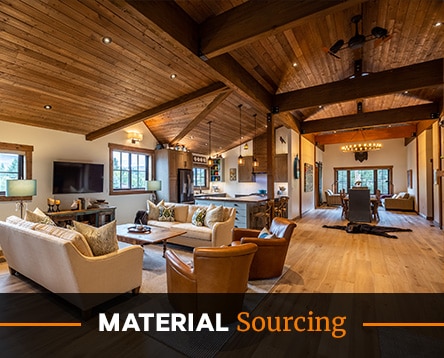 MATERIALS
Our apartment barn kits feature a wide range of high-quality standard materials, including cedar board and batten siding, heavy timber accents, and premium window packages from Andersen. Sourcing only the finest timbers from the Pacific Northwest, our apartment barns are built with beautiful Douglas fir posts and glulam beams that ensure your structure will stand for generations. The versatile nature of our apartment barns also gives you the ability to decide which materials you want to see in your space, whether that be steel-framed breezeway doors for your horse barn or a cupola for improved natural lighting in your living area.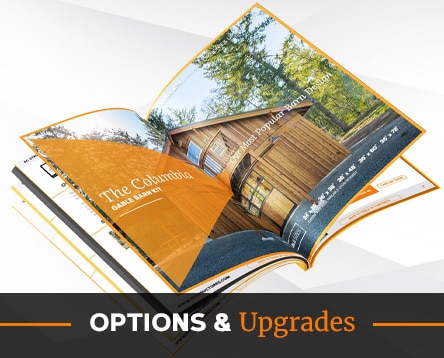 OPTIONS & UPGRADES
When designing your ideal multi-purpose residence, you can choose from a large variety of options and upgrades that we offer for each kit model. We've partnered with some of America's best suppliers of doors, windows, and equestrian equipment so you can customize your space with a wide selection of quality components like luxury stall front packages from Classic Equine or cantilevered decks with cedar handrails. At DC Structures, we offer hundreds of options that are guaranteed to make your structure stand out.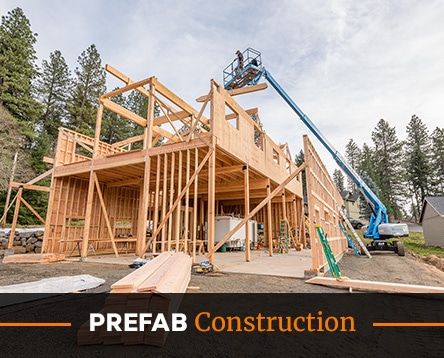 PREFABRICATION
We provide an unparalleled prefabrication service designed to ensure you receive an expertly crafted materials package that can save you thousands in construction costs. Through our prefabrication process, all the structural components of your apartment barn kit are carefully pre-cut, drilled, and labeled by our experienced craftsmen prior to arriving at your site. This makes the construction process less costly by reducing labor hours and equipment rental fees. Prefabrication also leads to more accurate construction, tighter joints, and better overall quality.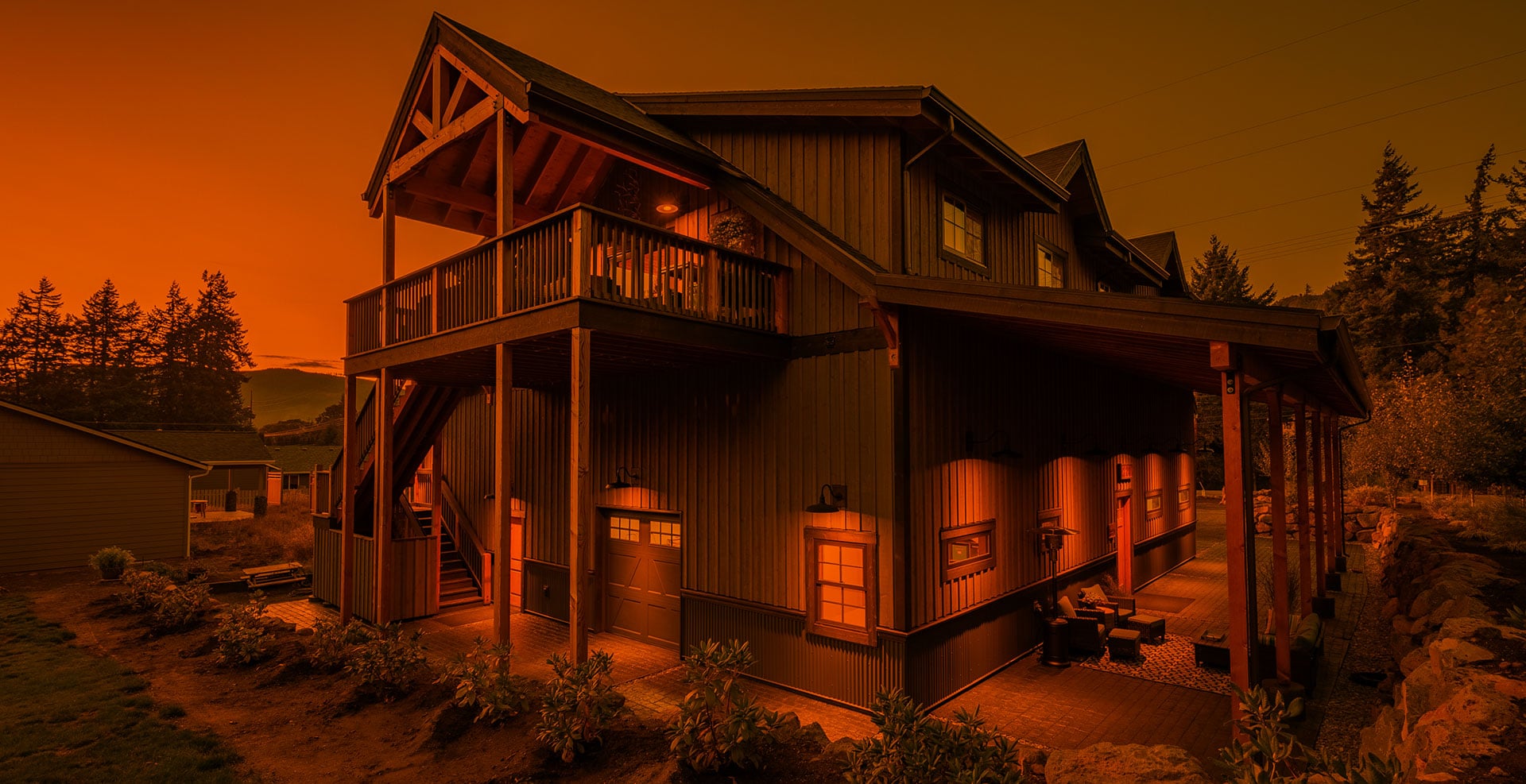 The Process
Our simplified process makes it easy for our clients to design their ideal structure with the help of one of our experienced project coordinators. Learn more about our process and what to expect after selecting your apartment barn kit: Our Apartment Barn Expertise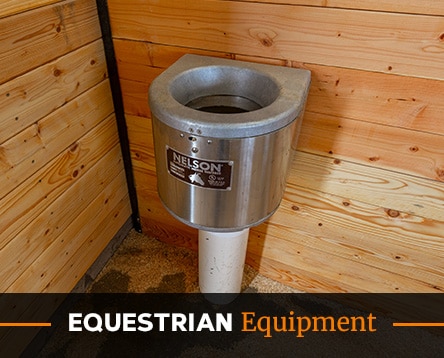 EQUESTRIAN EQUIPMENT
We work with some of the best suppliers of equestrian equipment in the country to provide you with a horse barn that looks luxurious, while featuring a number of safety measures to keep your horses happy and healthy. When planning the design of your horse barn, we encourage you to consider the upgrades available through our partners so you can make the most of your equestrian facility.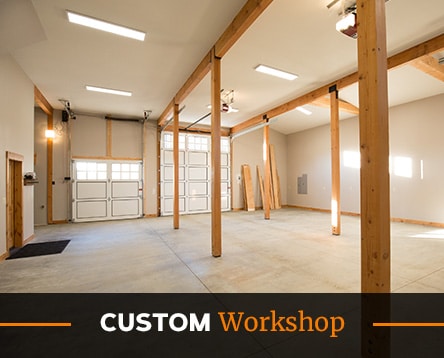 BUILDING YOUR CUSTOM WORKSHOP
Our clients are some of the most creative and innovative people we know, which means they need a customized workspace tailored to their unique interests. That's why we design custom workshops that give them the ability to exercise their passions without limitation. This includes designing workshops with RV garage bays or removing posts to maximize open space. If you're looking to build a custom workshop with unique capabilities, look no further than an apartment barn kit from DC Structures.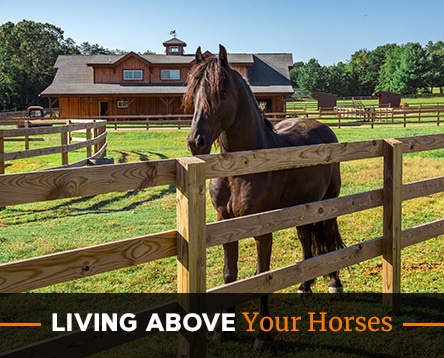 THE BENEFITS OF LIVING ABOVE YOUR HORSES
Many horse owners are choosing to invest in apartment barns for a variety of sensible reasons. A horse barn with living quarters offers a practical and economical solution to the alternative of building separate structures. With an apartment barn, horse owners have immediate access to their horses in the case of an emergency, and the comfort and convenience of being a few steps away from their equine friends. Additionally, an apartment barn gives you the ability to relax in a living space of your own, while being able to provide your horses with the best care possible.
Learn More About Apartment Barn Kits