PAVILION KITS
Your backyard should be an oasis – a place where you can forget the worries of the day or spend a weekend with friends and family. At DC Structures, we've created a line of timber frame pavilion kits designed to transform your outdoor space into a resort-style retreat. Our pavilion kits feature select-grade Douglas fir heavy timbers from the Pacific Northwest that add value to any property. Whether you're looking to cover an existing patio or create a new outdoor living area, our timber frame pavilions can be personalized to meet your unique needs.
What is a Timber Frame Pavilion Kit?
A pavilion kit is a heavy timber materials package that is expertly designed and prefabricated by our team of artisans and shipped to your site. Our wood pavilion kits include all the select-grade materials needed to assemble the package, including engineered blueprints, heavy timber framing, oak pegs to complete connections, Douglas fir ceiling material and more. Our detailed plans, pre-cut timbers, and builder support service make the assembly process worry-free. Choose from four standard pavilion styles, any of which can be customized to match your vision for the space.
The Benefits of a Pavilion for Your Event Business
As couples continue to shy away from more traditional wedding venues like churches and hotel ballrooms, many are choosing to instead celebrate their big day outdoors. Several of our clients with successful wedding venues have chosen to add a custom pavilion to their property for this reason. A timber-frame pavilion gives you the ability to increase your annual revenue with a romantic outdoor venue in an idyllic natural setting. A pavilion can also add a new line of business to any farm or winery.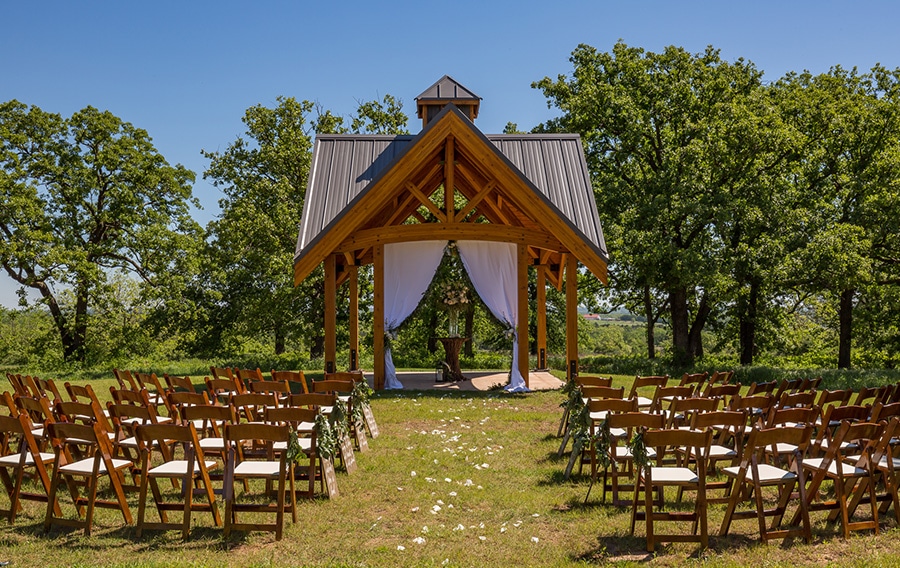 Take a Tour of Our Clients' Pavilions
This personalized king post-style pavilion makes a stunning addition to a public park in Boring, Oregon. The pavilion features three 16′ heavy timber trusses, 8″ x 8″ Douglas fir posts, mortise and tenon connections, and a tongue and groove wood ceiling.
Our clients in Sandy, Oregon asked us to build this customized double ridge-style pavilion as a backyard complement to their beautiful apartment barn. This pavilion features 20′ heavy timber trusses, 8″ x 8″ Douglas fir posts, and an open fire pit with a hood and chimney built right into the structure. Why DC Structures?
DC Structures is home to America's best and most complete line of pre-engineered heavy timber structures. We've designed everything from stunning outdoor pavilions to full-service wedding venues and custom homes. As the nationwide leader in heavy timber building kits, we take our commitment to quality seriously, which is why our pavilion kits feature the finest Douglas fir timbers from the Pacific Northwest. Crafted to perfection, our line of timber frame pavilion kits exemplify our high standards for quality and are sure to add value to your outdoor space.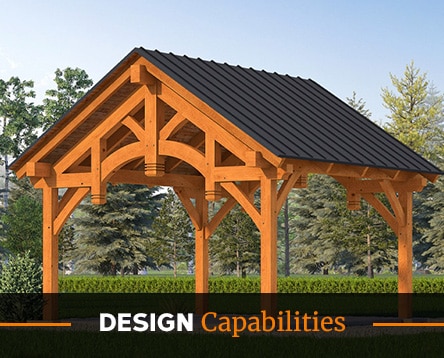 DESIGN
Our pavilion kits are designed with all-wood mortise and tenon joinery. This ancient construction method creates structures that can stand for generations to come. Depending on your needs, we can easily customize any timber frame pavilion to better match your vision for your backyard space. Our Flex Design process makes it easy for you to make structural adjustments, including adding additional trusses, changing the width and height, or modifying the roof pitch.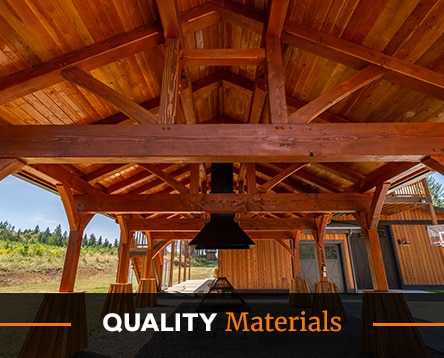 MATERIALS
Our timber frame pavilion kits come fully equipped with all the materials necessary to ensure your pavilion can be built quickly and efficiently. This includes Douglas fir tongue and groove ceiling material, post base brackets, heavy timbers with pre-drilled holes for mortise and tenon connections, and all fasteners for the timber frame. Our materials packages are designed to take the guesswork out of the building process and make it easy for your contractor to assemble your personalized pavilion in record time.
PROCESS
At DC Structures, we pride ourselves on our streamlined design and procurement that saves our clients thousands of dollars in construction costs without sacrificing quality. During the prefabrication process, our pavilion kits will be cut to order by our team in a weather-resistant facility in Oregon. The indoor construction environment allows for more accurate construction and better overall quality. With the help of one of our project coordinators, you can modify the design and layout of any pavilion kit. Our flexible design capabilities make it possible for you to create a pavilion that reflects your personal style.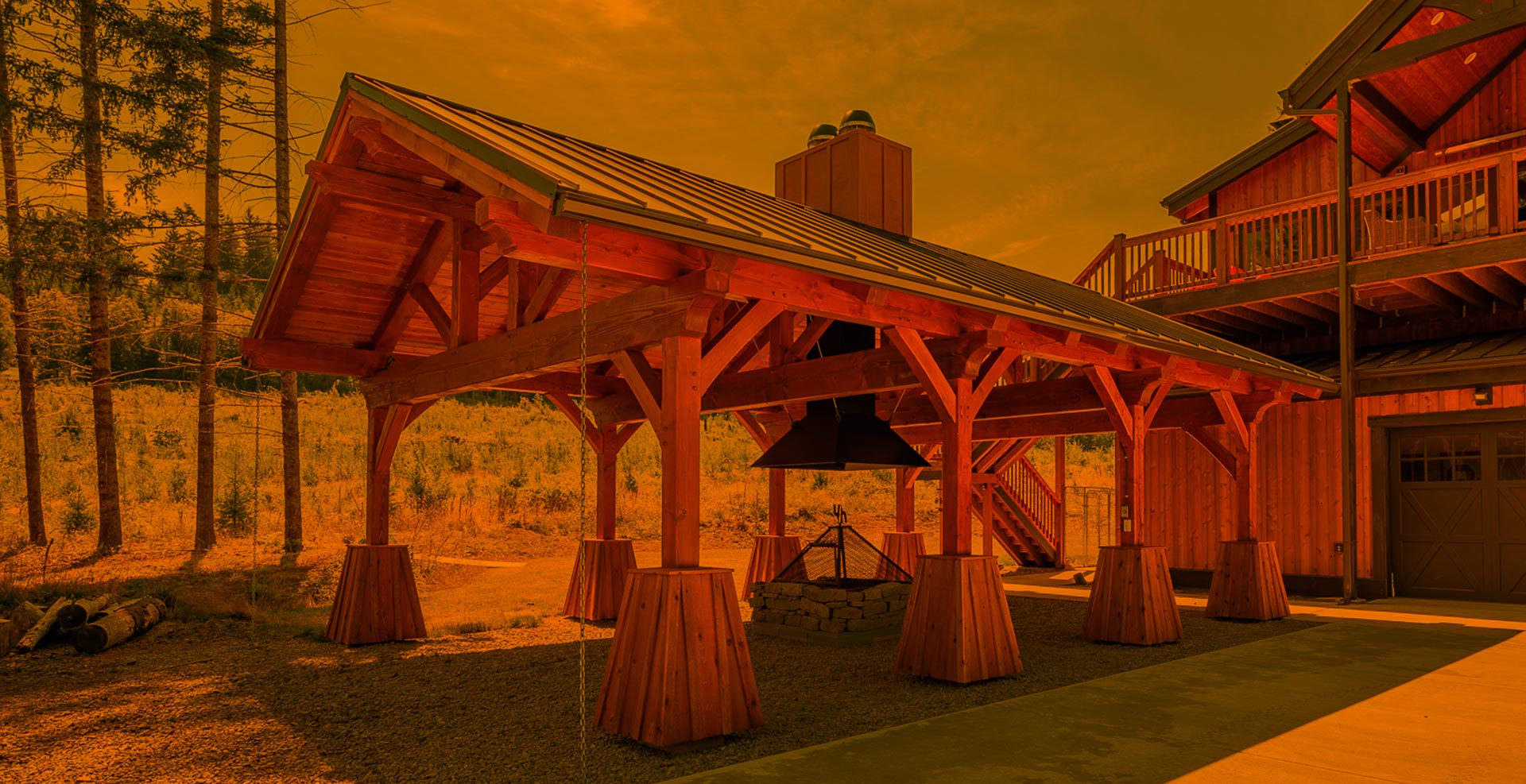 Designing a Pavilion Perfect for Entertaining
Stone fireplaces, custom chandeliers, and outdoor kitchens are a few of the most popular features that homeowners add to their pavilions, but you can do just about anything you can imagine. If you're looking for inspiration, check out HGTV.com for helpful suggestions and tips on how to personalize your outdoor pavilion.
Learn More About Our Timber Frame Pavilion Kits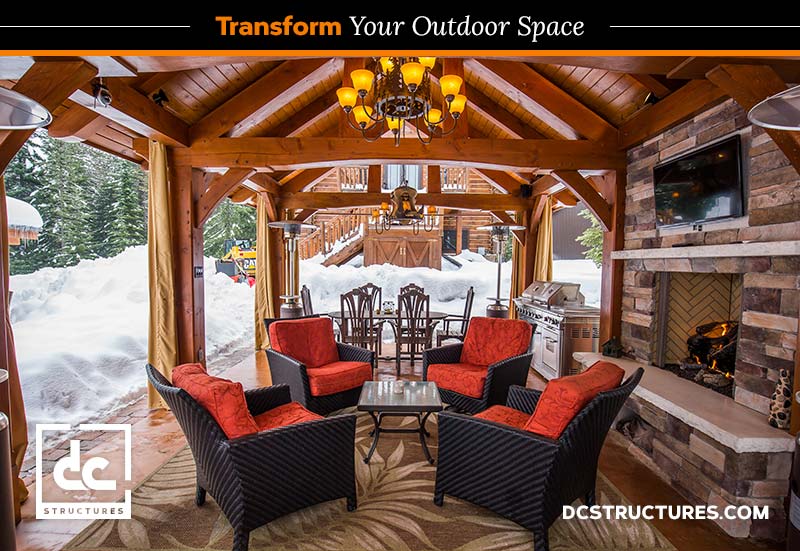 LEVEL UP WITH A TIMBER FRAME PAVILION KIT
There are always steps you can take to enhance the look of your backyard space, including adding a custom pavilion to your property. This article details what makes our timber frame pavilion kits unique and why you should consider investing in one of these all-wood structures for your outdoor area.
FLEXIBILITY FOR YOUR VISION: DC FLEX DESIGN
At DC Structures, we offer unparalleled design capabilities that allow you to customize your structure according to your vision. If you're curious to learn more about our Flex Design process, be sure to check out this blog post that covers the numerous ways you can modify your chosen kit model.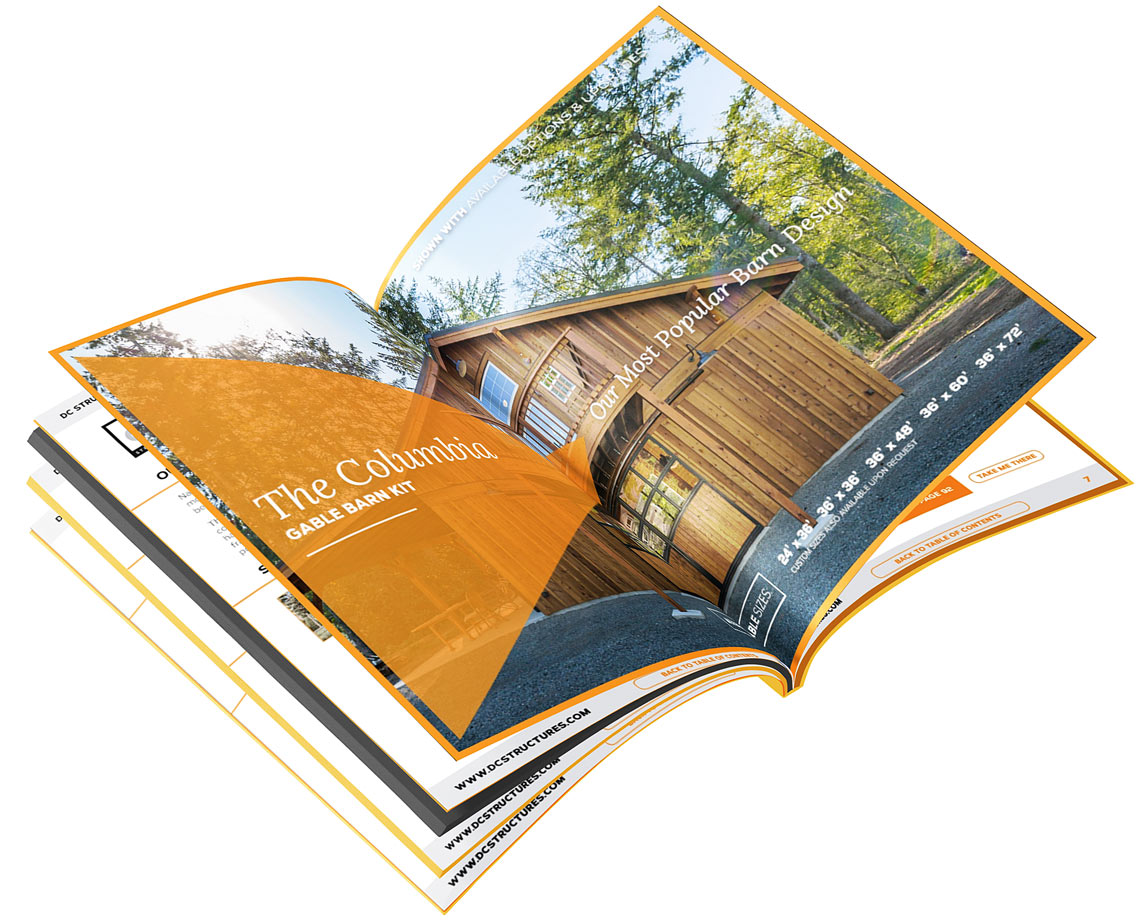 REQUEST A FREE DIGITAL CATALOG
---
Start planning the barn of your dreams with the latest DC Structures product catalog, containing loads of information on pricing, materials, options and upgrades, photos, videos and more.