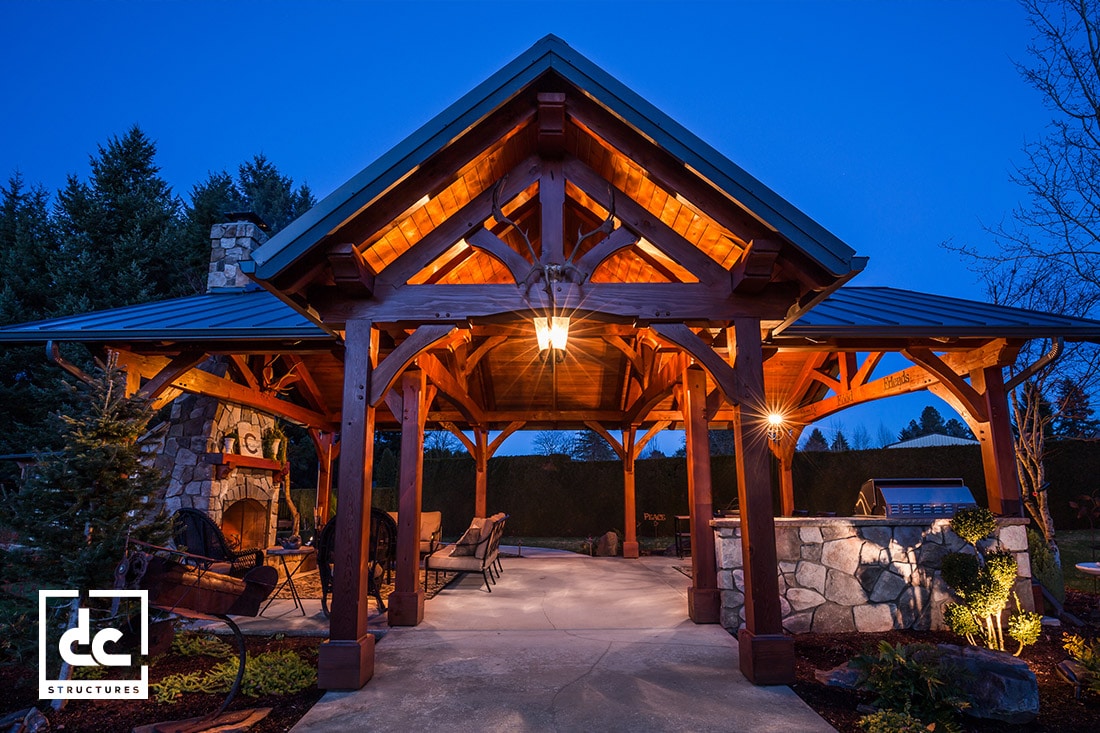 Timber Frame
Pavilion Kits
There are few things that can transform your backyard space like an outdoor pavilion. Elegant in appearance and practical in their various functions, a timber frame pavilion makes for an enchanting outdoor atmosphere that is ripe for entertaining family and friends. Whether someone is looking to add coverage to their patio, a roof above their hot tub or a beautiful structure under which they can relax and take in the views of their property, a wood pavilion is the perfect solution.
Learn About Wood Pavilion Kits
Some companies sell wood pavilions at a steal of a price while promoting fast and easy construction. Be wary of these offers, as there's a good chance these pavilions will be designed in the shaky style of pole construction. When compared to their timber-frame or post-and-beam counterparts, pole buildings are just not a good investment. A cheaper price tag is always attractive, but as the saying goes, you get what you pay for. Regardless of how well they are cared for, pole designs are not meant to last any more than four decades. That's because their designs call for wooden posts to be chemically treated and set into wet concrete. In addition to the harsh environmental effects of lumber treatments, wood in wet concrete will kick off a long process of rot that one simply cannot avoid. If someone is going to invest in a beautiful outdoor pavilion for their property, shouldn't it be built to last?
Backyard pavilion kits that are designed using the durable method of timber-frame or post-and-beam construction will last for generations to come if properly cared for over the years. Timber frame structures are usually the only ones to remain unharmed in wake of a natural disaster. An investment you can bank on passing along to future generations, timber frame pavilions boast both structural reliability and a natural elegance that combines functionality and luxury aesthetic in the best of ways. Timber framing and post-and-beam construction do not require chemically-treated timbers, which means the lumber maintains its vibrant coloring. This makes the heavy timbers in an outdoor pavilion a centerpiece of the design rather than something to hide or distract from.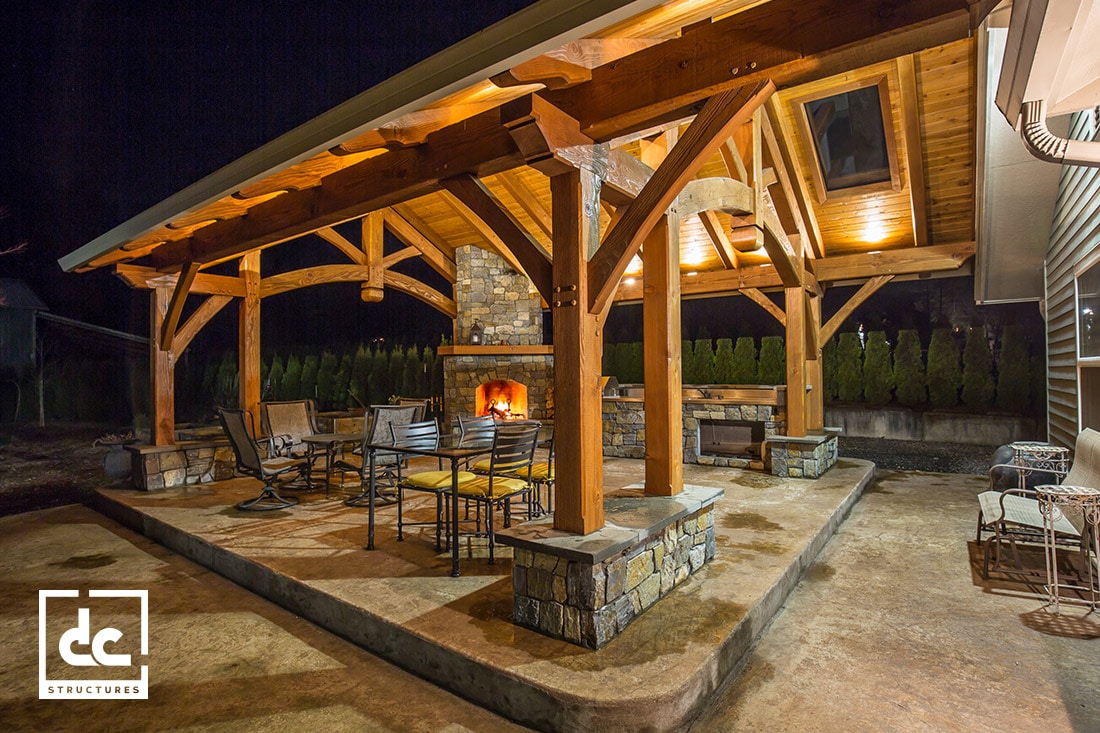 DC Structures designs and assembles stunning outdoor pavilion kits for clients across the country. While some people are skeptical of a pre-engineered pavilion kit, the reality is that our wood pavilion kits are anything but basic or uninspired. We offer our clients with highly customized solutions for their outdoor spaces, and go to great lengths to ensure it complements any existing structures that are already occupying the land. DC Structures has never once sold two backyard pavilion kits that look alike, because that's simply not the kind of clientele our products attract. Regardless of what our customers are trying to accomplish with their timber frame outdoor pavilion, we accommodate their visions with our streamlined pavilion kit design process.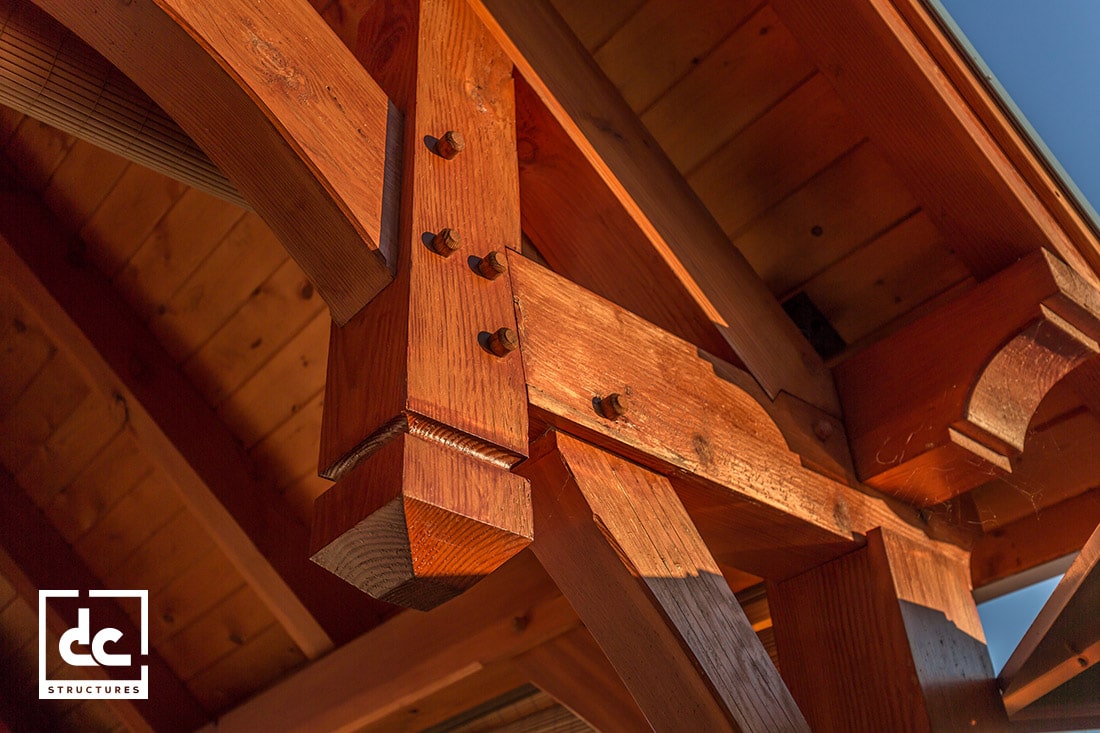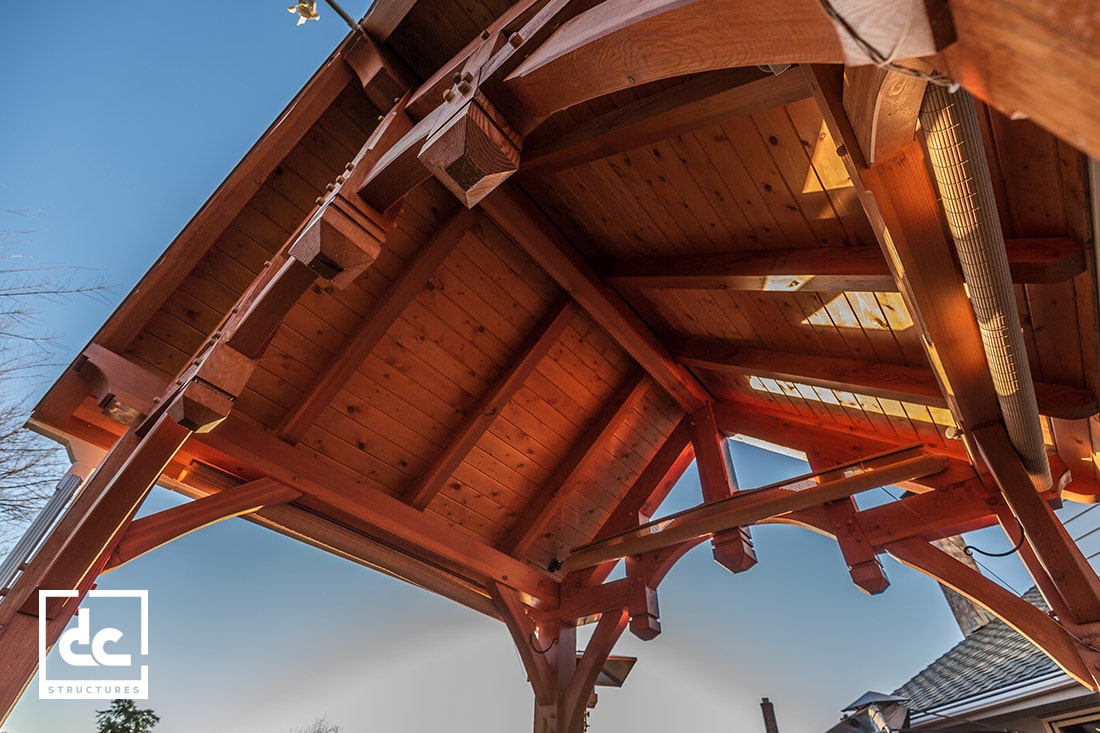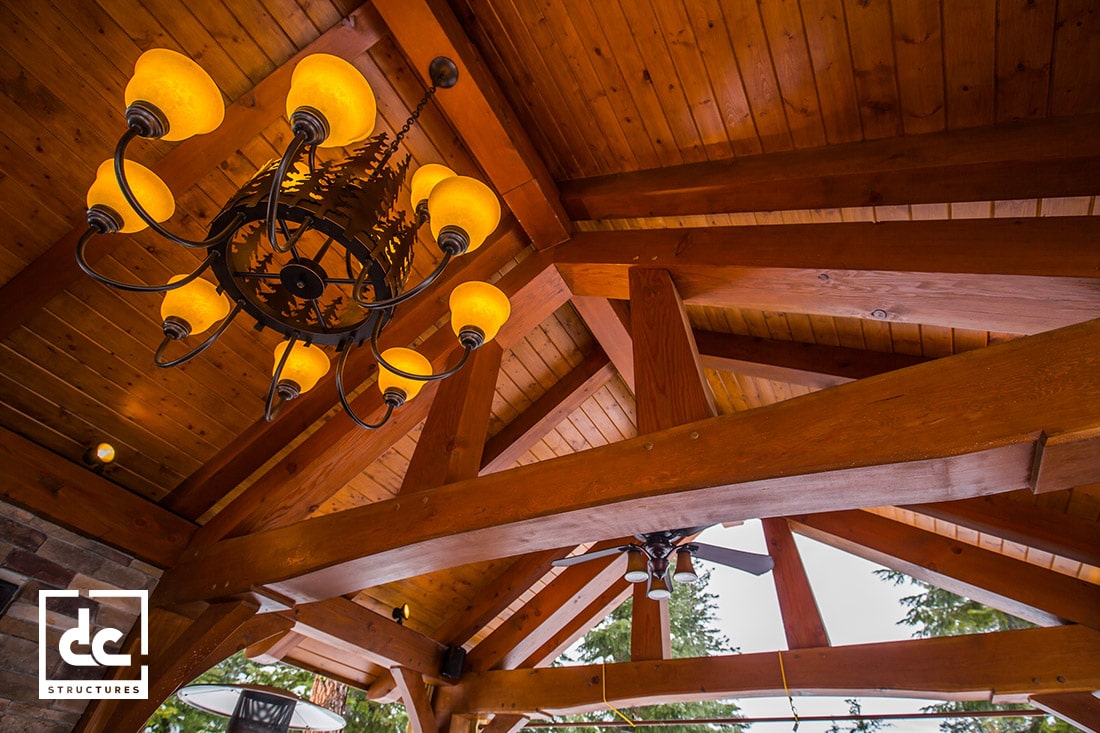 Our innovative design process consists of close collaboration between the customer and our project management team. We understand that it is our job to extract the client's vision and deliver on a top-notch post-and-beam pavilion. That's why our team walks every customer through the process of selecting a pavilion kit and personalizing it to meet the client's needs. If a customer likes one of our outdoor pavilion kits but would like it more with major structural adjustments, we also offer a flexible design option. This applies to great-room interior truss details, porch or entryway designs, timber frame outdoor kitchens and more. We want our customers to have as many options as possible.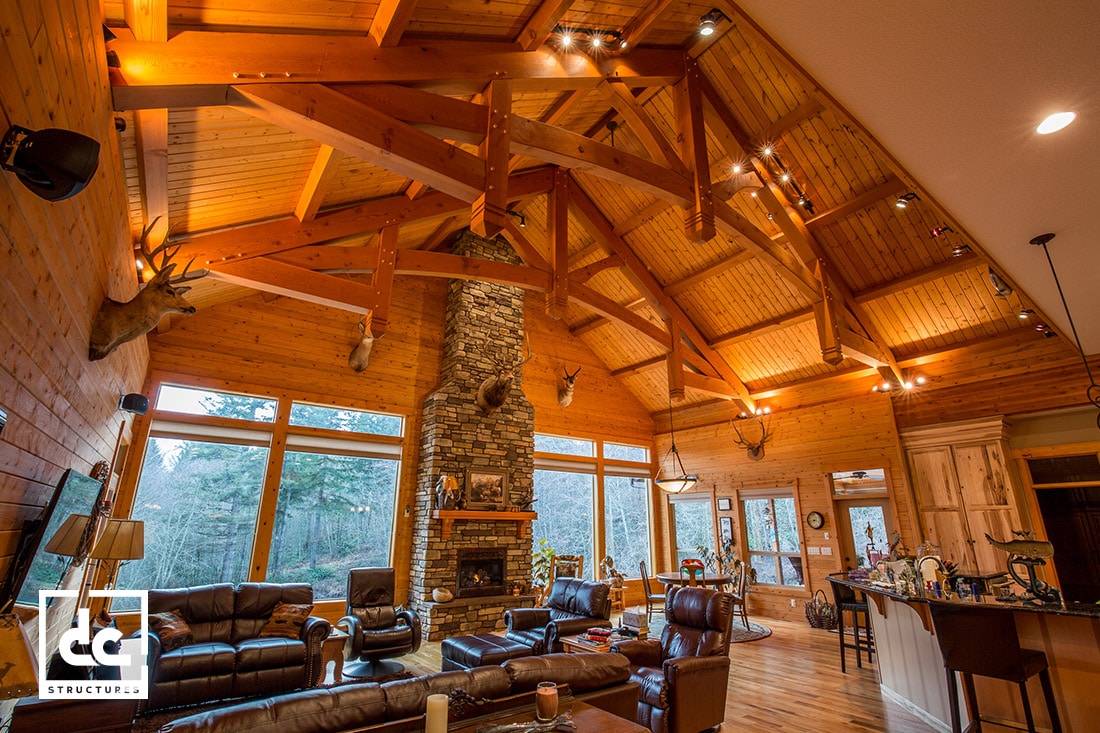 QUALITY PAVILION Plans
The DC difference is embodied in everything we do. From customer service that is unmatched by our competition to the excellent craftsmanship of our products, we take seriously our quality promise. Our number one goal is to exceed our clients' expectations for their wood pavilion kits, and we accomplish this without cutting corners or resorting to money-grabbing tactics. The way we see it, our customers are our partners—a relationship that doesn't just suddenly end once the pre-engineered pavilion kits have been shipped. Rather, we offer our clients and their chosen contractors builder support throughout the construction phase of their outdoor pavilion projects. This ensures that construction is completed in a timely manner without incident, and further emphasizes our commitment to client satisfaction.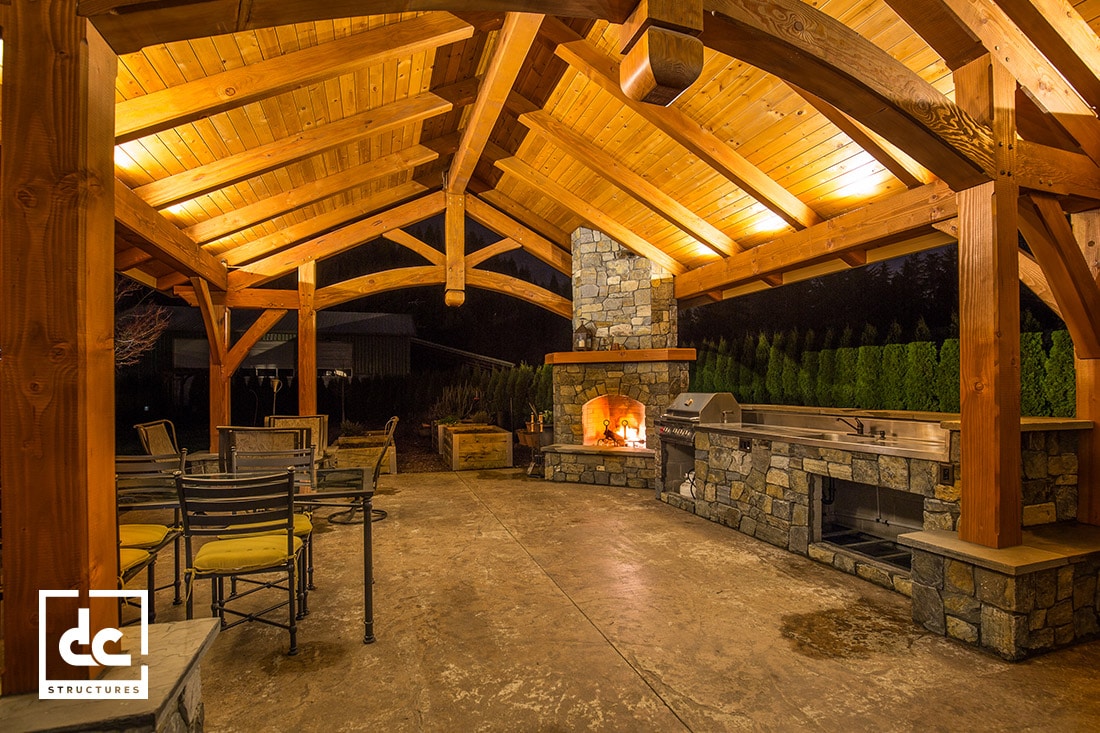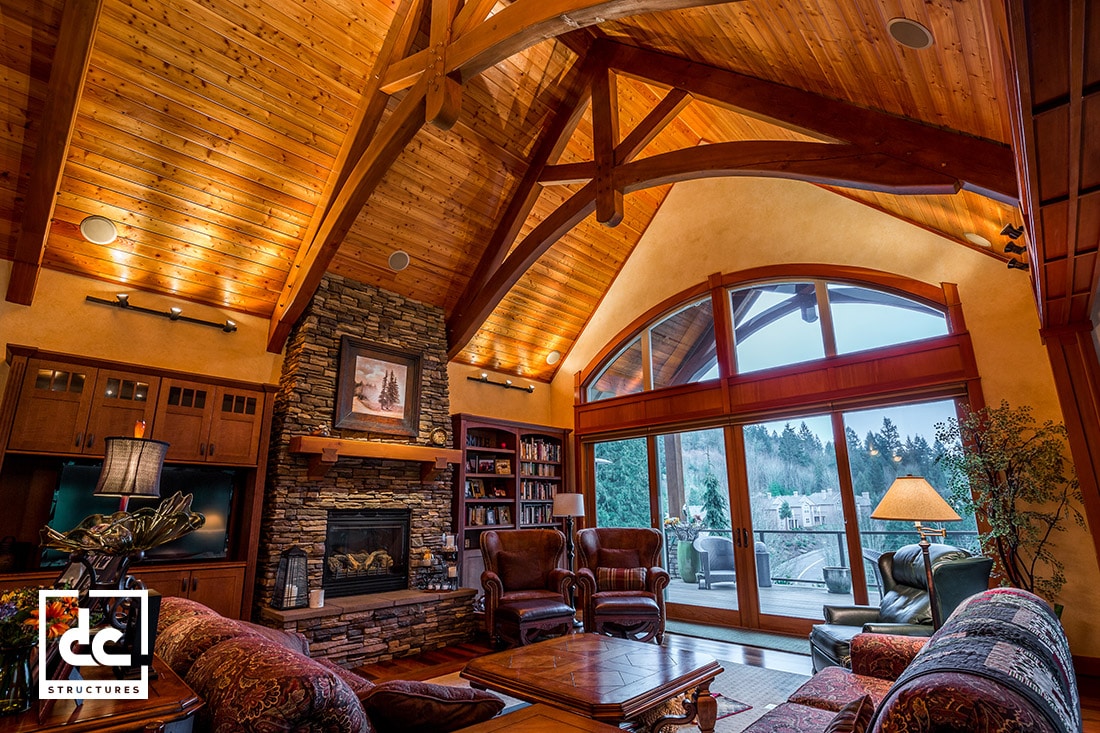 In addition to our knack for cultivating clients' dreams and translating them into timber frame pavilion plans, we support our quality promise with top-of-the-line construction materials. Every one of our wood pavilion kits is assembled with high-quality heavy timbers from our mill-direct suppliers in the Pacific Northwest. From Douglas fir to Western red cedar, our location within the heart of Oregon's thriving timber industry means we get to pass along great discounts on lumber to our wood pavilion customers. It is our dedication to making everything as beautiful, smooth and cost effective as possible that makes us an ideal partner for our clients' timber frame pavilion projects.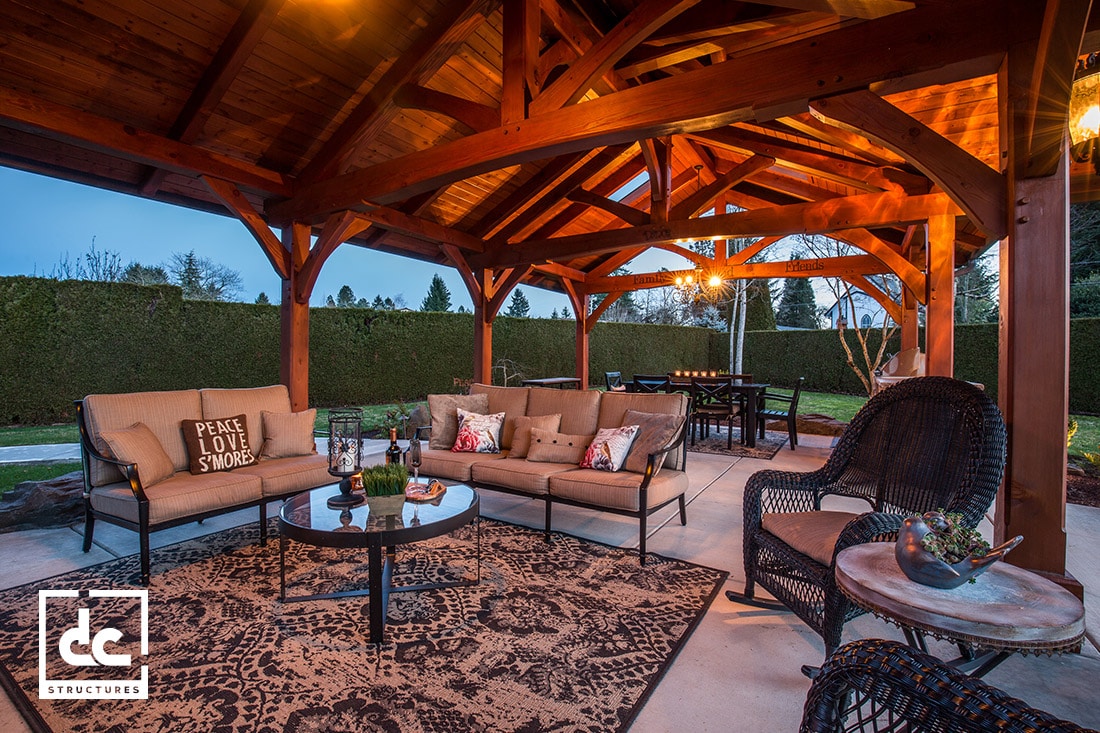 OUTDOOR PAVILION Ideas
DC Structures has worked with a diverse array of customers from across the U.S. to create beautiful outdoor pavilion kits. While we are more than flexible when it comes to helping our customers with their custom timber frame pavilion plans, we also boast a line of beautiful pre-engineered pavilion kits that are easily modified to complement the property's existing structures. Between the Double Ridge, the Queen, the Hammerbeam and the King, there's no shortage of pre-engineered timber frame pavilion kits for our customers to choose from. However our clients choose to go about their outdoor pavilion designs, DC Structures will do a job well done the first time around. If you're ready to start imagining the possibilities for your own timber frame pavilion, download our digital catalog for inspiration. Or, if you're ready to take the first step toward a new wood pavilion kit today, request a free quote!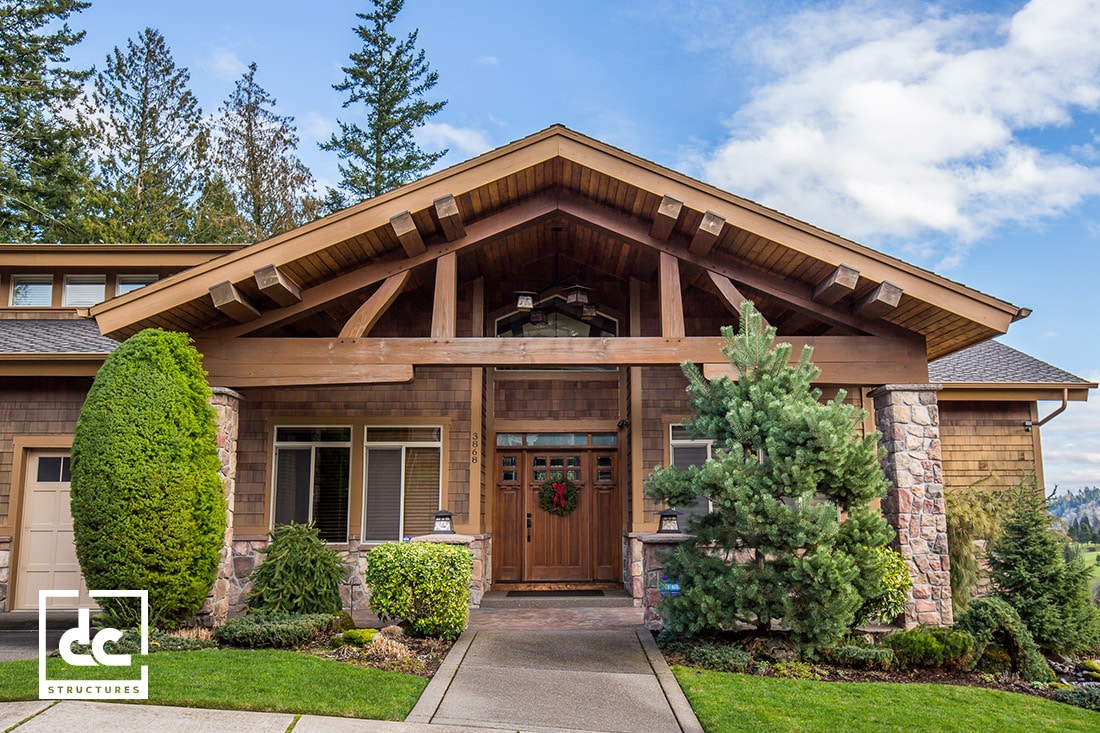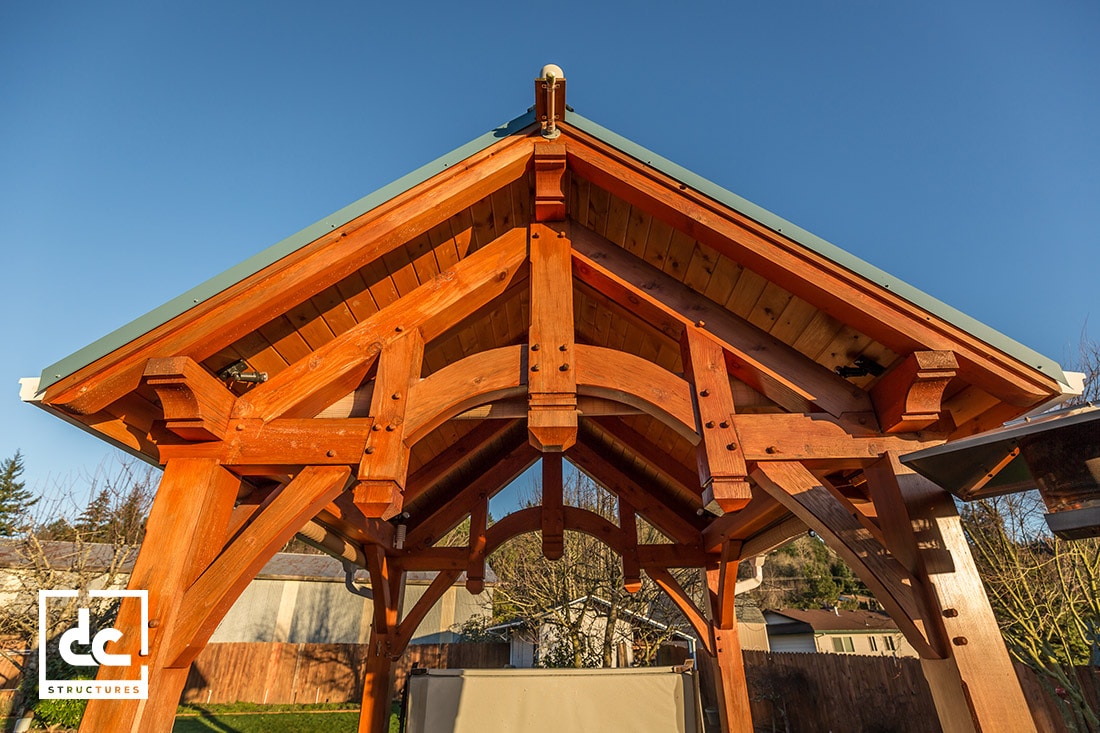 Get Started Today!
Start planning the barn home or apartment barn of your dreams with the latest DC Structures product catalog, containing loads of information on pricing, materials, options and upgrades, photos, videos and more.