BARN HOME KITS
Barn homes have long been associated with rural farming, often calling to mind the image of rolling farmland and grazing horses, but that doesn't mean these structures are necessarily anchored to the countryside. Thanks to a recent uptick in farmhouse-style living, barn homes are being built all over the country, with many popping up in urban areas far from green pastures. While barn homes today bear several of the rustic qualities that made them so popular decades ago, they also feature modern amenities and design elements geared toward today's homebuyer. If you're seeking a one-of-a-kind barn home to add to your property, our talented designers have created a line of barn home kits with flexible designs you can easily modify to match your vision. Whether you're looking to build a custom residence or a multi-purpose apartment barn for your hobbies, our barn home kits are perfect for anyone seeking a classic heavy timber structure to call home.
What is a Barn Home Kit?
Our barn home kits are prefabricated design and materials packages that includes everything you need to assemble the frame of your structure, including Douglas fir posts and beams, exterior wall packages, highly-detailed, builder-ready blueprints, windows and doors, hardware, and so much more. Made in the reliable method of post and beam construction, our barn home kits feature premium quality Douglas fir posts and appearance-grade glulam beams that you can reach out and touch in your living space. Further, this method allows our barn home kits to stay standing for generations, so you and your family can make a lifetime's worth of memories in your personalized barn-style residence. Why DC Structures?
At DC Structures, we're known for producing America's best and most complete line of pre-engineered post and beam and timber frame building kits. Our team has decades of experience in designing and building some of the most beautiful barn homes in the nation using state-of-the-art design software and time-tested construction techniques. Far from ordinary, our barn home kits feature highly customizable blueprints that allow you to tailor your building design to reflect your individual style and taste. No matter your vision, we're committed to bringing your dream structure to life by providing you with the highest quality materials package in the industry with the most flexible design plans on the market.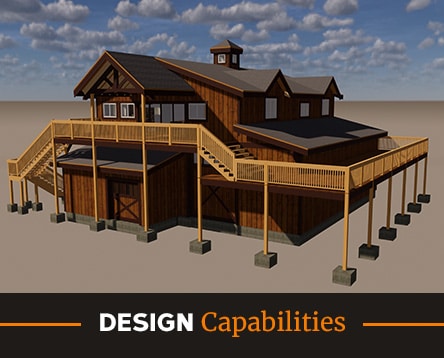 DESIGN
All of our barn home kits feature a design tailored to meet the needs of every client, whether it be parents seeking a family-friendly home or creative hobbyists in need of a multi-purpose structure. Designed in the reliable method of post and beam construction, our barn home kits are framed with beautiful select grade Douglas fir posts and glulam beams sourced from the Pacific Northwest. These heavy timbers make it possible for each structure to boast vaulted ceilings with exposed beams, so you can enjoy a wide-open interior with gorgeous rustic accents that add value and interest to your property.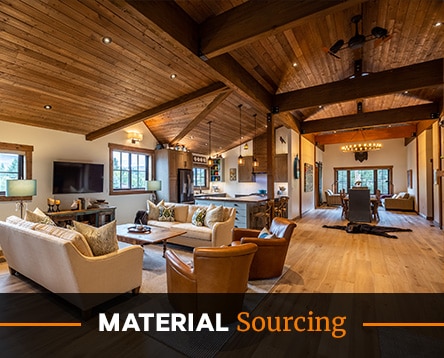 MATERIALS
Our commitment to quality starts with the materials we choose to include in our barn home kits. While our barn home kits drastically range in style and size, each kit comes standard with the best building materials for your project, including cedar board and batten siding throughout the exterior and a premium window package from Andersen™. Depending on your needs, we offer a wide selection of available options and upgrades so you can personalize your structure according to your vision.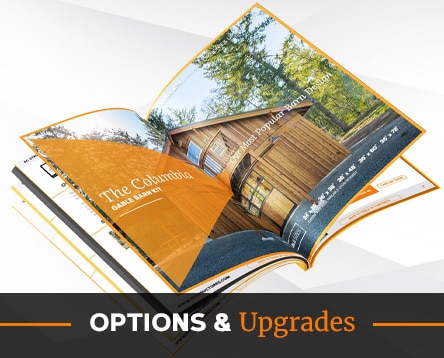 OPTIONS & UPGRADES
Our relationships with some of America's top-rated suppliers of windows, doors, and equestrian equipment allow us to offer hundreds of high-quality options and upgrades in addition to our standard selections. With our flexible design capabilities, you can easily make any number of structural changes to your barn home kit, such as raising the building height or removing one or more structural posts to create a larger interior space. Additionally, if you're seeking a bigger residence than our largest kit model, you can easily expand the size of the structure to better suit your needs. Whatever you envision for your residence, our endless options and upgrades are available to help you design a barn home that best suits your lifestyle.
SIMPLIFIED PROCESS
Our kit selection process makes it easy for you to design the barn home you always envisioned. How it works is one of our project coordinators will guide you through your design proposal to ensure your satisfaction with your complete design and materials package. Once finalized, our team of expert craftsmen will start pre-building your wood framing components in our weather-resistant facility in Oregon. We've discovered that this prefabrication process allows for more accurate construction and better overall quality while saving our clients thousands of dollars in construction costs. After your package has shipped, we stay on call for the duration of the project to make sure you're satisfied with the final result and we've done our best to provide you with your ideal life-long residence.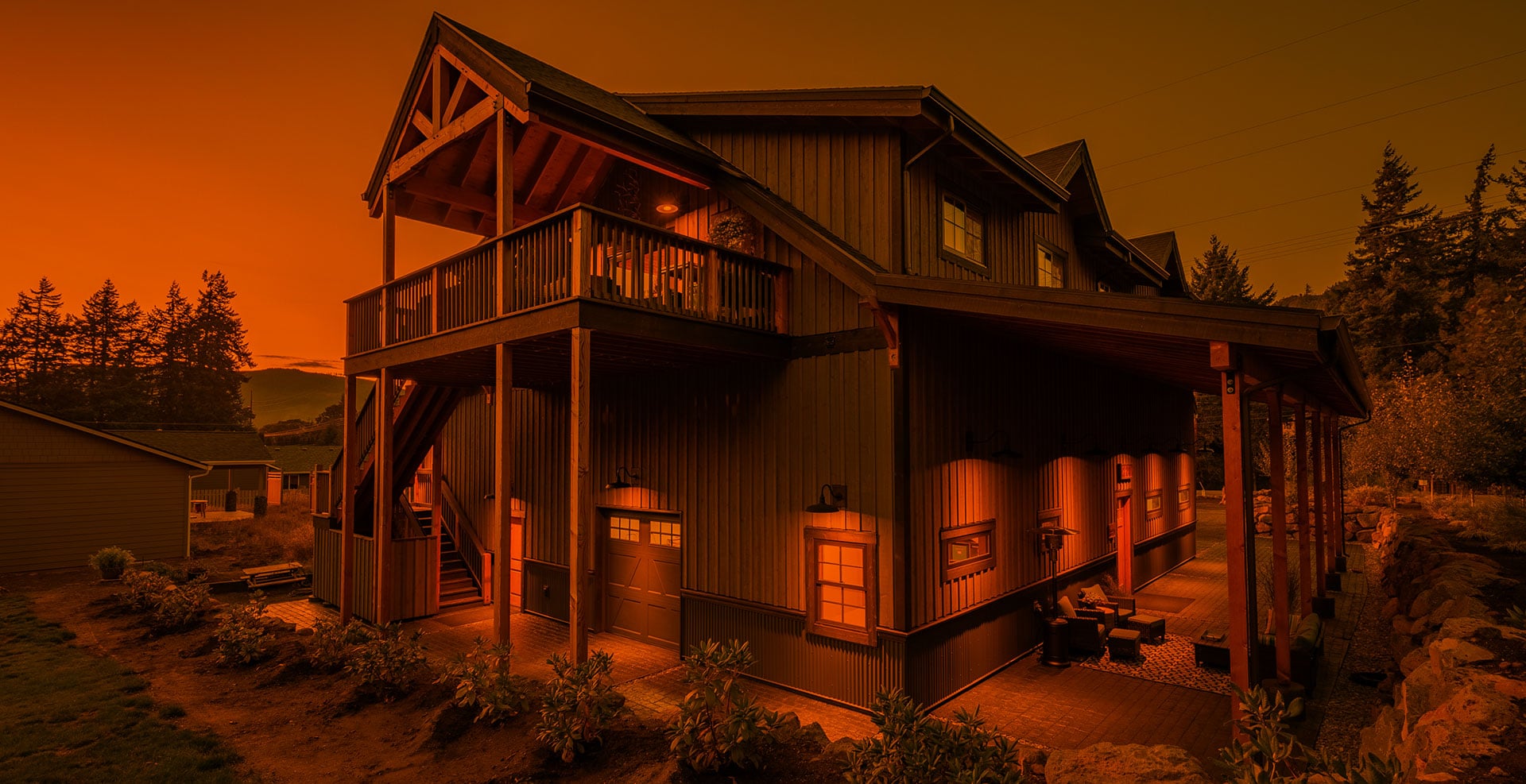 The Benefits of Post and Beam Construction
Often times, people make the mistake of classifying our building kits as pole barns. The reality is that our post and beam structures differ from pole barns in a number of ways. For starters, post and beam structures are framed with high-grade heavy timbers constructed on a monolithic concrete foundation. Easily reinforced, these single-pour slabs add durability to our structures that are already made with heavy-duty materials. Pole barns, on the other hand, are made with chemically-treated posts set in concrete casings or buried in the ground. While people like pole barns for their affordability and easy assembly, these timbers are bound to rot when inserted into the ground or in a concrete casing and will likely expire after 40 years or so. Our use of untreated timbers makes it possible for our structures to stand for generations, so you can rest easy knowing your residence will last you far longer than any pole barn would. Our Barn Home Expertise
BARN HOME KITS: A SUSTAINABLE ALTERNATIVE TO CONVENTIONALLY FRAMED HOMES
When people think of building kits, it's likely that sustainability is not the first thing to come to mind. However, it's true that building kits are efficient by design, considering no materials are wasted and each structure is built relatively fast in comparison to conventionally framed homes. Our pre-engineered materials packages make it possible for our clients and their contractors to quickly assemble the structure, all while reducing noise, pollution, and waste on the building site. Additionally, our structures are made to last for decades, so you can pass along your residence to your family and family's family if you so desire.
VIRTUAL PROJECT MANAGEMENT
At DC Structures, we view our clients as our partners and co-collaborators. As such, we like to provide them with all the tools needed to take control of their project from virtually anywhere. One of the tools we offer that provides this flexibility is our industry-leading virtual project management platform, which gives our clients real-time, 24/7 access to their building project including construction documents, jobsite photos, and daily progress reports. With this technology at their fingertips, our clients can easily stay updated on the progress of their build without ever having to step foot on their site or in our office.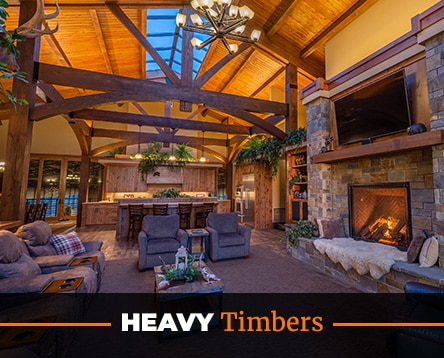 QUALITY HEAVY TIMBERS YOU CAN COUNT ON
Being in the heart of Oregon's thriving lumber industry gives us the advantage of providing our clients with the best heavy timbers in the industry. From Western red cedar to builder-favorite Douglas fir, our building packages are made with high-grade wood materials that ensure our structures remain strong and stable for decades. As a premier nationwide building kit company, we take our commitment to quality seriously and it all starts with providing you with the highest quality materials for your building.
Learn More About Barn Home Kits