MODERN HOME KITS
There's a good reason why more and more modern homes are popping up around the nation, and it doesn't just have to do with their eye-catching exteriors. In more ways than one, modern homes offer the perfect mix of form and function, with this architectural style blending modernism and minimalism to create a sustainable structure naturally suited to the needs of its owners. With a modern home design from DC Structures, you can create a striking family residence defined by its clean lines, expansive windows, and bright and open living spaces. If you're interested in building a unique and futuristic home on your property, keep reading below to learn more about our new modern home kits!
What is a Modern Home Kit?
Our modern home kits are pre-engineered design and materials packages that come with everything you and your builder need to assemble the frame of your structure, including detailed blueprints, framing materials, windows and doors, siding, hardware, and more. Using our revolutionary CNC woodworking machine, our team will translate your design plans into precisely cut, drilled, and individually labeled pieces of framing lumber used for your exterior walls, roof, and floor components. With all lumber pieces cut to length, primed for hardware, and bundled in sections, our team will start preparing your building package for delivery in our off-site manufacturing facility. From there, we'll wrap, strap, and palletize your package for shipment on one of our flatbed trucks and deliver it straight to your job site for easy assembly.
Our Skyline Modern Home Kit is perfect for small families, couples, and creative professionals. This contemporary home design features 2,094 square feet of conditioned living space that includes an open-concept living, kitchen, and dining area, a primary bedroom suite, and a 619 sq. ft. garage with an attached shop on the first floor. Upstairs, clients can take advantage of two bedrooms with private bathrooms, a recreation room with deck access, and an office.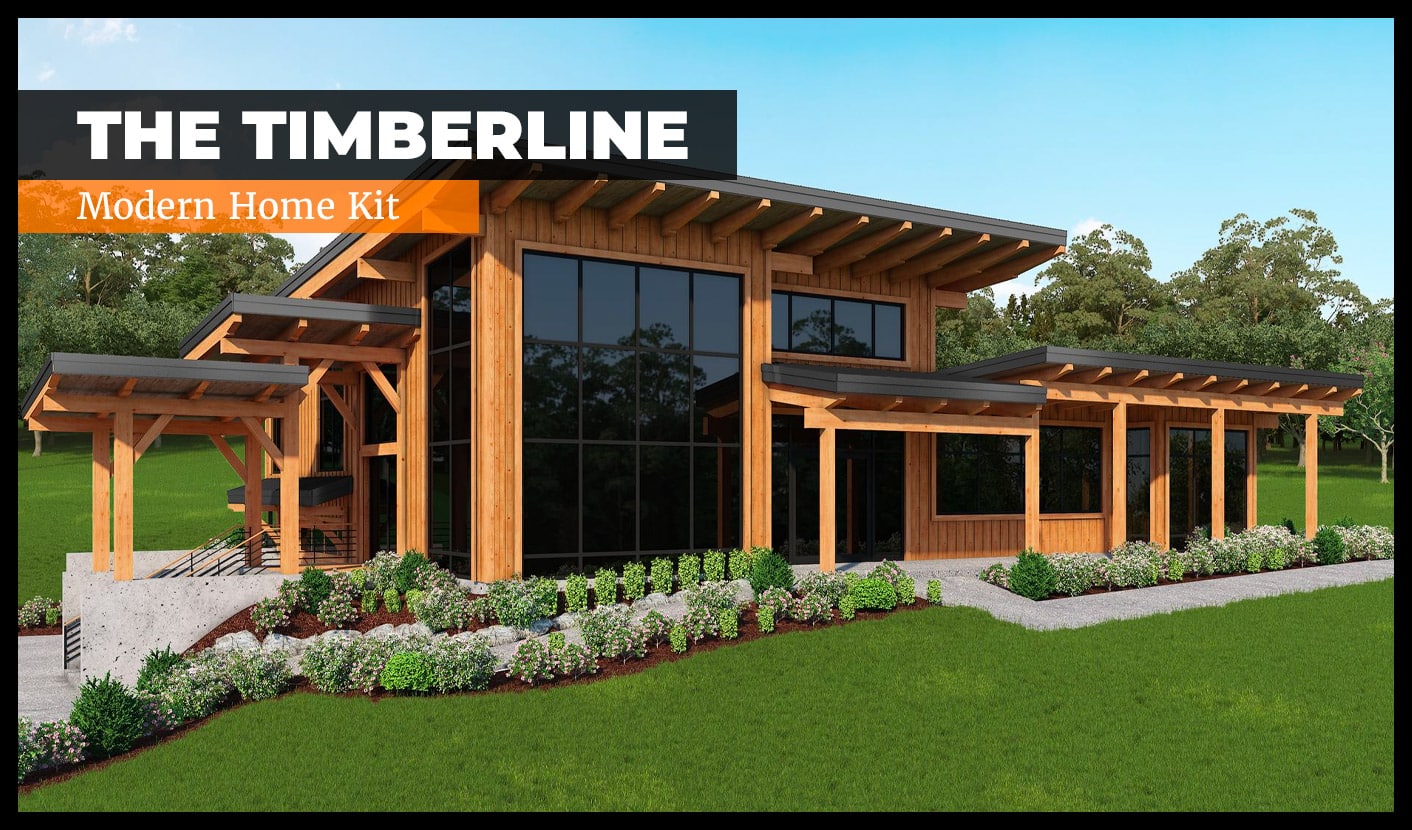 Modeled after our Cornelius Contemporary Custom Home project, the Timberline is a stunning three-bedroom, three-bathroom modern home designed to maximize natural light and property views. Glass curtain walls, oversized heavy timbers, and a custom timber frame portico are some of many show-stopping features present in this model – all of which can be customized or modified to match your taste.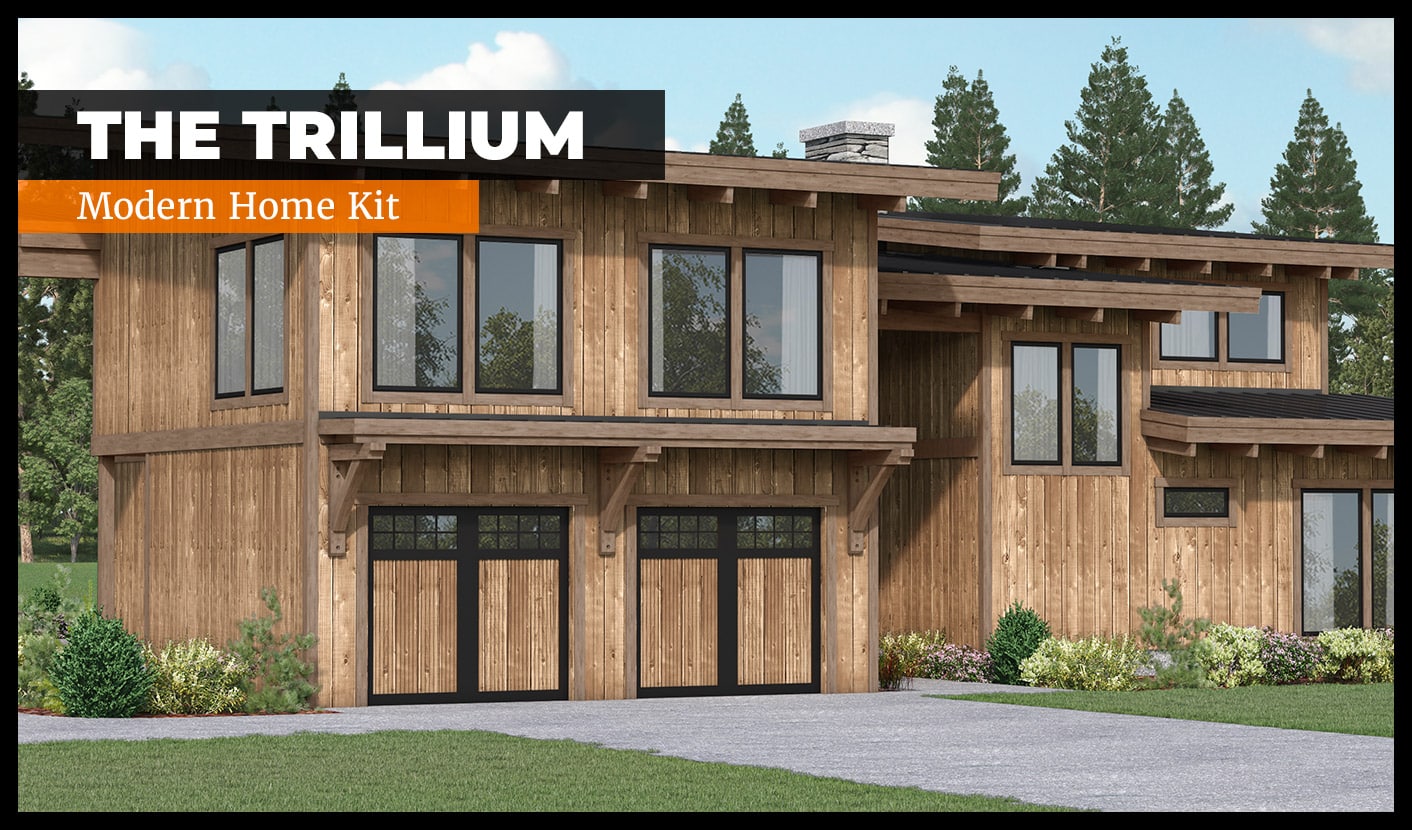 The Trillium Modern Home Kit is an impressive timber frame home that boasts 3,540 square feet of conditioned living space, plus a 614 sq. ft. deck and a 520 sq. ft. two-car garage. With this pre-engineered building model, you can enjoy an expansive living space with magnificent glass curtain walls and high ceilings, four bedrooms, four bathrooms, and a 530 sq. ft. bonus room with a wet bar.
Custom Designs
If you have something else in mind for your project, we want to hear about it! Our in-house design team has crafted dozens of custom homes for clients nationwide and can easily help you transform your vision into a one-of-a-kind modern home for your property. How it works is once we have an idea of what you're looking for, our team will work closely with you to develop an interior and exterior space that fully encompasses your design ideas, needs, and budget. Using our state-of-the-art design software, our designers will turn your plans into a dynamic 3D model that you can explore and modify in real time. With this kind of technology at your fingertips, you can ensure your total satisfaction with the resulting design and tour your project in its entirety before it's ever completed.
CORNELIUS CONTEMPORARY CUSTOM HOME
Located on a scenic hazelnut farm, this ultra-modern custom home offers a glimpse into the exciting future of heavy timber construction. Our team partnered with parent company DC Builders to deliver a turnkey solution for this project – the result of which is a remarkable home that speaks to our exceptional craftsmanship, materials, and design capabilities. Why DC Structures?
DC Structures is home to America's best and most complete line of pre-engineered building models, with our team boasting over two decades of experience in crafting one-of-a-kind heavy timber, hybrid, and conventionally framed structures. Headquartered in the Pacific Northwest, we source the finest mill-direct lumber from our regional suppliers to ensure our structures are not only built to last but remain strong and beautiful for decades. With our talented team of designers, project coordinators, and craftsmen working in tandem on your project, you can expect a customer experience and structure that reflects our high standards of quality and dedication to your vision. When it comes to your modern home project, there's no better company for the job than DC Structures and no better time than now to get started.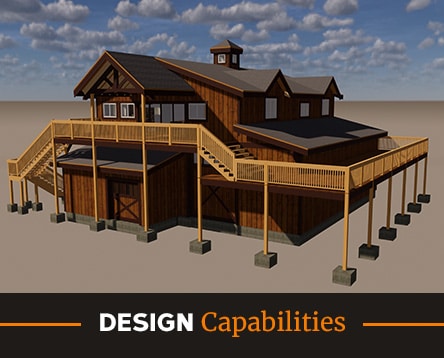 DESIGN
Our team offers two unique approaches to the design process – the first being the option of selecting and customizing a pre-engineered building model from our kit collection, and the second being our custom design route. With our standard kit offering, our clients will have the opportunity to build off an existing building design and modify structural elements as needed or desired. They can also personalize their model with dozens of premium windows, doors, siding, and more from our trusted material partners. With our custom design option, however, clients can utilize our experienced in-house design team to create a completely custom structure from scratch. Taking inspiration from any photos, videos, or ideas you may have for your home, our designers will work closely with you to create an original structure that fully suits your needs, style, and personality.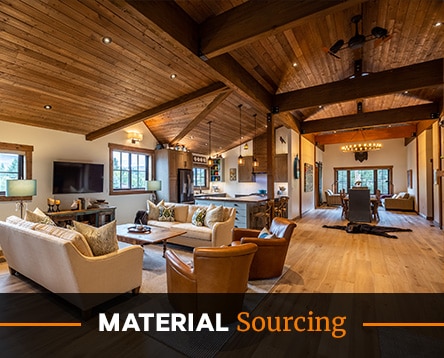 MATERIALS
Our commitment to quality spans every aspect of our company, including and most importantly the materials we choose to incorporate in our structures. Our location in Portland, Oregon, gives us exclusive access to some of the world's most valuable timber exports, including select-grade Douglas fir timbers, Western red cedar, and coastal redwood – all of which make a noticeable difference in and outside one's home. Our heavy timbers come free of heart center (FOHC), meaning the soft pith in the middle of the tree has been removed from the final cut to bolster its structural integrity and longevity. Our timbers are also kiln-dried, pre-surfaced on all four sides, and subject to multiple quality inspections to achieve their desired moisture content, strength, and beauty.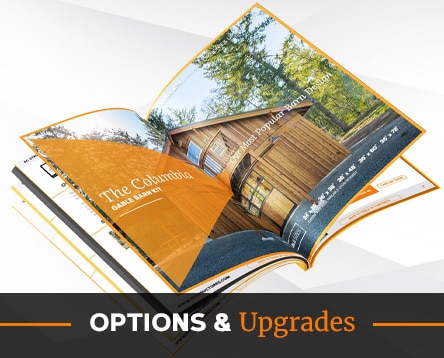 OPTIONS & UPGRADES
Our company offers a wide selection of premium options and upgrades to choose from for your modern home, including high-end windows and doors from Andersen and Pella, James Hardie fiber cement siding, Trex Enhance decking, and so much more. We work with the most trusted building material brands to ensure your home is quality through and through and designed to provide optimal protection and comfort in any season. We also offer dozens of heavy timber upgrades for your residential design so you can create a one-of-a-kind space bursting with character and warmth. If you're looking for ways to enhance your building investment, look no further than our available options and upgrades for your dream home!
Our Process
Our process starts by getting to know you and your project goals so we can get a better idea of what you're looking for in a modern home. Once we've discussed your lifestyle needs, design ideas, and budget in detail, our team will help you create a contemporary design that fully encapsulates your vision and achieves a sleek, sophisticated appearance. Learn more about our process by watching our video here! Our Modern Home Expertise
INTERIOR DESIGN
Our interior design offering is one of the latest and most exciting ways we're diversifying our line of pre-engineering building kits! With our comprehensive interior design services, you can create a seamless transition between your interior and exterior and watch as your dream living space comes to life in a 3D environment. We offer several unique interior design packages to choose from for your space, including Industrial, Modern Rustic, Modern Farmhouse, Coastal, and more. With these available styles and hundreds of high-quality material options at your fingertips, you're guaranteed to come away with an exceptional interior space that speaks to your taste and functions according to your needs and preferences.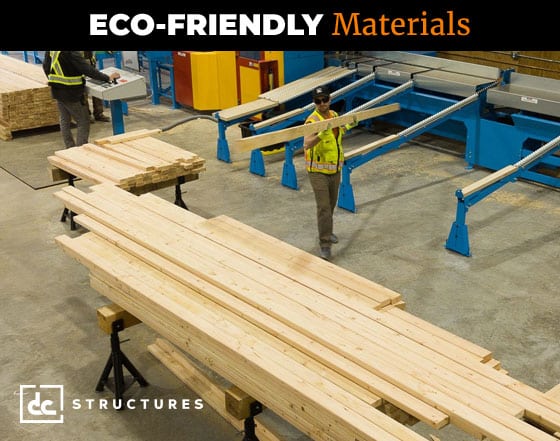 ECO-FRIENDLY BUILDING MATERIALS
One of the key elements of modern home design is sustainability and, more specifically, how each feature of your home contributes to a greener way of living. At DC Structures, we pride ourselves on offering several eco-friendly options and upgrades for homeowners, as well as framing and insulation options designed to reduce greenhouse gas emissions, improve R-values, and boost energy efficiency. For instance, we work with top material brands like James Hardie, Andersen, and Pella to provide our clients with long-lasting, sustainable material solutions for their structures, including non-combustible fiber cement siding and fiberglass windows and doors. We've also designed a handful of projects with client-requested, eco-friendly add-ons like hempcrete, skylights, polyurethane structural insulated panels, and cross-laminated timbers. Whatever you envision for your sustainable modern home, our team can make it a reality. Let us know what green building solutions you have in mind for your project and our designers will work with you to create an eco-friendly plan for your space.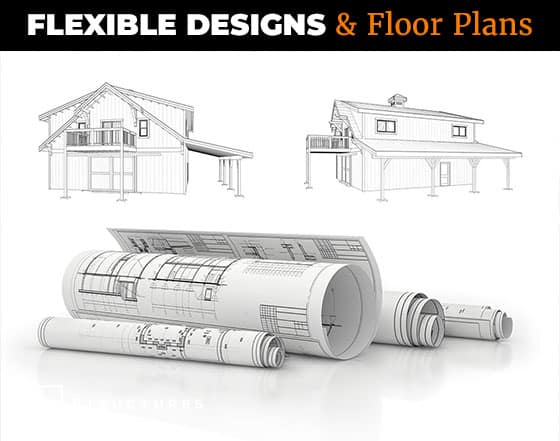 OPEN-ENDED FLOORPLANS
Our pre-engineered building models come with flexible floor plans that you can easily tailor to meet your individual room needs. With the help of our experienced in-house design team, you can create a custom layout that includes everything you envision for your personalized living space. For example, several clients have modified their chosen building kits to include full and daylight basements for increased square footage and usage. We've also seen some clients expand the size of their sample primary bedroom suites to include spacious walk-in closets and en-suite bathrooms with stand-alone tubs and luxurious showers. No matter your vision, our team will help you craft the perfect floor plan for your modern home design.
Learn More About Modern Home Kits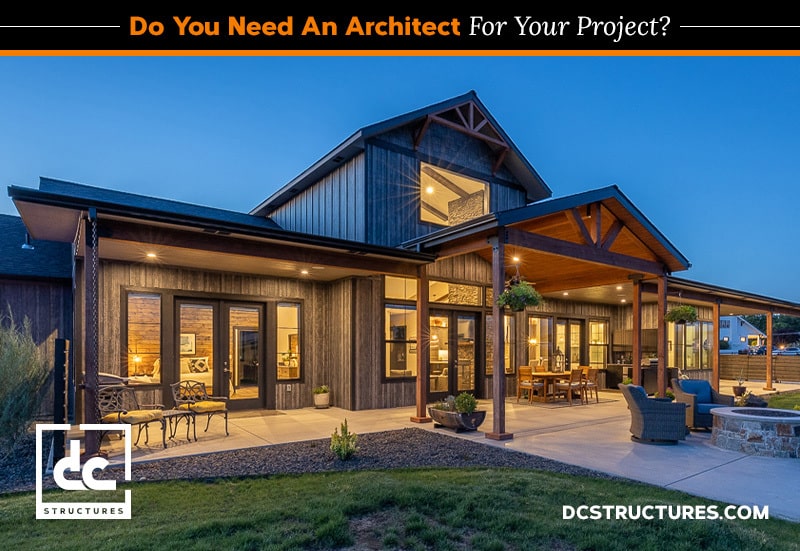 DO YOU NEED AN ARCHITECT FOR YOUR PROJECT?
There's a popular misconception that an architect is necessary for every home project; and while that may be true for residences in HOA neighborhoods or in strict counties, the reality is most homes do not require a licensed architect as part of the design process. To determine whether or not you need an architect for your project, read our blog post here!
ROOM WITH A VIEW: PLANNING FOR A WINDOW WALL
It goes without saying that windows make a huge difference in any home. When added as part of a wall installation, however, a glass curtain wall can not only help naturally brighten a space but serve as an attractive design element that enhances the overall look and value of your home.