OUR SIMPLIFIED
Process
Learn about how it works!
Building a new home or structure can be a stressful experience if you don't know where to start. With DC Structures as your design and materials partner, you can feel confident knowing our team is here to support you every step of the way. Our simplified approach will streamline the process of building your dream structure, making it easy for you to kickstart your project in a matter of weeks while collaborating with our team to ensure the best results. Read below to learn more about our four-step process for creating your personalized building package.
STEP 1: Selecting & Customizing Your Building Model
We start by getting to know you, your goals, and the design inspiration behind your project. Once your project coordinator has an understanding of your vision, they'll work with you to select the right pre-engineered building model for your needs. Then they'll walk you through our wide array of available options and upgrades for your build, all while making note of any structural modifications you'd like to make to your design. Once you've made your selections, your project coordinator will then draft a proposal for you to review and approve. With your sign-off, we'll have you place your deposit and select a shipping date before moving through to the design phase.
Select Your Building Kit

Choose Your Customization Features

Place Your Deposit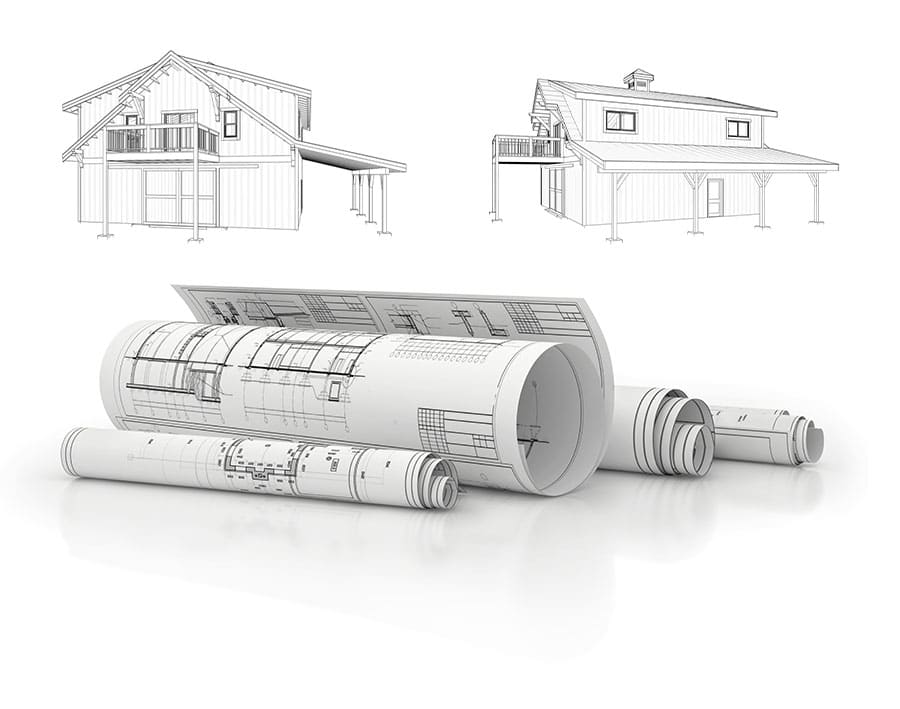 STEP 2: Creating Your Design Plans
Over the next few weeks, our designers will work with you and your project coordinator to create the detailed blueprints for your building package. During this time, our designers will also create a 3D building model that you can explore and modify in real-time using our VR software. Once you've approved your schematic design plans, our design team will create construction documents for our engineering partner to review in order to ensure code compliance. With your plans stamped and ready, we'll schedule a meeting with your contractor to address any questions before continuing on to the material procurement and prefabrication phase.
Schematic Design Sheets Created

Construction Documents Finalized

Plans Approved by Engineering Partner
STEP 3: Crafting Your Materials Package
This is where your design will go from a computerized model to a complete building package. During this phase, our operations team will start the process of procuring the premium materials included in your building package, including windows, doors, and siding. Meanwhile at our manufacturing facility in Oregon, our craftsmen will select the right sizes and quantities of lumber for your project and begin prefabricating your wood framing components. Using our specialized woodworking machine, our craftsmen will translate your design plans into expertly pre-cut, drilled, and individually labelled pieces of lumber. With all components cut to length and fit for hardware, our team will start preparing your building package for shipment.
Material Procurement Begins

Framing Components Prefabricated

Building Package Prepared for Shipment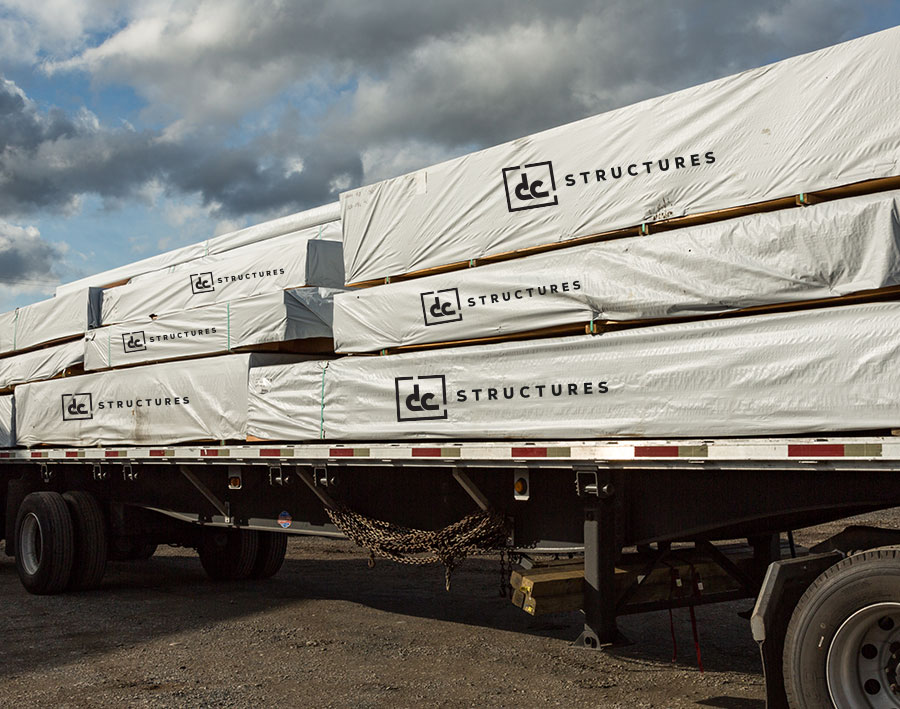 STEP 4: Shipping Your Building Kit
Once your package is ready for shipment, our team will wrap, strap, and palletize all components to ensure a safe delivery. Your building package will then hit the road on one of our flatbed trucks and arrive at your destination ready for assembly. If you're located outside the lower 48, we can create a custom shipping quote for you and send your kit using another delivery method.
Building Package Wrapped, Strapped, & Palletized

Shipped Via Flatbed Truck

Delivered to Your Job Site for Easy Assembly
If you're looking for a custom residential or commercial building, you've come to the right place. In addition to offering clients the ability to personalize any pre-engineered building model, we offer a custom design option that allows you to transform your unique vision into a fully custom structure for your property. Our clients can either choose to build off one of our existing building kits or create a custom structure from scratch with the help of our designers. With our virtual reality software, our designers will collaborate with you to create a 3D model that meets your needs and achieves your desired style. To learn more about our custom design services, click the link below.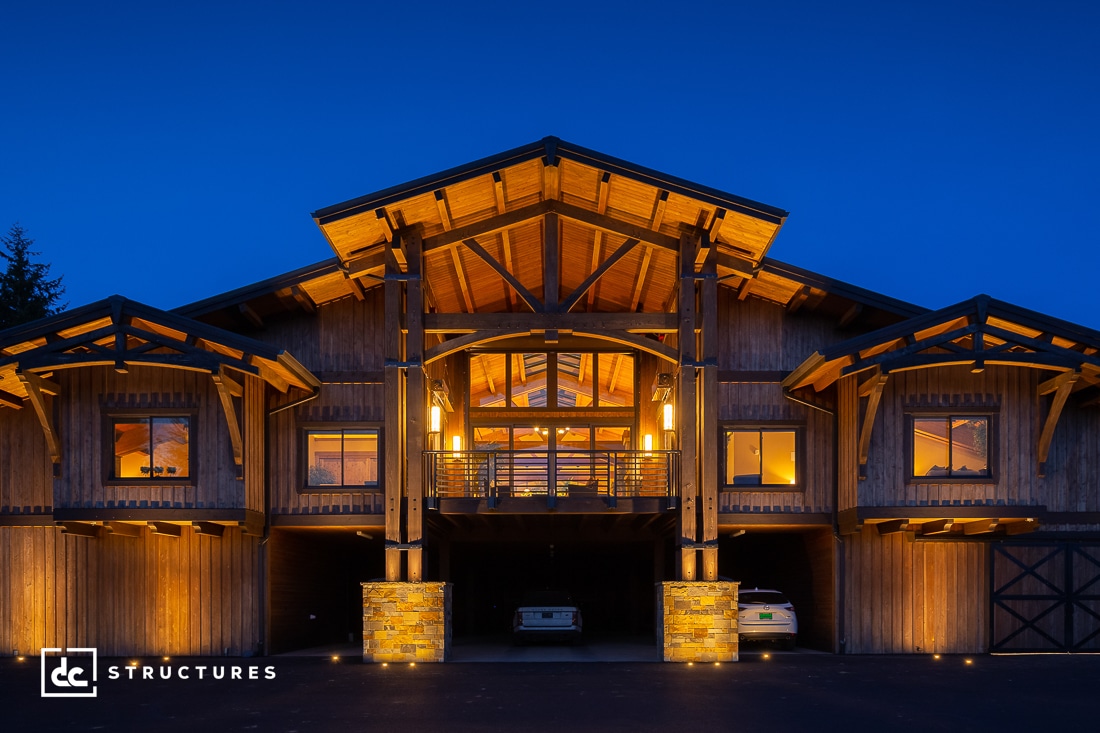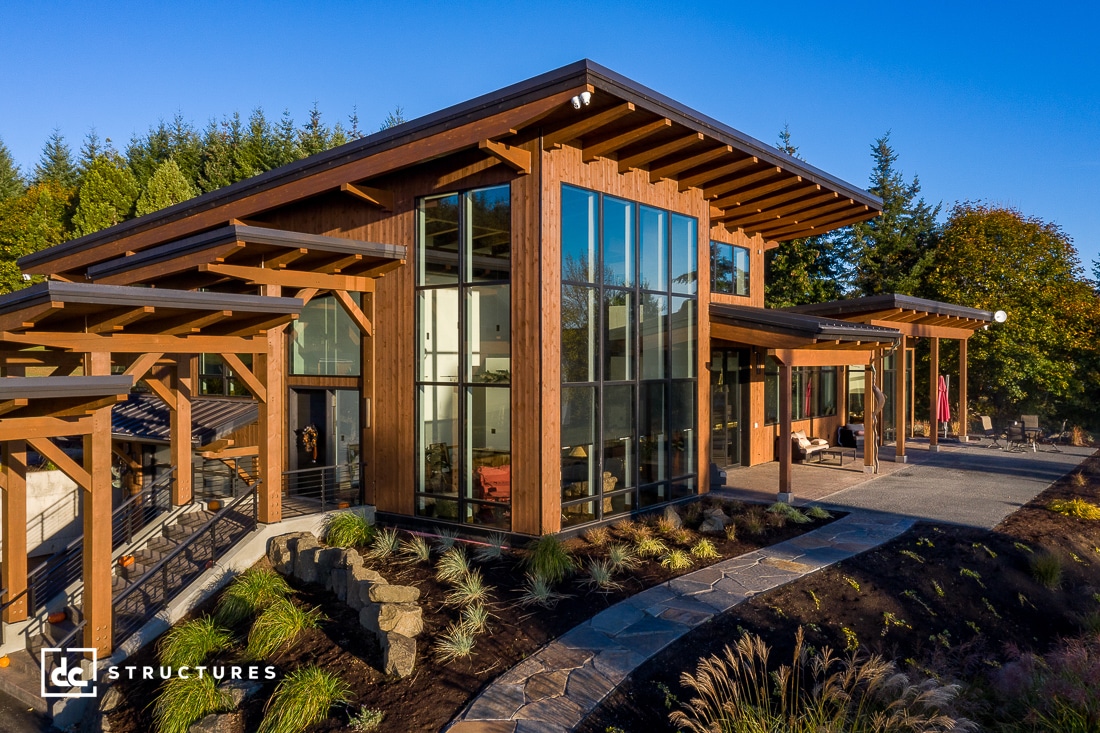 CUSTOMER &
Builder Support
We're there every step of the way.
At DC Structures, we're known for going above and beyond to ensure our clients' satisfaction with the overall building process. As part of our commitment to quality, we offer world-class customer and builder support that starts the day we partner together to the time your structure is move-in ready.
When signing on to a building package from DC Structures, our clients are set up with a personalized project management site that makes it easy to access all their project details, including design plans, construction schedules, job site photos, and more. This tool can be accessed from anywhere and on any device, giving you the ability to track the progress of your build on and off your job site. Throughout the building process, our licensed builder team is also available to provide on-call support for your contractor to ensure any questions or concerns are addressed in a timely manner. Additionally, we offer instructional builder support videos and a helpful 3D CADViewer that allows your contractor to better visualize the framing elements in the field.
As with every project, we're always just a click or call away if you have any questions for our team and are here to be a resource if you need us. We want you to love your building package and better yet, your experience with our team.
REQUEST A FREE DIGITAL CATALOG
---
Start planning the barn of your dreams with the latest DC Structures product catalog, containing loads of information on pricing, materials, options and upgrades, photos, videos and more.