HORSE ARENA KITS
Choosing to invest in a covered riding arena is a major decision. That's why it's important to partner with a designer that understands the construction techniques needed to build a safe and comfortable riding arena for you and your horses. At DC Structures, we take pride in designing the safest and most durable covered riding arena kits on the market. With over fifteen years of experience in designing equestrian facilities nationwide, we offer the expertise and skill necessary to deliver an exceptional riding arena that perfectly suits your needs.
What is a Riding Arena Kit?
A horse arena kit is a pre-engineered building package made from angle-iron steel trusses and premium quality framing lumber sourced from the Pacific Northwest. These highly complete packages come with everything you need to assemble your frame once shipped to your site, including builder-ready blueprints, prefabricated framing components, doors, connection hardware, and much more. With our flexible design capabilities, you can easily modify the layout of any horse arena kit to meet your individual needs for the structure.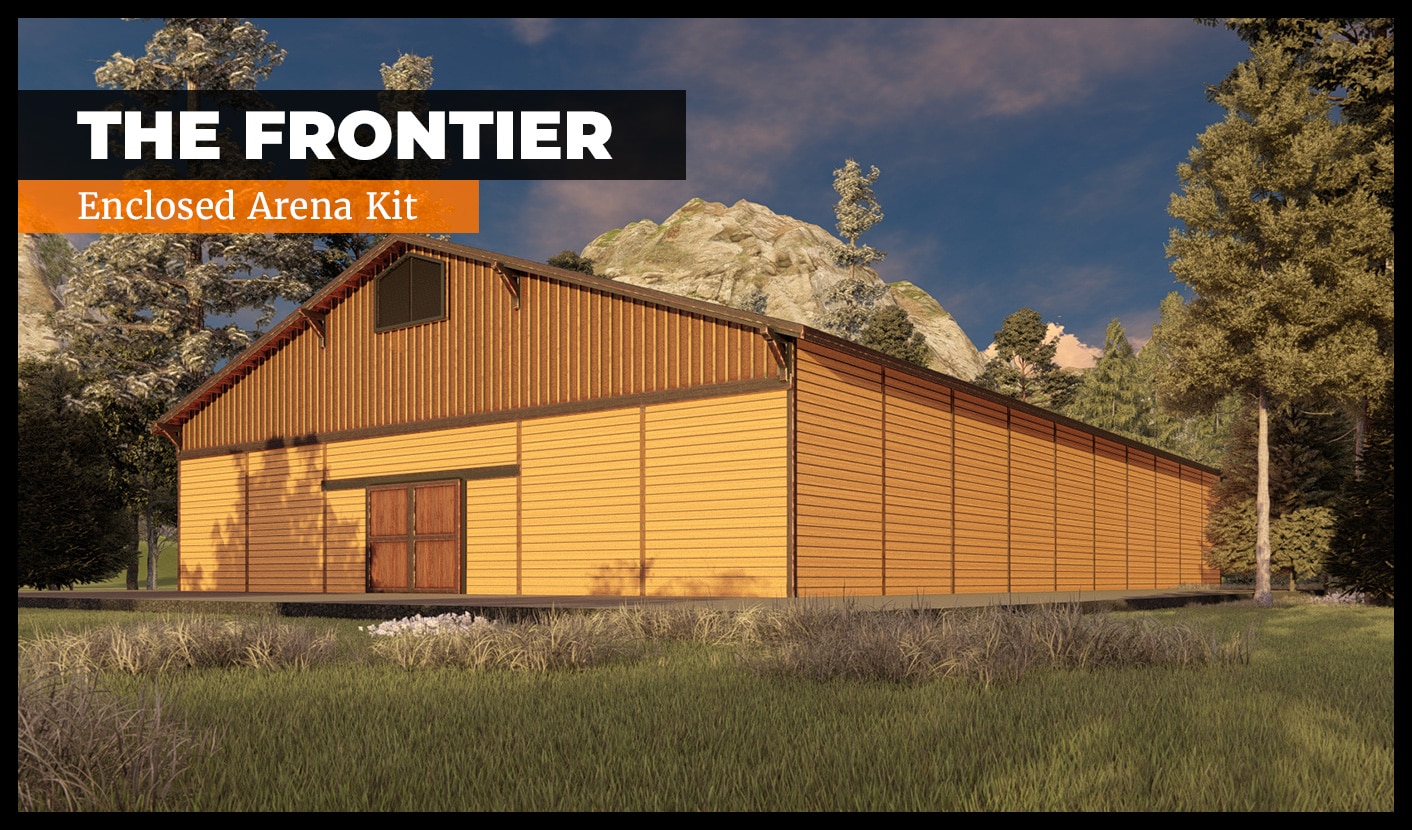 The Frontier is our no-frills indoor riding arena with the capacity for climate-controlled year-round riding. This arena is made with high-quality wood siding for added value and aesthetic appeal.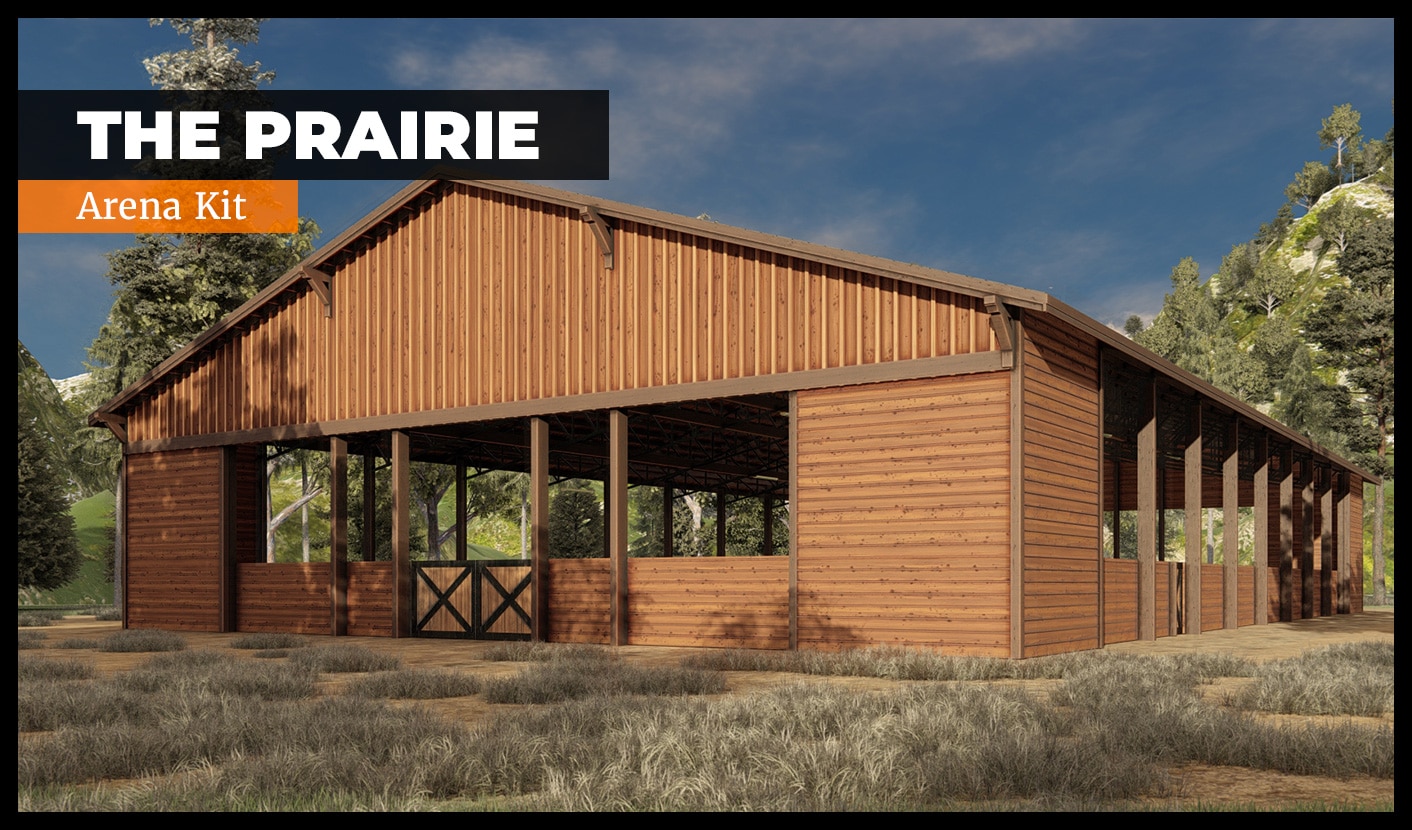 The Prairie is an all-weather, covered riding arena designed with premium wood siding. This equestrian facility starts at 7,200 sq. ft. and features an open-air design that can be customized or expanded to better suit your lifestyle.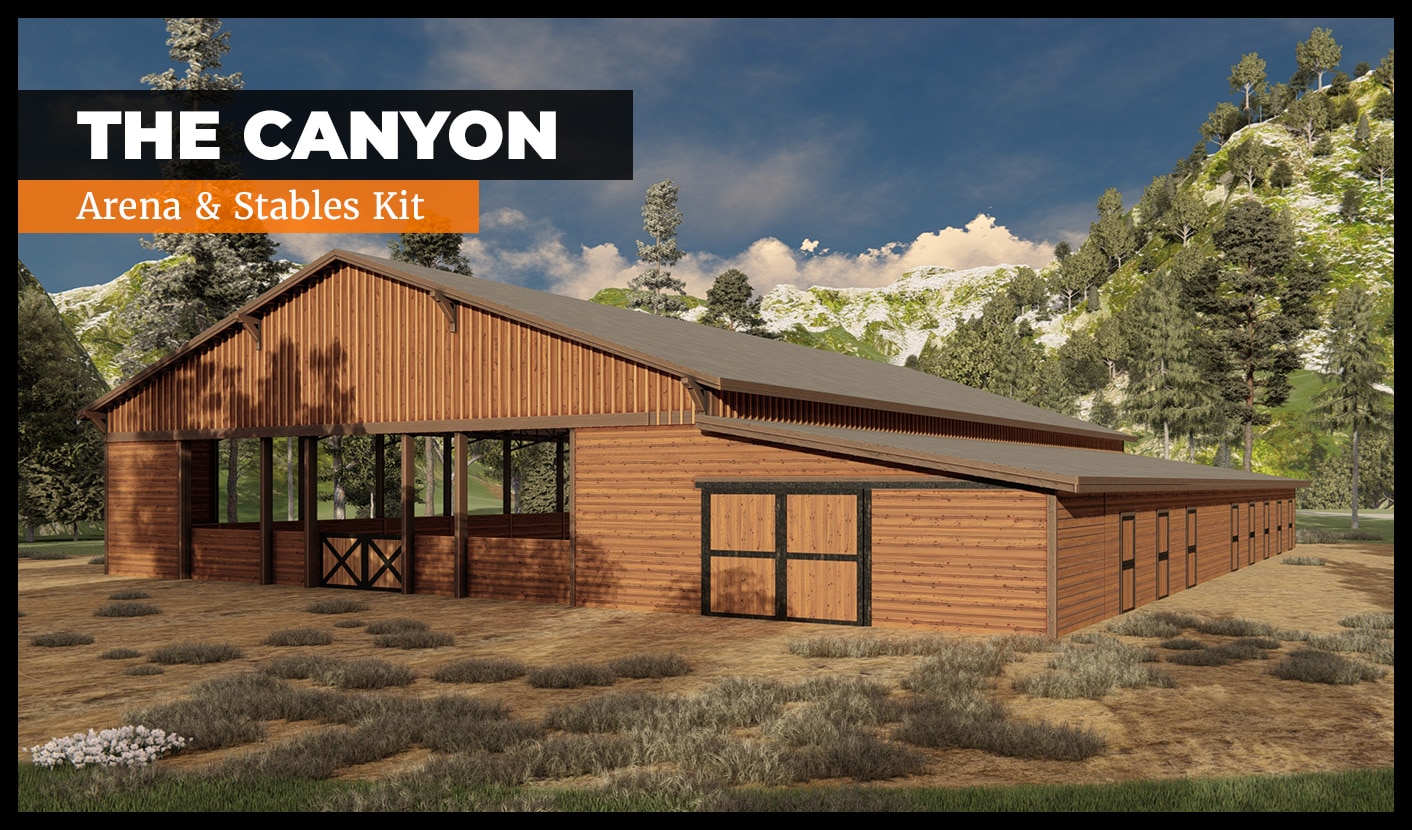 The Canyon is an all-encompassing equestrian facility that features a covered riding arena with an attached stable. Perfect for a horse boarding business, our standard Canyon model can house up to ten horse stalls.
Our Commitment to Horse Safety
When it comes to designing a riding arena, our number one priority is ensuring your horses' safety and comfort. That's why we've implemented a number of safety measures in our equestrian facilities, including galvanized metal chew protection on exposed corners, custom concealed structural knife plates, and steel-framed doors and stall fronts to help prevent accident or injury. We partner with equestrian specialists like Classic Equine to provide you with high-quality equipment that adheres to the highest standards of health and safety for your horses while making your job less stressful. At DC Structures, you can feel secure knowing that your investment in a riding arena is also an investment in the well-being of your animals.
Located in the heart of West Linn, Oregon, this stunning Prairie 80′ arena kit makes an ideal structure for our clients and their horses. Three windowed cupolas and two skylights fill the arena with natural light, while angle-iron steel trusses add structural durability to this elegant equestrian facility.
OREGON CITY COVERED RIDING ARENA
Modified from a Canyon 80' arena and stables kit, this all-encompassing equestrian facility features everything our clients could want and more, including a massive 80' x 168' arena, ten horse stalls, two wash bays, a tack room, and two 24' by 24' garages. This 21,828 sq. ft. structure also features a 1,300 sq. ft. apartment with a viewing room that looks out into the arena. Why DC Structures?
DC Structures is home to America's best and most complete line of pre-engineered building kits. We've designed everything from covered riding arenas to barn-style homes and workshops for clients all over the country, with a particular focus on equestrian facilities. What makes our company so unique is our ability to personalize your design, whether that be something as simple as adding stables and storage areas or fully customizing your design to match your vision. Our advanced project management tools also make it possible for you to take control of your project from virtually anywhere so you can stay updated on your building's progress from design to completion.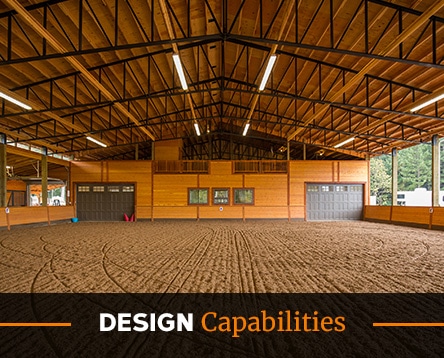 DESIGN
Our flexible design capabilities allow you to customize any of our riding arena kits to better suit your lifestyle. If you're planning to start a horse boarding business, we can help you add a tack room, wash bay, and stables to the existing blueprint. Depending on your needs, you can also make any number of structural modifications to your horse arena kit, including adjustments to the building height, width, and roof pitch. Whatever your vision may be, our in-house design team will work with you to design a structure that perfectly aligns with your ideas.
MATERIALS
We source the finest materials from the Pacific Northwest to provide you with a structure that is not only beautiful but built to last. All of our riding arenas feature high-quality wood siding, durable posts, and angle-iron steel trusses. For our barns and stables, we supply the finest framing lumber and decorative heavy timbers. If you're looking for something different than our standard materials packages, we offer hundreds of options and upgrades tailored to the individual needs and interests of every horse owner.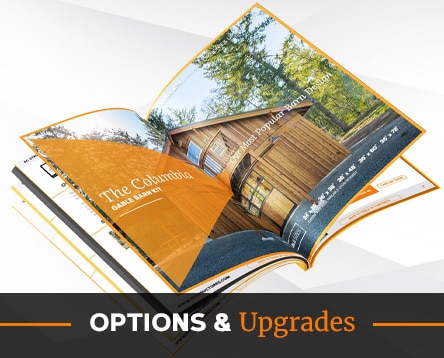 OPTIONS & UPGRADES
Everyone has a unique vision for their dream riding arena. With our wide selection of options and upgrades, you have the ability to transform your building kit into the perfect structure for your property. We partner with some of America's best suppliers of doors, windows, and equestrian equipment to provide you with premium upgrades like Classic Equine stall fronts and Dutch doors, Nelson automatic waterers, cupolas, and more. Consider adding windows and skylights for improved natural lighting in your space. 
The Process
At DC Structures, we've created a streamlined kit selection and customization process that gives you the ability to create your ideal horse arena with the help of our team. Learn more about our process: Our Riding Arena Expertise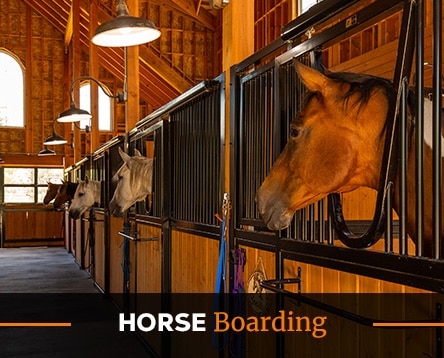 STARTING A HORSE BOARDING BUSINESS
Before launching your horse boarding business, you'll need to choose a site that complies with state and local regulations, and create a design with all the amenities needed to run a successful operation. For instance, a full-service equestrian facility should include safely fenced paddocks and spacious stalls optimized for comfort and safety. Check out these helpful suggestions from equestrian publication The Horse that detail some of the best practices in the equine business.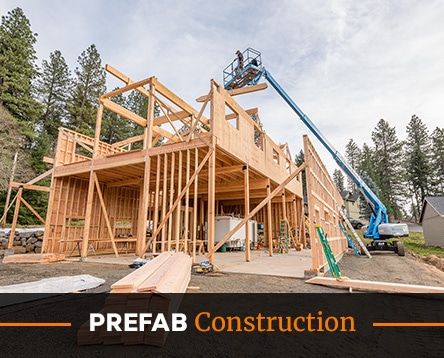 PREFABRICATION
All of our building packages go through a process called prefabrication. This process allows for more accurate construction and better overall quality, while saving you thousands of dollars in labor and equipment costs. If you're looking to kickstart your construction process, our streamlined building system can help you achieve a beautiful structure with maximum speed and efficiency.
VIRTUAL PROJECT MANAGEMENT
Our virtual project management platform is designed to provide clients with 24/7 access to their project details, including design plans, renderings, warranty information, and more. From the time you partner with us to move-in day, you'll be able to track the progress of your project easily using our cloud-based technology. With in-app communication tools, you can also chat instantly with our team and your contractors to ensure everyone is on the same page.
Learn More About Horse Arena Kits
COSTS & CONSIDERATIONS OF CARING FOR YOUR HORSE
Choosing between boarding your horse or housing them at home is a tough decision for every horse owner. If you're still weighing the pros and cons, this blog post details everything you'll need to know in order to make the best choice for you and your equine friend.
VIDEO: WEST LINN RIDING ARENA TESTIMONIAL
We love hearing what our clients enjoy most about their structures, and this testimonial from Brian Sonnenberg of West Linn, Oregon is no exception. After designing a horse barn for the Sonnenbergs, they commissioned us to design an all-season riding arena to complement their adjacent barn. Listen to what Brian has to say about his experience with DC Structures!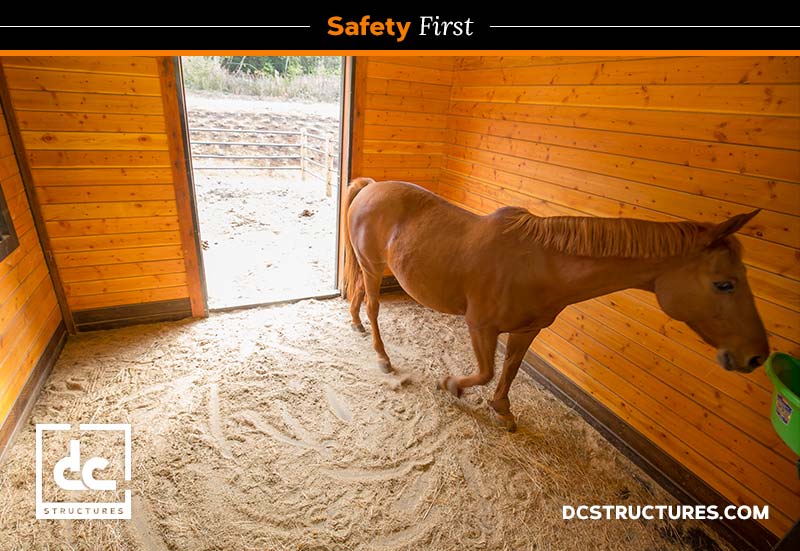 EASY ON THE HOOVES: TIPS FOR PLANNING HORSE ARENA FOOTING
Deciding on the right arena footing for your equestrian facility can be difficult, especially if you're not sure where to start. This article covers the factors you should take into consideration before choosing an arena footing that's best for your structure.