If there's one thing all horse enthusiasts understand, it's that equestrian living is more than just a hobby: it's a lifestyle! Horses have been some of our most loyal companions throughout the ages, and caring for and riding them has a special place in the hearts of many. As it stands, there are approximately 4.6 million Americans working in equestrian-related industries, taking care of roughly 9.2 million horses. And whether they are being cared for by hobbyists or professionals, horses need space to roam. That's why more and more horse owners are opting to add covered riding arenas to their equestrian estates. A functional horse arena can be a big game changer for equestrian business owners and amateur riders alike, offering reprieve from the elements for all-seasons riding. Further, when designed with a dedication to structural longevity and quality craftsmanship, an indoor horse arena is a smart long-term investment.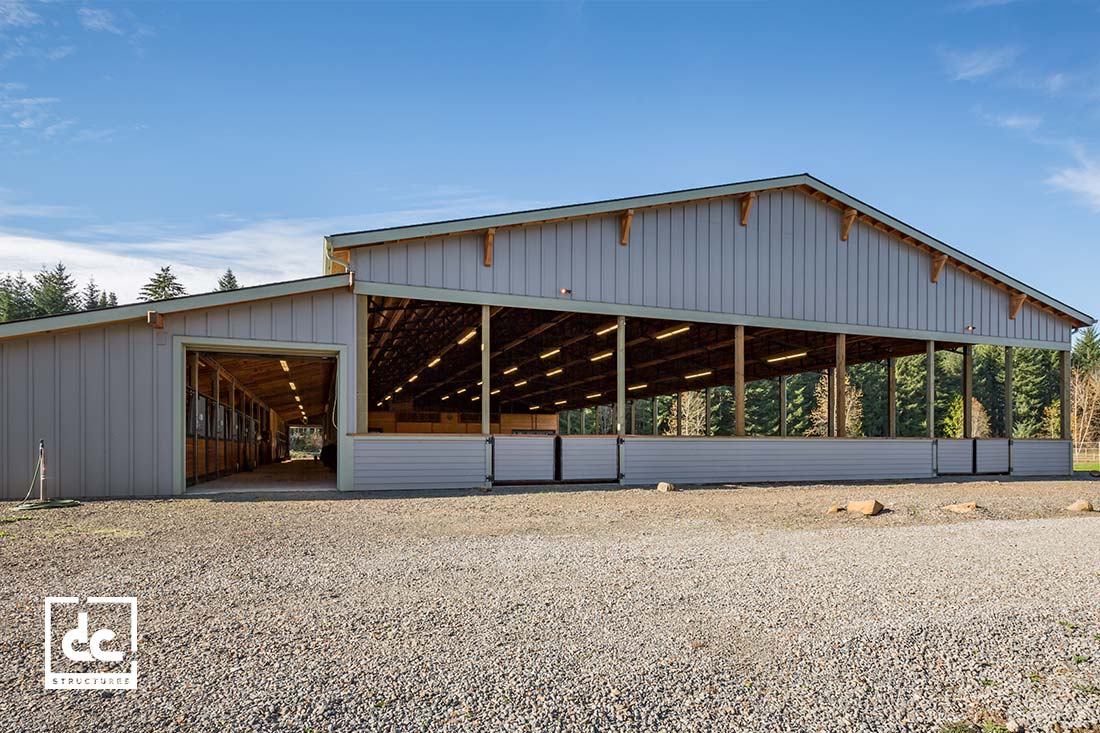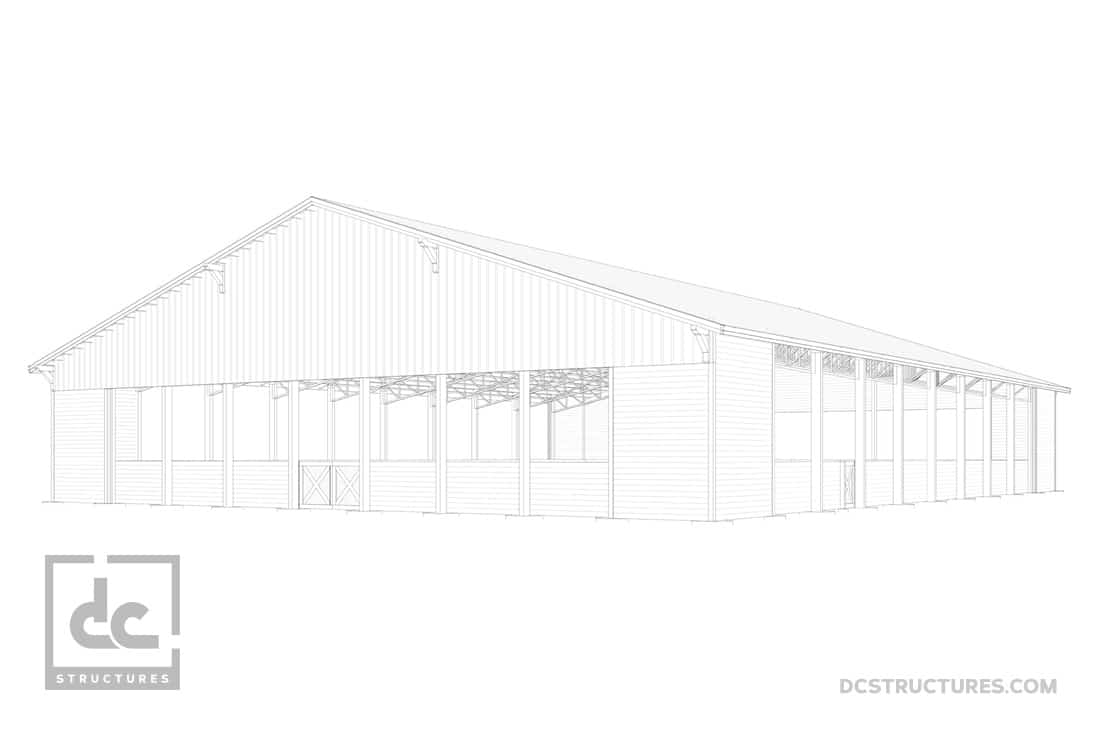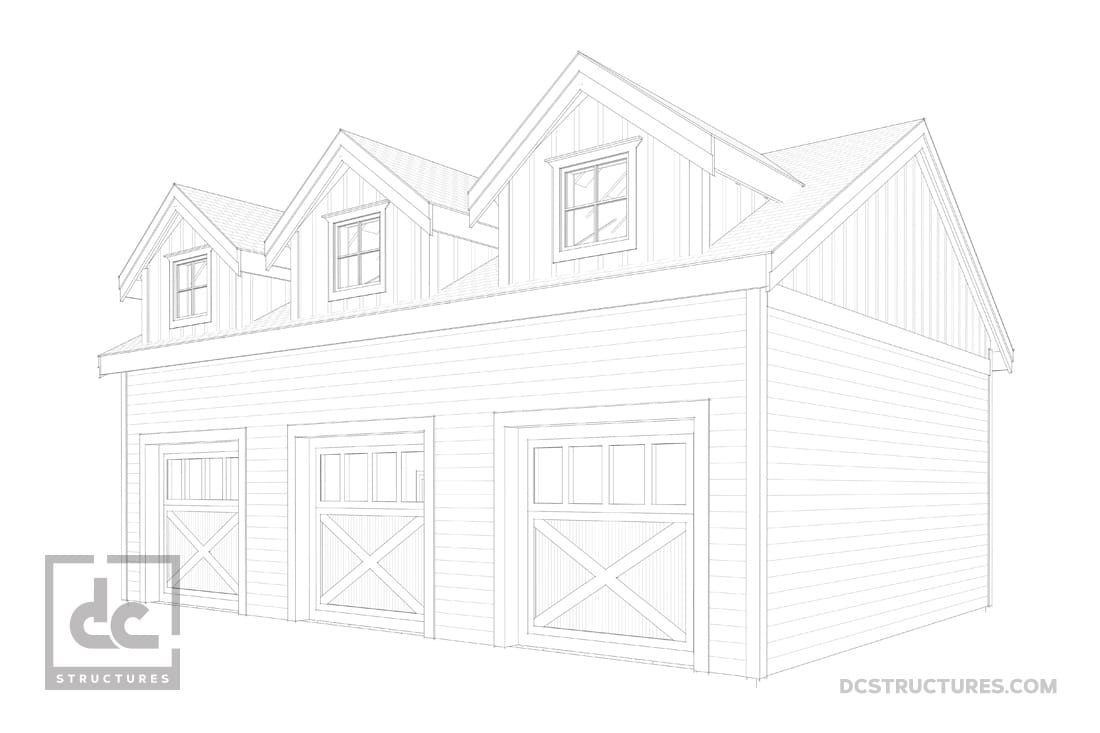 Simplified Horse Arena Kits
DC Structures has valuable experience with the design and assembly of covered arena kits. Easily modified to meet a variety of unique equestrian lifestyle needs, our indoor riding arena kits are as stunning as they are functional. Sometimes people bristle at the idea of a pre-engineered materials package because they fear it won't live up to their high standard of originality. While some companies sell cookie-cutter horse arena kits, DC Structures prides itself on the ability to produce prefabricated building packages that are anything but devoid of individuality. No two horse arena kits we've designed have ever looked alike, as our streamlined covered arena kit design process promotes client-centric collaboration to ensure full satisfaction for the customer's unique vision.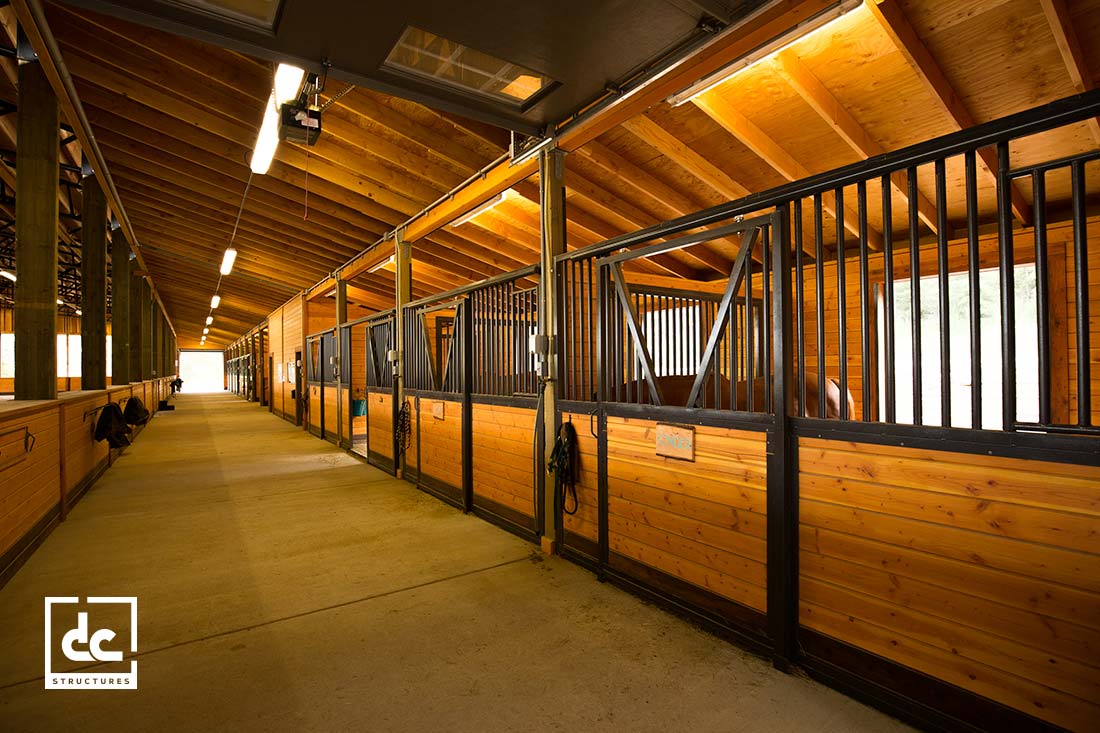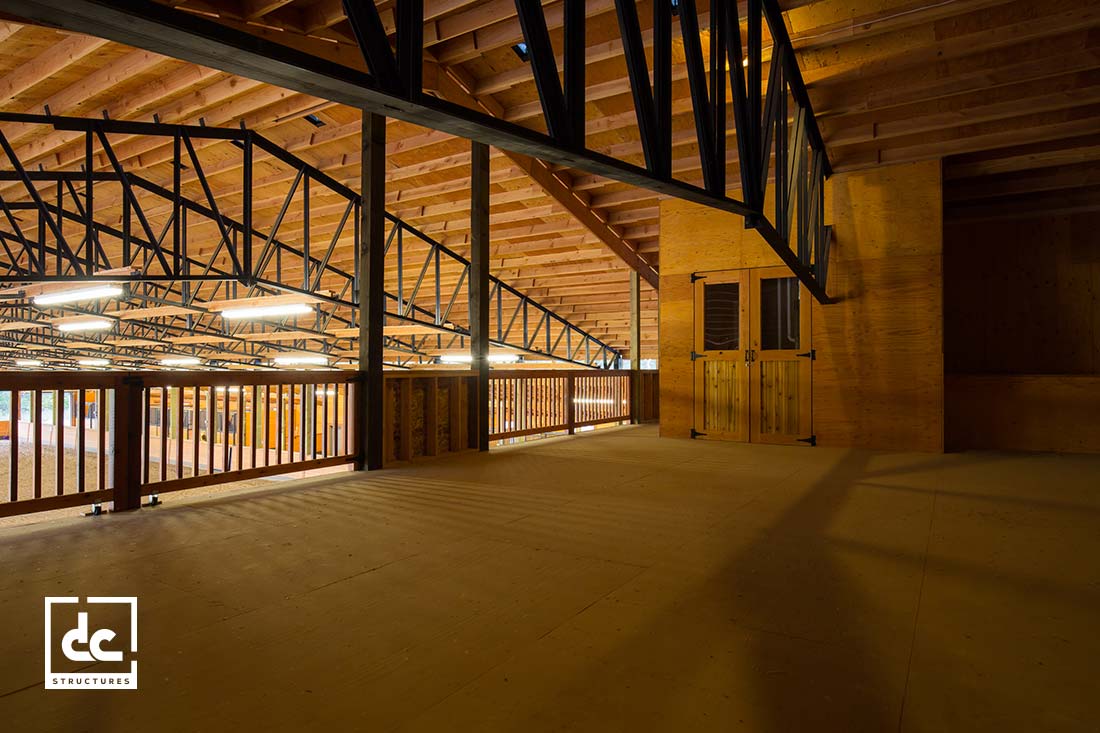 The DC Structures standard process entails a step-by-step partnership between the client and our design team, where the customer's horse arena ideas are extracted and translated into custom details and finishes for the structure. This ensures that the riding arena plans meet client expectations both aesthetically and functionally. For customers who like our horse arena kits but would like to make major structural adjustments—like changes to building height or width, post removal and custom add-ons—we offer a flexible design option. That's just one of several ways we like to show our clients how committed we are to delivering on their vision.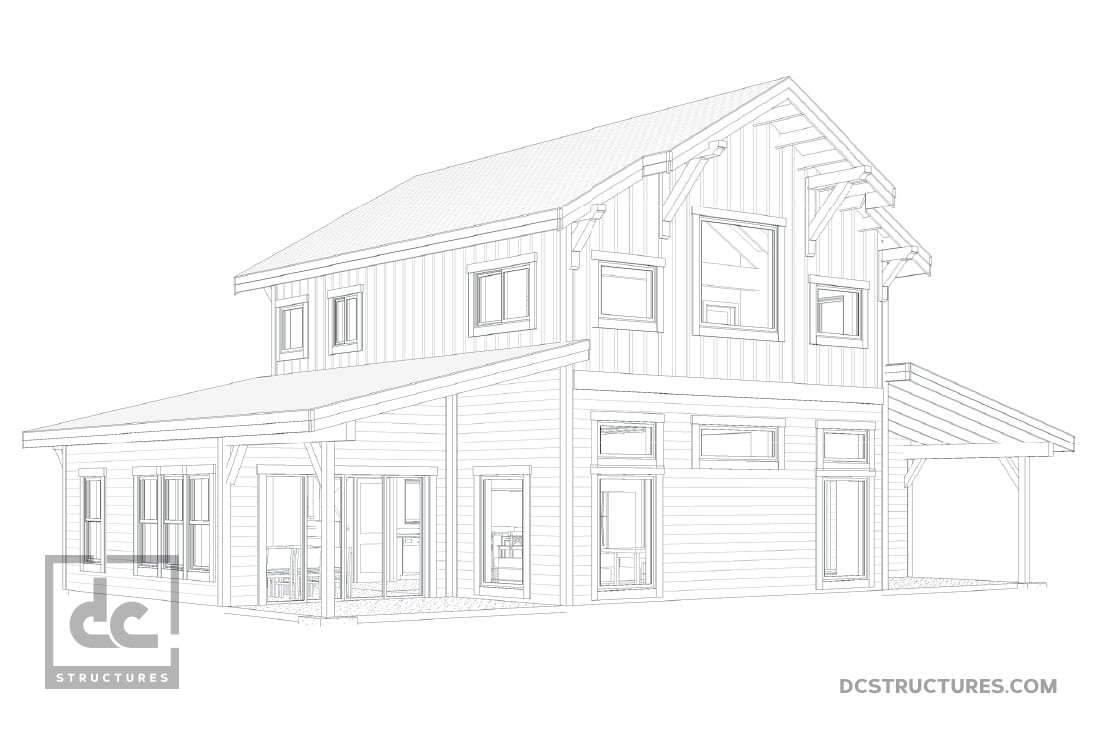 QUALITY COVERED Riding Arenas
Everything that sets DC Structures apart is embodied in our quality promise. From our unparalleled customer service to the quality materials we source, our team is never about cutting corners. Our mission is to meet our clients' visions for their horse arena projects, which means no indoor riding arena request is too big or too small for our team. We treat our customers like partners, and work tirelessly to ensure their ideas are well represented in the final design. Further, we continue our partnership long after the materials package and wet-stamped, pre-engineered plans have been delivered by offering builder support to the client and their chosen contractor throughout the duration of their build. This is just a small sample of what makes us different from our competitors in the industry.
In addition the ways in which we work to cultivate our clients' dreams, we also take care to back them up with quality construction materials. The lumber we use to create our horse arena building packages is acquired through our mill-direct relationships in the Pacific Northwest. This allows us to provide our clients with top-quality heavy timbers at a reasonable cost. Further, our experience creating equestrian facilities informs the materials we use in our arena design to optimize animal safety. We partner with Classic Equine for our horse arena building packages, which means accessories like stall fronts, mats and water buckets all meet a high standard for the health and well-being of the horses. We also know a thing or two about the best horse arena footings and compost systems. DC Structures combines the best of everything when it comes to horse arena designs, because quality, safety and appearance should all be factors of consideration.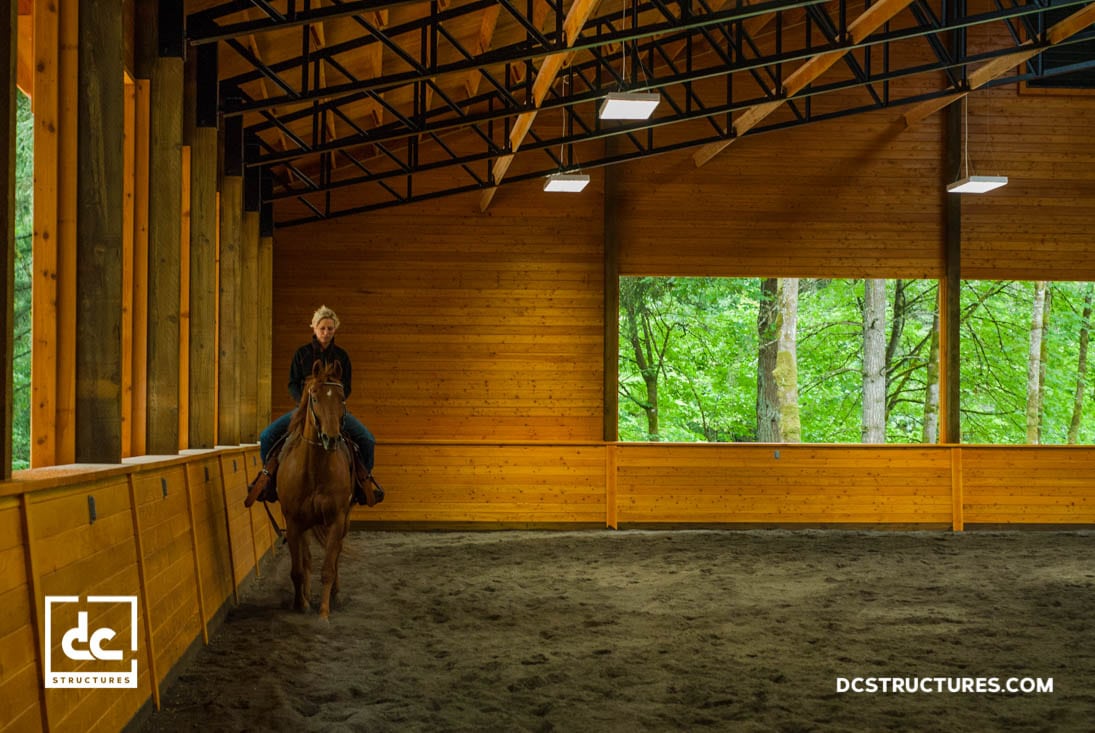 Riding Arena Inspiration
DC Structures has partnered with clients all over the country to create covered riding arenas that have either launched their equestrian businesses or taken their passions to a whole new level. While our three design processes make for endless possibilities, we boast two pre-engineered covered arena kit models that are easily adapted to suit the client's needs. Our Prairie Arena Kit is great for equestrian hobbyists in search of reprieve from the elements for some all-seasons riding. This horse arena in West Linn, Oregon is a great example of how the Prairie kit translates into a beautiful covered riding arena with custom details to better satisfy the client's vision. Or, for clients in search of an indoor riding arena with stalls, we also offer the Canyon Arena and Stables Kit. This arena with stables in Oregon City, Oregon demonstrates the final product of our Canyon kit.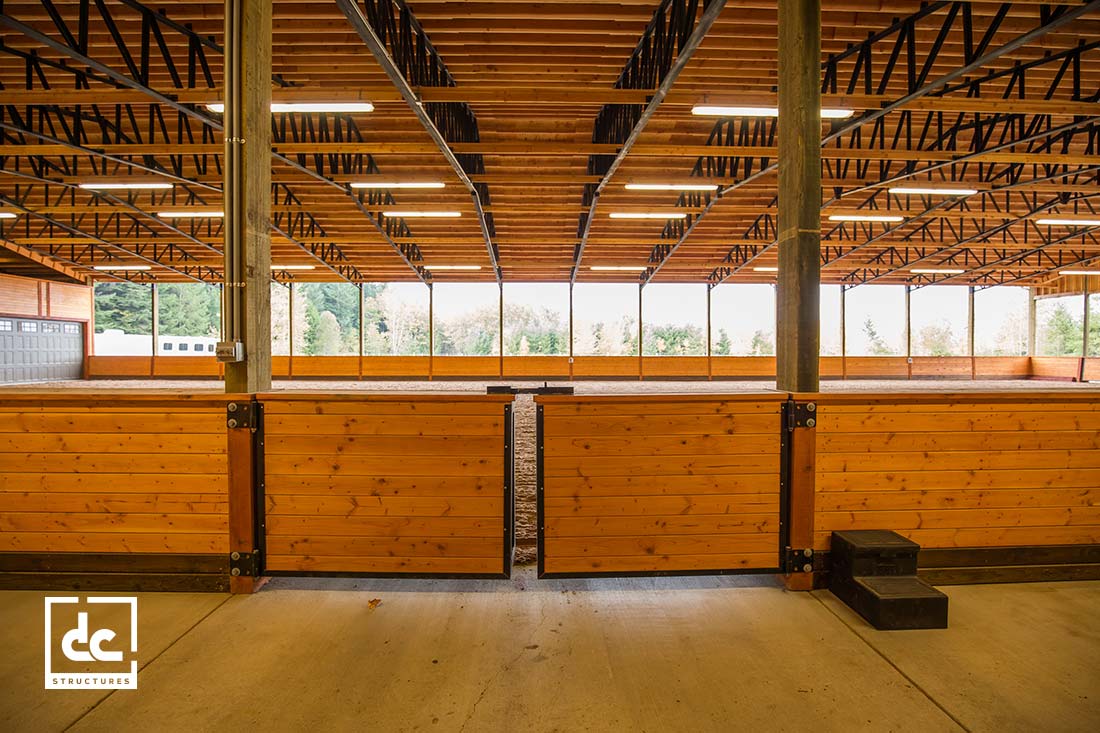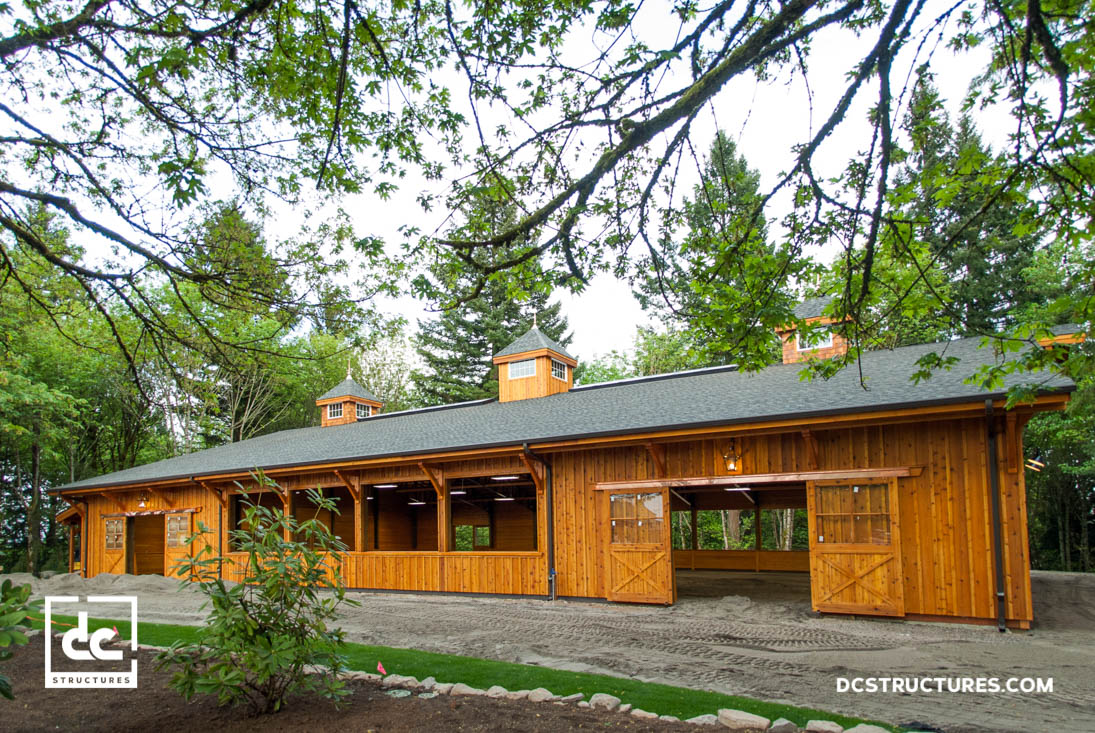 Choosing an Arena Design Partner
Whatever it is our customers are trying to achieve, we've got the expertise to make it a concrete and wooden reality. That's why we place such an emphasis on exceptional customer service and top-of-the-line products. If you're building a horse arena, then you need a design partner that you can rely on. DC Structures is up to the task, because the way we see it, our job is to help clients build their dreams. By truly listening to what our clients envision for their covered riding arena kits, we are able to deliver a product that exceeds expectations. If you're ready to take the first step toward living your passions more fully, download our digital catalog for a better sense of what we can do to make that happen. Or, if you've already got some ideas in the works, request a free quote and get started today!
Get Started Today!
Start planning the barn home or apartment barn of your dreams with the latest DC Structures product catalog, containing loads of information on pricing, materials, options and upgrades, photos, videos and more.