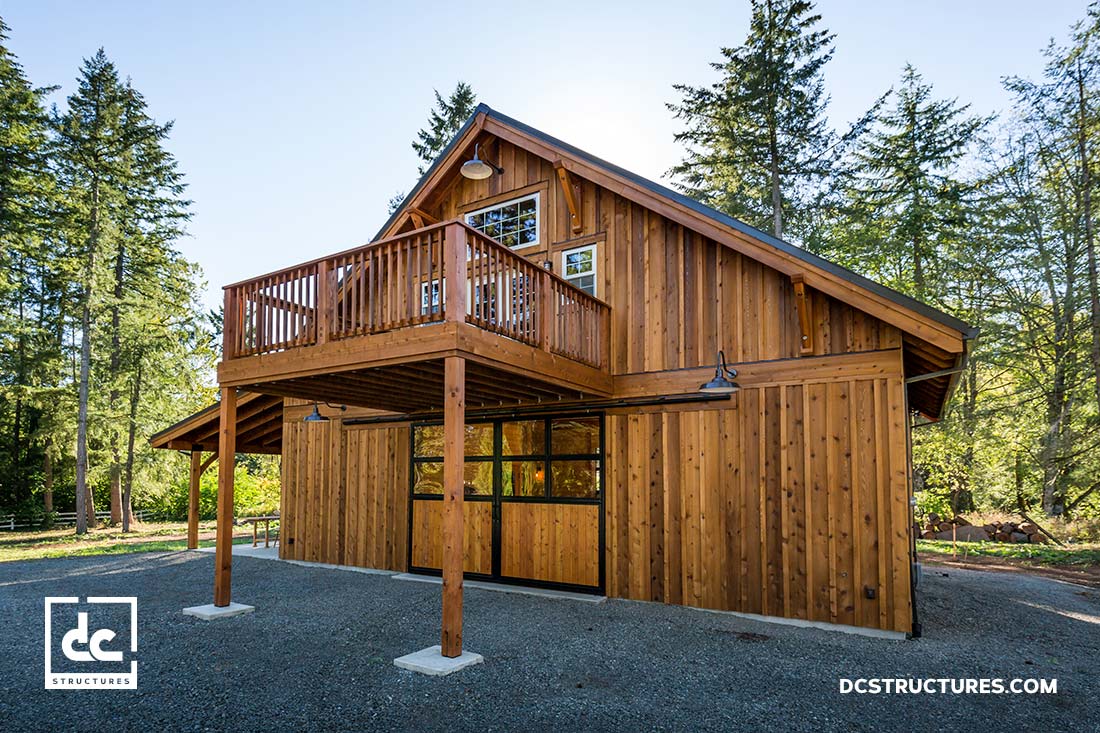 The Garage & Workshop Kits
Home is where you go to shed the stresses of daily life, and to live out your passionate pursuits more fully. Whether someone's free time is centered around a collection-based hobby, a hands-on trade or an active lifestyle complemented by large outdoor toys and accessories, the common thread is that they all need a space to keep those interests close. Garages and workshops are a great option for anyone looking to elevate the hobbies they choose to dedicate their free time to, as convenience and proximity are some of the biggest factors when it comes to acting on personal interests. If designed with a commitment to structural health, longevity and quality craftsmanship, garages and workshops will make for beautiful long-term investments that will raise the value of the existing property while bringing the owner closer to the things they love the most.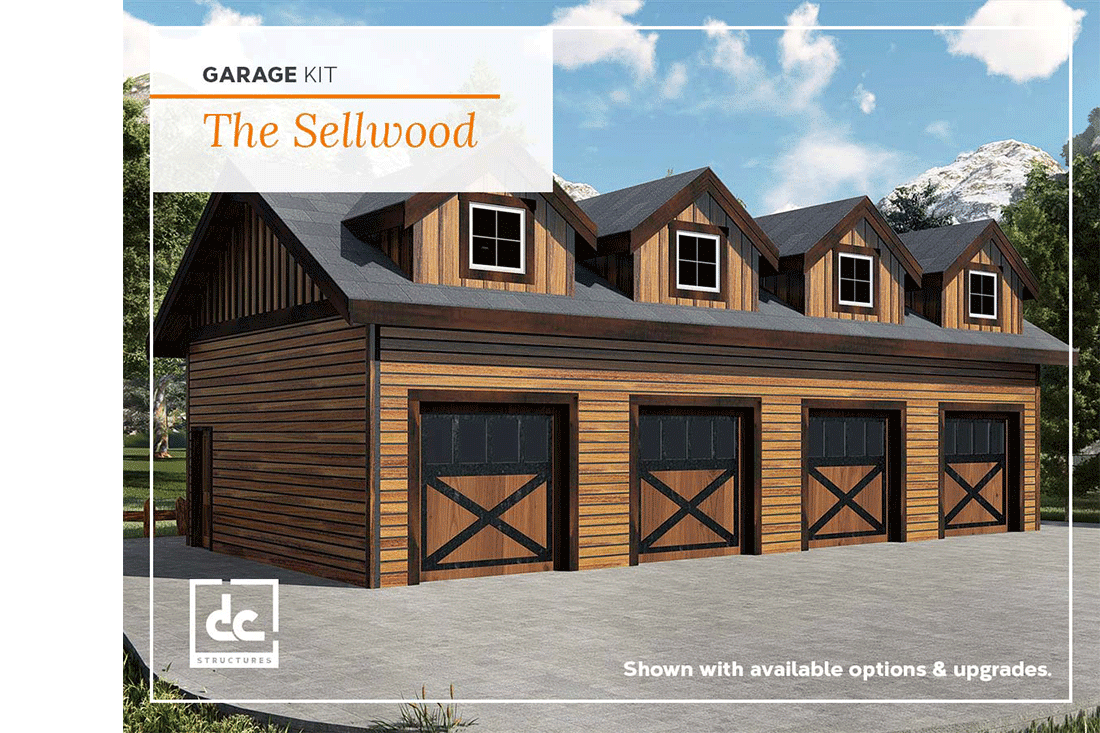 POST-AND-BEAM Garage Plans
Adding a garage or workshop to a residential property is a big step for any homeowner. That's why the level of craftsmanship and structural reliability should be an important consideration throughout the planning process. Garages that are designed and assembled in the dependable style of post-and-beam construction make for smart investments that add convenience and joy to the owner's lifestyle. Objectively better than pole-construction designs, post-and-beam garages and workshops will remain standing for several generations to come if properly maintained over time. In fact, these kinds of structures are often to only to remain unharmed in the wake of a natural disaster. Outside of their reliability, post-and-beam designs make for highly flexible floor plans and inviting open-concept interiors.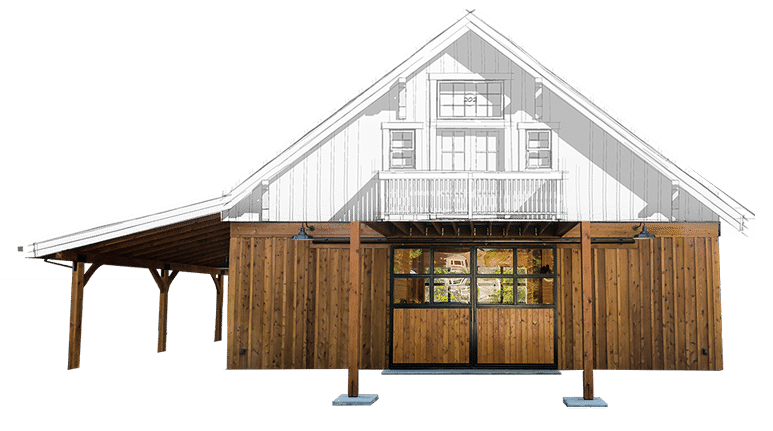 Sometimes clients approach us wondering what it would take to convert an existing barn structure into a revamped garage or workshop. While this is certainly possible, the truth is that barn conversions can make for an expensive, regulatory headache. Hidden costs such as fumigation and re-engineering fees can add up quick, and will often exceed the total price for a new garage or workshop design. Unless the barn is in great condition, it is inevitable that regulatory hurdles will make things more challenging than a clean slate ever would. We recommend that anyone looking to convert an existing structure into a new garage or workshop be incredibly thorough when it comes to evaluating the structure's current condition and path to revitalization.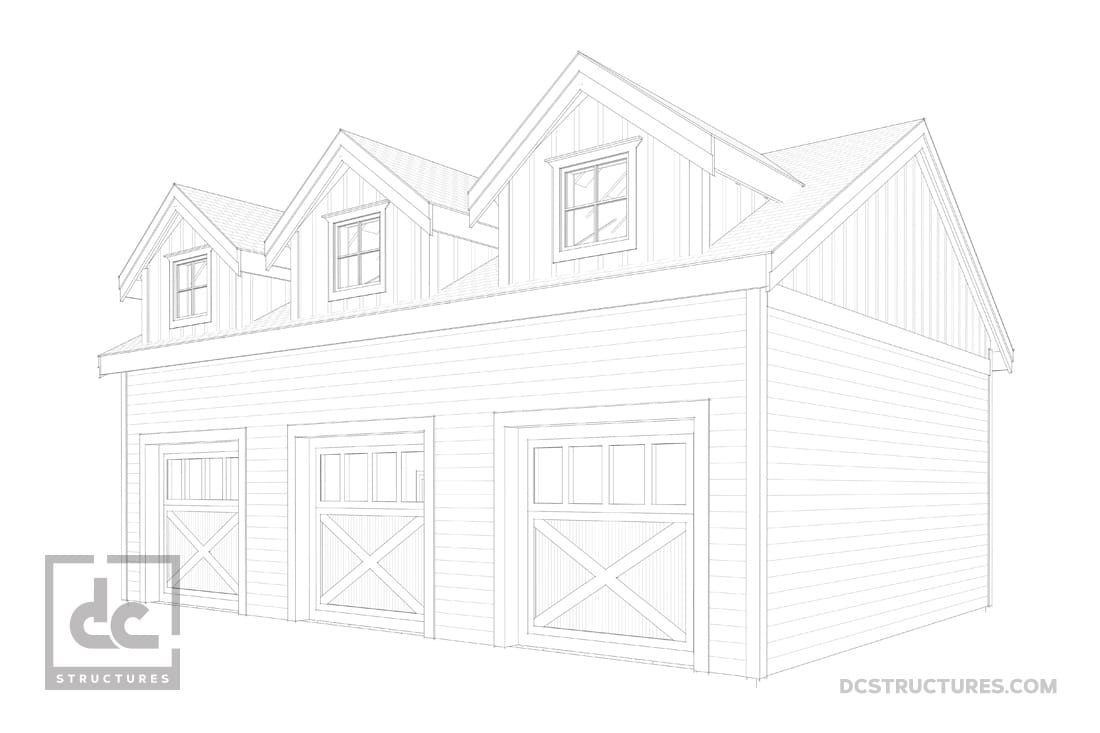 One of a Kind Garage Kits
DC Structures designs and assembles pre-engineered wood garage kits that are easily modified to suit the client's specific lifestyle needs. Anything but standard, our garage kits are ripe for customization so they can match other buildings on the property and speak to the owner's originality. Not a single workshop kit we've sold has looked anything like the others, as we take great pains to make sure our customers have immense creative control over their garages. That's why we offer an innovative and streamlined design process, consisting of a one-on-one co-design between the client and our project management team. Easily navigable and user friendly, our garage kit creation process combines the simplicity of a pre-engineered materials package with the impeccable attention to detail of a custom design and build.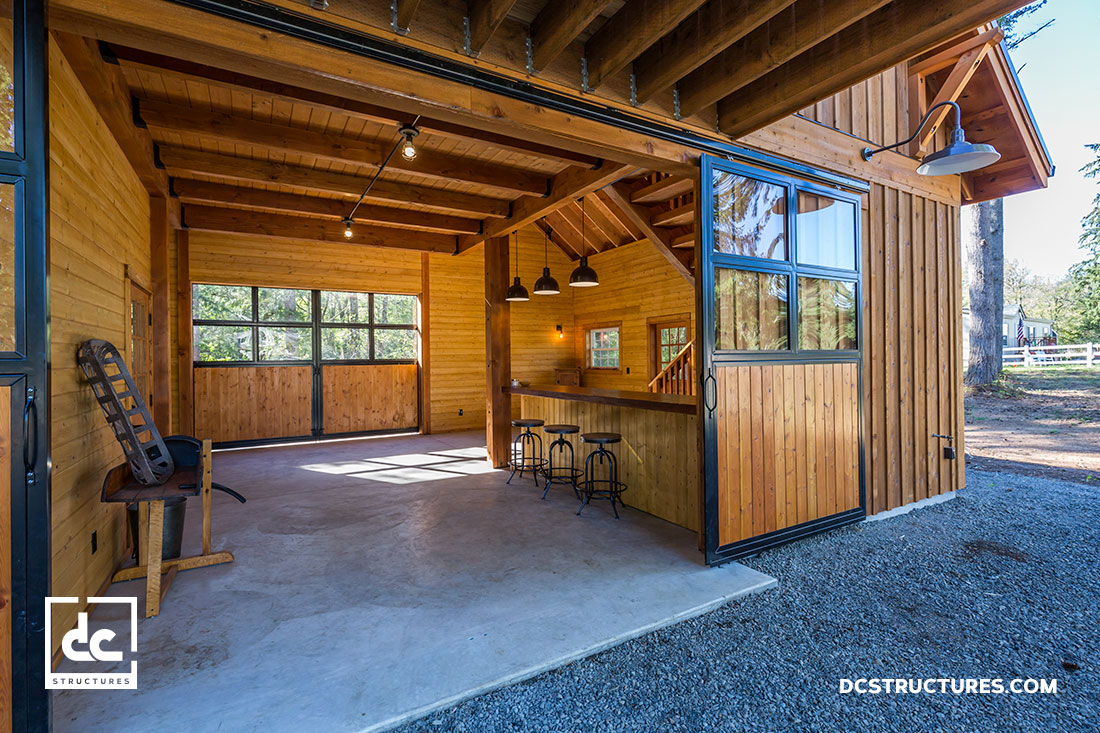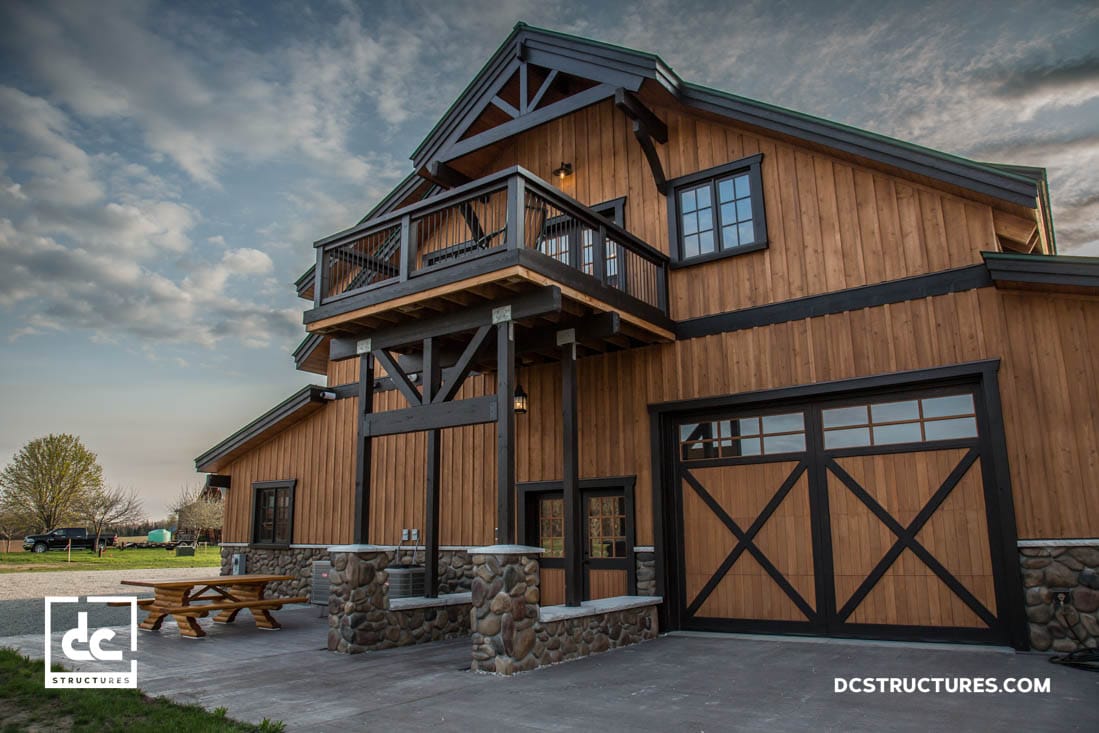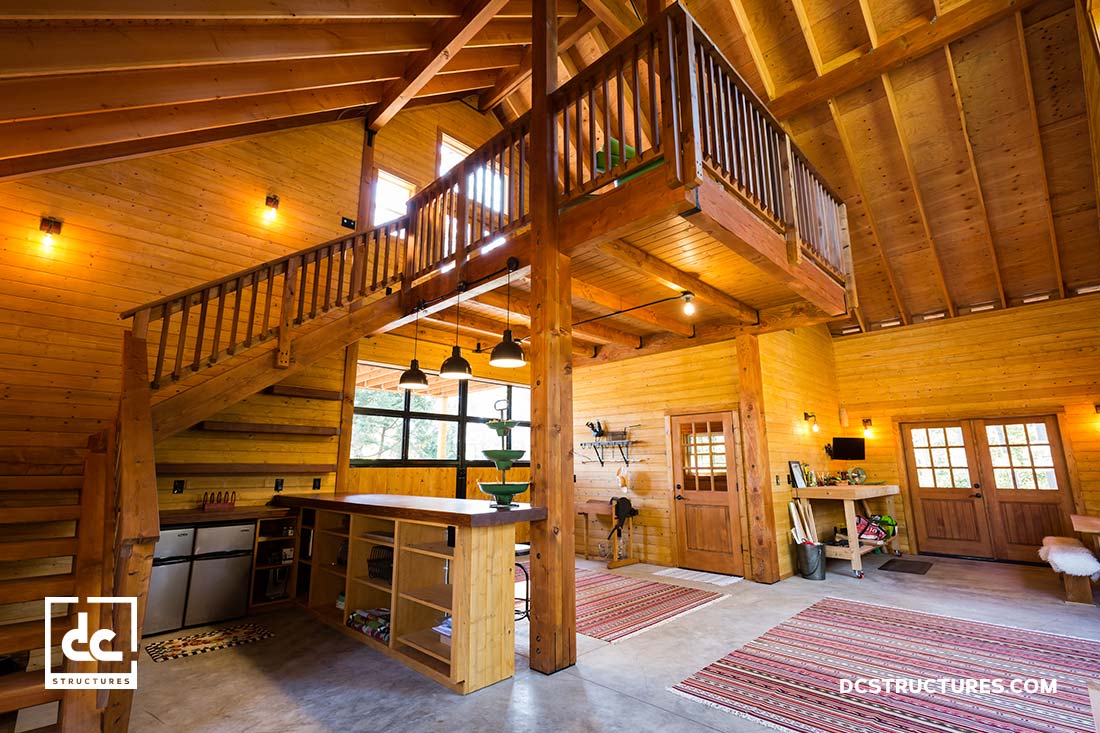 Our standard garage and workshop kit design process walks clients through the stages of selecting a kit model, making desired changes and personalizing it through our varied selection of options and upgrades. If a customer is interested in one of our standard models but would like to make structural adjustments—such as changes to building height or width, post removal and custom add-ons—we also offer a flexible design option. This is just one of the many ways in which we at DC Structures provide different options for our clients' varied needs.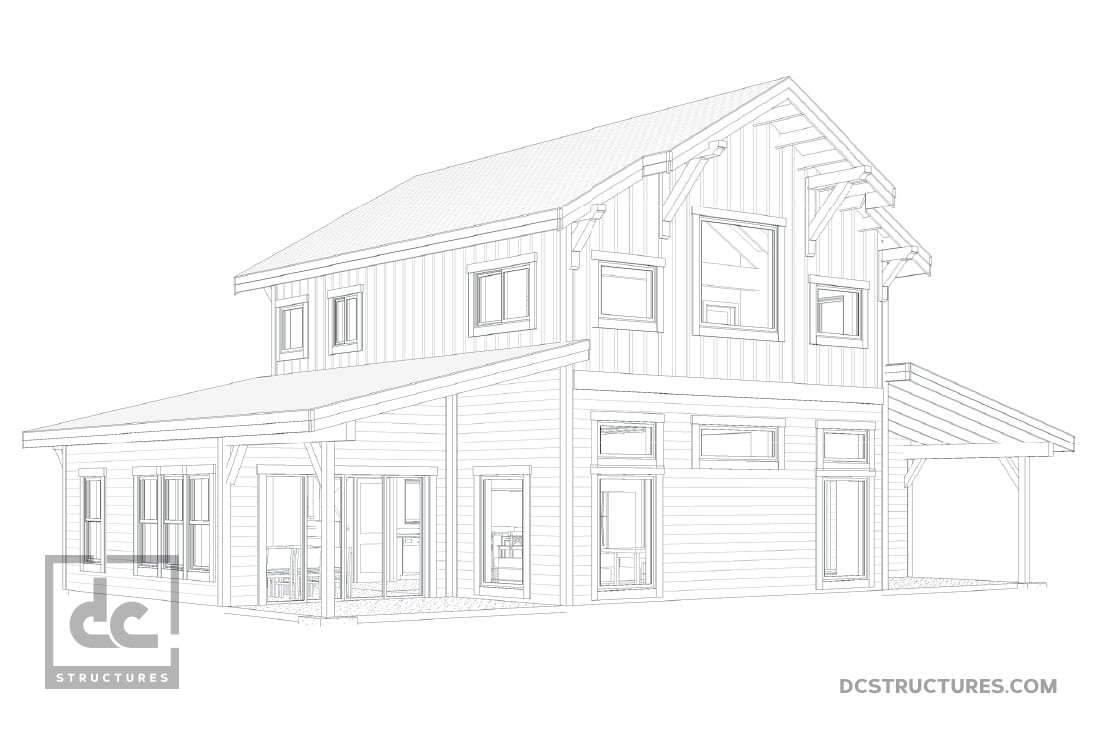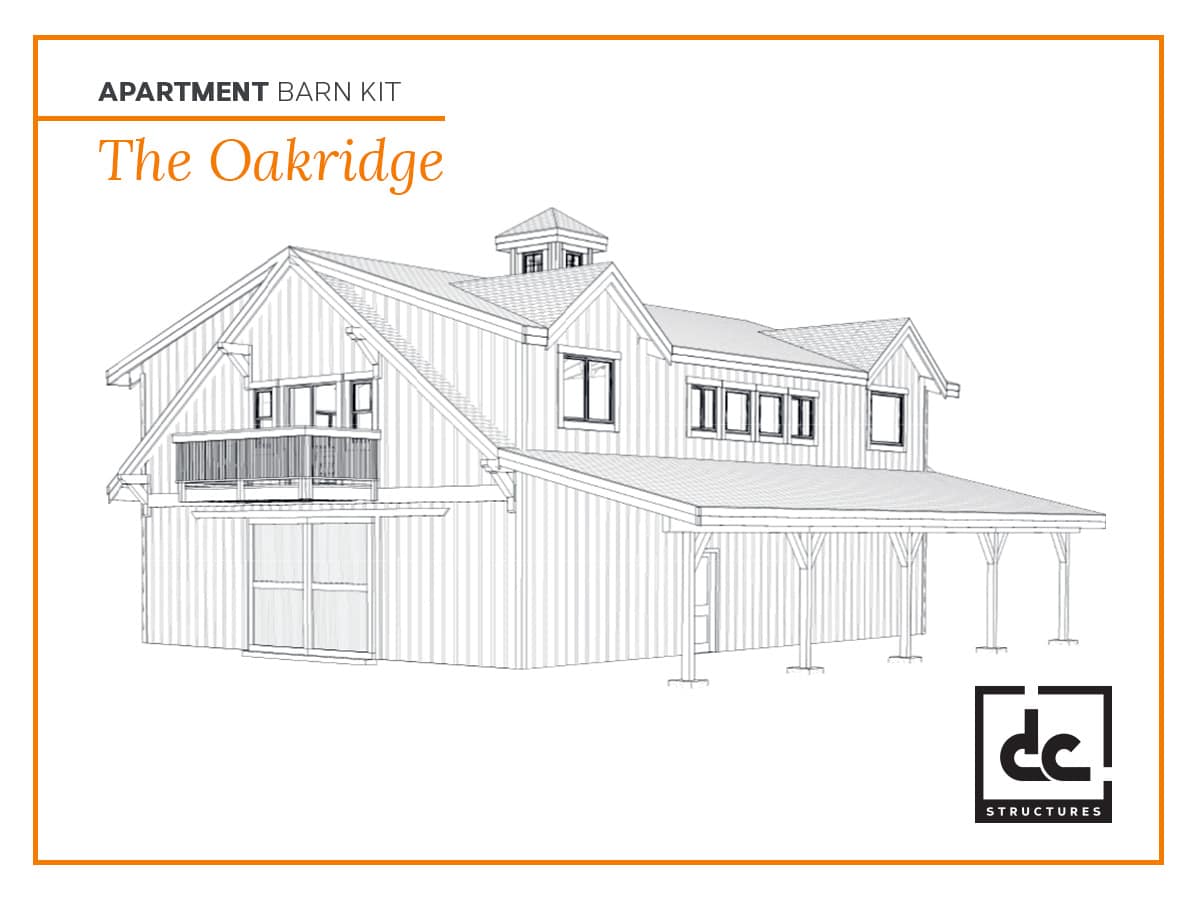 QUALITY WOOD Garage Kits
The DC Structures quality promise forms the basis of our operating principles. From our client-centric approach to customer service to our fine attention to detailed craftsmanship, we are focused on client satisfaction before, during and after the completion of our customers' projects. Our garage kits are assembled with the finest materials we can source, such as top-quality heavy timbers from our meaningful mill-direct relationships in the Pacific Northwest. Being located in the heart of Oregon's thriving timber industry allows us to acquire the best lumber for a reasonable price, which is something we get to pass along to our customers. Further, we offer builder support to our clients and their chosen contractors throughout the duration of their kit garage construction processes. That's because we know our job isn't finished until our customers' garage or workshop jobs are.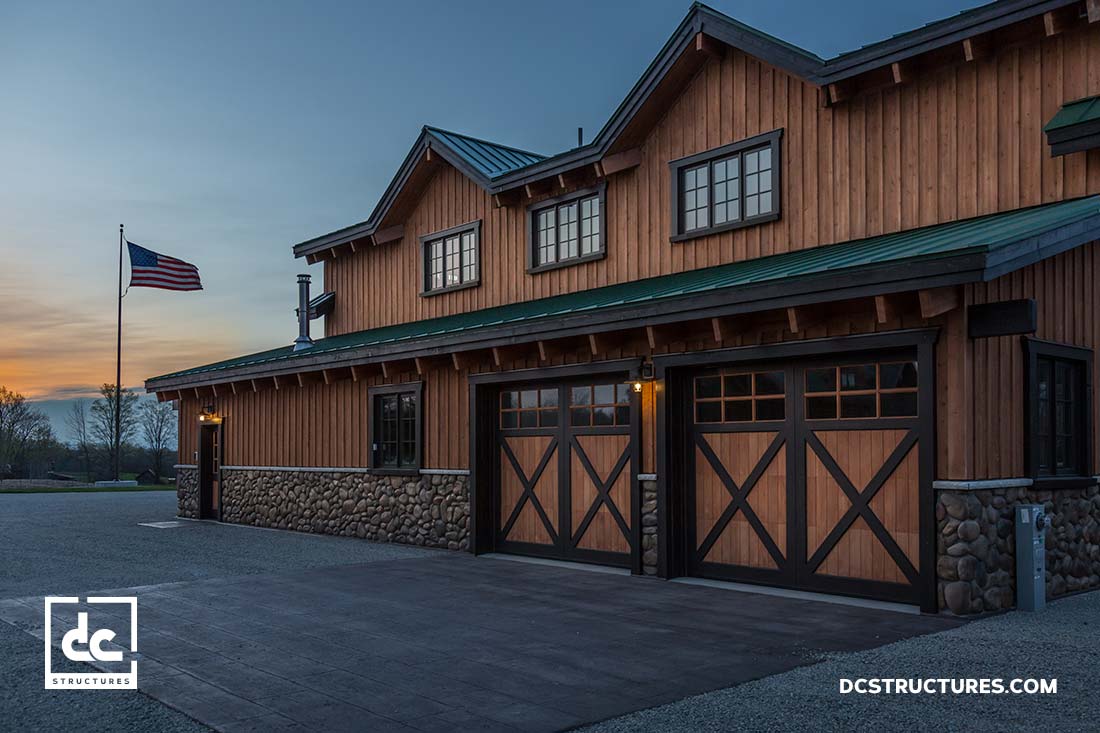 In addition to the quality of our products and services, we consider ourselves to be cultivators of our clients' dreams. Our customers generally intend for their garage or workshop kit to serve as a complement to their free-time pursuits, so we make it our priority to extract their unique visions and translate them into garage plans that effectively meet those needs. Unlike many of our competitors in the pre-engineered garage kit industry, we invite creative discussions about how to alter our standard models in a way that serves our customers' needs. The experience we have designing highly personalized garage workshop kits, as well as numerous other post-and-beam structures, gives us a creative edge when it comes to exploring possibilities with our clients. We believe it is our commitment to assembling top-of-the-line wood garage kits while catering to the customer's lifestyle that makes us an ideal co-collaborator in the design of a complete garage kit.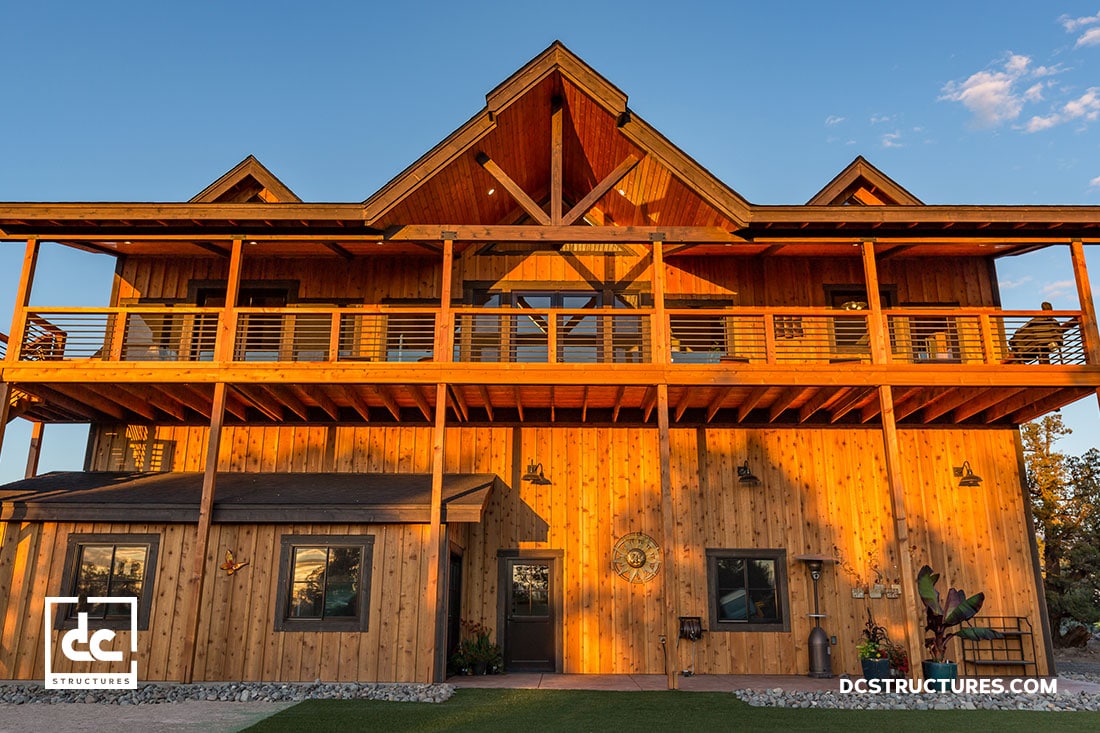 FLEXIBLE Garage Kits
The garage and workshop kit projects that DC Structures has had the opportunity to create vary in style, size and purpose. From car collection storage garages to hunting workshops with cabin-style living quarters, our pre-engineered garage kits support a variety of interests and lifestyle pursuits. Whenever customers approach us in search of a new workshop or garage kit for their property, we like to point them toward our gallery of completed projects for inspiration. We've helped clients turn our kits into small-business workshops where they conduct their business, backyard workshops that blend amateur hobbies and relaxation, and RV garages for their outdoor toys and equipment. Whatever our clients' objectives for their garages, DC Structures has the expertise and enthusiasm to bring that vision to fruition.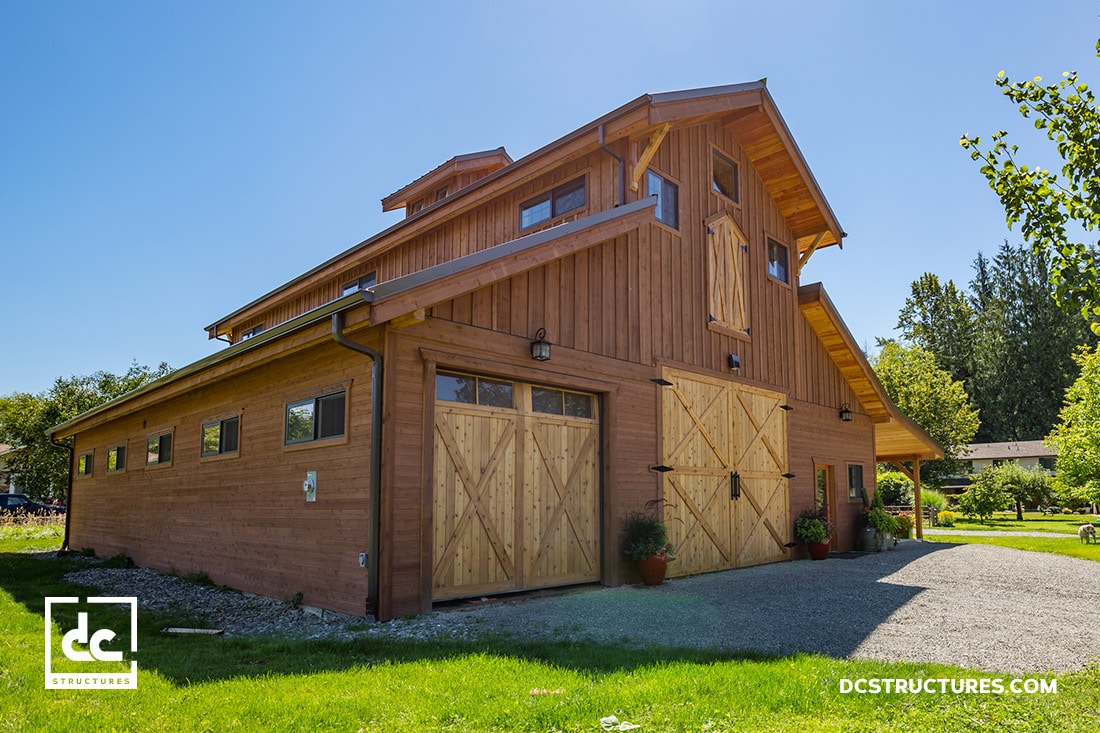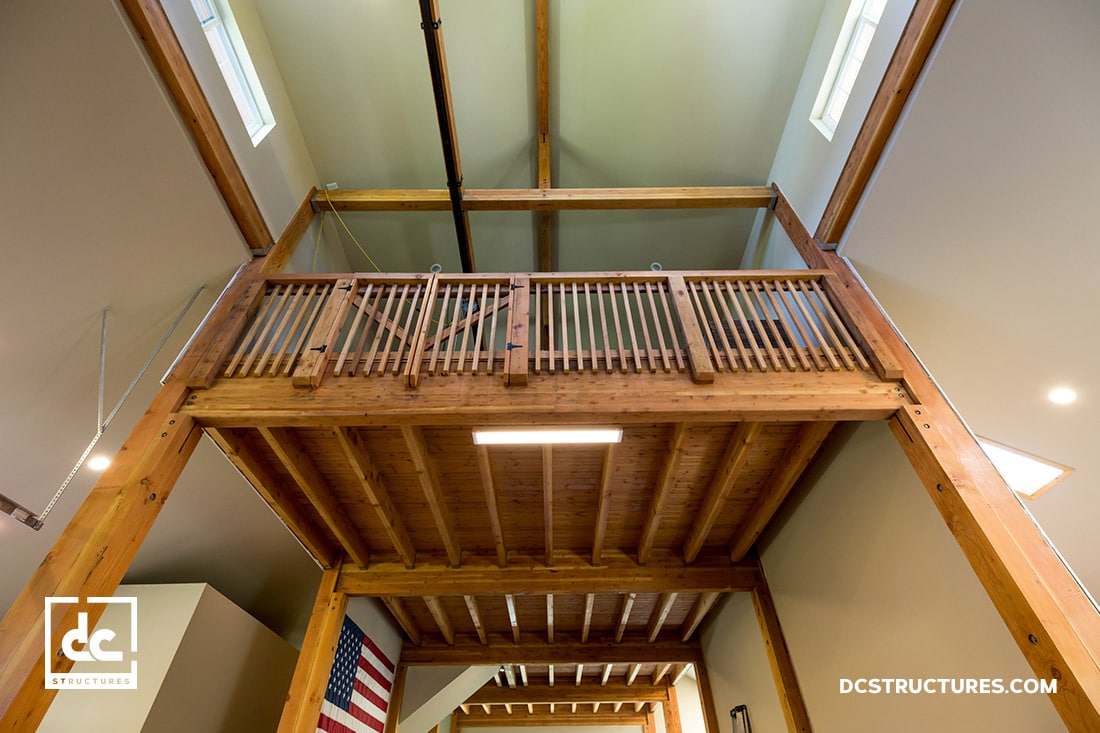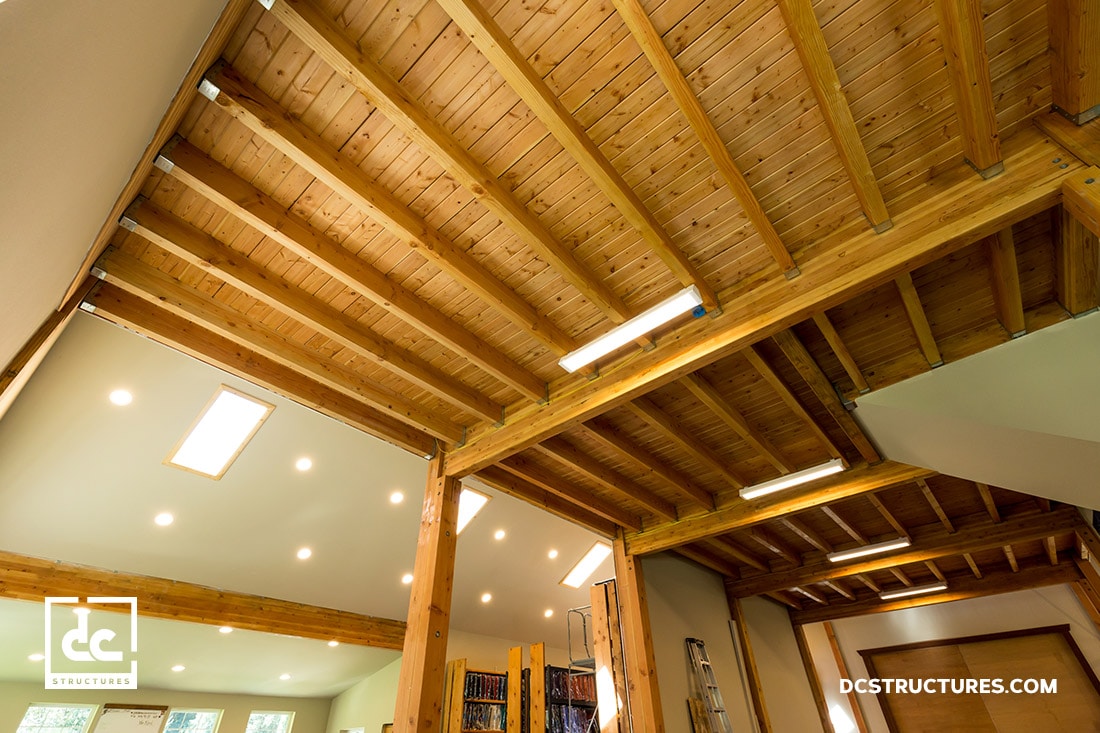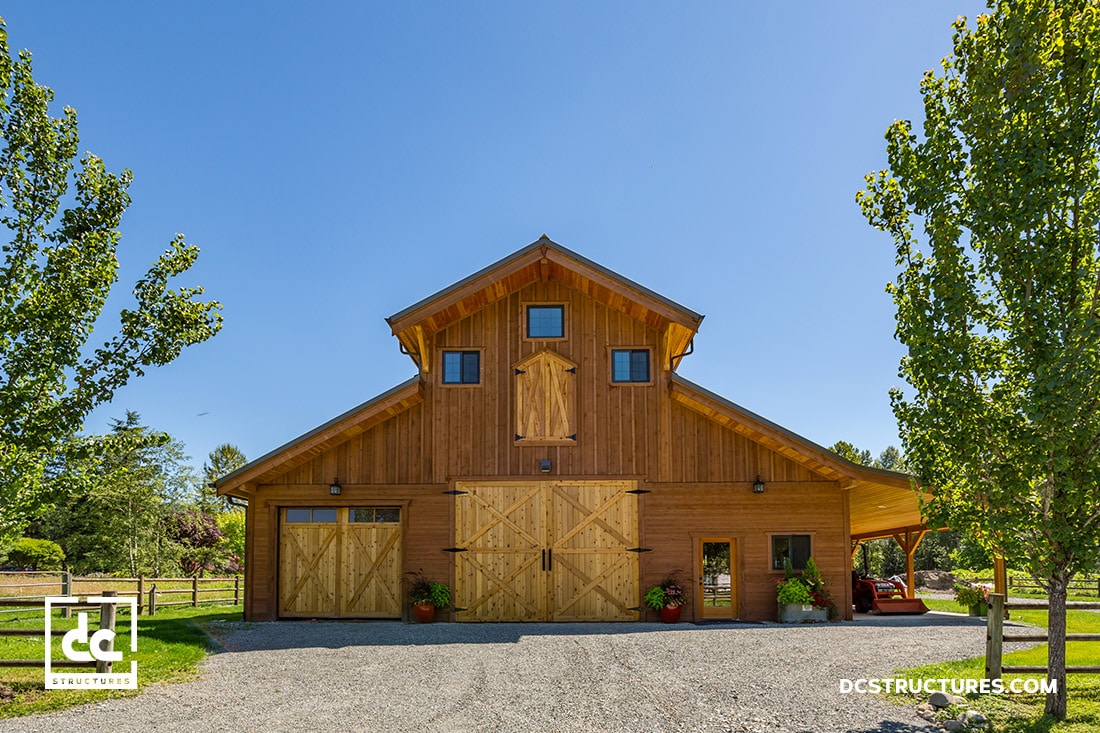 Choosing a Garage & Workshop Design Partner
Our experience designing and assembling pre-engineered garage and workshop kits spans a diverse customer base across the U.S. This has allowed us to gain valuable insights regarding regional building requirements, as well as the process of streamlining design and construction for our clients. We take pride in our listening skills, because we understand that in order to truly deliver on our clients' visions, we must assist them in conveying the picture in their minds. If you're ready to start thinking about ideas for your own garage or workshop project, download our digital catalog and imagine the possibilities. Or, if you are ready to get serious about putting your garage and workshop ideas on paper, request a free quote to get started today!
Get Started Today!
Start planning the barn home or apartment barn of your dreams with the latest DC Structures product catalog, containing loads of information on pricing, materials, options and upgrades, photos, videos and more.