HORSE BARN KITS
When designed with longevity and horse safety in mind, a well-built horse barn grows in value over time while providing your horse with a safe and comfortable environment. At DC Structures, we create post and beam horse barn kits using the latest design software and construction techniques, each one highly customized to meet our client's individual needs. Our heavy-duty wood barn kits are built to last a lifetime, making them a great investment for you and an ideal residence for your equine friends. Let us know what you envision for your horse barn plans so our team of experts can start designing a beautiful space unique to you!
What is a Horse Barn Kit?
A horse barn kit is a pre-engineered design and materials package that includes everything you need to assemble the structure after it arrives at your location. Our wood horse barn packages include sets of highly detailed blueprints, framing material, doors and windows, siding and trim, and much more. These kits are designed, locally sourced and prefabricated at our facility in Oregon and shipped to clients around the country. Our team of talented in-house designers have created a line of pre-designed horse barn kit models that can be easily modified to enact your vision.
Post & Beam Construction
Post and beam construction is a method of heavy timber frame construction that uses large vertical posts and horizontal beams to support the structure of the building instead of dimensional lumber. Load-bearing walls typically used in a conventionally framed home are replaced with heavy timbers to create open interiors with vaulted ceilings. Unlike pole barns, the posts are not encased in concrete, which allows us to use beautiful, select-grade Douglas fir columns instead of unattractive, chemically treated posts. A standard post and beam layout is especially useful in horse barn designs, making it easy to reconfigure the space to place horse stalls, tack rooms and wash bays as you see fit.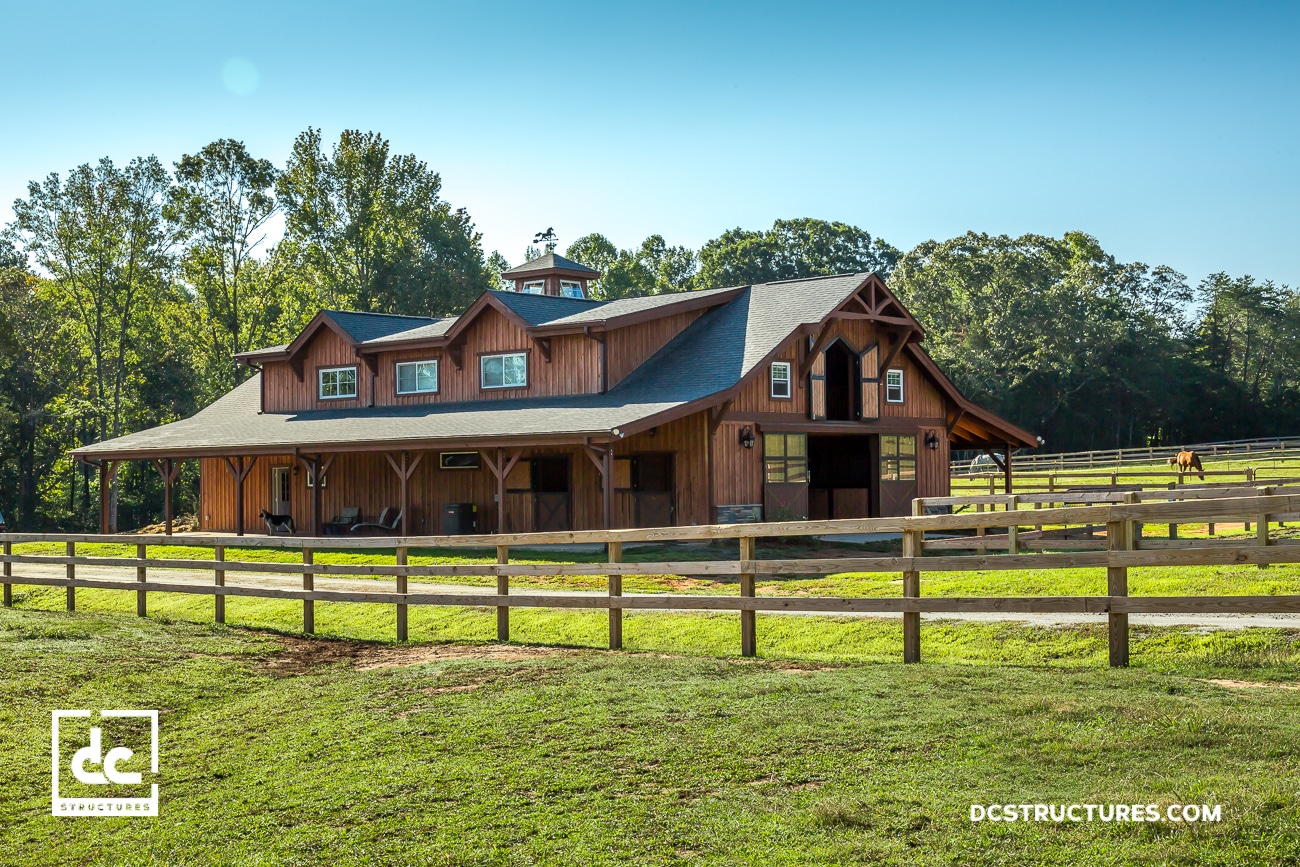 This beautiful horse barn in Tryon, North Carolina was adapted from a Columbia 72' barn kit. This luxurious post and beam structure comes with all the standard features of a Columbia model, while boasting exterior upgrades that are both functional and aesthetically appealing.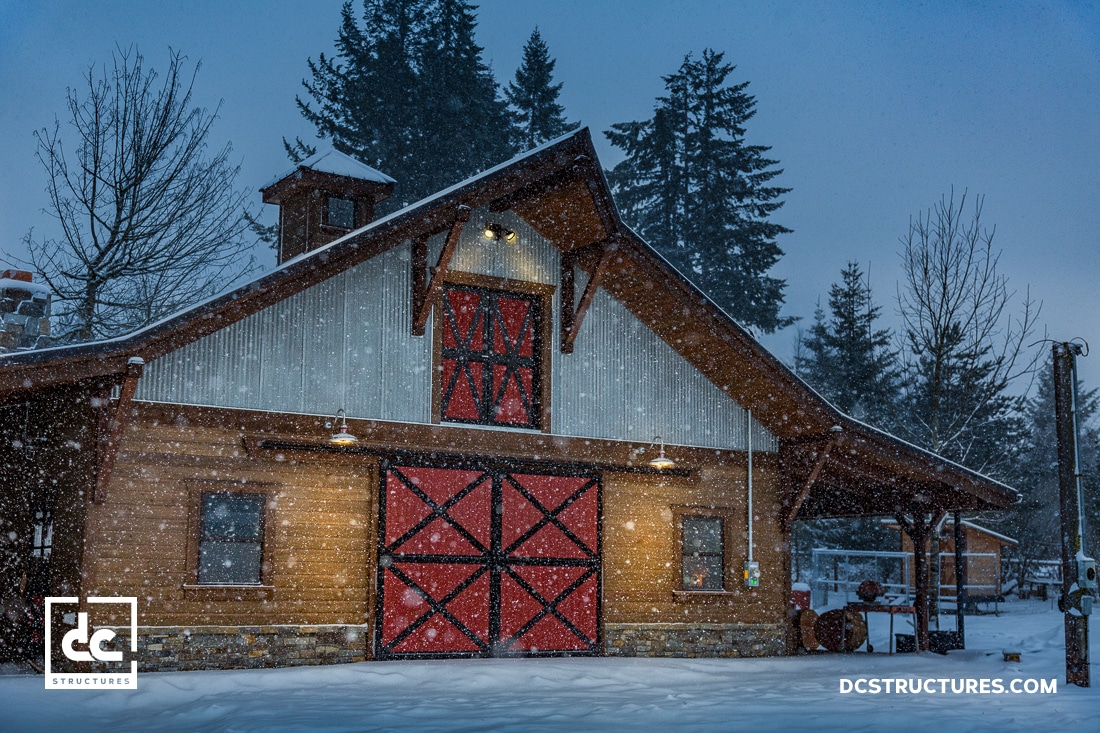 Modified from our Columbia 36' gable-style barn kit, this beautiful horse barn in Sandy, Oregon offers 3,065 sq. ft. of available space. The main level features two stables, Classic Equine sliding barn doors, and a large two-sided custom fireplace for use as a blacksmithing forge. Upstairs, a roomy hayloft can double as a storage or work space.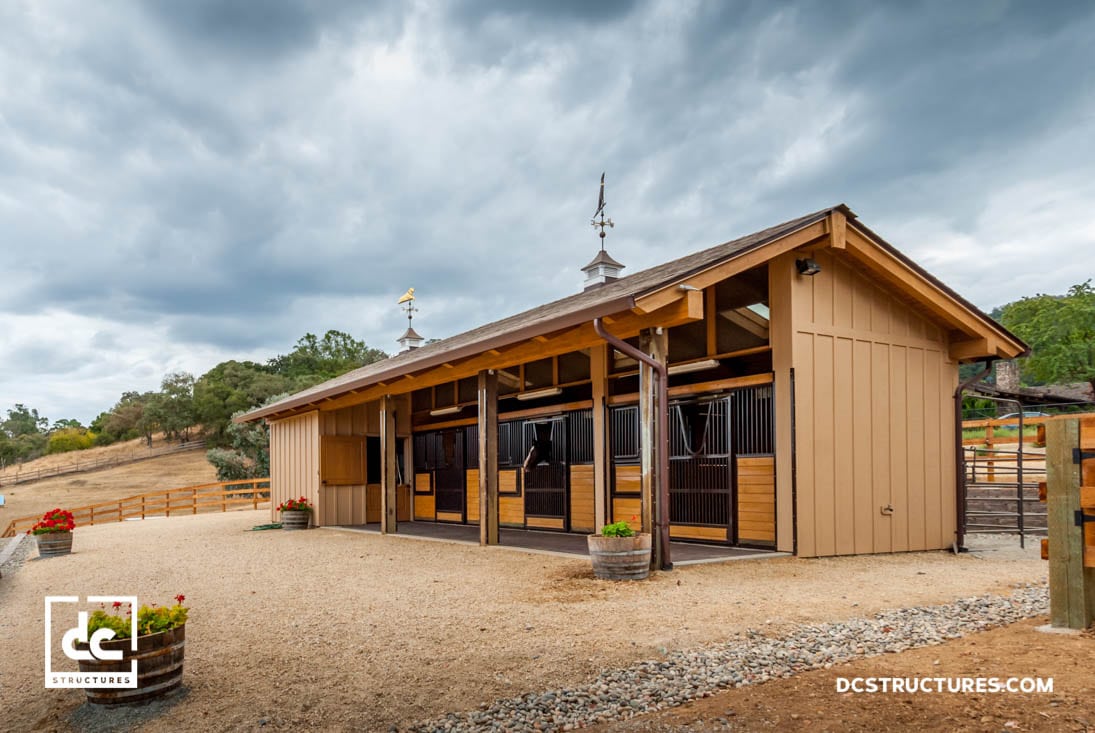 The wide-open design of this Pendleton shed row barn in San Jose, California is perfect for the California climate. The open horse stalls allow for plenty of ventilation and natural light to pour through the space, while features like Nelson automatic waterers and ComfortStall mats help our clients keep their horses healthy and happy. Why DC Structures?
DC Structures designs and manufactures America's best pre-engineered post and beam horse barn kits. No other building kit company offers more complete packages or a more customized approach, allowing each client to create a unique barn kit that meets their specifications. We source only the finest materials from the Pacific Northwest to create beautiful, durable structures that stand the test of time. Whether you're looking for a small wood horse barn or a large commercial equestrian facility, our team can craft a solution that's just right for you.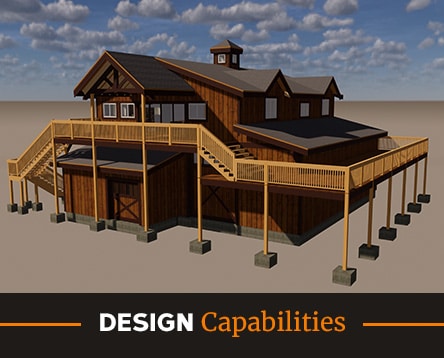 DESIGN
Our horse barn designs are some of the safest and most durable on the market. We understand how important your horses are, and we've used our decades of experience building equestrian structures to create a building system that is horse-safe and highly functional. Special design features like concealed connection hardware, chew protection, and steel-framed doors are used in our horse barns to help prevent accident or injury and ensure a long-lasting structure. Our line of pre-designed horse barn models is just a starting point—our design process allows you to make changes to your floor plans to create something unique.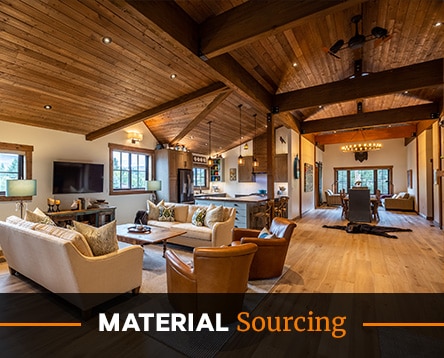 MATERIALS
As a premier nationwide builder of pre-engineered barn kits, we take pride in sourcing the best materials for all of our horse barn kits. This is why all of our standard horse barn kits come with top-of-the-line building materials from the Pacific Northwest, such as stunning select-grade Douglas fir posts and glulam beams and Classic Equine stall fronts and Dutch doors. Our wood horse barn kits are also equipped with some of the highest quality safety measures including galvanized metal chew protection for exposed corners and custom concealed structural knife plates with anchor bolts to ensure your horses are always protected in any event. Depending on your needs, we provide a number of options and upgrades from some of America's best suppliers of windows, doors, and equestrian equipment.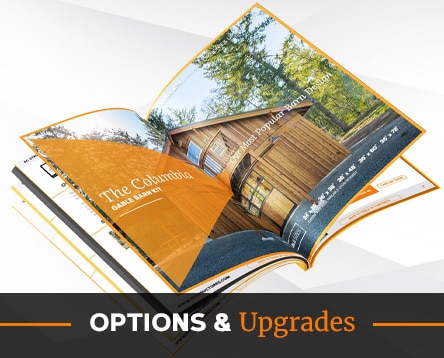 OPTIONS & UPGRADES
To help you make the most out of your investment, all of our horse barn kits feature a highly customizable design. While our kits come with high-quality standard features, we offer hundreds of available options and upgrades to ensure your structure meets your unique needs such as Nelson automatic waterers in each stall and Classic Equine Dutch doors and stall fronts. Consider adding cupolas to your horse barn design for optimal lighting and ventilation.
The Process
When signing on to a custom horse barn with DC Structures, our team goes to every length to ensure your structure matches your vision. Through a process called prefabrication, we offer clients the chance to jump-start construction and save thousands of dollars by doing so. After working with a project coordinator to select your kit model and finalize the design, all of the high-quality materials for your wood horse barn package are prepared in a weather-resistant facility prior to being shipped to your building site. This prefabrication process saves our clients time, money, and effort by allowing fewer days with carpenters on-site and reducing equipment rentals. It also allows for more accurate construction, tighter joints and better overall quality. Our Horse Barn Expertise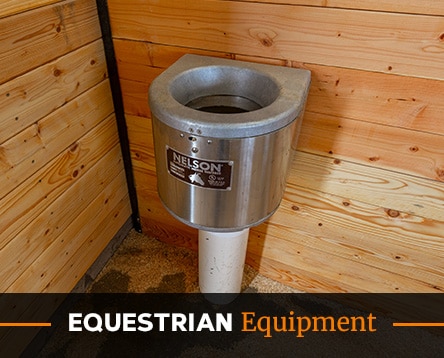 EQUESTRIAN EQUIPMENT
You deserve a well-designed horse barn that puts the comfort of your horse first, while making your job easier as a horse owner and adding value to your property. For this reason, we've teamed up with some of the nation's best manufacturers of equestrian equipment to help you create the horse barn of your dreams. Our horse barn designs can be upgraded to include tack rooms, wash bays, stall fronts and dividers, Dutch doors and more. We work with top companies like Classic Equine to provide you with high-quality materials that are as durable as they are attractive.
HORSE SAFETY
While it's natural for horses to stumble from time to time, it's important to make sure your wood horse barn includes safety measures to help avoid accidents. This is why our buildings are designed with the safest and sturdiest materials and hardware on the market. Ask your project coordinator about further upgrades to protect your precious animals.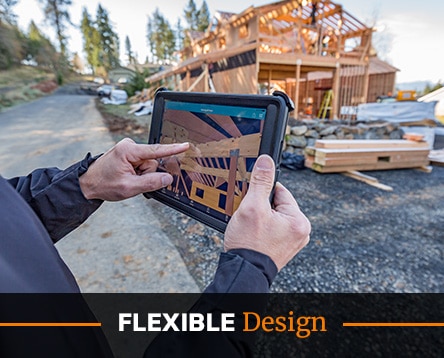 FLEXIBLE DESIGN
Not sure if you want your horse barn kit to function as a typical horse barn? Our flexible layouts allow you to determine how to use your space, whether it be as a workshop, garage, or even a party barn. You can also make structural modifications to the original horse barn design, including adjusting the building's height and width, removing posts, and altering the roof pitch. Whatever your vision may be, our team is dedicated to bringing your dream structure to life.
Learn More About Horse Barn Kits