FARMHOUSE HOME KITS
Like barndominiums, modern farmhouse-style homes are some of the most popular home designs to gain traction in the last few decades. Characterized by their wide-open interiors, minimalistic features, and incredible warmth and practicality, farmhouse homes offer the perfect blank canvas for families and individuals seeking a stylish yet highly versatile forever home. Our brand-new farmhouse home kits provide dozens of possibilities for your interior while boasting classically beautiful exteriors with covered porches and exposed wood elements. With a modern farmhouse design from DC Structures, you can enjoy the simplicity of country-style living in a contemporary space customized to your vision.
What is a Farmhouse Home Kit?
A farmhouse home kit is a pre-engineered design and materials package that includes highly detailed engineered blueprints, prefabricated Douglas fir timbers, interior and exterior wall framing, windows, doors, siding, and more. We prefabricate all the framing lumber for your roof, floor components, and exterior walls in our weather-resistant manufacturing facility in Portland, Oregon, utilizing our industry-leading Simple Build System. Our Simple Build System sees that every piece of framing lumber is pre-cut, drilled, and individually labeled to precision before being delivered to your job site. By prefabricating your wood framing components ahead of time, we can ensure your framing process moves quickly and efficiently while producing the highest quality results for your build.
FARMHOUSE HOME KIT MODELS
The Juniper is a modern farmhouse-style home with 3,084 square feet of conditioned living space that includes three bedrooms, two bathrooms, a study, and an open-concept living, dining, and kitchen area on the first floor. Upstairs, clients can turn a spacious loft space with a full bathroom into a guest room, office, music studio, or anything else they envision.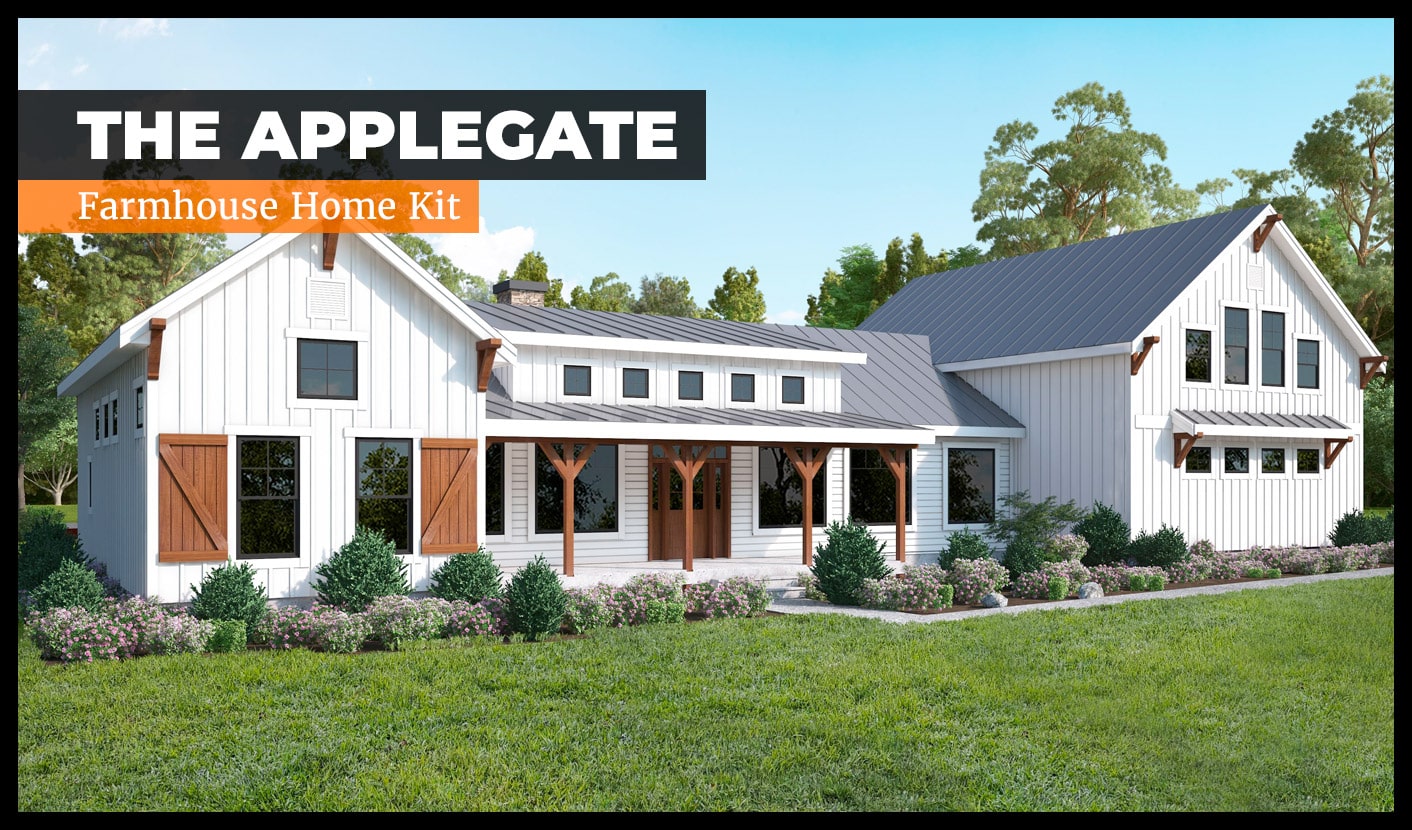 The Applegate is a four-bedroom, three-bathroom farmhouse-style home with a charming covered porch, a 1,121 sq. ft. garage, and an open-concept living, kitchen, and dining area. Clear-span trusses create a wide-open interior with little to no structural members to work around, making it easy for clients to personalize their space however they see fit.
Custom Designs
If your idea for a custom farmhouse-style home falls outside our standard farmhouse home kits, our custom design offering may be the perfect fit for your project. With a custom home design from DC Structures, you can create your dream look and layout for a modern farmhouse home and customize your design with hundreds of premium options and upgrades through America's top-rated material suppliers. Our in-house design team will start by reviewing any inspiration photos or Pinterest boards you may have for your structure while taking note of your room plans, lifestyle needs, budget, location, and other miscellaneous factors. Then, we'll create a 3D model based on your feedback that you can explore and modify in real-time. Why DC Structures?
It's no secret that DC Structures is leading the industry in pre-engineered heavy timber, hybrid, and conventionally framed structures. Our innovative approach, combined with our unparalleled customer service and high-quality materials, allows us to offer the nation's best and most complete line of pre-engineered building kits, including our brand-new farmhouse home kits. When partnering with DC Structures, our clients can expect a streamlined and collaborative kit process that transforms their vision into an extraordinarily durable and beautiful home. Not only that, but our investment in state-of-the-art technologies like our 3D design software, virtual project management systems, and CNC woodworking machines allows us to deliver a product and customer experience unrivaled by any other building kit company.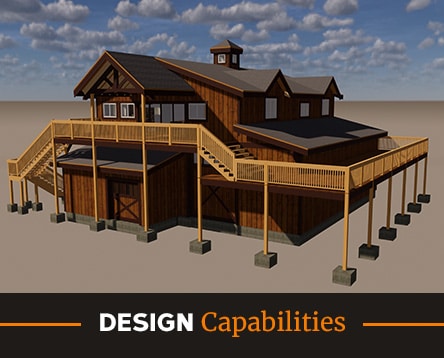 DESIGN
At DC Structures, we offer two unique approaches to the design process — the first is the option of selecting and personalizing a kit from our modern farmhouse collection, and the second is our custom design route. With the first option, clients can choose from our Juniper or Applegate building models and modify any structural elements as desired or needed. You can also customize your kit selection with hundreds of available options and upgrades through our trusted material partners. If you're looking for something different, we also offer custom design services that allow you to transform your design ideas into an original farmhouse-style home tailored to you. Our custom design offering makes it easy for you to bring your dream home to life and create a personalized floor plan that fully meets your needs.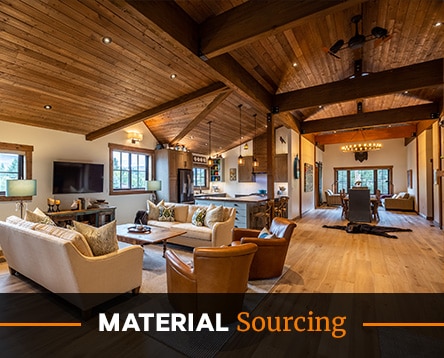 MATERIALS
Headquartered in Portland, Oregon, our company offers exclusive access to some of the world's most valuable timber exports, including select-grade Douglas fir and Western red cedar. We purchase only the finest lumber from our mill-direct suppliers here in the Pacific Northwest to ensure your structure reflects our high standards for quality and remains incredibly durable for decades. Our design and materials packages come standard with select-grade #1 Douglas fir timbers that have been kiln-dried and pre-surfaced on all four sides. Our Douglas fir timbers are also classified as FOHC, meaning our timbers exclude the soft pith in the middle or heart center of the tree and are thereby stronger and more resistant to cracking or twisting over time.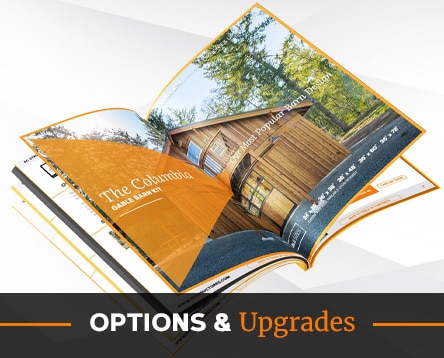 OPTIONS & UPGRADES
We offer a wide array of premium options and upgrades for your modern farmhouse home, including Andersen and Pella windows and doors, Woodtone siding, and Douglas fir tongue and groove wall coverings. With hundreds of available materials to choose from, you can create an interior and exterior that fully matches your vision and is exceptionally beautiful throughout. We work with some of the nation's top material brands to supply our clients with the highest quality components for their build, with these brands including James Hardie, OrePac Building Products, and much more. Whether you're looking for traditional farmhouse accents or something more contemporary, we have dozens of material options designed to suit your style.
Our Process
Our simplified kit process makes it easy and enjoyable for clients to bring their dream homes to life! How it works is one of our project coordinators will work directly with you to identify your preferred design and materials package. From there, our team will model your structure in our state-of-the-art 3D design software before transforming your plans into an expertly crafted pre-engineered building kit. Our Farmhouse Expertise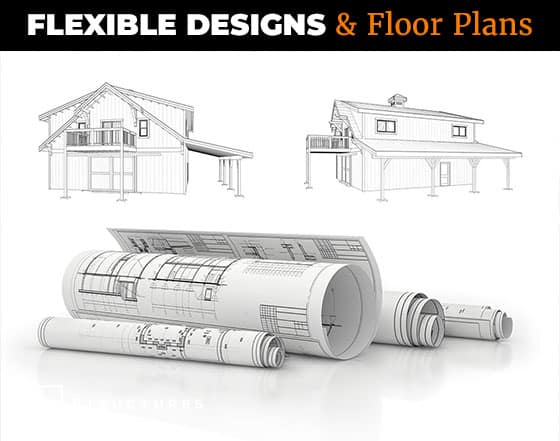 FLEXIBLE DESIGNS & FLOOR PLANS
At DC Structures, we consider our farmhouse home kits a starting point for clients rather than the final product. With their open-ended floor plans and flexible designs, you can modify your farmhouse home kit to serve just about any purpose you can imagine and look like the home you had in mind for your property. For example, many clients have turned their preferred building kits into all types of structures, ranging from single-family homes to guest houses, vacation rentals, and more. With the help of our talented in-house design team, you can transform your building model into a farmhouse-style structure that fully embodies your personality, taste, and needs.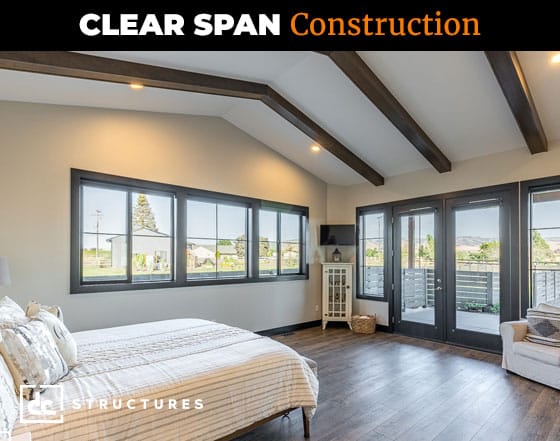 CLEAR SPAN CONSTRUCTION
Our modern farmhouse designs utilize clear-span trusses to create wide-open interiors free of structural posts. This building method allows you to do as you wish with your living space while enjoying high ceilings and expansive areas that offer endless possibilities and functions. Although you won't see exposed posts and beams in your interior, we can incorporate faux or non-structural beams in desired rooms to give your space a more rustic appearance. That said, if you're looking for a post and beam or timber frame home with a farmhouse aesthetic, our designers can create a custom farmhouse home that utilizes our time-tested heavy timber construction methods and stays true to your style.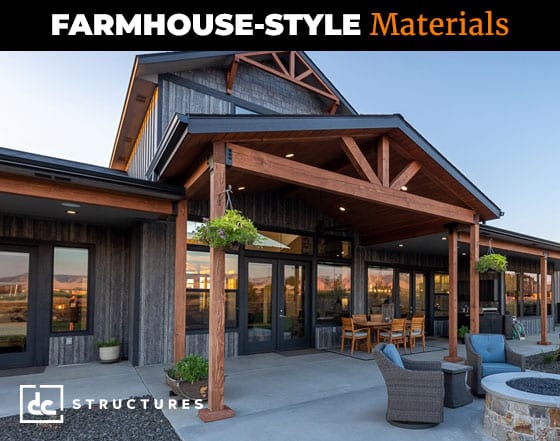 FARMHOUSE-STYLE MATERIALS
One of the best ways we can capture the look of an authentic, yet modern farmhouse home is by incorporating farmhouse-style materials in and outside your structure. For instance, we offer Woodtone RusticSeries™ siding that emulates the look of natural wood siding while presenting a cost-effective and long-lasting engineered alternative to cedar. Available in 18 color options, you can explore multiple attractive looks for your exterior siding, from timeless White Rapids to bold Midnight Tide. You can also add Pella and Andersen window upgrades with colonial grids to achieve a more traditional look and Frenchwood-style hinged patio doors that add elegance to any space.
Learn More About Farmhouse Kits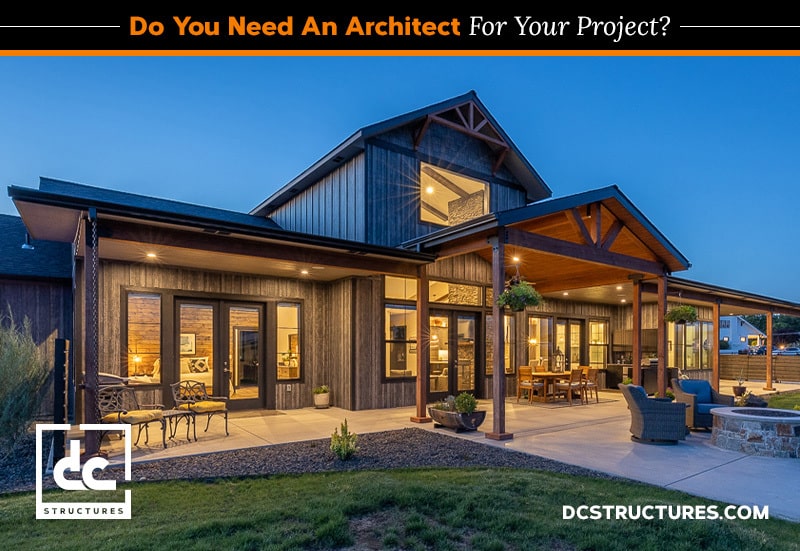 DO YOU NEED AN ARCHITECT FOR YOUR PROJECT?
If you're new to the process of building a custom home, you may be wondering if you need to hire an architect for your project. In this blog post, we break down why someone may hire a licensed architect, why it's not always needed or required, and what we can do if you need one for your custom build.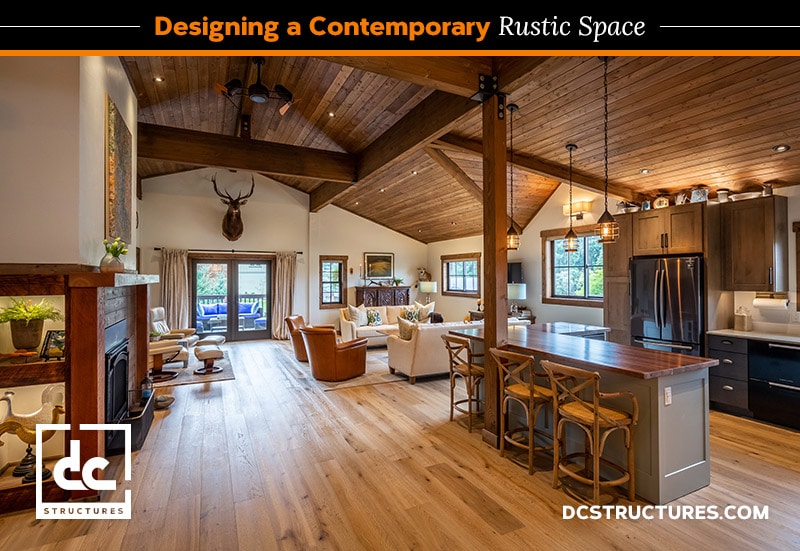 DESIGNING A CONTEMPORARY RUSTIC SPACE
Contemporary rustic design is one of the biggest interior design trends of the last decade, and it's not difficult to see why! With a modern rustic interior, you can enjoy the look of nature-inspired elements and rustic decor in a 21st-century living space that's tailored to you.