The Pineridge
Apartment Barn Kit
---
The Pineridge is a fun and adaptable apartment barn design with infinite possibilities for customization. Much like our beefier Oakridge model, the Pineridge is a two-story building kit that's perfect for creating unique, multifunctional spaces. This apartment barn design gives you the flexibility to create a custom workshop, garage or horse barn on the main level.
Designed in our classic post and beam style, the Pineridge apartment barn kit is framed with the finest Douglas fir posts and glulam beams from the Pacific Northwest. The Pineridge comes in five standard sizes, each including two steel-framed breezeway doors, dormers, HardiePanel fiber cement siding, and a door and window package. No matter how you plan to use it, this highly adaptable building kit can be modified to meet your needs.
Learn More

The Pineridge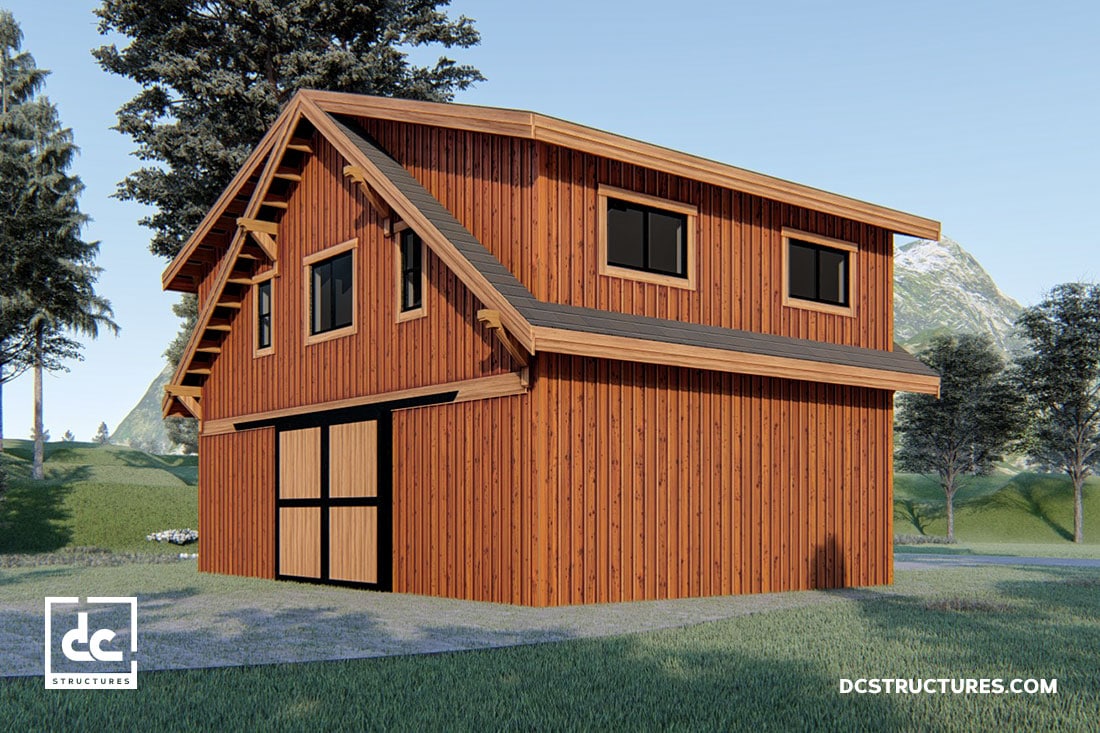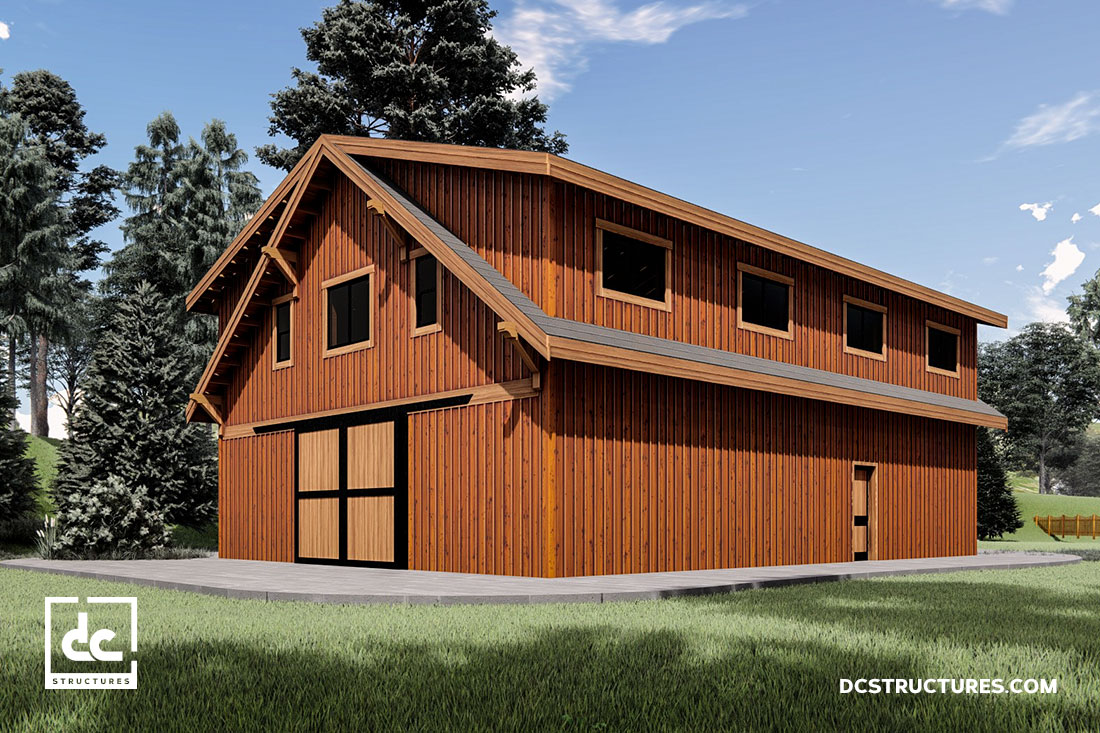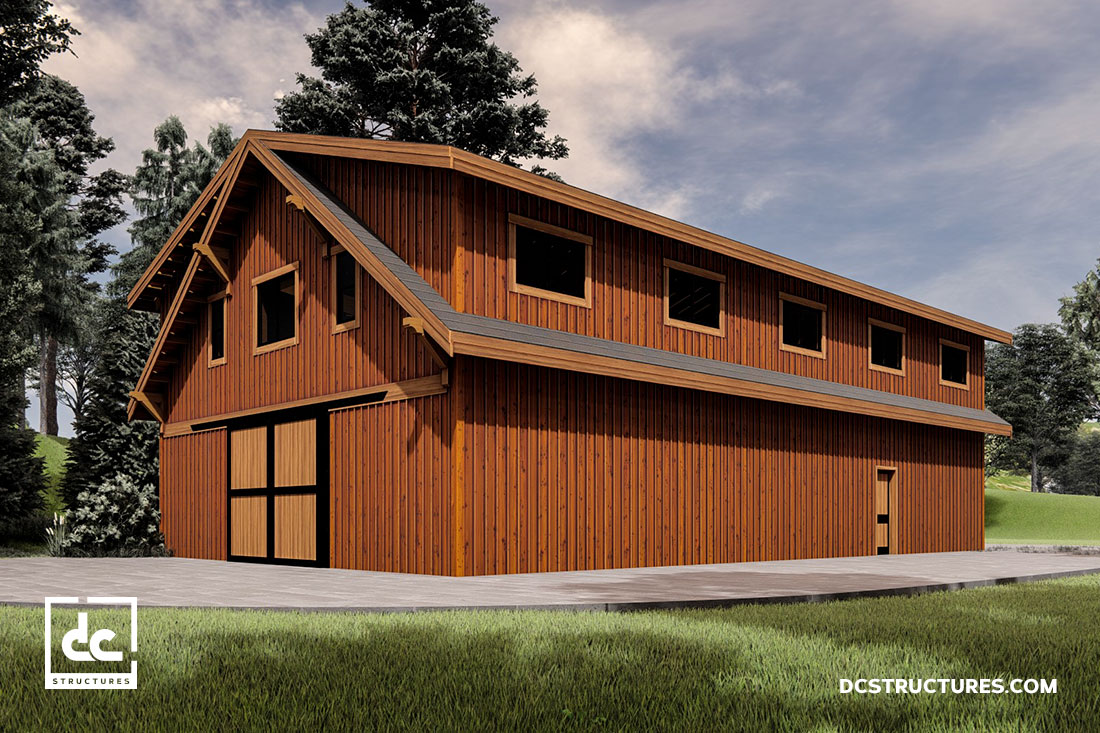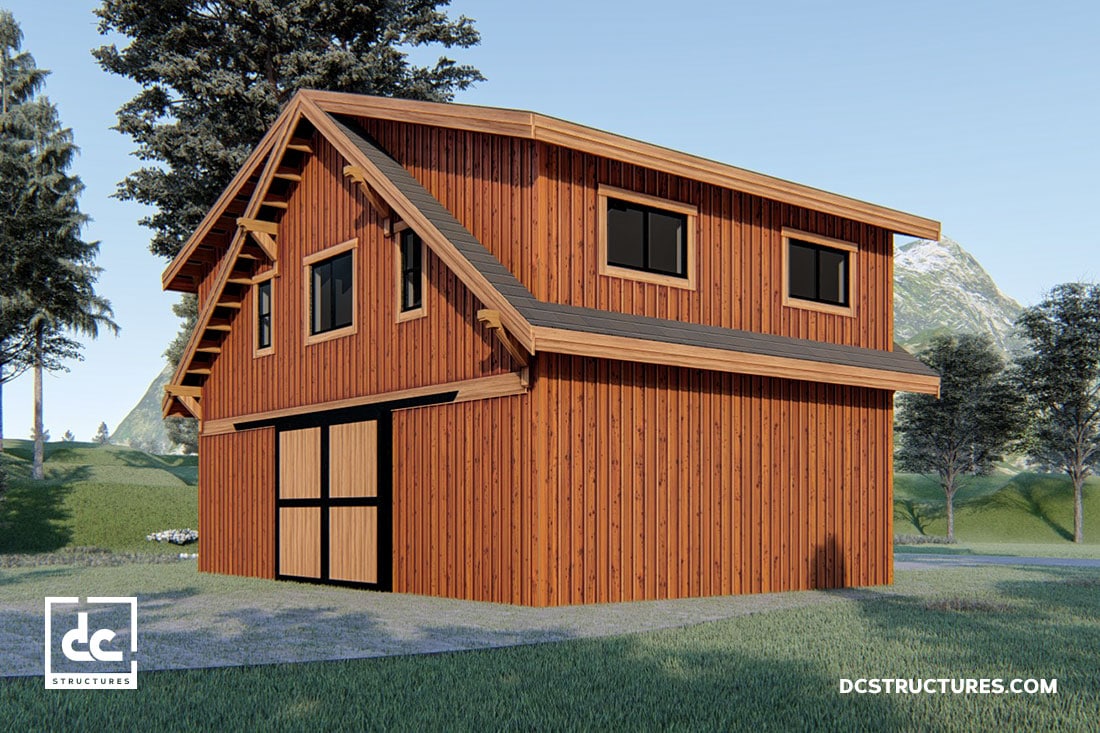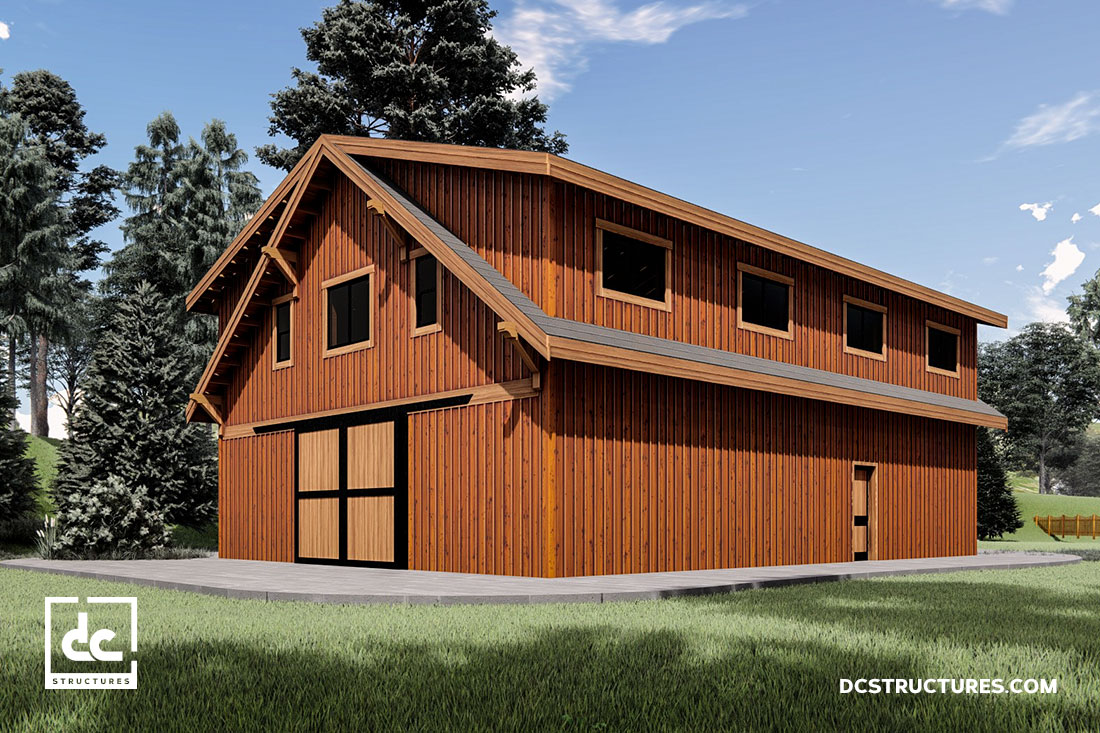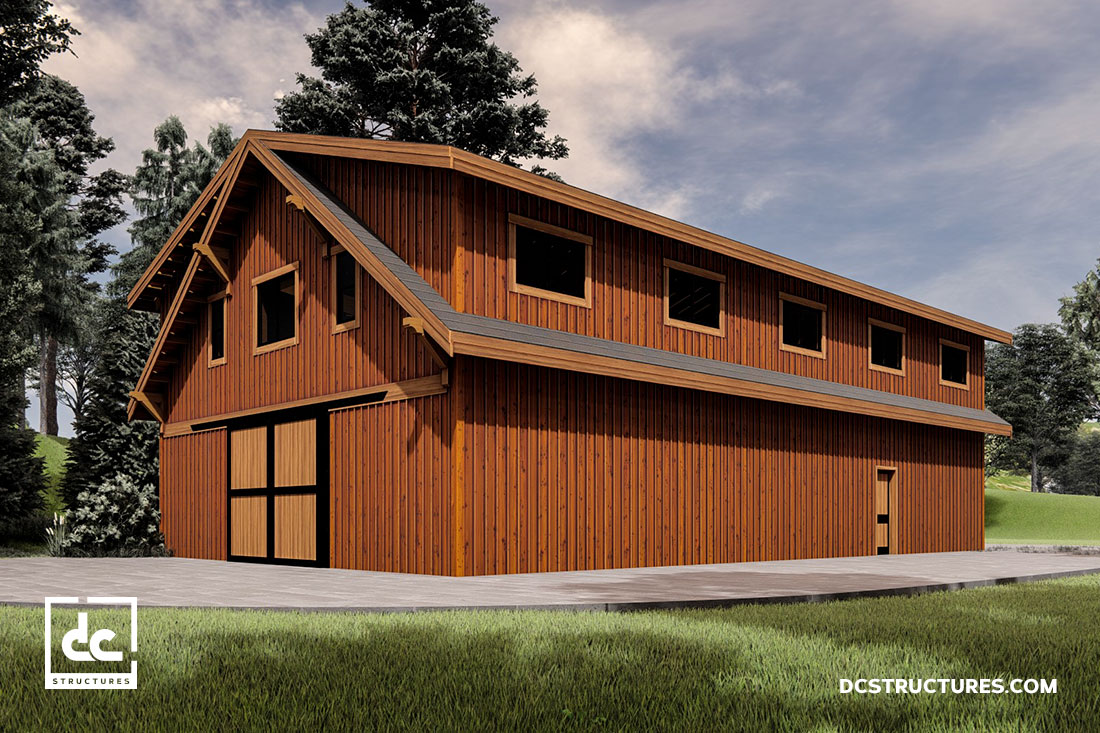 Pineridge 24'
---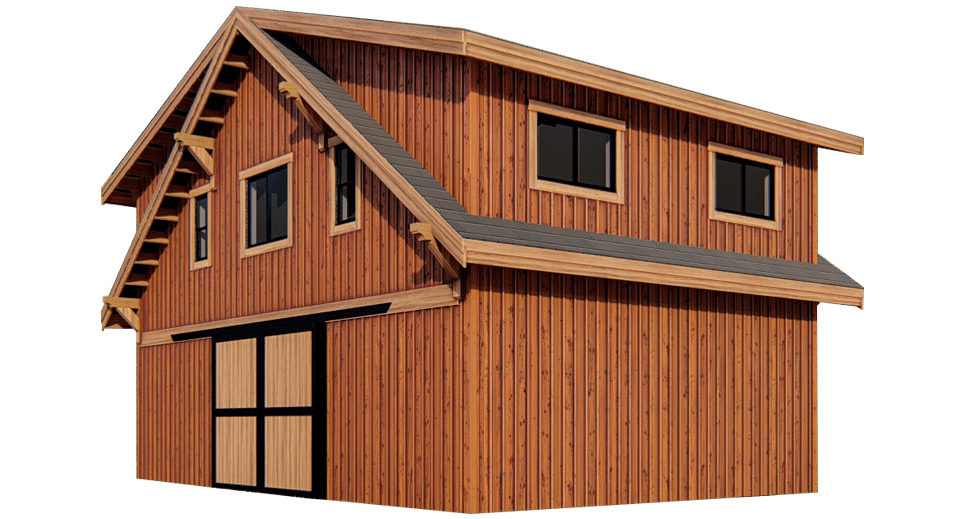 Starting price:
$110,003
36' x 24'
1,728 sq. ft.
1+ Bedrooms
Pineridge 36'
---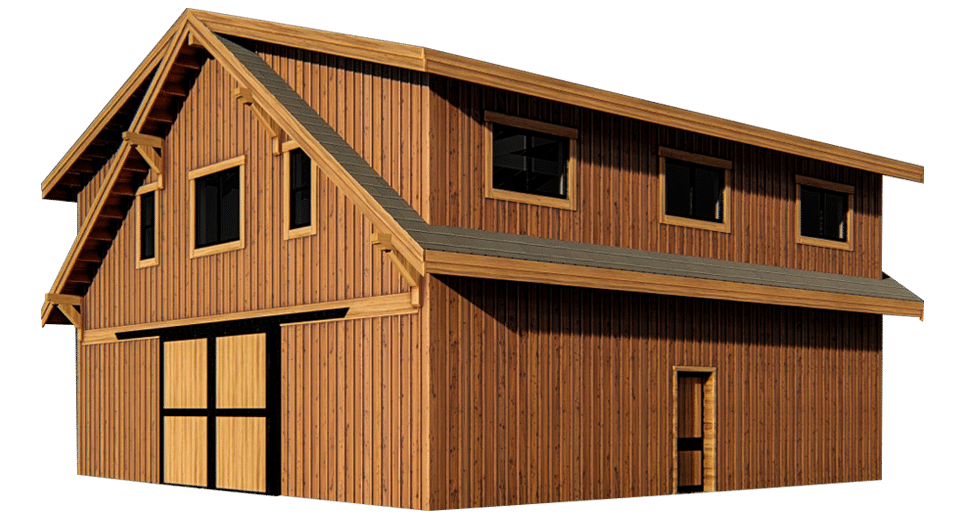 Starting price:
$141,787
36' x 36'
2,592 sq. ft.
2+ Bedrooms
Pineridge 48'
---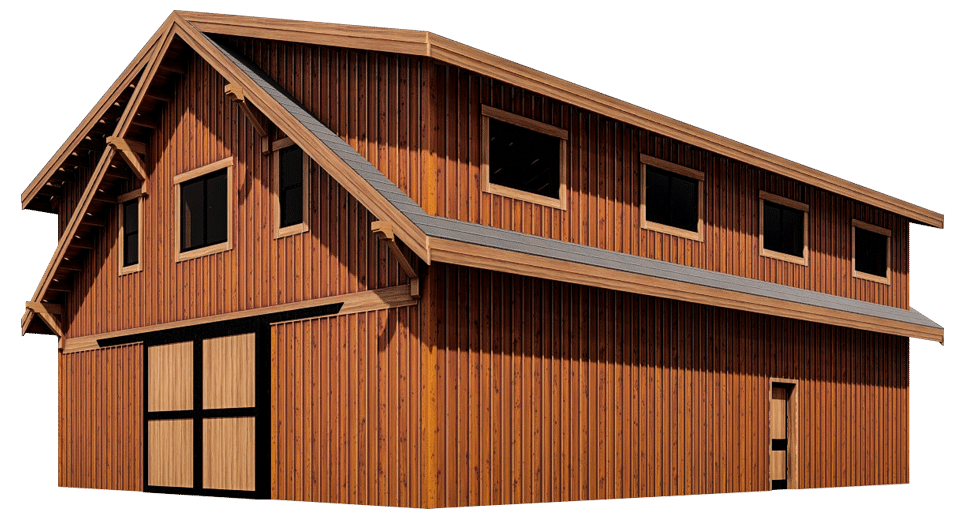 Starting price:
$171,399
36' x 48'
3,456 sq. ft.
2+ Bedrooms
Pineridge 60'
---
Starting price:
$196,145
36' x 60'
4,320 sq. ft.
3+ Bedrooms
Pineridge 72'
---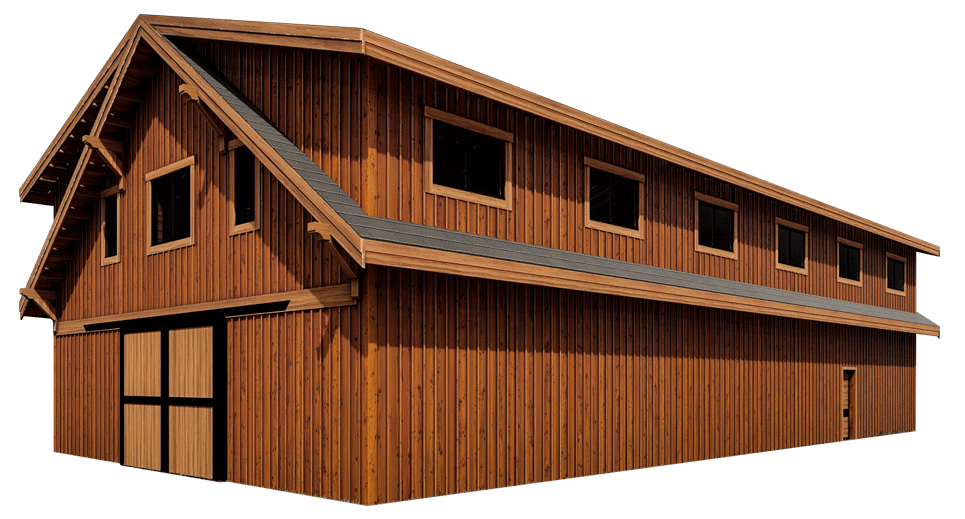 Starting price:
$228,698
36' x 72'
5,184 sq. ft.
3+ Bedrooms
The Pineridge
---
The Pineridge apartment barn kit comes complete with a comprehensive materials package, including:
26' – 4" ridge height

9/12 & 4/12 roof pitch

Shed dormers

Loft with 6" x 12" select grade Douglas fir loft beams, 2" x 12" loft joists & 1-1/8" T&G Edge Gold floor sheathing 

Select grade FOHC Douglas fir heavy timber posts, ridge beams, rafter beams, loft beams, collar ties, & king posts

2" x 12" rafters @ 24" OC

4' wide stair package with cedar handrail
2" x 6" wall framing throughout all exterior walls
CDX roof sheathing

WRB vapor barrier throughout exterior

HardiePanel board & batten fiber cement siding throughout exterior

Select tight knot cedar exterior door & window trim
Select tight knot cedar belly band & fascia
Custom concealed structural knife plates with anchor bolts
Black powder coated finish on select post & beam hardware (excluding nuts & bolts)
Andersen 100 series windows with screens (per standard window schedule)
Custom handcrafted Douglas fir heavy timber corbels
(2) Classic Equine barn doors 12'x9′
Sets of blueprints based on standard engineering (county specific engineering & engineering wet stamp available)
Digital set of completed blueprints with standard structural details
Builder support throughout construction from our licensed builder team
Live 3D walk through of final design (upon request)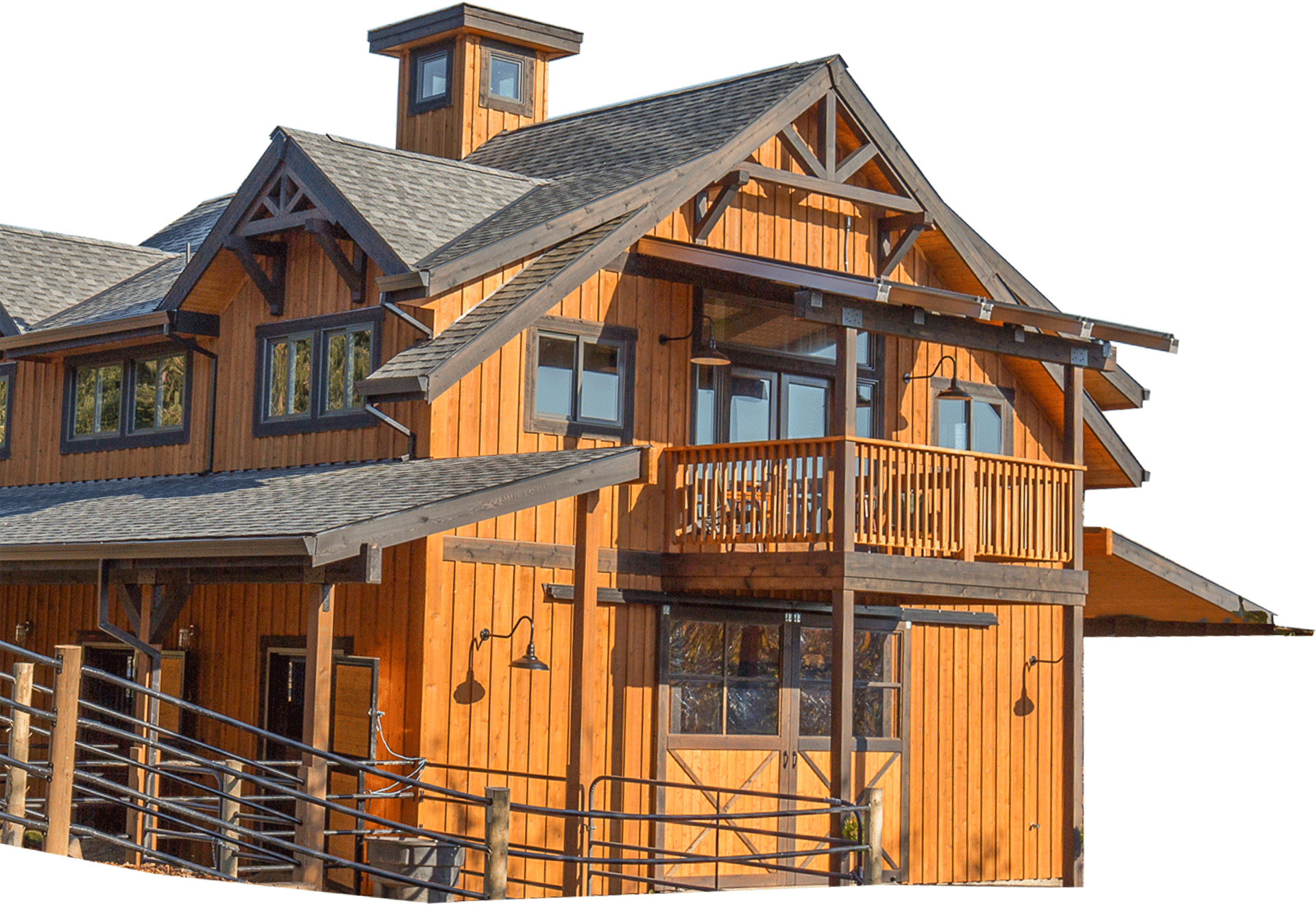 OUR STANDARD OPTIONS & UPGRADES
---
No apartment barn packages have higher more available options and upgrades.
Take advantage of our powerful in-house design capabilities and our relationships with some of America's best suppliers of windows, doors and equestrian equipment to create a custom building kit that meets your unique needs.