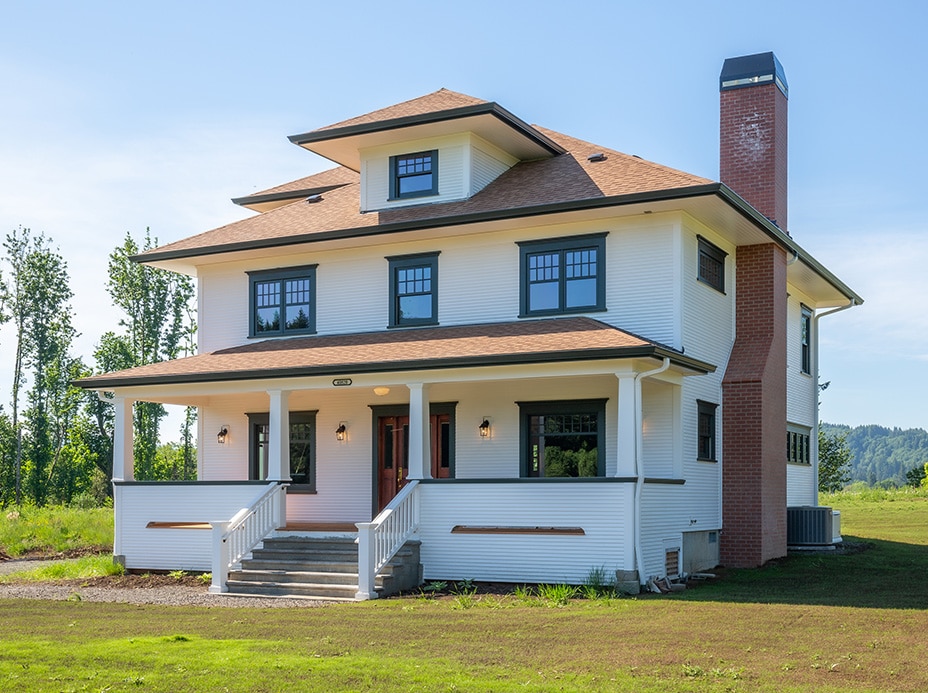 Project Summary:
---
This modern reproduction of a classic American Foursquare is easily one of the most unique residential projects in our portfolio. Situated on a secluded property in Sandy, Oregon, this beautiful custom home combines past and present to form its truly original design. The first floor opens to an open-concept living, dining, and kitchen area with intricate Craftsman-style built-ins and box beam ceilings. There's also a separate study area, pantry, half bathroom, and mudroom, along with a spacious covered porch and backyard deck. Upstairs, you'll find four bedrooms and two bathrooms, including a master suite with an en suite bathroom. One floor up, a 392 sq. ft. attic offers the ideal setting for family fun.
Much like its predecessors, this custom home design features tons of ornate details throughout that capture the extravagance of an early twentieth-century home. For instance, our clients decided to incorporate enamel artwork in their hardwood floors – an unconventional detail that gives this home a distinct historic feel. These clients also opted to include custom built-ins with dark wood stain in their living space, which are remarkably similar to those in older Craftsman-style homes. Additionally, the inclusion of Art Nouveau lighting and Craftsman-style windows contribute to this home's authentic Foursquare appearance while modern amenities throughout bring it up to speed.
General Overview:
CUSTOM DESIGN:
2,962 SQ. FT. Conditioned Space
392 SQ. FT. Attic
203 SQ. FT. Deck
288 SQ. FT. Covered Porch
SPECIAL DETAILS:
Custom Craftsman-Style Built-Ins
Hardwood Floors W/ Enamel Artwork
Box Beam Ceilings
Art Nouveau Lighting
FEATURES:
4 Bedrooms
2 ½ Bathrooms
Open-Concept Living, Dining, and Kitchen
Study Area
Attic
Custom Features:
This American Foursquare replica is the epitome of old-world elegance. This one-of-a-kind project features a number of intricate details reminiscent of many post-Victorian homes, including box beam ceilings, Craftsman-style woodwork, and vintage lighting. Because this project is located close to our headquarters, the team at DC Builders was able to help our clients with shopping for their unique selections. This personal touch makes this project even more special to our teams, as we were able to see this project through to completion and assist our clients in creating their dream interior and exterior.