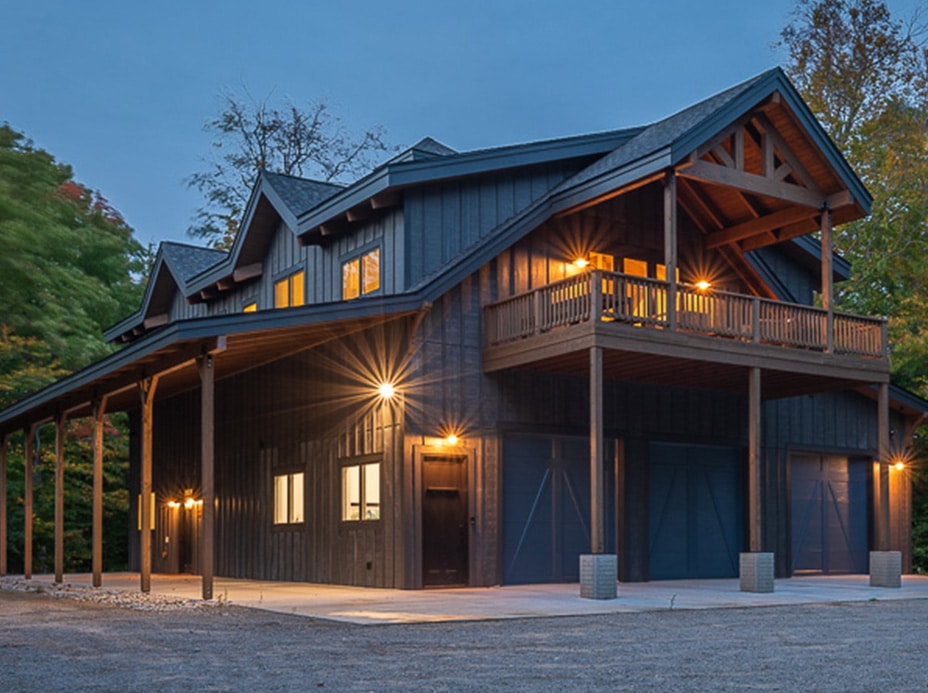 Frankfort, MI
5,922 Sq. Ft.
Project Summary:
---
Introducing the Frankfort Garage and Storage Barn – a remarkable architectural gem nestled in the picturesque town of Frankfort, Michigan! Spanning a total of 5,922 square feet, this exceptional structure draws inspiration from our Oakridge 60′ Apartment Barn Kit.
The main level boasts a spacious 2,880 sq. ft. garage and workshop space, accommodating three generously sized garage bays that ensure safe and efficient storage for vehicles and equipment. Our client can also take advantage of a shop area, storage room, and full bathroom. One floor up, a sprawling 2,023 sq. ft. storage loft awaits, offering the potential for an entertainment area, a home office, or a haven for relaxation. Outside, a 299 sq. ft. cedar deck extends from the upper level, providing a serene outdoor retreat.
This post and beam structure is a testament to thoughtful craftsmanship and design, with several modifications and upgrades that set it apart from the original model. For instance, our design team incorporated longer Douglas fir columns and additional wall framing and sheathing to elevate the main level and an adjacent 720 sq. ft. covered shed roof by four feet. We also strategically removed columns in the garage to create an unobstructed expanse, ensuring versatility in storage and usage, and expanded the original deck and gable cover size.
General Overview:
OAKRIDGE 60′:
5,922 SQ. FT. Total
2,880 SQ. FT. Main Level
2,023 SQ. FT. Upstairs Storage Area
720 SQ. FT. Shed Roof
299 SQ. FT. Deck
MODIFICATIONS:
Raised Shed Roof and Main Level
Column Removal Engineering Upgrade
Moment Frame and Structural Steel Engineering Upgrade
Deck and Gable Cover Extension
Enclosed Shed Roof Addition
UPGRADES:
Woodtone Rustic Board & Batten Siding
Heavy Timber Roof Upgrades
Pella Lifestyle Series Windows
60″ x 60″ Windowed Cupola
Custom Features:
Custom features shine in this garage and storage barn, showcasing a commitment to quality and aesthetics. Woodtone Rustic siding lends a natural charm to the exterior, while Pella Lifestyle Series windows provide enhanced beauty and energy efficiency. The second-story loft, shed roof, and deck cover have all been fortified with a heavy timber roof upgrade, ensuring durability and longevity. To top it off, a striking 60″ x 60″ cedar cupola with windows crowns the structure, adding a touch of elegance and natural light. Additionally, unique blue garage doors make for a visually appealing focal point, completing this extraordinary post and beam structure.