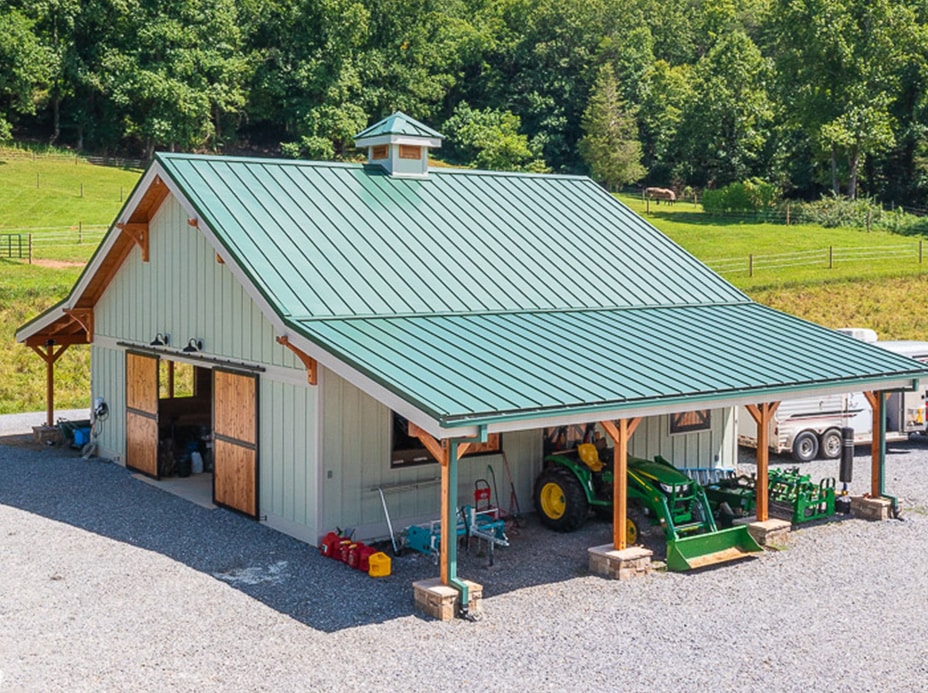 Project Summary:
---
This heavy timber workshop and storage barn in Arden, North Carolina, is a slightly modified version of our Columbia Gable Barn Kit. Designed with premium Douglas fir timbers, this post and beam structure features beautiful exposed wood members inside and out.
Our client kept their design close to our standard Columbia 36′ Gable Barn Kit, save for adding a 12′ x 36′ shed roof and Dutch doors and windows to their building. With 1,296 sq. ft. of adaptable interior space, this barn provides ample room for creative workshopping, vehicle and equipment storage, equestrian supplies, and more.
General Overview:
COLUMBIA 36′:
2,160 SQ. FT. Total
1,296 SQ. FT. Barn
864 SQ. FT. Covered Shed
MODIFICATIONS:
Shed Roof Addition
Dutch Windows
Dutch Door
Crossbuck Add-Ons
Custom Features:
Despite its similarities to our base Columbia design, this workshop and storage barn boasts several eye-catching features supplied by our team and individually by our client. Some of the most notable include Dutch windows on the right and left side of the structure, which provide enhanced ventilation and natural lighting for the barn interior. Two 12′ x 36′ shed roofs also create a unique visual element that provides greater functionality and storage capabilities. Additionally, our client supplied the teal green siding and roofing, with these selections adding an attractive and vibrant pop of color to their property.