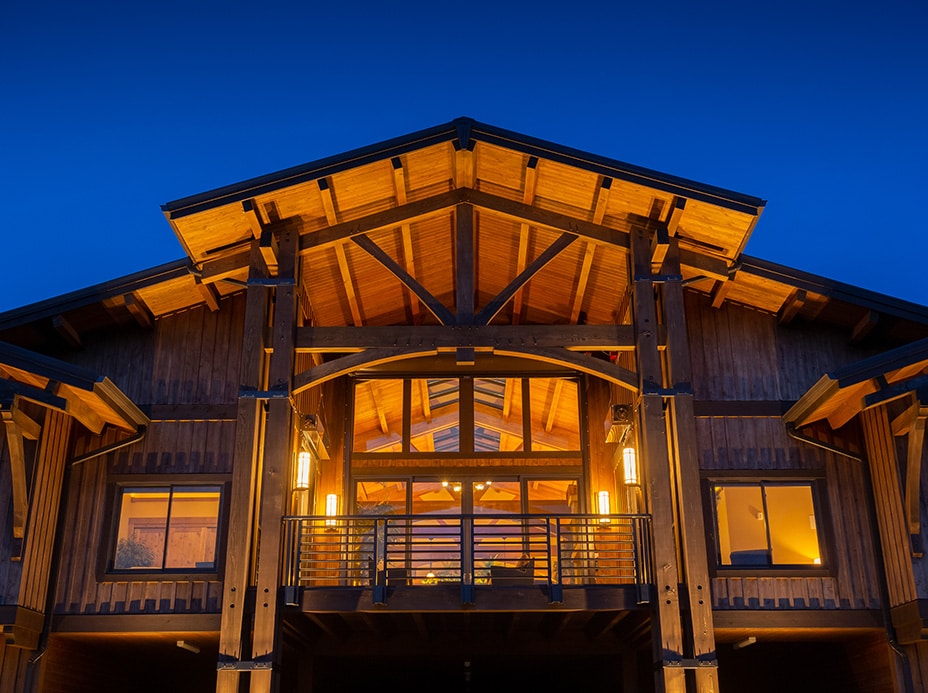 Oregon City, OR
36,290 Sq. Ft.
Project Summary:
---
This 36,290 sq. ft. custom home and equestrian facility in Oregon City, Oregon is the largest structure ever designed and built by the DC team. DC Builders acted as the general contractor for the project, guiding its development from initial planning stages to final inspections. We worked in partnership with DC Builders to create a custom building design that meets our clients' residential and equestrian needs and achieves their unique vision. The result is a breathtaking timber frame structure that is as architecturally stunning as it is highly functional.
This one-of-a-kind structure is split into two levels, with the ground floor serving as an all-encompassing equestrian facility. We started with a 90′ x 204′ covered riding arena and then extended the structure an additional 72 feet to accommodate a six-stall horse barn. We also added multiple grooming and wash areas for these horse owners, as well as a tack and feed room, a powder room, and large storage areas for vehicles and equipment. Upstairs, a 5,000 sq. ft. custom home makes a cozy retreat for our clients, with soaring ceilings, skylights, and handcrafted timber trusses adding elegance to their living space. Inside the home, you'll find an open-concept kitchen, living, and dining area with access to a spacious deck and a viewing balcony that overlooks the riding arena. Their living space also includes an incredible master suite with a granite shower and walk-in closet, two additional bedrooms, two full bathrooms, two offices with custom built-ins, and a large laundry room.
General Overview:
CUSTOM DESIGN:
5,747 SQ. FT. Conditioned Living Space
18,451 SQ. FT. Riding Arena
10,693 SQ. FT. Horse Barn
621 SQ. FT. Balcony
354 SQ. FT. Deck
FIRST FLOOR:
Riding Arena
Six-Stall Horse Barn
Wash & Grooming Areas
Tack & Feed Room
Storage Rooms
SECOND FLOOR:
Open-Concept Living, Dining, and Kitchen
3 Bedrooms
3 Bathrooms
2 Offices
Outdoor Deck
Viewing Balcony
Custom Features:
This timber frame structure is completely custom from top to bottom. From the handcrafted timber trusses adorning their great room to the premium stall packages in their horse barn, there are dozens of custom design elements throughout for our clients to enjoy. Of the many special details inside this custom home and equestrian facility, the feature that tends to intrigue people most is our heavy timber framework. With its tongue and groove ceilings, massive timber frame deck covers, and beautiful timber trusses, this project serves as a stunning showcase of our impressive timber framing capabilities.