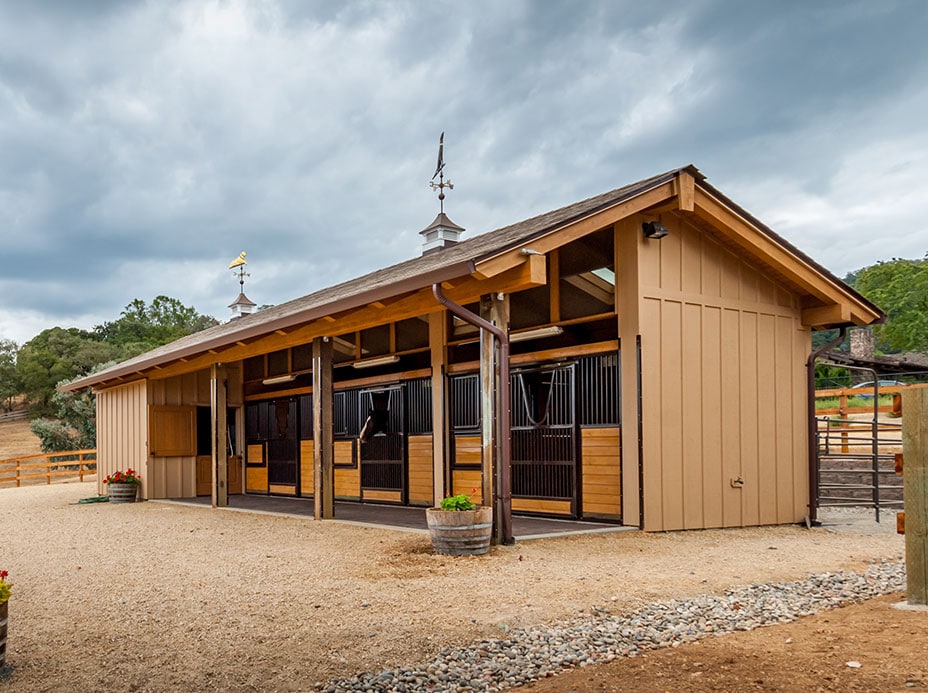 Project Summary:
---
This 48′ shed row barn features three stalls, a tack room, hay storage, and an outdoor wash rack. This barn includes Classic Equine stall fronts and Dutch doors, a Nelson automatic waterer in each stall, ComfortStall mats, and rubber interlocking pavers in the aisle way.
General Overview:
20′ x 48′ PENDLETON:
960 SQ. FT.
(3) Horse Stalls
Feed & Tack Storage
Covered Shed Roof
FEATURES:
Skylights
(2) Aesthetic Cupolas
Custom Weathervanes
Rubber Pavers
EQUESTRIAN EQUIPMENT:
Nelson Automatic Waterers
Classic Equine Stall Fronts
Classic Equine Dutch Doors
Chew Protection
Custom Features:
Based on our Pendleton 48′ Shed Row Barn Kit, this small but efficient horse barn features an open-air design that perfectly suits the temperate region of San Jose. This horse barn offers numerous added safety features, including Nelson automatic waterers, chew protection on exposed posts, and rubber pavers in the aisle way. Two aesthetic cupolas, skylights, and custom weathervanes adorn the top of the barn, giving this structure its classic barn appearance. This horse barn also includes Classic Equine stall fronts and Dutch doors.