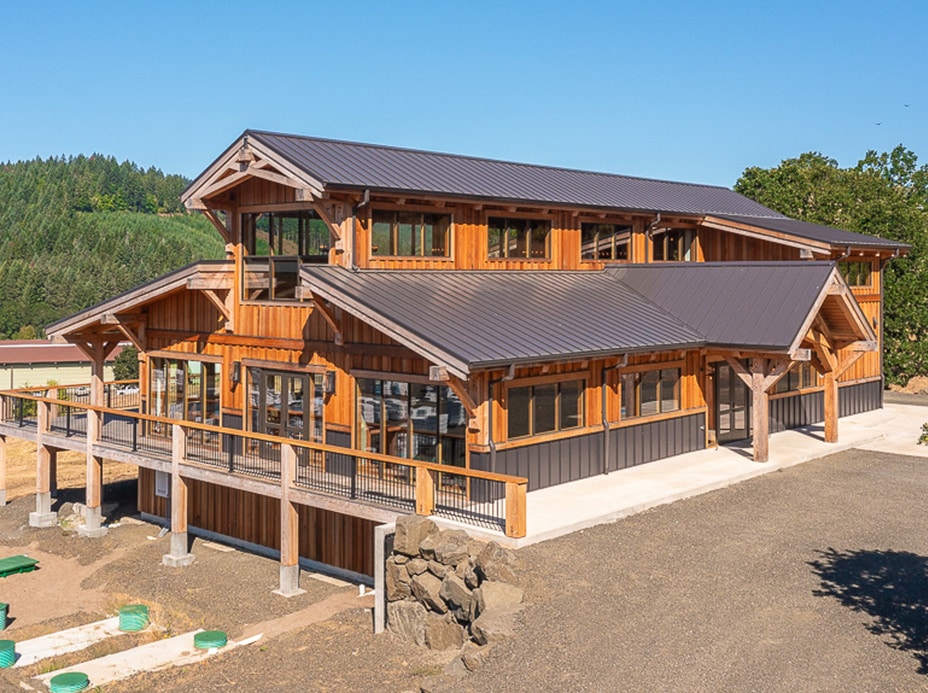 Philomath, OR
6,345 Sq. Ft.
Project Summary:
---
Designed to serve as the brand-new headquarters for Patrick Lumber, this timber frame building in Philomath, Oregon, is a remarkable ode to the beauty of our state and its famed evergreens. Our team collaborated with parent company DC Builders and our dear friends at Patrick Lumber to deliver a custom design and pre-engineered building package tailor-made with extraordinary timber products supplied by Patrick Lumber.
Something incredibly unique about this magnificent office and event space is that it utilizes massive #1 grade 12" x 12" Doug fir timbers as part of its framework. To highlight the natural beauty of these timbers, the DC Builders crew used a combination of traditional and decorative timber frame joinery, including mortise and tenon and scarf joints. As a result, the team at Patrick Lumber can enjoy the look of seamless timber connections throughout and exceptional craftsmanship that displays their premium products to the fullest.
Inside the building, a wide-open workspace with a bar, a prep kitchen, a private conference room, and ADA bathrooms provides the ideal setting for everyday tasks or special occasions. The Patrick Lumber team can also utilize a whopping 1,506 sq. ft. covered deck that overlooks their storage yard, kilns, and the surrounding forest region. One story up, there are two offices and a landing with a gridded picture window that offers views of the office and event space below. Additionally, this structure features a beautiful gable-covered entryway with a meticulously crafted scissor truss for added elegance and visual appeal.
General Overview:
CUSTOM DESIGN:
6,345 SQ. FT. Total Area
4,315 SQ. FT. Conditioned Space
1,506 SQ. FT. Covered Deck
524 SQ. FT. Entry
SPECIAL FEATURES:
Oversized Douglas Fir Timbers
Traditional Timber Frame Joinery
Horse-Friendly Knife Plates
Klear Gard | 25™ Timber Protection
AMENITIES:
Main Office & Event Space W/ Bar
Conference Room
Prep Kitchen
Private Offices
ADA Bathrooms
Custom Features:
The Patrick Lumber Timber Hall is a stunning showcase of the diversity and beauty of our regional timber exports. We designed this structure alongside their team and DC Builders, with their vision to display varying levels of forestry at the forefront of every decision. Patrick Lumber supplied all of the framing materials featured in this building, including, most notably, the oversized Douglas fir timbers seen throughout. We couldn't be more proud of the end result and every team member involved in bringing this incredibly unique structure to life!
To learn more about the thought process and construction methods involved in this project, be sure to read our parent company's project preview blog post here.