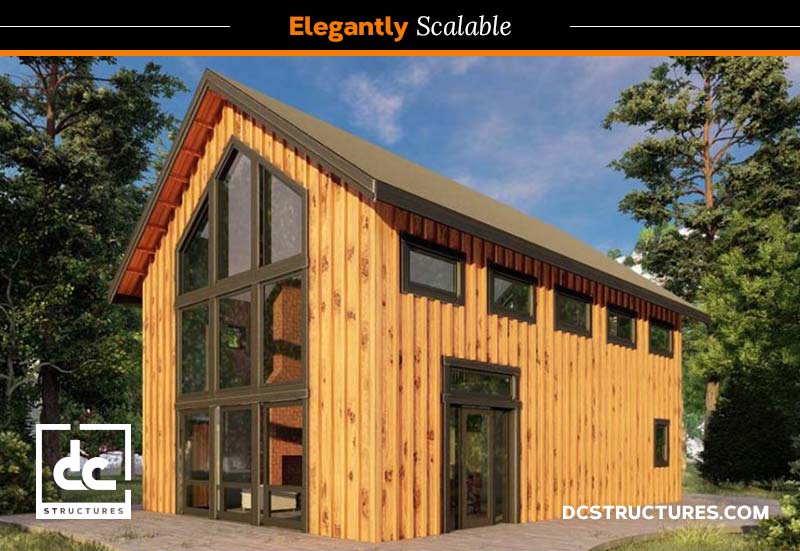 The Stillwater is a small barn home kit that's based on a custom structure we designed for satisfied clients in Oklahoma. DC's designers created a typical modern-style small barn home kit configuration with a lofted bedroom hovering gracefully above a spacious open living area. A straightforward floor plan like this, requires very little thought as you move through its design and building phase.
A sturdy post and beam sub-floor complements a parallel chord roof truss, creating a dynamic open living space. The window wall in this small barn home kit brings generous amounts of light, where every square inch is basked liberally. Double-pane windows provided by Andersen cancel unwanted noise, without compromising insulation.
The vaulted ceiling stands at an impressive 25 ft. high, commanding a triumphant presence on any property, no matter how small the structure. This modern small barn house kit's lofted bedroom occupies the space above in perfect volume. You won't find a cozier night away from the hustle and bustle.
This kit also features two dozen high-quality doors. The combination of cedar and Douglas fir is a prime coalescence between excellent hand craftsmanship and intuitive design. You won't find a more approachable barn home kit like the Stillwater. However, we won't be bashful to say you should give it a try!
In fact, this makes transporting the pre-engineered materials package a breeze, thanks to the Stillwater's minimalist floor plan. No other barn home kit in the DC arsenal offers a more seamless blend between convenience and durability.
Looking have a kit built ASAP? Check out these simplified living plans that offer an array of big ideas for small living.