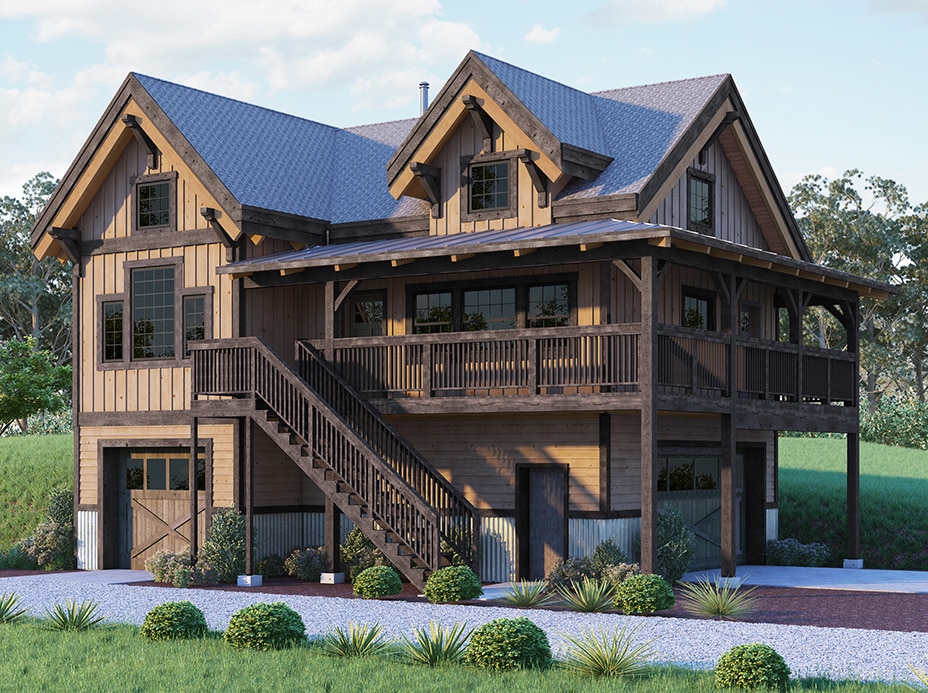 Project Summary:
---
This striking cabin design is a souped-up version of our classic Rogue Cabin Kit. With the help of our in-house design team, our client was able to transform our standard model into a two-story structure that wows with its high ceilings and exposed heavy timber elements. The first floor features an 803 sq. ft. garage with three access points, including a single garage door in the front, an entry door to its right, and a double garage door on the far right side. An exterior heavy timber staircase leads to the second story, where you'll find a two-bedroom, two-bathroom home with an open-concept living, kitchen, and dining area and a wrap-around deck.
This cabin keeps an identical floor plan to our standard Rogue, save for the addition of a wood stove in the living room. To enhance the look of its exposed beam interiors, we included Douglas fir tongue and groove ceiling material in the living area and bedrooms. Our designers added an engineering upgrade that allows this structure to handle up to 70 lbs of snow. We also incorporated high-altitude compliant window panes as part of its design and added 8′ to all exterior posts supporting the deck and overhang.
General Overview:
ROGUE CABIN KIT:
948 SQ. FT. Conditioned Living Space
803 SQ. FT. Garage
2 Bedrooms
2 Bathrooms
Wrap-Around Deck
INTERIOR DETAILS:
Douglas Fir T&G Ceiling Material
High Ceilings W/ Exposed Heavy Timbers
Wood Stove Addition
Gridded Picture Windows
SPECIAL UPGRADES:
Engineering Upgrade to Increase Snow Load
High Altitude Compliant Window Panes
Heavy Timber Roof Upgrade
Upgraded Interior & Exterior Window Color (Sand/Tan)
Custom Features:
This project's proximity to the mountains played a significant role in determining its final design and materials selection. To keep the home protected from heavy snowfall, our designers added an engineering upgrade that increased the snow load capacity to 70 lbs. We also designed this cabin with high-altitude compliant window panes and a heavy timber roof upgrade for enhanced performance. The length of the exterior posts was extended by 8′ to support the deck and overhang while larger rafters, columns, and beams were added as part of the engineering upgrade. Other custom features include the addition of a lower-level garage, an exterior staircase package, and a wood stove inside the home.