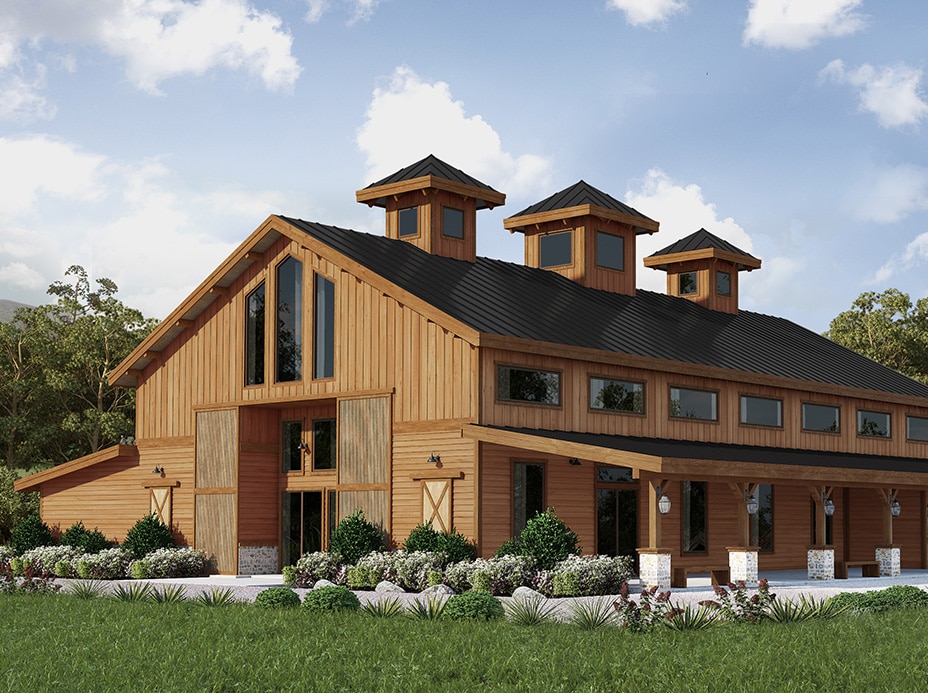 Greenwell Springs, LA
7,785 Sq. Ft.
Project Summary:
---
This spectacular custom wedding venue designed for our clients in Greenwell Springs, Louisiana, is based on our Union Event Barn Kit. Our designers modified the original model to include several striking features, including a 576 sq. ft. covered entry with a king post heavy timber truss, transom windows, and enormous cupolas with windows. Like our standard Union, this building kept an open shed roof on the right side and a wide-open ceremony hall in the center. Instead of leaving the shed roof as is on the left side, our designers enclosed the shed roof and extended its length to wrap around the rear and a portion of the right side.
The enclosed shed roof boasts numerous amenities that our clients and their clientele can take advantage of, including a bridal suite and a groom's suite, an office, ADA bathrooms, and a bar that services the main hall and covered porch area. Because our client's son, a professional chef, plans to offer catering services for the venue, we designed the structure with a fully built-out commercial kitchen that includes a pantry, meat cooler, and production space. To enhance the natural lighting inside the enclosed shed roof area, we added a series of small picture windows to the left and rear sides of the structure. We also included clerestory windows above the shed roof, large picture windows to the right of the covered porch, and large windowed cupolas to brighten the main hall.
General Overview:
UNION 48′:
7,785 SQ. FT. Conditioned Space
576 SQ. FT. Covered Entry
1,255 SQ. FT. Covered Porch
AMENITIES:
Bridal Suite
Groom's Suite
Office
Commercial Kitchen
Bar
UNIQUE DETAILS:
Transom Windows
Oversized Cupolas
Wrap-Around Shed Roof
Heavy Timber Covered Entry
Custom Features:
With the help of our talented designers, these clients were able to convert our standard Union into something that fully embodies their style and preferences. Our team made several structural modifications to achieve our client's vision, including raising the sidewalls by 3′ to accommodate transom windows and extending the width of the shed roof by over 16′ to make room for the building's amenities. We added three jumbo cupolas to the structure and a covered entry with a king post timber truss. Our clients opted for a heavy timber roof upgrade in the main hall and open shed roof area. Once complete, the ceremony area will feature massive heavy timber trusses that adorn the ceiling and a large window wall that serves as a dramatic backdrop.