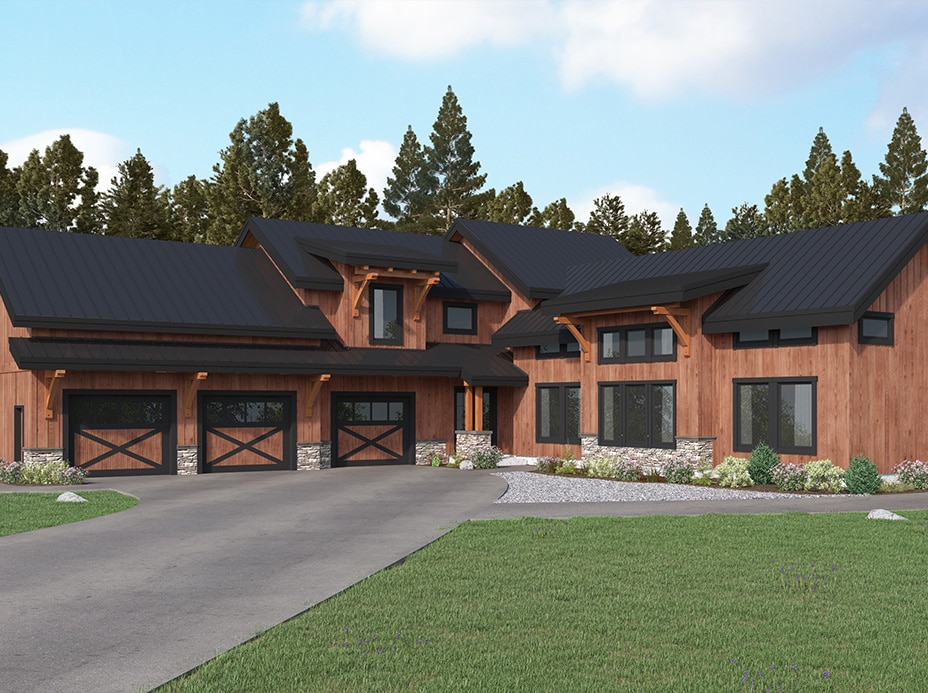 Freeport, MI
3,134 Sq. Ft.
Project Summary:
---
This timber frame residence planned for development in Freeport, Michigan, was adapted from our Thielsen Timber Frame Home Kit. Like our standard Thielsen, this impressive home features three bedrooms, two-and-a-half bathrooms, and single slope exterior accents that give it a distinctly modern appearance. The right side of the main level includes a wide-open kitchen, living, and dining area that accesses a spacious 598 sq. ft. outdoor living space. On the left, you'll find a primary bedroom with an en-suite bathroom, two walk-in closets, and a secluded patio area.
Additionally, a three-car garage adjoins the left side of the entrance, with the garage accessing a lower-level basement that opens to the rear of the building. Clients can also take advantage of an upstairs loft with two additional bedrooms, a shared bathroom, and a generous bonus room. The loft overlooks the downstairs living space, where massive timber frame trusses and high ceilings take center stage. There's also a walk-in pantry in the kitchen and a laundry room just outside the garage and foyer.
General Overview:
CUSTOM THIELSEN:
3,134 SQ. FT. Conditioned Space
1,190 SQ. FT. Basement
1,167 SQ. FT. Garage
598 SQ. FT. Outdoor Living Space
116 SQ. FT. Patio
FIRST FLOOR:
Open-Concept Living, Kitchen, and Dining Area
Pantry
Laundry Room
Master Suite
Three-Car Garage
SECOND FLOOR:
Loft Area
Two Bedrooms
Shared Bathroom
Bonus Room
Custom Features:
Although this design keeps a similar look and layout to our standard Thielsen, our team made a few adjustments to make it stand out from the original. For example, our designers expanded the garage to include a third garage bay and added a second walk-in closet to the primary bedroom on the main level. We also moved the entry door to the left of its traditional placement and removed the enclosed mudroom between the garage and foyer to create an elongated hallway. Our clients decided to add a lower-level basement below the garage to accommodate additional storage, with a single garage door and entry door included on the rear side of the structure. Additionally, our clients upgraded their Pella Lifestyle window package to include casement windows in place of the standard double-hung and selected WoodTone Rustic Series siding for their exterior.