The Thielsen
Timber Home Kit
---
The Thielsen is a modern timber framed home kit designed with three bedrooms and a uniquely captivating exterior. Large window walls in the open concept living area create a bright and open space with vaulted ceilings. The ground floor also features a cozy master suite with a walk-in closet and en suite bathroom, a two-car garage, and a spacious covered patio. Upstairs, you'll find two bedrooms, a bonus room, and a loft that overlooks the living space below.
This timber home kit is framed with select grade lumber sourced from the Pacific Northwest. These heavy timbers allow us to create beautiful interiors with exposed posts and beams. The Thielsen comes with two shed dormers, cedar board and batten siding, a decorative heavy timber covered entry, and a Pella Lifestyle Series window package.
Learn More

The Thielsen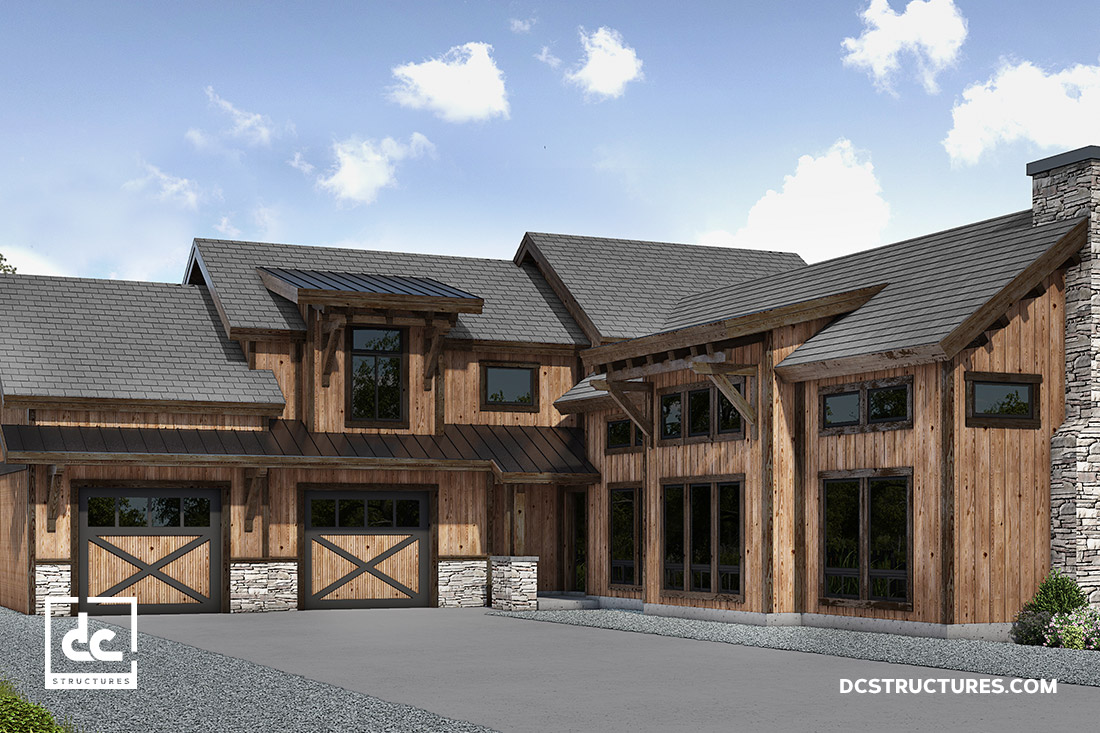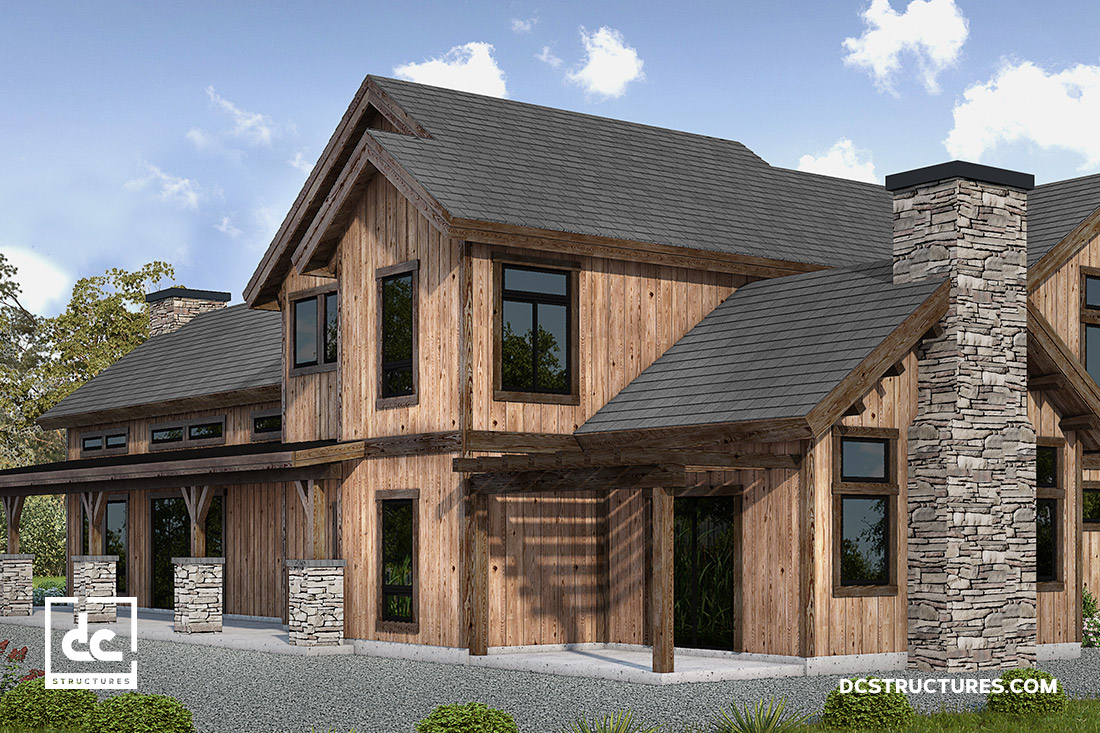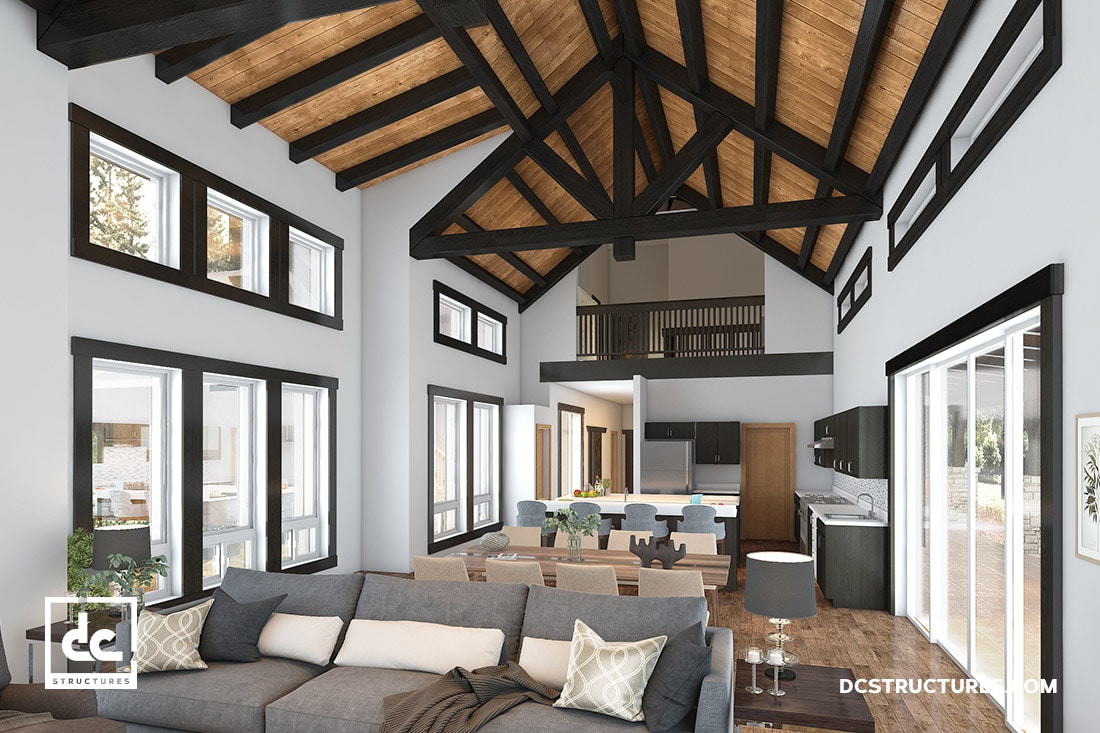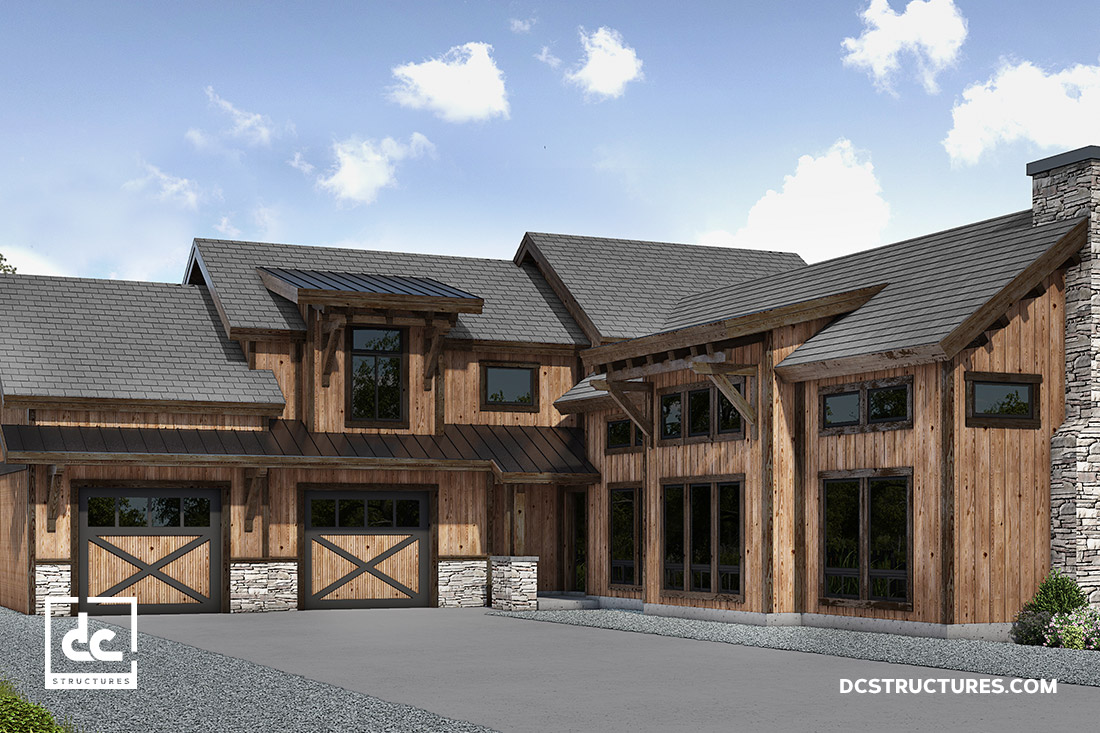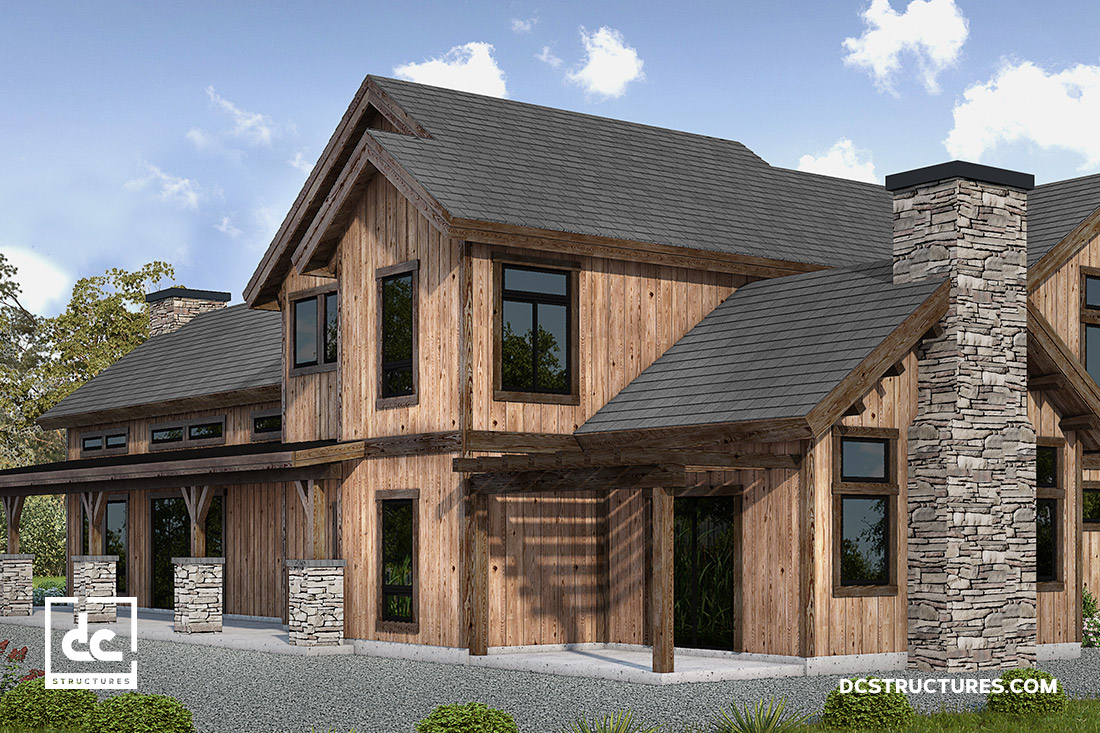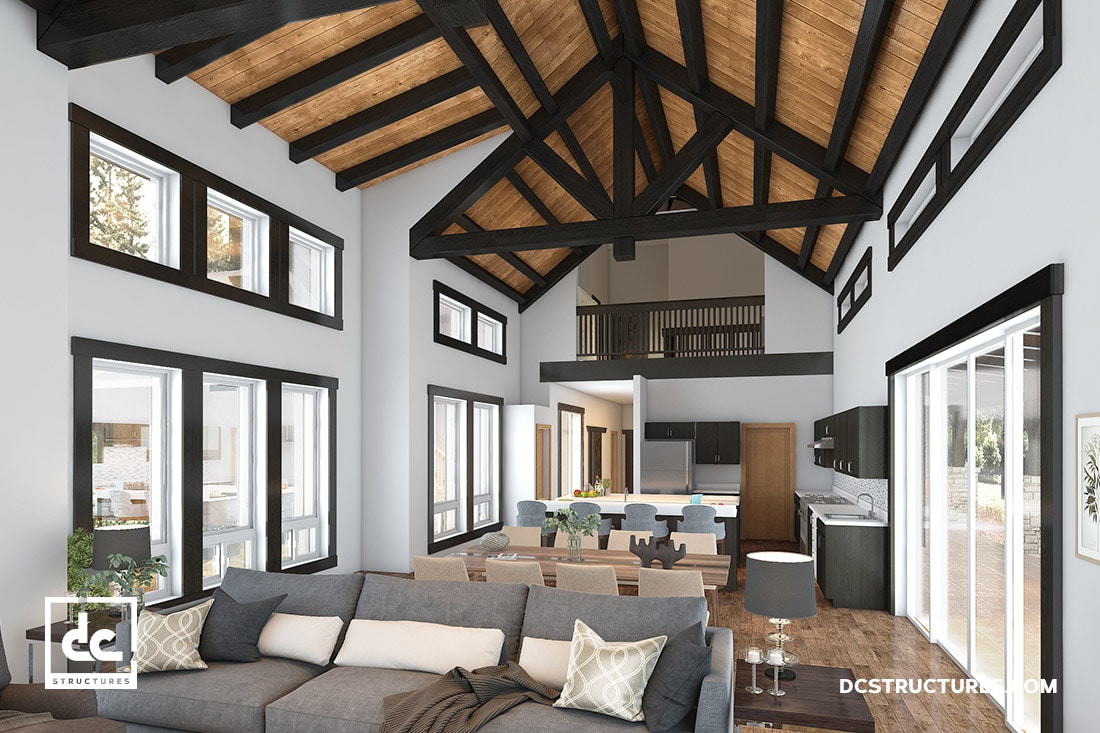 The Thielsen
---
Starting price:
$288,054
Timber Home
4,058 sq. ft.
3 Bedrooms
The Thielsen
---
The Thielsen is a modern timber framed home design that blends rustic design elements with contemporary architecture. With 4,058 sq. ft. of modifiable space, this timber home kit features a flexible layout that can be easily adapted to match your vision for the structure. The Thielsen accommodates three or more bedrooms, with a bonus room that can be converted into an additional bedroom, guest suite, or office.
The Thielsen Floor Plan Details
---
This example floor plan illustrates the Thielsen's open concept living space complete with a large kitchen, dining area, and a great room with a stone fireplace on the ground level. A generous outdoor living space makes the perfect place to entertain guests or simply relax and take in the views from your property. The master suite with a walk-in closet and en suite bathroom is also located on the main level, while kids have free reign of two bedrooms and a bonus room upstairs.
Request a Quote
The Thielsen
---
The Thielsen timber home kit comes complete with a comprehensive materials package, including:
29' – 8″ top ridge height
23′ – 9″ great room ridge
24′ -1 3/4 " bonus room ridge
18 – 5″ master ridge
(2) 10′ x 8′ 6600 White Lexington carriage-style overhead door
Steel overhead door track and hardware
Motor with keypad and opener
2/12, 3/12, 6/12, 8/12 and 9/12 roof pitch
(2) Shed style dormers
Decorative heavy timber covered entry
Second floor with IRC rated open web floor joists & 1-1/8" T&G Edge Gold floor sheathing
Select grade FOHC Douglas fir heavy timber columns, ridge beams, rafter beams, loft beams, collar ties, and king posts
Select grade S4S Douglas fir 4″ x 10″ Douglas fir purlins
Select grade 2×6 T&G roof decking over the purlins
(3) Interior heavy timber trusses
Pre-manufactured roof trusses in garage
2″ x 12″ Douglas fir rafters over bonus room, loft and second floor bedrooms
All interior wall framing (per standard plan)
(1) 6.0 x 8.0 Pella Lifestyle Series French door (entry)
(1) 11.9 x 8.0 Pella Lifestyle 4-panel gliding patio door
(1) 3.0 x 6.8 Pella Lifestyle Series full glass man door
(1) 6.0 x 10.0 Pella Lifestyle Series French door (master)
4' wide stair package with select tight knot cedar hand railing
2" x 6" wall framing throughout all exterior walls
CDX roof sheathing
WRB exterior wall protection system with vapor barrier throughout exterior
Select tight knot cedar board and batten siding throughout exterior
Select tight knot cedar exterior door and window trim
Select tight knot cedar belly band and fascia
Custom concealed structural knife plates with anchor bolts
Black powder coated finish on exposed post and beam hardware (excluding nuts and bolts)
(49) Pella Lifestyle Series windows (per standard window schedule)
(6) Custom Douglas fir heavy timber corbels
(2) Sets of blueprints based on standard engineering (county specific engineering and engineering wet stamp available)
Digital set of completed blueprints with standard structural details
Builder support throughout construction from our licensed builder team
Live 3D walk through of final design (upon request)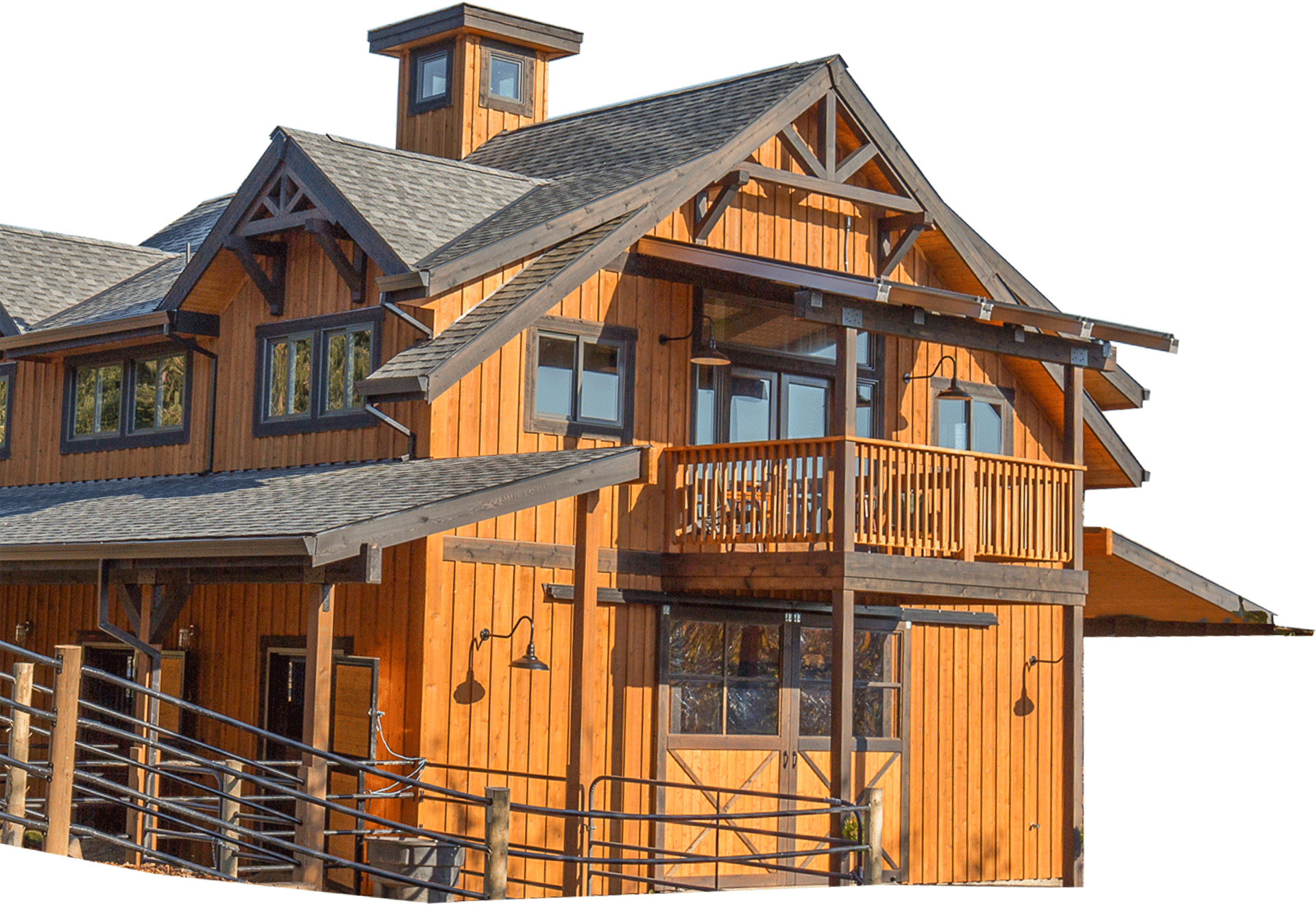 OUR STANDARD OPTIONS & UPGRADES
---
No timber home packages have higher materials standards or more available options and upgrades.
Take advantage of our powerful in-house design capabilities and our relationships with some of America's best suppliers of windows, doors and equestrian equipment to create a custom building kit that meets your unique needs.