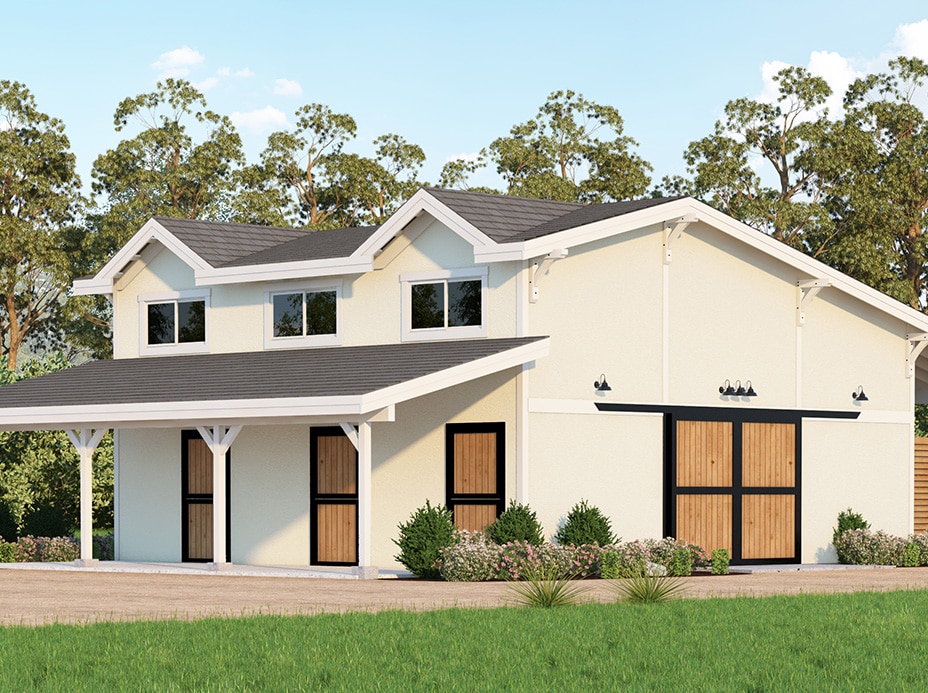 Bluffton, SC
2,160 Sq. Ft.
Project Summary:
---
This custom horse barn planned for development in South Carolina is a modified version of our Brightwood 36′ Clerestory Barn Kit. Like our standard model, this structure features a clerestory-style roof that slopes upward on one side and descends into a row of windows on the other. Instead of the traditional clerestory row of windows, this horse barn boasts two Nantucket dormers connected by a shed roof to create a more classic barn appearance. Our designers also added two 12′ x 36′ covered shed roofs — with one protruding from the single slope roof on the left-hand side and the other designed underneath the row of windows on the right.
This horse barn includes three horse stalls with Dutch doors, an extra-large tack room, and a 12′ x 12′ wash bay inside the space. A 12′ breezeway aisle with barn doors on either end creates a sizeable circulation path between the stalls and the tack room and wash area. Our post and beam method provides a sturdy framework for this structure, with premium heavy timber posts rising from the base of the stalls to the connection point between the sloping roofs. The interior also features Douglas fir tongue and groove wall coverings, Douglas fir tongue and groove ceiling material, and a Classic Equine Spartan Series stall front package.
General Overview:
BRIGHTWOOD 36′:
2,160 SQ. FT. Conditioned Space
(3) Horse Stalls
Tack Room
Wash Bay
EXTERIOR FEATURES:
Nantucket Dormers
(2) Covered Shed Roofs
(2) Barn Doors
(3) Dutch Doors
Hardie Plank® and Panel® siding
INTERIOR SELECTIONS:
Doug Fir T&G Wall Coverings
Doug Fir T&G Ceiling Upgrade
Classic Equine Spartan Series Stall Front Package
12′ x 12′ Wash Bay
12′ x 24′ Tack Room
Custom Features:
There are several unique aspects to this equestrian project, including its clerestory-inspired roof design and use of covered shed roofs. The addition of Nantucket dormers in place of our standard clerestory row of windows gives this structure more of a traditional barn appearance while creating additional headroom over the stall area. Shed roofs on the left and right sides of the structure offer function and visual appeal, with the right shed roof acting as a covered turnout and the other a fenced-in enclosure. Inside the barn, our clients opted for a 12′ x 12′ wash bay package, a Classic Equine Spartan Series stall package, Douglas fir T&G wall and ceiling material, and an extra-large tack room.