The term "custom home" conjures up a broad range of designs for most people, from rustic timber frame and post and beam homes to Southwestern adobes and contemporary farmhouses. While primarily used to describe a tailor-made home personalized to its owner, we also thought this term made perfect sense for our brand-new home kit collection, considering these residential designs encompass several different architectural styles, building methods, and floor plan opportunities. With our custom home kits, you can create a unique and luxurious residence from one of several distinct starting points, including our Terrebonne ranch-style home, our Trillium modern home, and our Applegate farmhouse. If you're interested in building a beautiful home outside our signature barn style, keep reading below to see what new and exciting options are available to you and your family! 
The Terrebonne 
The Terrebonne is a ranch-style home with three bedrooms, four bathrooms, multiple bonus rooms, and a wraparound covered porch that gives your exterior a cozy countryside feel. With this residential design, you can look forward to dozens of attractive features in your space, including two-story high ceilings in the great room, a catwalk loft above, and gorgeous Andersen windows and doors. We designed this pre-engineered building model with Douglas fir timbers and open web floor trusses to create an incredibly durable framework for your home that leads to expansive, wide-open spaces inside. For clients seeking a Southwestern-inspired home built for any location or climate, our Terrebonne could be the ideal choice for you. 
The Tryon
The Tryon is an impressive Craftsman-style home inspired by our Eugene Custom Home project. This pre-engineered building model features a whopping 4,511 sq. ft. floor plan that includes five bedrooms, four-and-a-half bathrooms, and an open-concept living space with access to a 1,155 sq. ft. outdoor patio area. Our clients designed their Eugene Custom Home with a full basement to fit their hillside property characteristics, which we can add for you if your site calls for it or if you desire more room for your hobbies. No matter your vision, our experienced designers can help you turn your Tryon into the heavy timber home you've always wanted.
The Alder 
Our Alder Custom Home Kit boasts a rustic mountain design reminiscent of modern wood lodges and homes. With its high-quality craftsmanship, angular layout, and attention to detail, this heavy timber structure offers an enticing blend of artistry and simplicity. Inside, you'll find three bedrooms, four bathrooms, a den, an office, two hobby rooms, and a two-car garage. A covered porch in the back provides a relaxing setting for after-work hangouts, family gatherings, and more. With hundreds of customization options and high-quality materials available for your home, you can easily personalize your Alder to meet your needs, style, and location.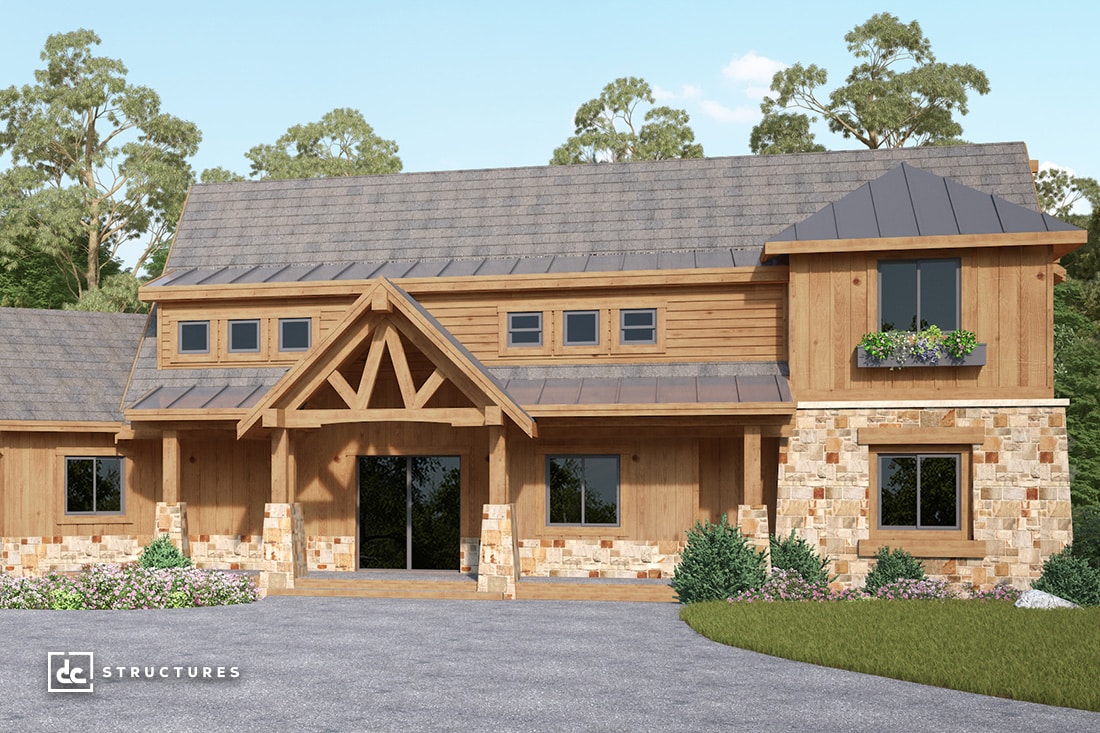 Not seeing what you're looking for? We also offer contemporary farmhouse and modern home kits under our Custom Homes category that may suit your vision better! 
For more information on our farmhouse home kits, please visit our Farmhouse Home Kits page here. 
For more information on our modern home kits, please visit our Modern Home Kits page here.