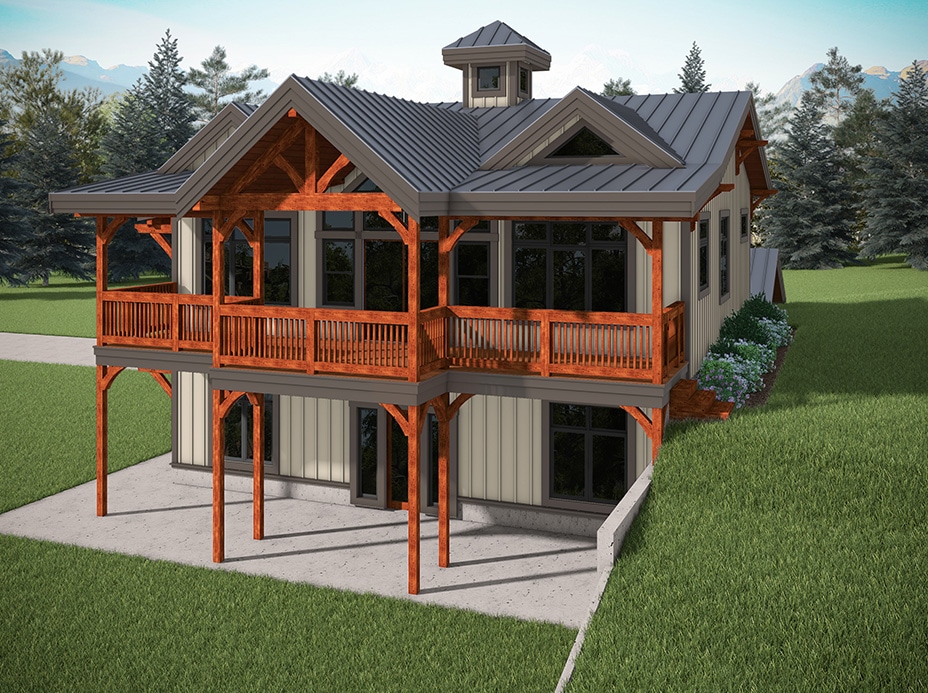 Santa Barbara, CA
2,567 Sq. Ft.
Project Summary:
---
This post and beam residence planned for development in Santa Barbara, California, is a perfect example of how our clients can customize their kits to suit their location and preferences. This client started with our Oakridge 36′ Apartment Barn Kit and Sellwood 24′ Garage Kit before transforming both into a stunning two-bedroom home with an attached garage. The main level features a family room, a private den, a guest bedroom, a laundry room, and a mudroom/storage room connecting the two-car garage. A heavy timber staircase in the family room leads to the upstairs living space, where our client can enjoy an open-concept living, dining, and kitchen area that accesses a spacious outdoor deck. Down the hall, a master bedroom with a generous en-suite bathroom and walk-in closet offers gorgeous views of the neighboring hillside. There's also a walk-in pantry in the kitchen and a half bathroom outside the living room.
Something unique to this project is that our client's job site is located in a Wildland Urban Interface (WUI) zone, meaning their property is considered at risk for wildfires. To boost the performance of the building in the event of a wildfire, we added several fire-safe materials to the home, including WUI-approved vents, fire-rated sheathing and soffits, and James Hardie non-combustible fiber cement siding. Another notable aspect of this home is that we designed the structure to accommodate the sloped nature of the lot, with the first floor and garage tucked directly into the hillside. We also added tons of windows to its design to brighten up the space and maximize our client's property views.
General Overview:
OAKRIDGE 36′ + SELLWOOD 24′:
2567 SQ. FT. Conditioned Living Space
467 SQ. FT. Garage
432 SQ. FT. Covered Deck
416 SQ. FT. Patio
SPECIAL FEATURES:
WUI High Fire Add-Ons
Green Building Materials
Designed for a Sloped Lot
Modified to Include Attached Garage
UPGRADES:
Trex Enhance® Naturals Composite Decking
Heavy Timber Staircase Package
Primed Hardie Fiber Cement Siding
Heavy Timber Deck Cover
48″ x 48″ Windowed Cupola
Custom Features:
This barn-style home features a litany of custom details throughout, including WUI high fire add-ons, heavy timber upgrades, and several design modifications to accommodate the sloped lot. Unlike our standard Oakridge 36′ Apartment Barn Kit, this design does not include shed dormers or a covered shed roof. Instead, our designers modified this barn home to include Nantucket dormers on the left side of the structure and a large covered deck on the right. We added a gable cover with a mortise and tenon heavy timber truss to the west-facing deck and heavy timber awnings with upgraded 4′ corbels over the west-facing windows. Additionally, we designed our Sellwood Garage Kit to connect with the mudroom/storage area on the first floor so our client can easily move between both spaces.