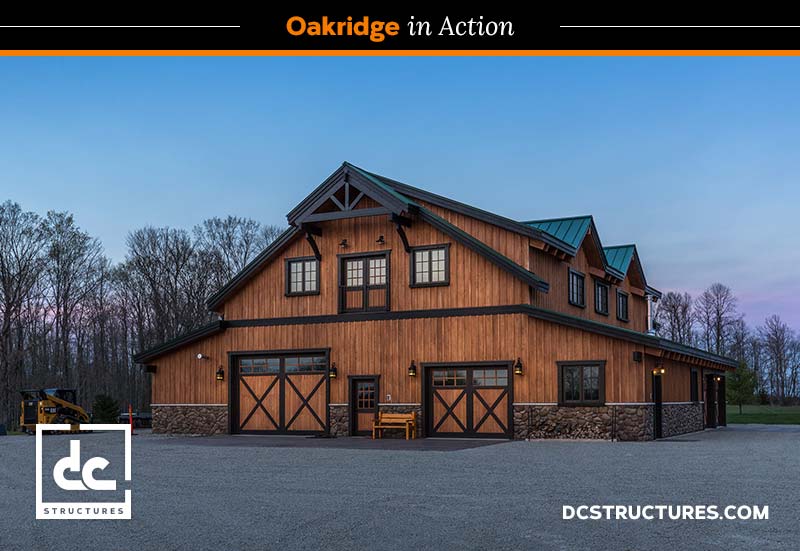 The Oakridge is our most popular apartment barn kit. Named after a sleepy country town located between Central Oregon and the Willamette Valley, this kit's function is as dynamic as it is humble. The Oakridge building kit has gone through many different renditions, with the same durable post-and-beam frame, that are wonderful composites of our clients' imaginations. What makes this kit popular beyond its five available sizes is the synergy between the main level's utility and the loft's open-concept livability.
Below are three excellent examples of the Oakridge that span a variety of uses and themes.
This Oakridge 60' garage with living quarters in Bend, Oregon has a 48' x 60' frame nestled among the arid desert sage of Central Oregon. Above the multi-use, drive-through RV garage, is a lavish two-bedroom, two-bathroom home with a huge open-concept kitchen, living, and dining area. Outside, 600 sq. ft. of partially-covered deck flows into and around the master suite and main living area. The deck and the garage doors are the two most distinguished alternative features on this rendition of the Oakridge 60.'
The 60-foot version of the Oakridge isn't the only size option for this kit. This quiet piece of property in Cornelius, Oregon has a barn with living quarters based on the Oakridge 36'. Unlike the Bend configuration, this Oakridge's main level boasts two horse stalls, two stalls for the dogs, and a tack room. Two shed dormers were kept intact for additional space. On the second floor sits 1,080 sq. ft. of living space, replete with guest room, full bathroom, office, living room, and kitchen. Nantucket dormers supported by handcrafted timber trusses hang over the residence as a testament to our craftsmanship.
The smallest, more scalable option, is our Oakridge 24'. These clients in Damascus, Oregon did an amazing job showing us what you can do with 1,214 sq. ft. of floor plan. We worked closely with them to create this perfect getaway, a party barn fit for both work and play. The breezeway on the main level sits between two sliding barn doors, making this an ideal spot for summer parties and events.
These variations are just a sample of how flexible we can be. More importantly, it further demonstrates why we give our clients so much autonomy when it comes to drafting their designs. The designers will be yours from the beginning, because a kit shouldn't limit you; options and upgrades are not an issue. Have your pick of siding, dormers, stairs, stalls, whatever you desire.
Ready to get serious about your own building project? Request a free quote today.