THE 
OAKRIDGE 24′
The Oakridge 24′ is mighty little structure suitable for a home, horses, or hobbies.
The Oakridge 24′ is our smallest apartment barn kit, popular among those who want the maximize the efficiency of a smaller building footprint. The first floor can be adapted to suit your needs—whether that's a place to keep your horses, a workshop to practice your craft, or a spacious garage to store your outdoor toys. On the top floor, 864 sq. ft. of space is available for an apartment, working studio, storage, or any number of uses!
Designed in the durable, all-wood post-and-beam method of construction, this barn is a great investment when compared to its pole barn or metal counterparts. With effective engineering and proper maintenance, this elegant barn will stand for generations to come. All kits come standards with two steel-framed breezeway doors, 12′ x 12′ deck, two full 24′ shed dormers, a 24′ shed roof and a cedar cupola.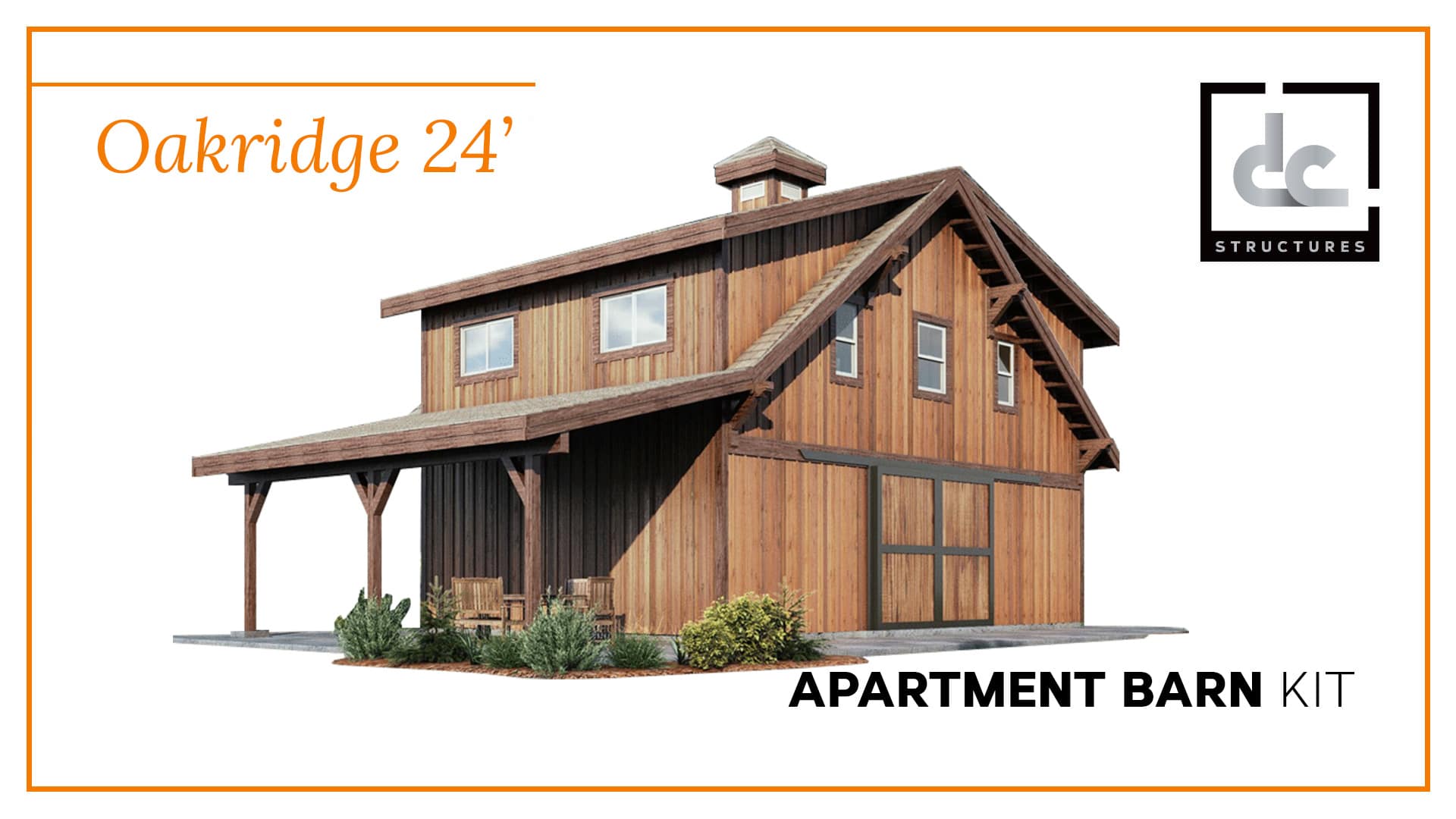 The Oakridge apartment barn kit has been adapted for a variety of uses.
Oakridge 24′
Specifications
No apartment barn package has higher materials standards or more available options and upgrades.
12′ Breezeway
12′ 6″ Sidewall
27′ Ridge Height
Cedar Cupola
9/12 & 4/12 Roof Pitch
Douglas Fir Posts
24′ Shed Roof
(2) 24′ Shed Dormers
"I'm not that easy to please, but I can tell you DC structures not only met but exceeded my expectations."

— Bob Coen—Damascus, OR

"Our animals are around us constantly; we are able to have our dogs, horses and cats in one location so we don't have to be commuting to take care of them."

— Jeff Meyer—Fairplay, CO

"We've lived on this property for 22 years and it's a wonderful piece of property with spectacular views. The barn looks like it should have always been here."

— Brian Sonnenberg—West Linn, OR
Oakridge 24′

Floor plan

Clients who bought the Oakridge apartment barn kit have modified its design in a number of ways.
Floor Plan Details
Blur the lines between work and play.
This example floor plan illustrates a typical layout for the Oakridge 24′ with upstairs living quarters. This materials package can be engineered to meet any wind and snow loads and can be modified to suit your specific requirements. The use of heavy timber posts creates for an open floor plan without load bearing interior walls–perfect for customization!
Additional resources include:
Build support from real builders
All hardware necessary for assembly
Site-specific structural engineered blueprints
What materials come with the Oakridge 24′ apartment barn package? Download our materials list for the whole kit and caboodle!
See how our customers each made the Oakridge Apartment Barn Kit their own!
With tons of available options and upgrades, the Oakridge can be modified to meet your unique needs.
Cornelius, OR
This barn with living quarters was adapted from the Oakridge apartment barn kit. Sustainable upgrades like solar panels and lots of skylights make this an efficient and attractive space.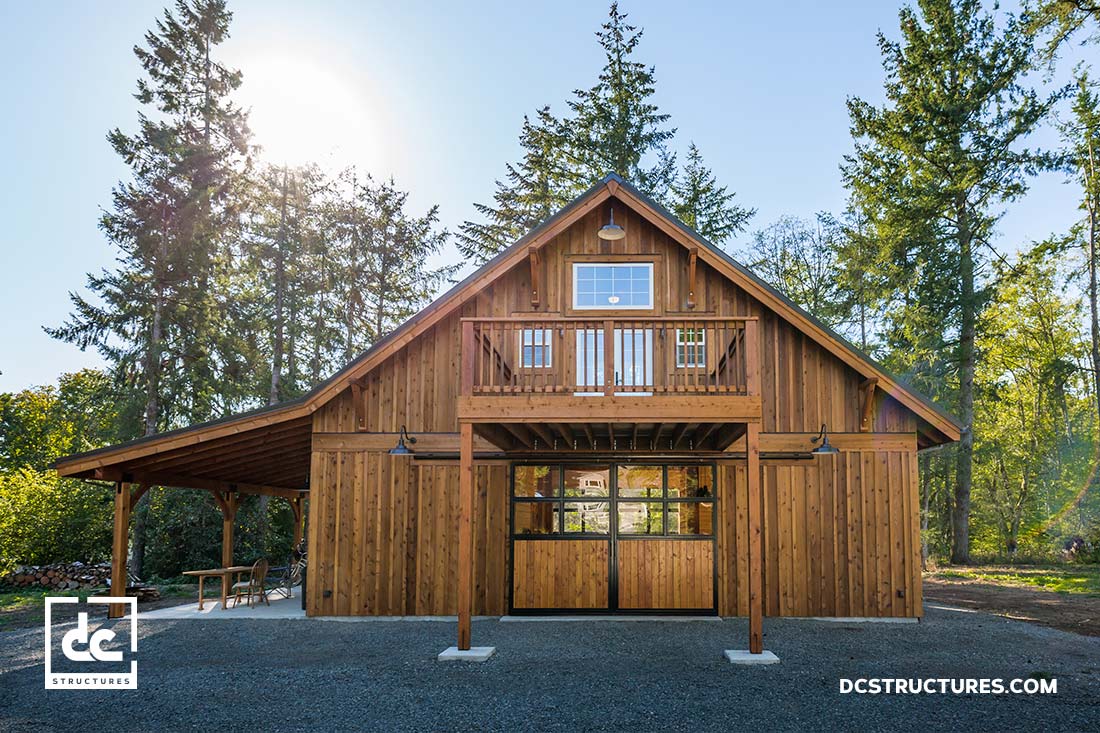 Damascus, OR
This backyard party barn boasts an upgraded 12′ x 12′ deck, man cave and custom bar. Exposed Douglas fir beams and traditional timber frame stairs add a touch of elegance to this modified Oakridge kit.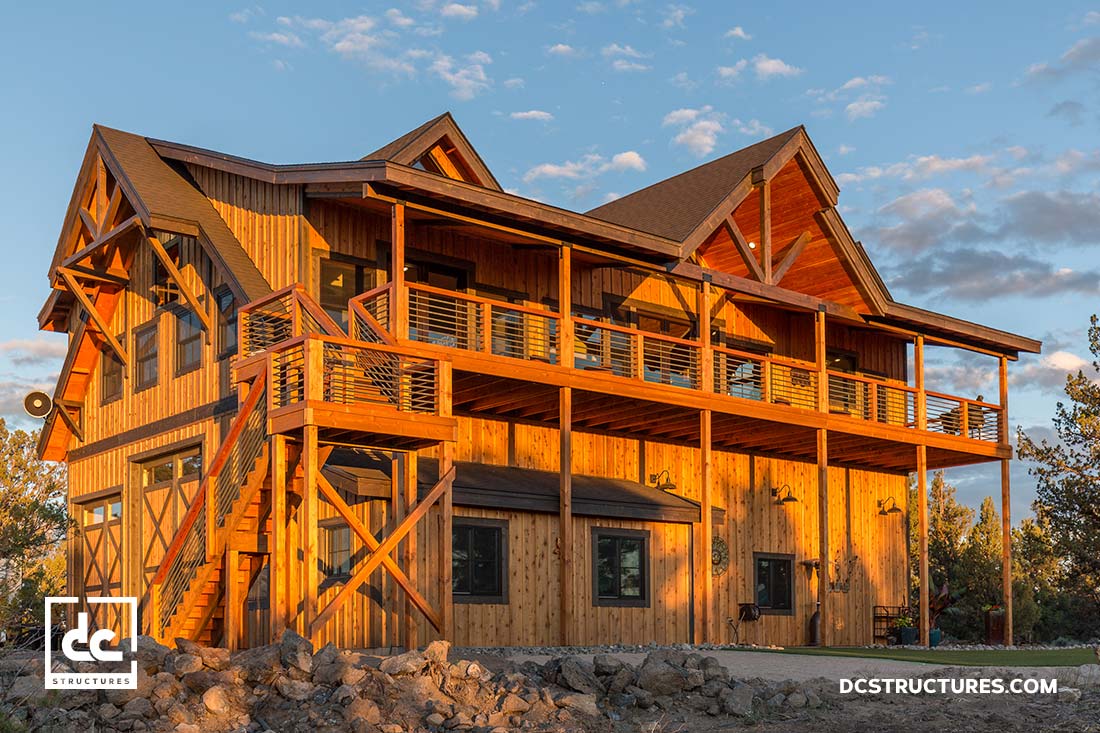 Bend, OR
This modified Oakridge saw a big upgrade to the design with a 600 sq. ft. covered deck. On the first floor, a large garage with plenty of space to store equipment; above, a spacious, open-concept living space.
Need a different size? Great news!
The Oakridge apartment barn kit comes in five sizes! View the other sizes below!