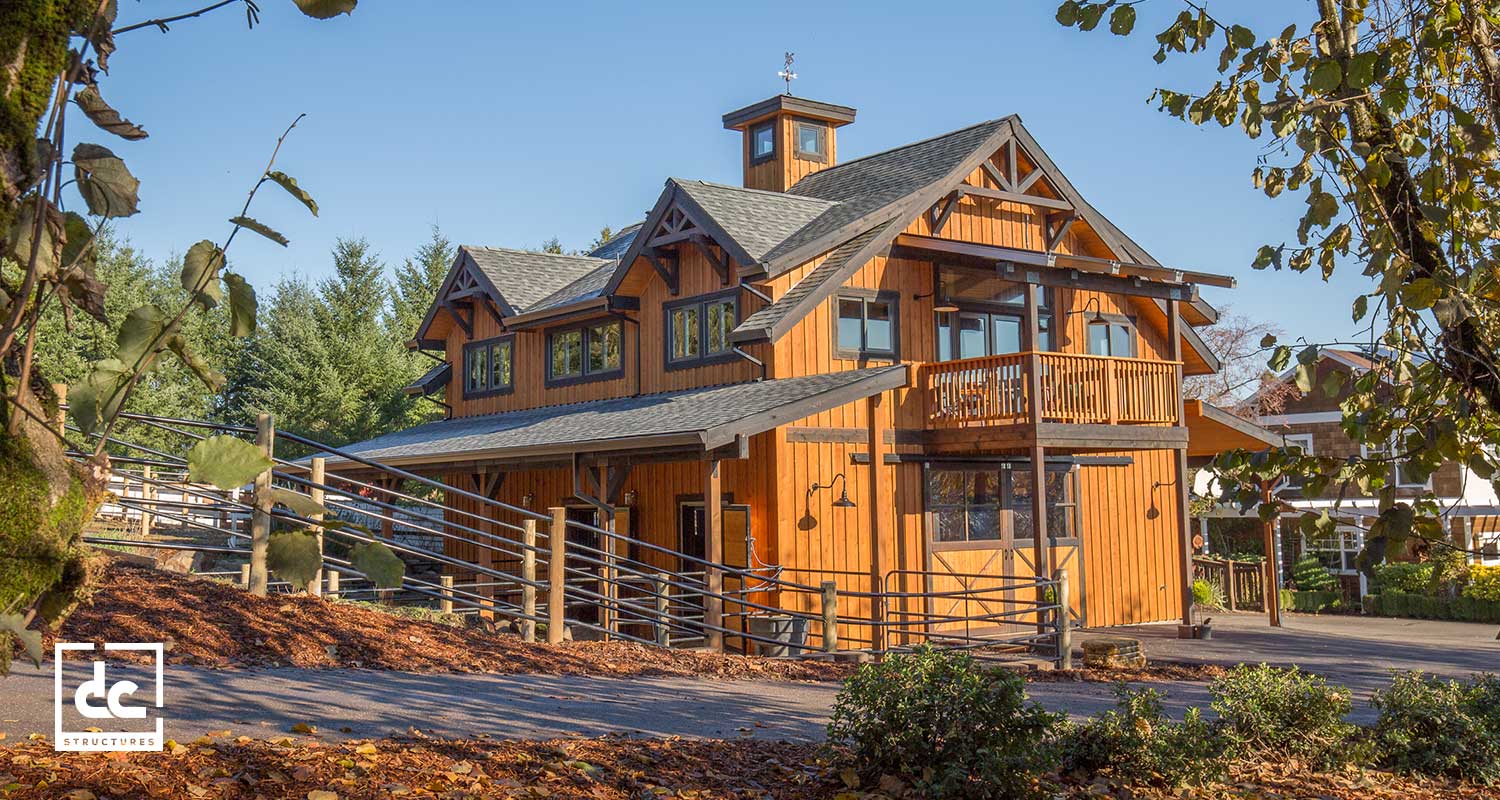 The Oakridge
Apartment Barn Kit
 Oakridge
Our Most Popular Barn
With ample space and storage the Oakridge comes in first place for being our most popular barn with living quarters. The bottom floor can be adapted to suit your individual needs—be it stalls to keep your horses, a garage to store your outdoor toys or a workshop for your craft.
Designed in the reliable and long-lasting method of post and beam construction, the Oakridge apartment barn kit will not only last for generations to come, but will also stun with its dramatically open interiors. The Oakridge comes in five sizes, each coming with two steel-framed breezeway doors, 12′ x 12′ deck, a cupola, dormers, and Pacific Northwest exposed Douglas fir posts. The functional elegance of this package makes it the perfect place for work and play.
Options & Upgrades
The Oakridge apartment barn kit's versatile and open design allows for countless options and upgrades. From the stairs to the horse stalls, you can customize your barn to accommodate all of your equestrian needs.
Materials
The Oakridge apartment barn kit comes complete with a comprehensive materials package.
26' – 4" Ridge Height

Front Widows Peak

9/12 & 4/12 Roof Pitch

48' Nantucket Style Shed Dormers

12' x 48' Open Shed Roof w/Pre-built Decorative Knee Bracing

Loft w/IRC rated open web floor joist system & 1-1/8" T&G Edge Gold floor sheathing 

Select Grade FOHC Douglas Fir Heavy Timber Columns, Ridge Beams, Rafter Beams, Loft Beams, Collar Ties, & King Posts

2" x 12" Rafters @ 24" OC

All Interior Wall Framing (per standard plan)

3.0 x 6.8 Prehung Knotty Alder Exterior Grade Door w/Bronze Hardware

4' Wide Stair Package w/Cedar Handrailing

2" x 6" Wall Framing Throughout All Exterior Walls

CDX Roof Sheathing

Rain Screen Exterior Wall Protection System w/Vapor Barrier Throughout Exterior

3' x 3' Cedar Cupola w/Vents (Non-Functional)

Select Tight Knot Cedar Board & Batten Siding Throughout Exterior

Select Tight Knot Cedar Exterior Door & Window Trim
Select Tight Knot Cedar Belly Band & Fascia

Custom Concealed Structural Knife Plates w/Anchor Bolts

Black Powder Coated Finish on Select Post & Beam Hardware (Excluding Nuts & Bolts)

Classic Equine Steel-Framed Black Powder Coated Sliding Barn Doors w/Select Grade T&G Wood Fill

12' x 12' Deck w/Select Tight Knot 2" x 6" Cedar Decking, 2" x 8" Cedar Top Cap, & 2" x 2" Cedar Balusters, 6" x 6" Douglas Fir Columns & Handrail Posts, 6" x 12" Pressure Treated Beams, 2" x 12" Pressure Treated Joists, & Select Tight Knot Cedar Trim

5.0 x 6.8 Andersen 100 Series Sliding Glass Balcony Door

Andersen 100 Series Windows w/Screens* (Per Standard Window Schedule)

Custom Handcrafted Douglas Fir Heavy Timber Corbels (2) Large, (6) Small

Sets of Blueprints Based on Standard Engineering (County specific engineering & engineering wet stamp available)

Digital Set of Completed Blueprints w/Standard Structural Details

Builder Support Throughout Construction From Our Licensed Builder Team

Live 3D walk through of final design (Upon Request)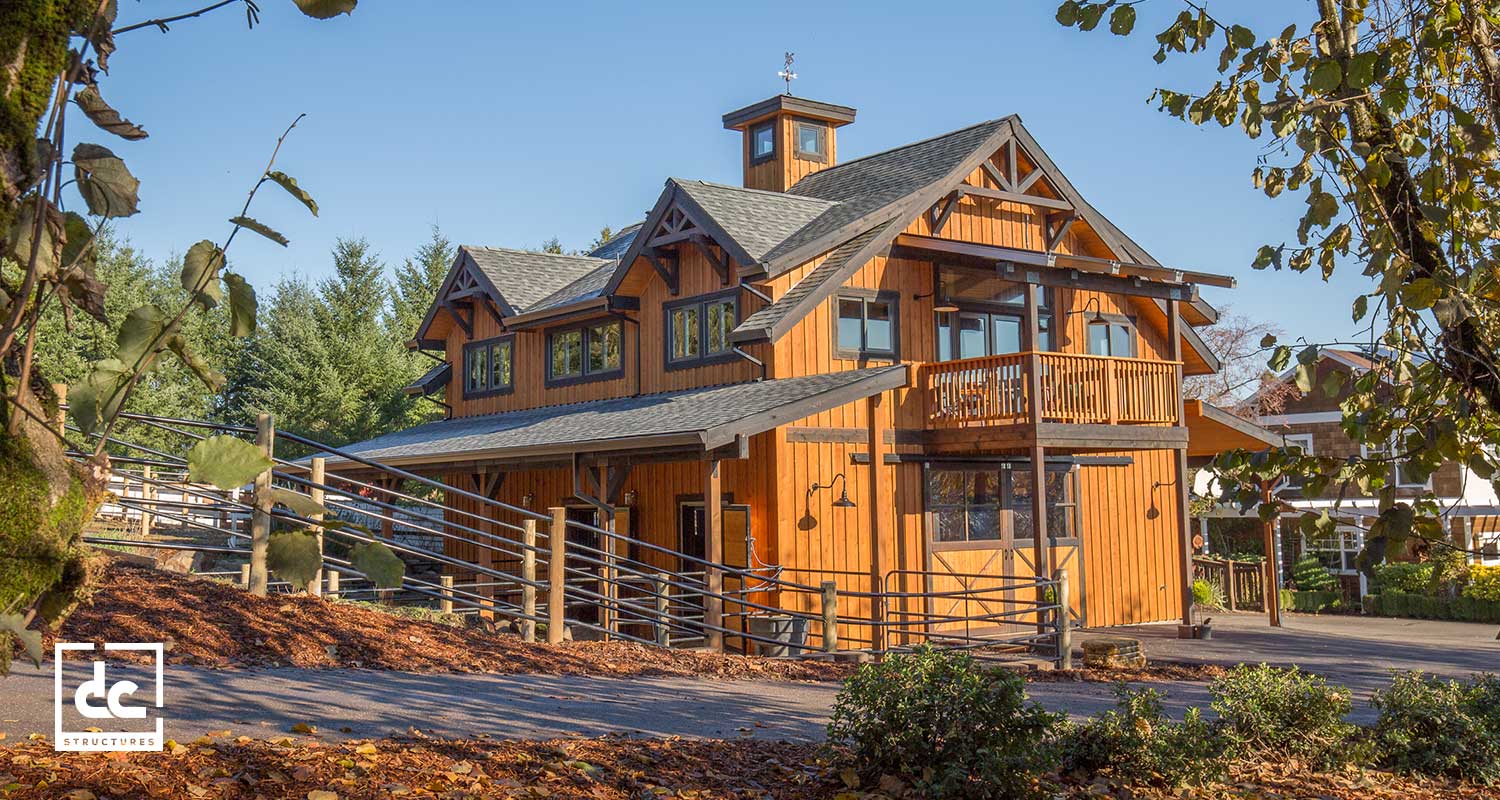 "I'm not that easy to please, but I can tell you DC structures not only met but exceeded my expectations."

— Bob Coen—Damascus, OR

"Our animals are around us constantly; we are able to have our dogs, horses and cats in one location so we don't have to be commuting to take care of them."

— Jeff Meyer—Fairplay, CO

"We've lived on this property for 22 years and it's a wonderful piece of property with spectacular views. The barn looks like it should have always been here."

— Brian Sonnenberg—West Linn, OR

"This is just the most beautiful landscaped structure; we love looking at it."

— Leslie Schoradt—Penn Valley, CA

"It's the best when you start to see to see it all come together, when you realize that the choices you made were the right ones."

— Chris Higley—Bend, OR
Looking for more kits?
Our kit collections have been carefully designed to accommodate any purpose or function. Explore our other barn kit options to find the best fit for you.
VIEW KITS