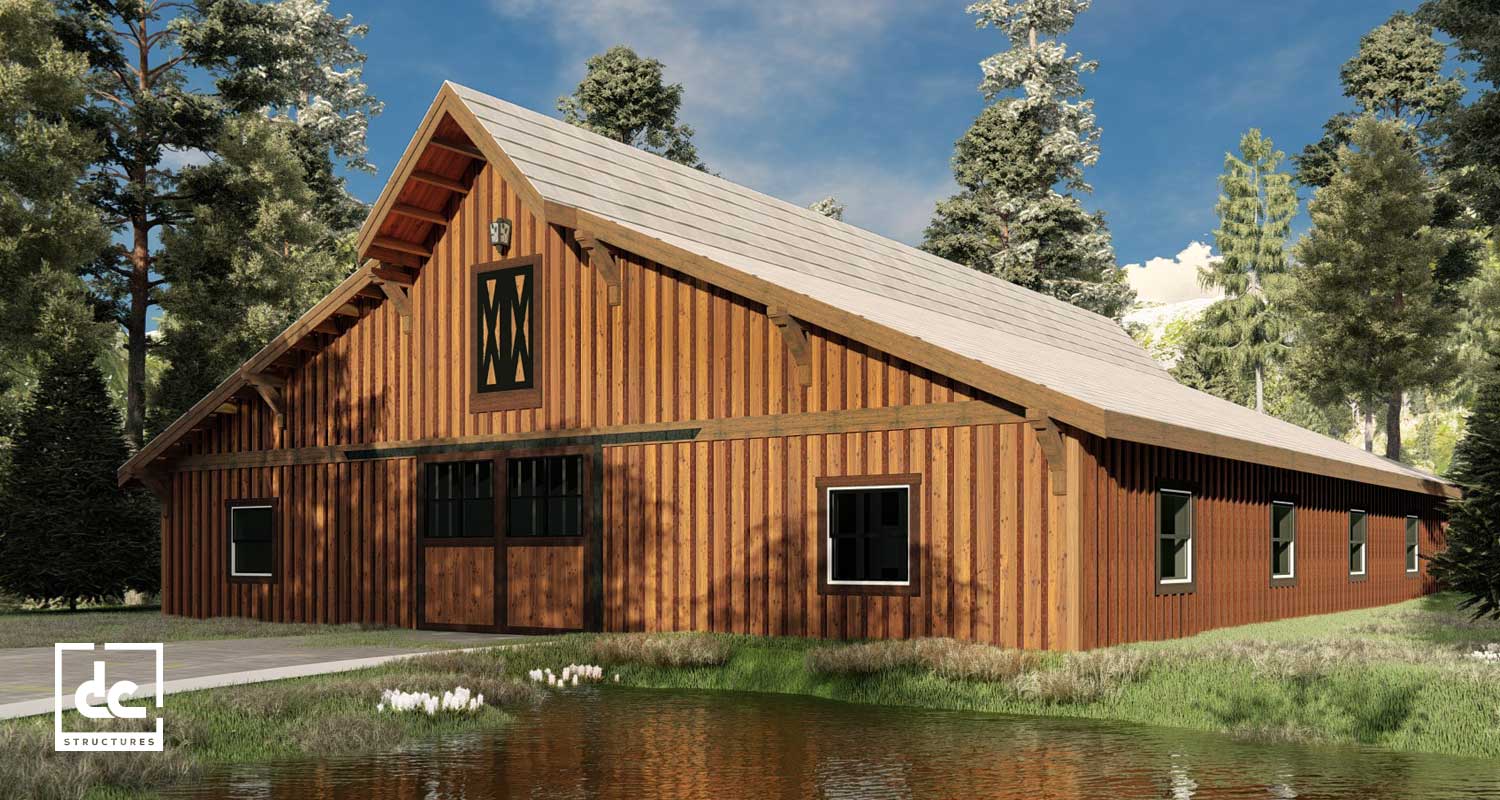 The Sunnyside
Event Barn Kit
This rustic barn kit is perfect for weddings and other gatherings.
THE 
Sunnyside
The launching pad for your wedding or event business.
This wedding and event barn kit from DC Structures is the perfect tool to launch your event business! With 4,320 sq. ft. on the main level, this barn can seat over 120 guests, with a flexible floor plan that can be modified to include kitchen space, restrooms, bridal quarters and more. All kits include two sets of steel-framed sliding breezeway doors, a faux hayloft door, and an Andersen 100 window package.
Built from only the finest Douglas fir posts and beams from the Pacific Northwest, this barn home materials package provides vaulted ceilings and a rustic aesthetic. The natural wood exterior and heavy timber accents will add value to any property.
With hundreds of options and upgrades available, The Sunnyside is the perfect starting point for a new or established event business. Request a free digital catalog to learn more!
The Sunnyside includes handcrafted heavy timber elements for a personal touch.
Starting Price
---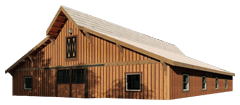 4,320 Sq. Ft.
60′ x 72′ Footprint
26′ Ridge Height
Cedar Siding & Trim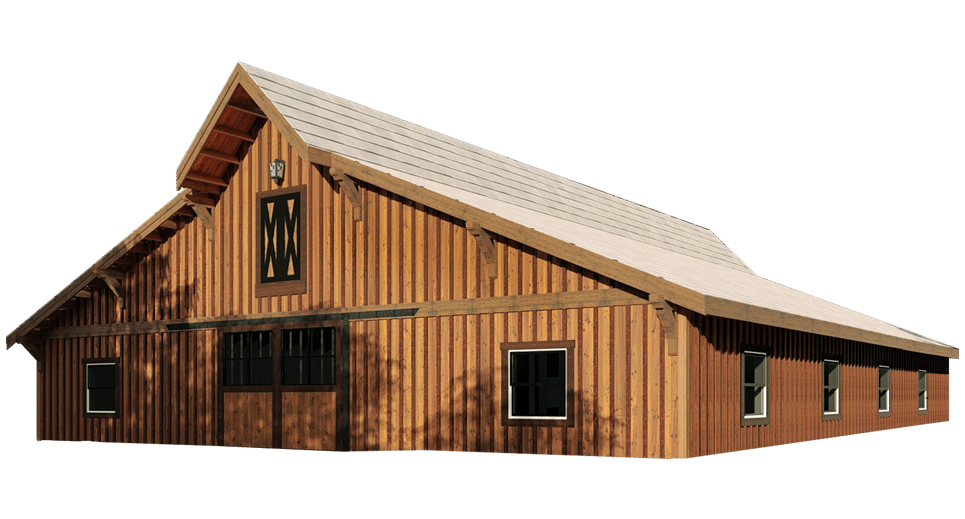 The Sunnyside
Specifications
This event barn package can be modified with hundreds of available options and upgrades.
12/12 & 5/12 Roof
4,320 sq. ft.
Douglas Fir Posts
2 Widow's Peaks
12 Custom Corbels
Faux Hayloft Doors
Vaulted Ceilings
12 Windows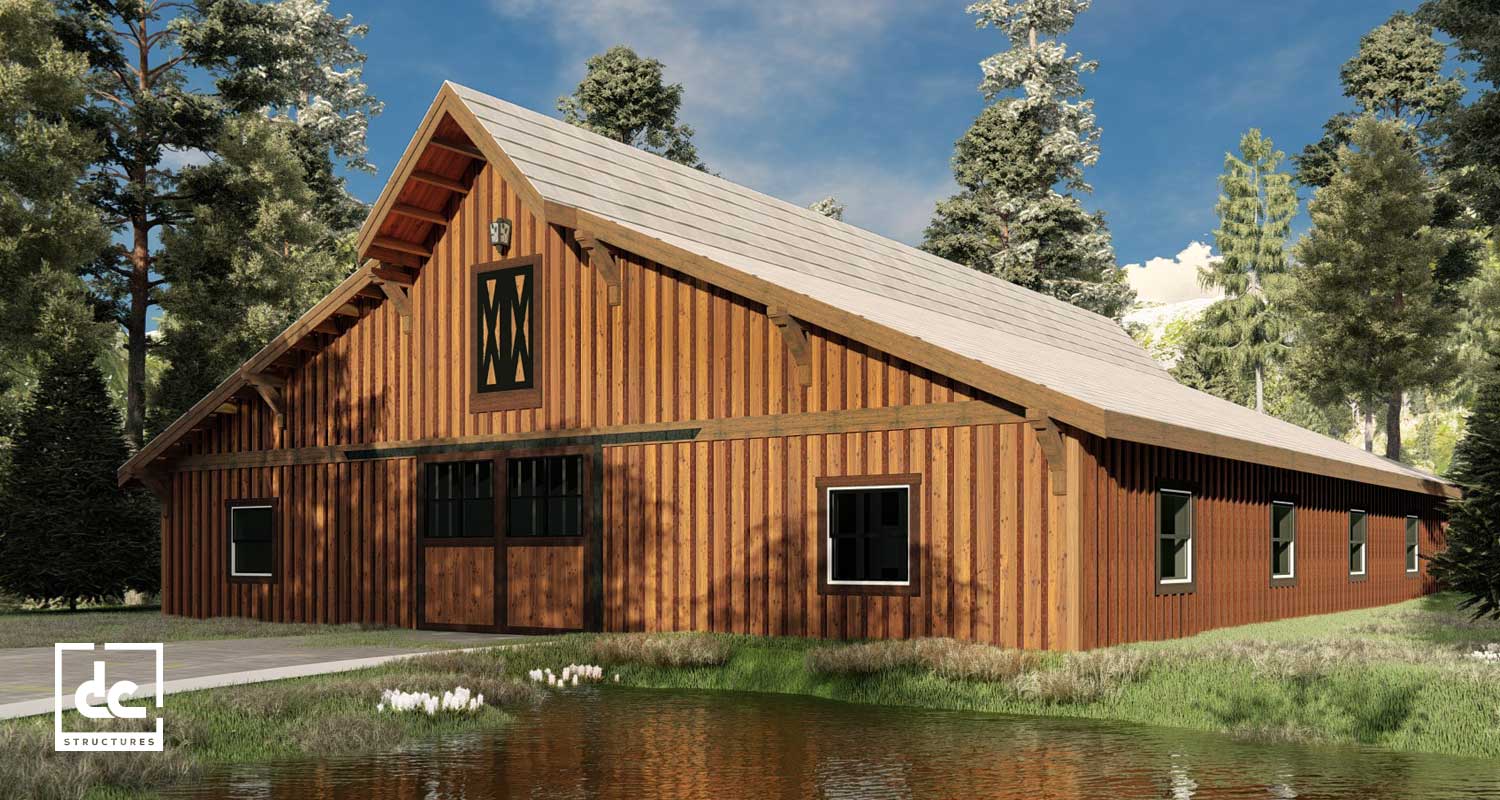 "I'm not that easy to please, but I can tell you DC structures not only met but exceeded my expectations."

— Bob Coen—Damascus, OR

"Our animals are around us constantly; we are able to have our dogs, horses and cats in one location so we don't have to be commuting to take care of them."

— Jeff Meyer—Fairplay, CO

"We've lived on this property for 22 years and it's a wonderful piece of property with spectacular views. The barn looks like it should have always been here."

— Brian Sonnenberg—West Linn, OR
The Sunnyside

 Floor Plan

This open space can be modified for your unique business needs.
Floor Plan Details
Start with our floor plan or create your own!
This example floor plan for the Sunnyside Event Barn Kit shows a wide-open wedding barn with structural posts. There's plenty of room for amenities like a prep kitchen, bar, bathrooms, storage, and bridal quarters. Remember, post and beam structures like the Sunnyside have no load bearing interior walls, giving you complete freedom in creating your floor plan.
Additional resources include:
Build support from real builders
All hardware necessary for assembly
Site-specific structural engineered blueprints
Want to know exactly what's included with your Sunnyside Kit? Download our detailed materials list!
Options & Upgrades
With more available options and upgrades than any other barn kit provider, you can make the Sunnyside your very own. We'll work closely with you to make sure your structure is personalized to meet your unique needs.
Looking for more barn kit plans? Great news!
We have other building designs that might meet your needs.