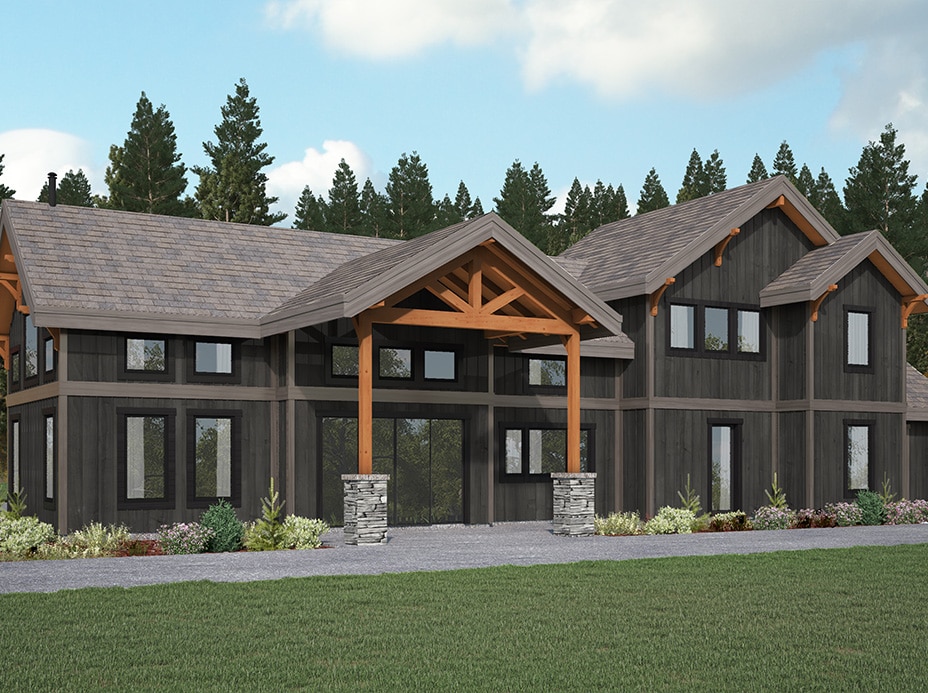 Project Summary:
---
This incredible timber frame estate planned for development in Sedalia, Colorado, combines our Thielsen Timber Frame Home Kit and Rogue Cabin Kit to create an all-encompassing floor plan that includes a two-bedroom guest home. The first floor divides into two separate living quarters, with the main house located to the left of the garage and the mother-in-law suite situated behind it on the right. The primary residence features a nearly identical layout to our standard Thielsen Timber Home Kit, save for its three-car garage and the addition of a heavy timber deck cover in the rear. The Rogue, on the other hand, offers a modified floor plan that includes a timber frame covered entry, a mudroom, an open-concept living, kitchen, and dining area, two bedrooms, two bathrooms, and a covered patio area.
Stairs in the main home lead to an upstairs loft that overlooks our client's spectacular great room. Our clients can also access two additional bedrooms, a shared bathroom, and a massive bonus room with a gun safe from their second-story space. A wall separates the gun safe from a storage area on the other side, which guests can utilize from the mudroom in the attached mother-in-law suite. Additional features in this home include faux timbers in the guest house great room, a lay-on roof connecting the Rogue and Thielsen, and our stunning timber frame trusses in the main living area.
General Overview:
THIELSEN & ROGUE:
5814 SQ. FT. Conditioned Living Space
5 Bedrooms
4 1/2 Bathrooms
Three-Car Garage
MAIN HOUSE:
3 Bedrooms
2 1/2 Bathrooms
Open-Concept Living, Kitchen, and Dining Area
Bonus Room W/ Gun Safe
Three-Car Garage
MOTHER-IN-LAW SUITE:
2 Bedrooms
2 Bathrooms
Living, Kitchen, and Dining Area
Mudroom W/ Storage Access
Private Covered Patio
Custom Features:
This impressive timber frame home offers numerous custom details throughout, including the addition of two massive gable deck covers outside the guest home and main house and faux timbers in the guest living space. Our designers extended the garage to include a third garage bay and the bonus room to include a gun safe and a separate storage area on the opposite wall. We also modified the attached Rogue to match the exterior of our Thielsen and added a lay-on roof that connects the structures. Design elements like our signature heavy timber corbels, large picture windows, and single-slope accents add to the uniqueness of this home, making it a modern rustic abode for our clients and their guests.