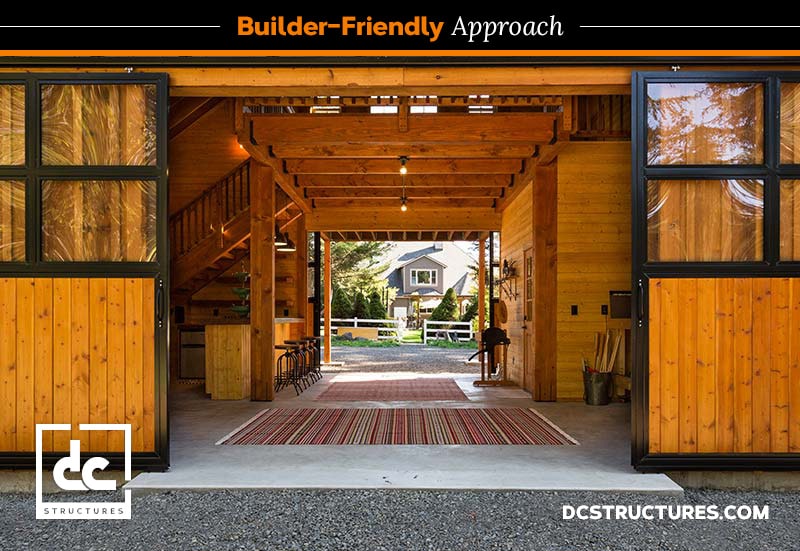 It takes a village to build a barn—or so the saying goes. Constructing a pre-designed barn package calls for collaborative participation between clients, designers and builders.
Nationwide barn kit company DC Structures is a team player when it comes to helping its clients achieve their building goals. We translate clients' visions for their structures into actionable plans, and ensure a smooth transition as we pass those blueprints off to the client and their chosen contractor.
DC Structures' builder-friendly approach benefits contractors before, during and after a barn kit build.
Support
Our pre-engineered barn packages are designed by builders for builders, who draw from years of experience building barns and barn-style homes. We stay on the line throughout the duration of a barn kit build, offering builder support in the event that questions or challenges come up.
Efficiency
The DC Structures approach saves builders time and money. By taking care of the design, materials and engineering requirements in advance, builders are able to work on projects more quickly and efficiently—freeing up time for other jobs.
Connections
Builders benefit from DC's reputation and warm referrals, as well as our mill-direct Pacific Northwest lumber connections. The rustic aesthetic of a DC building adds a distinctly timeless style of construction to builder portfolios.
Peace of mind
Builders benefit from DC Structures' industry know-how and deep understanding of post-and-beam construction methods. Our engineered barn kits are guaranteed structurally sound and compliant with local building codes, and therefore reduce contractor liability.
Like any team effort, building a barn kit calls for clear communication at every step of the way. DC Structures keeps an open line of communication with both clients and contractors throughout a barn package build. This allows us to avoid errors that result from miscommunication.
Interested in collaborating with us to build your dream barn or barn-style home? Take a look at our catalog and begin to imagine the possibilities.