DC Structures is widely known for its pre-engineered heavy timber building kits, but what about its custom designs? While we regularly tout our ability to personalize any building model, it's worth stating that we also offer custom design services to clients seeking a completely original building design. From stately timber frame homes to rustic cabins, workshops, and more, we've designed custom structures of all types for clients nationwide and can easily help you bring your unique vision to life. If you're seeking a custom design and materials package, you've come to the right place. Learn more about our custom design offering and the many ways in which we're able to deliver your dream structure:
WHAT IS A CUSTOM BUILDING KIT?
Our custom building kits are prefabricated design and materials packages that come with everything you need to assemble the frame of your structure, including highly detailed blueprints, premium-quality framing lumber, windows, doors, siding, and much more. Using our specialized woodworking machine, our craftsmen will convert your design plans into expertly crafted building packages that make installation a breeze. Our CNC machine pre-cuts, drills, and individually labels every piece of framing lumber included in your kit, thus ensuring the highest level of accuracy and efficiency for your build. Our prefabrication method doesn't just produce better results for your project, it also saves our clients considerable time and money throughout the construction process.
The Benefits of our Custom Design Offering
Building a custom home or structure may seem like a complicated venture, but it doesn't have to be. At DC Structures, we've developed a simplified approach to the custom design process that makes building your dream structure easier than ever while ensuring you get the best value for your money. It all starts with our collaborative design phase, during which you'll have the opportunity to either build off one of our existing models or create something entirely new. With the help of our experienced designers, you can create the look and style you desire for your dream structure, along with a custom-tailored floor plan that fully meets your needs. Using our industry-leading prefabrication process, our team will then convert your design plans into pre-engineered building packages that arrive ready for assembly on your job site. Our custom design and materials packages are designed to be built faster, more accurately, and with far less labor than a conventional build. That way, our clients can benefit from an installation process that is both incredibly efficient and cost-effective.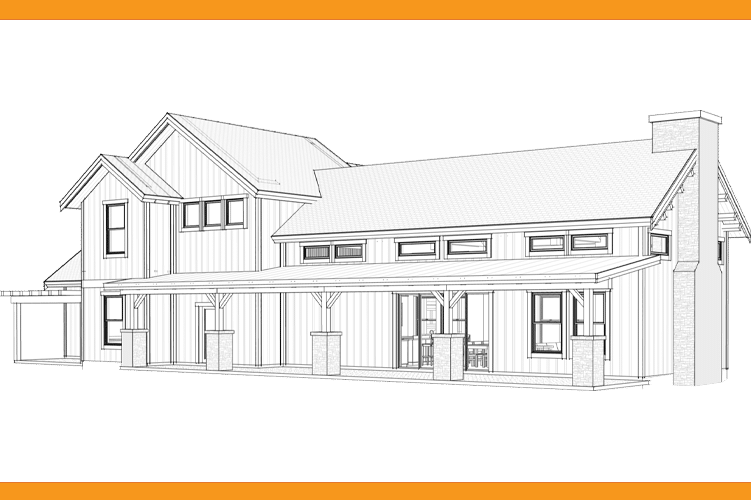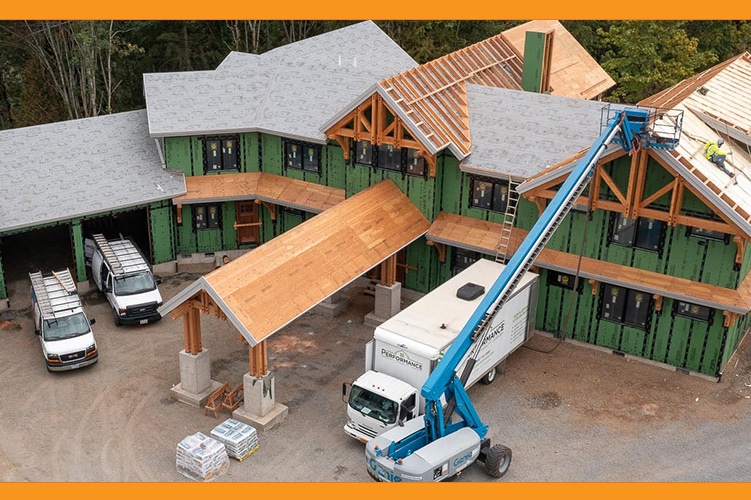 CORNELIUS CONTEMPORARY CUSTOM HOME
Located on a scenic hazelnut farm in Cornelius, Oregon, this ultra-modern home blends contemporary design elements with traditional timber framing to achieve its unique appearance. With its massive heavy timbers, glass curtain walls, and sloped rooflines, this custom residence succeeds in bringing timber framing into the 21st century.
This custom wedding venue in South Haven, Michigan features several desirable amenities for newlyweds, including a wrap-around covered patio, custom bar area, commercial prep kitchen, and private bridal and groom's suites. Arched timber trusses in the main hall add drama to the interior while a two-story covered entrance creates the perfect grand entryway outside.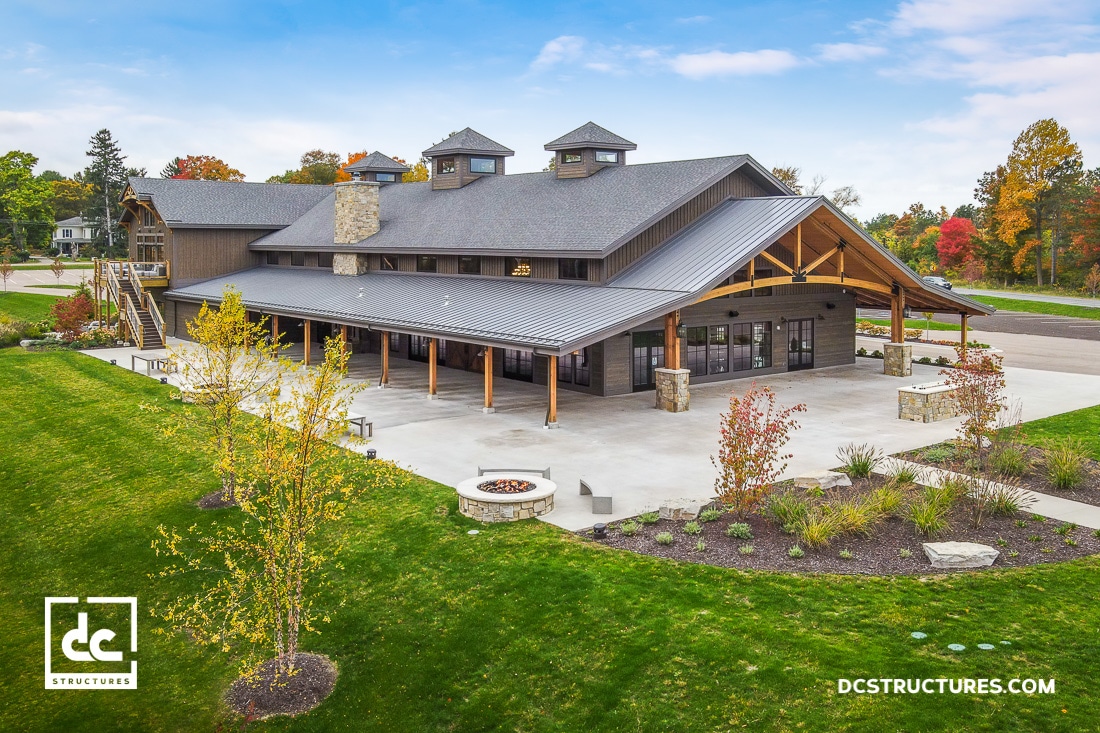 OREGON CITY HOME & EQUESTRIAN FACILITY
This custom home and equestrian facility in Oregon City, Oregon is the largest structure ever designed and built by DC. Coming in at 36,290 square feet, this mixed-use building features a 5,000 sq. ft. custom home with an incredible master suite, two additional bedrooms and bathrooms, and an open-concept great room overlooking the arena below.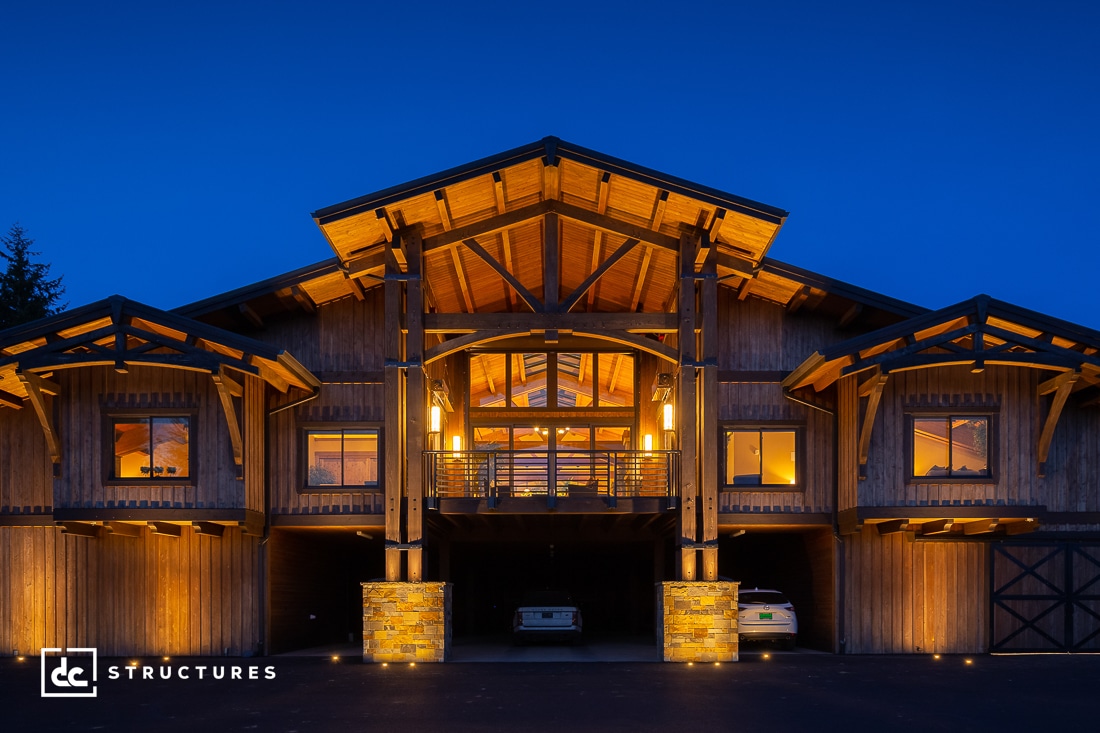 TEXAS CUSTOM WEDDING VENUE
Based on our Legacy Event Barn Kit, this enormous wedding venue in Bryan, Texas offers nearly three times the conditioned floor area of our original building model, with three levels dedicated to wedding day preparation. The first floor features a truly stunning main hall that opens to the third story, along with a buffet area, a prep kitchen, ADA bathrooms, a staging area, and nearly 1,000 square feet of storage space.
This beautiful custom home in Sandy, Oregon is a modern reproduction of a classic American Foursquare. Popularized in the early twentieth century, this architectural style is beloved for its intricate woodwork, ornate features, and Craftsman-style designs.
DELTA COVES COMMUNITY CENTER
This recreational development in Bethel Island, California serves as a popular gathering space for residents of the Delta Coves community. This stunning community center combines several custom building kits to form its all-encompassing design, with a custom 7,927 sq. ft. veranda connecting all four units in the main building.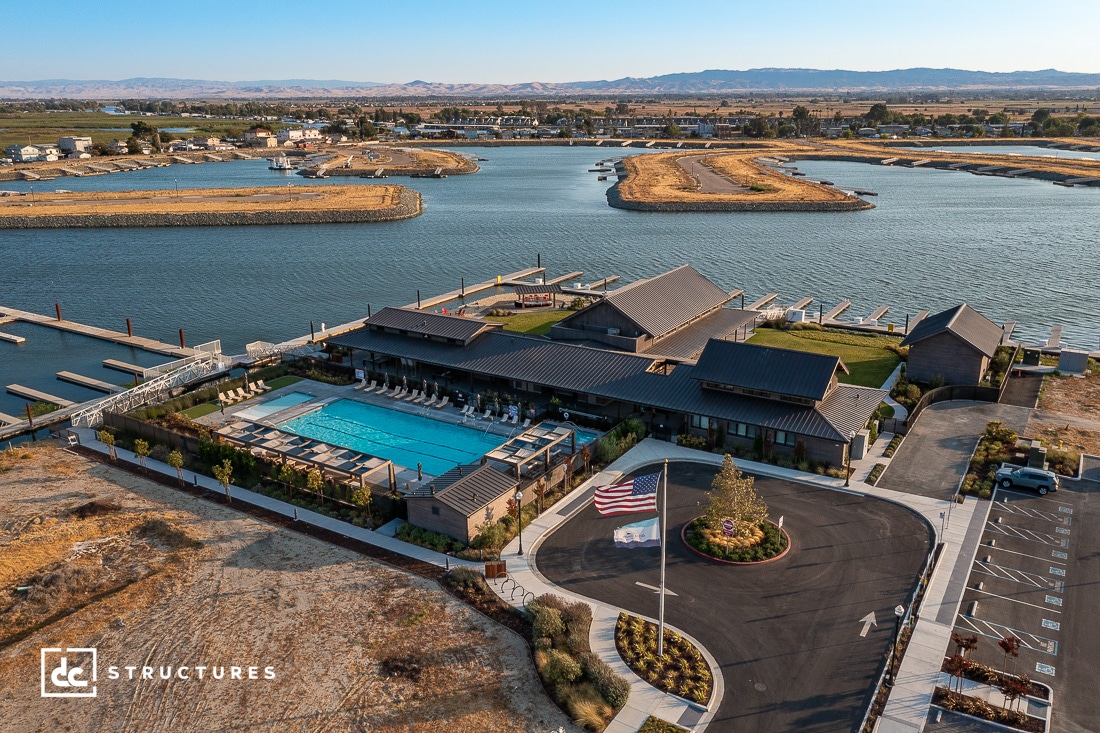 This custom wedding venue in Stillwater, Oklahoma is an incredible example of our versatile design capabilities. With the help of our talented designers, our client was able to transform her unique ideas into a spectacular venue fit for any special occasion. Why DC Structures?
There's a reason why dozens of clients choose DC Structures to be their design and materials partner every year, and it doesn't just have to do with our nationwide standing. When partnering with DC, our clients understand they're not only receiving an extraordinary structure unrivaled in quality and precision but a customer experience they'll cherish for a lifetime. From the moment we partner together to move-in day, our team makes it a point to ensure your satisfaction at every stage. Everything from our custom design process to our nationwide builder network is engineered to make your vision a reality, and all on a timeline and budget that works well for you. Whether you're planning to build a custom timber frame home or a backyard pavilion intended for entertaining, you can trust your project is in the very best hands with our dedicated team.
Learn more about what makes our company stand out by visiting our Why DC page.
CUSTOM DESIGN PROCESS
Our custom design process starts by getting to know you, your goals, and the inspiration behind your structure so we can help guide you in the right direction for your project. While many clients choose to build off one of our pre-engineered building models, we can also take any images, sketches, or sample floor plans you may have for your design and use them to form a 3D model that's representative of your style and taste. With our virtual reality software, our clients can explore their 3D models in real-time and make changes as needed or desired to their structural elements. This industry-leading technology is designed to give our clients a dynamic look at their interior and exterior space so they can feel 100% confident in their final design. Once your custom design is complete, our team can start building a custom materials package quote for you. With your approval, we'll get to work creating a pre-engineered building package that brings your one-of-a-kind structure to life.

OUR PREFABRICATION METHOD
Prefabrication is a standard offering included in the price of our custom building kits. Unique to our industry, our prefabrication process sees that every piece of framing lumber used to create your exterior walls, roof, and floor components is expertly pre-cut, drilled, and individually labeled before arriving on your job site. How it works is once your design plans have been modeled in our design software, our craftsmen can translate your design into detailed instructions that are then fed into our specialized CNC woodworking machine. Our machine will then pre-cut, drill, and label your wood framing components to precision, with our craftsmen preparing all finished pieces for safe shipment. Our prefabrication method is so efficient that are projects often take 30% – 50% fewer framing hours than conventionally built structures. As a result, our clients can save a significant amount of time and money during installation.
OPTIONS & UPGRADES
We partner with America's top-rated suppliers of windows, doors, siding, and more to provide clients with premium material selections for their builds. With the help of our talented designers and coordinators, you can easily create a fully custom home or structure that is true to your vision and personality. From Andersen™ windows to James Hardie™ fiber cement siding, we offer a wide array of options and upgrades that make customizing your design as seamless as possible. With hundreds of selections to choose from and thousands of possible configurations for your project, you're guaranteed to love your custom structure from DC.
OUR PREMIUM MATERIAL SUPPLY
Located in the heart of the Pacific Northwest, DC Structures offers exclusive access to some of the region's best timber exports for every project, including select grade Douglas fir and Western red cedar. However, if you're looking for something different than our signature heavy timber method, we offer several unique framing options to help you achieve your desired look for your building. For example, we recently designed an equestrian facility in Sonoma, California made primarily with cross-laminated timbers, or eco-friendly, multi-layer mass timber panels. No matter your preference, we'll work with you to determine the best materials for your project while factoring in your budget and needs.


The Relationship Between DC Structures and DC Builders
With DC Structures offering custom designs as an option, there's been a bit of confusion as to what makes DC Structures different from our parent company DC Builders. While our companies are similar in many aspects, it's important to note the distinction between our approaches to the building process. DC Structures, for example, offers pre-engineered building packages based on our clients' custom design plans. This approach gives our clients the ability to create a fully custom design and materials package that makes assembly a breeze for their chosen framing crews. DC Builders, on the other hand, is a full-service design and construction firm that offers nationwide custom design and framing and installation services, as well as turnkey solutions for clients on the West Coast. Though DC Structures offers a nationwide builder network for clients seeking a trusted builder for their project, our company does not provide general contracting services. That said, our companies regularly partner together to provide clients with numerous options for their builds. Our Custom Home Expertise
CUSTOM HOMES MADE SIMPLE
Building a custom home can feel a bit daunting if you're unfamiliar with the process. With DC Structures as your design and materials partner, however, you can feel confident knowing our team is here to support you every step of the way. Our entire custom design and kit process is set up to make your experience as streamlined and enjoyable as possible, from the moment you sign on to a building package to the day your kit is shipped. Regardless of the complexities of your build, our team will work closely with you to ensure your project feels completely manageable at every stage and you're aware of any nuances associated with the custom home building process. Whether you're planning to modify an existing building model or design a custom home from scratch, you can trust our team to deliver a structure and experience that meets your needs and so much more.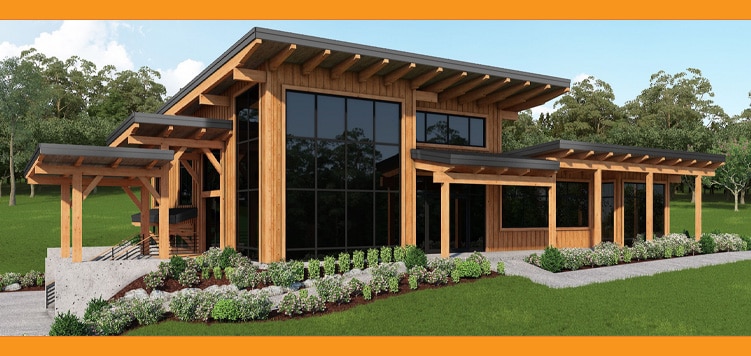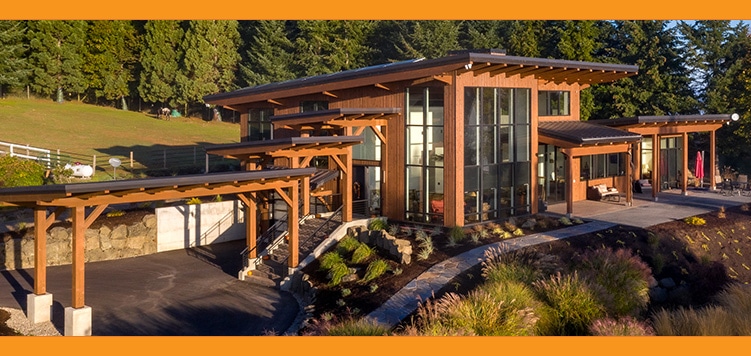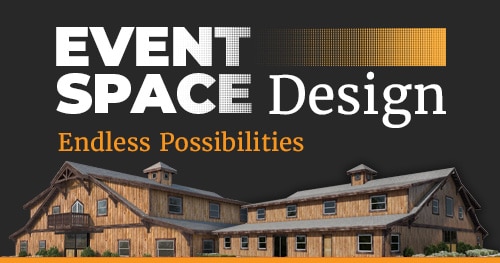 DESIGNING A VENUE THAT STANDS OUT
As barn weddings continue to grow in popularity, so does the demand for countryside wedding venues that don't necessarily fit the mold. At DC Structures, we've designed dozens of successful wedding venues for clients across the country and understand what it takes to create a venue that stands out from the competition. Using our pre-engineered building models as a starting point, our designers will help you craft an event venue that offers a unique and romantic setting for any couple's big day. From wedding venues designed to resemble classic Americana barns to tri-level venues with vintage flair, our portfolio spans a range of magnificent heavy timber structures that deviate from the standard and benefit the bottom line.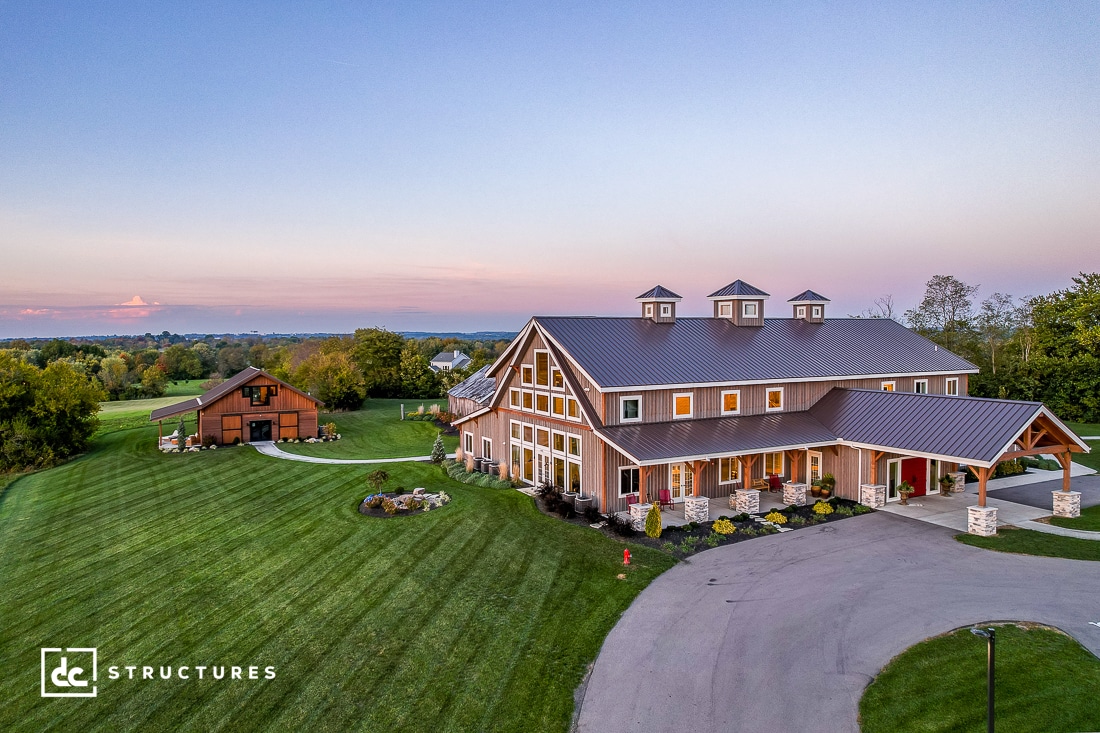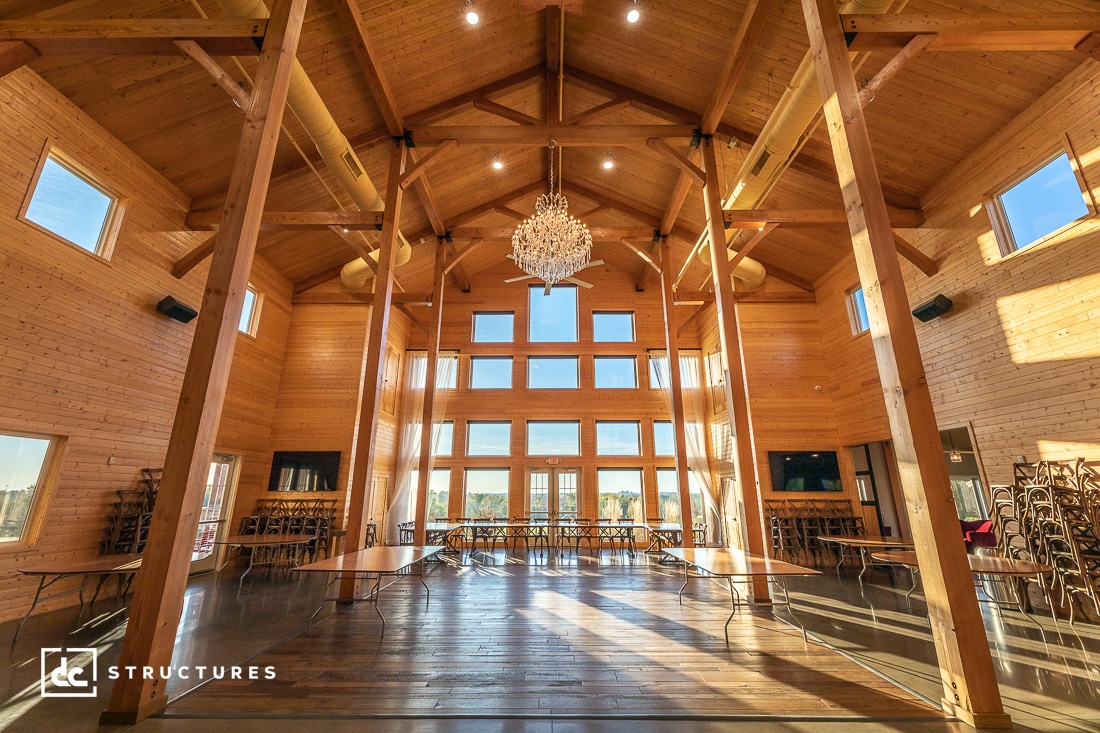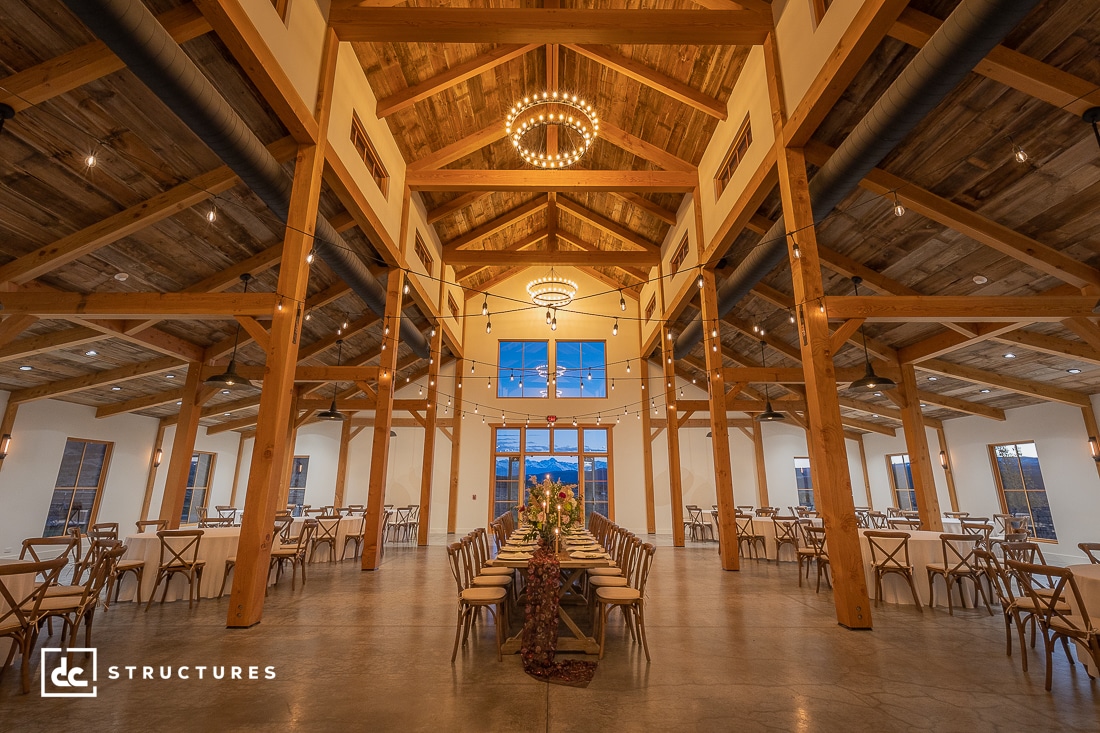 Learn More About Custom Designs