You don't have to be a market analyst to recognize that lumber prices are at an all-time high. One trip to your neighborhood hardware store will show you that the price of a single 4' x 8' plywood board is on par with hand sanitizer at the start of the pandemic. Although the dramatic climb in lumber prices is nothing new, and demand for lumber has consistently increased since April 2020, the sudden surge in pricing over the past few months is something of an anomaly and one that shows no signs of slowing down.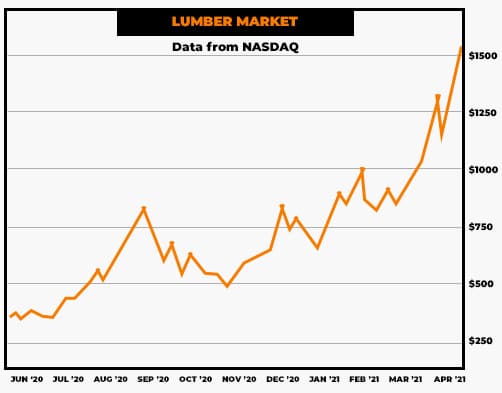 (Photo: Nasdaq)
The good news is that lumber prices won't stay this high forever, but we don't know when they'll drop or if it will happen within the year. In the meantime, the team at DC Structures is doing everything we can to keep costs reasonable for clients as we adjust our pricing to meet the demands of the market. While starting prices on our building kits are subject to change, our clients can rest easy knowing that we offer a steady supply of premium quality lumber for our projects and will always honor agreed-upon timelines.
If you're interested in investing in one of our pre-engineered building kits, but feeling anxious about the surge, don't worry. We're here to help you make the best and most informed decision for your build. In this two-part series blog post, we'll cover everything you need to know about the surge, including its origin and how the current market affects homeowners and homebuyers, as well as what our company is doing to sidestep challenges caused by the surge.
Read below for a brief overview of the circumstances that caused the lumber surge and what this means for homeowners and homebuyers in general.
Why Lumber Prices Are Skyrocketing


When the pandemic hit, no one could have predicted lumber prices would soar as a result of nationwide stay-at-home orders. In bracing for the economic impact of the shutdown, sawmills halted their operations across the country and lumber suppliers eliminated much of their inventory. New home construction also plummeted, with the expectation that buyers would be tight on money and reluctant to invest in a brand-new building for their property.
Then something else happened a few weeks later—the pandemic fueled the biggest housing boom since 2006, followed by a historic surge in lumber prices.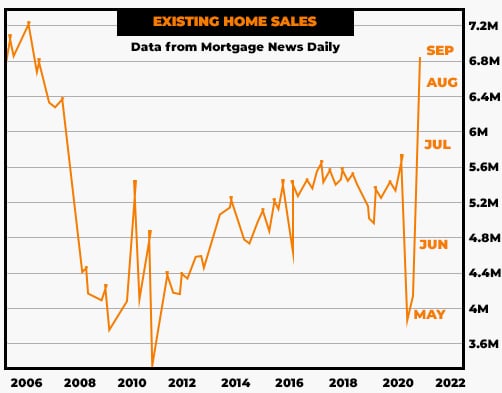 (Photo: Mortgage News Daily) 
The reasons are complex and driven by the unique nature of 2020's stay-at-home orders. City dwellers who were able to work from home started looking elsewhere for housing, realizing paying for a rental in the city wasn't worth the extra money if they didn't have to commute anymore. Mortgage rates also dropped significantly, hitting record lows as a result of the Federal Reserve lowering rates at the onset of the pandemic. This drove increasing demand for new and existing suburban housing, as city dwellers flocked en masse to the suburbs, exurbs, and rural areas in search of more space for less money.
During this time, homeowners hunkered down in their homes also started renovating their spaces, buying up lumber in large quantities from their local home improvement stores. Restaurants faced with the task of creating safe but comfortable outdoor dining also bought lumber for outdoor structures. Lumber began flying off the shelves at increasing rates while inventory remained relatively low. This created the initial surge in lumber prices, as supplies couldn't keep up with the spike in demand.
What we're seeing now is an accumulation of these factors mixed with a serious housing shortage, a lack of dimensional lumber and engineered wood products, labor force issues, and an insatiable demand for new housing and renovation work. This week, prices reached an all-time record high, with the price per thousand board feet of lumber up more than 300% since the beginning of the pandemic. This means lumber is now priced at more than four times its cost as of last May. Imagine going to an auction where everyone relentlessly bids on items until the price is driven much higher than the actual value. This is what's occurring at the present moment, with supplies limited and analysts predicting demand will increase in upcoming months.
What This Means for Homeowners and Homebuyers


Homeowners planning to remodel would be advised to wait if possible. With dimensional lumber priced at nearly $60 a sheet in most markets, the cost to renovate parts of your home is more expensive than many homeowners are prepared for. You might also focus on renovating parts of your home that don't require lumber. This can include everything from your backyard landscaping to simply repainting.
Homebuyers, on the other hand, have a bit more flexibility with their decision-making. With mortgage rates at historic lows, there's never been a better time to buy. However, homebuyers seeking existing homes have limited inventory to choose from and may compete with dozens of other buyers. For those interested in building their dream home from scratch, however, the challenge is finding a company that can develop their vision and guarantee the best results for their project on their timeline and budget. This is where DC Structures comes into play.
Stay tuned for Part II of this series where we discuss what DC Structures is doing to keep costs down on our pre-engineered building kits and what clients can expect when partnering with our company.