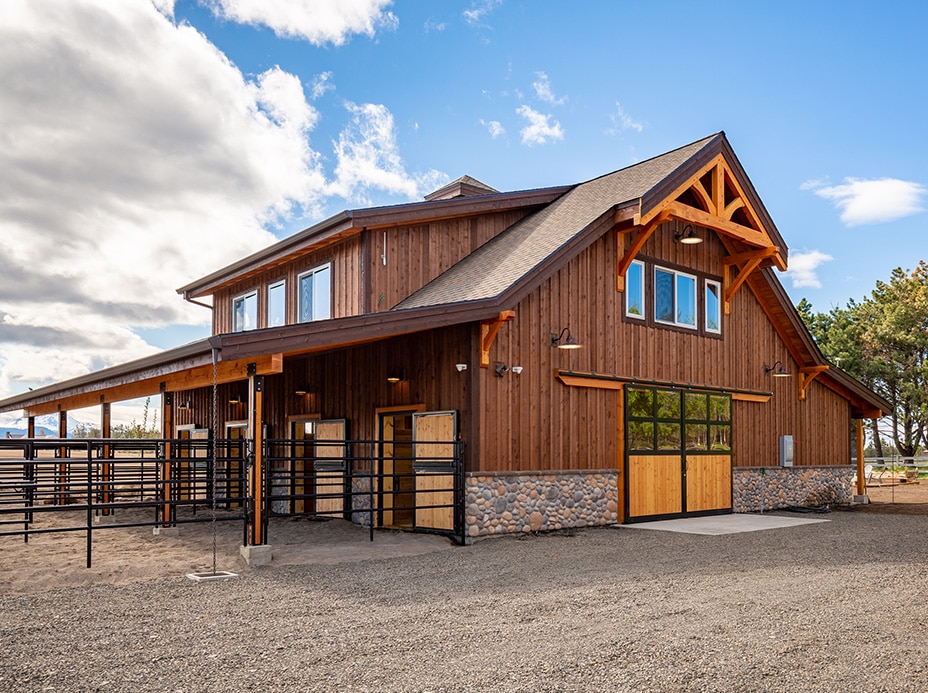 Project Summary:
---
Located in the high desert landscape of Bend, Oregon, this 3,419 sq. ft. horse barn with an upstairs loft is a testament to the allure of multi-use spaces. Based on our Oakridge 48′ apartment barn kit, this equestrian facility offers state-of-the-art safety features throughout, including horse-safe knife plates, posts with chew protection, and a multi-camera security system.
Nelson automatic waterers in all five stalls keep our client's horses hydrated, while Dutch doors leading to covered turn-outs offer easy access to the outdoors. Upstairs, a 1,479 sq. ft. loft functions as an entertainment space. The loft includes a modern kitchen and access to a large covered deck so our client can sit outside and take in the surrounding landscape with friends and family.
General Overview:
48′ x 48′ OAKRIDGE:
3,419 SQ. FT.
(5) Horse Stalls
(2) 12′ x 48′ Shed Roofs
3′ x 3′ Cupola
12′ x 12′ Deck
FEATURES:
Tack Room
Wash Bay
Full Bathroom
Entertaining Loft
EQUESTRIAN EQUIPMENT:
Nelson Automatic Waterers
Classic Equine Stall Fronts
Classic Equine Dutch Doors
Chew Protection
Custom Features:
This horse barn in Bend, Oregon, is fully loaded with everything our client could want and need in a personalized horse barn! The main level consists of a five-stall barn equipped with a 12′ x 12′ tack room package, a 12′ x 12′ wash bay, and Classic Equine breezeway doors with quad glass tops on the gable ends. Each stall features Nelson automatic waterers, Classic Equine European Series low rise 4000 stall fronts, and Dutch doors leading to covered paddocks. Our select grade Douglas fir tongue and groove material lines the stall partitions and walls inside the barn, tack room, and utility room. Other custom details on the ground floor include the addition of a 12′ x 48′ partially enclosed shed roof and a 3'6″ x 6'8″ 2 Panel 6 Light exterior grade door that serves as the entry door. Upstairs, we added a 24′ shed dormer to replace our standard 48′ dormer and outfitted the deck with a deck cover that includes a custom mortise and tenon timber truss. We also added an Andersen 400 Series Frenchwood® hinged patio door leading onto the deck space.