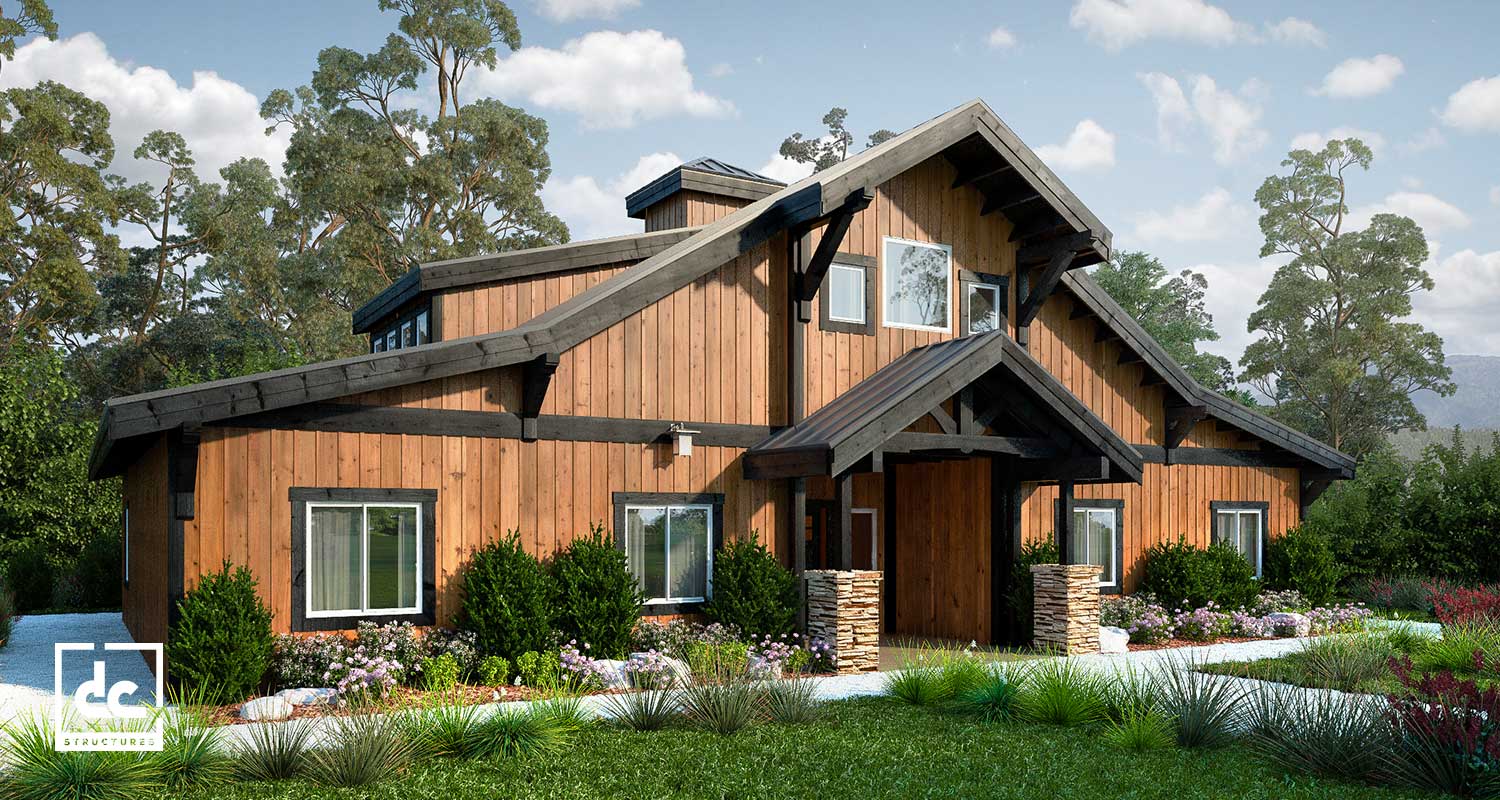 The Concordia
Barn Home Kit
The Concordia is our largest barn home designed specifically for living space.
THE
Concordia
The Concordia is a majestic heavy timber barn home for all climates.
With three bedrooms, two and a half bathrooms and a 2,718 sq. ft. floor plan, the Concordia Barn Home Kit is the perfect setup for a unique family home. All of our barn homes boast the classic DC Structures heavy timber look, with cedar siding and post and beam construction, but the Concordia is our largest and most flexible two-story home plan. With ample living space, including a den, loft and mud room, the Concordia is perfect for your home and hobbies.
Built from only the finest Douglas fir posts and beams from the Pacific Northwest, this design has the warmth and comfort you would look for in any family home. The natural wood exterior and heavy timber accents will add value to any property. Hundreds of options and upgrades are available to make this building your very own. The Concordia is the perfect starting point for any family looking to build their forever home on a dream property!
The Concordia is a post and beam masterpiece.
The Concordia
Specifications
No barn home package has higher materials standards or more available options and upgrades.
2.718 sq. ft.
2.5 Bathrooms
3 Bedrooms
Mud/Laundry Room
2 Shed Dormers
Cedar Cupola
Cedar Trim and Fascia
Premium Windows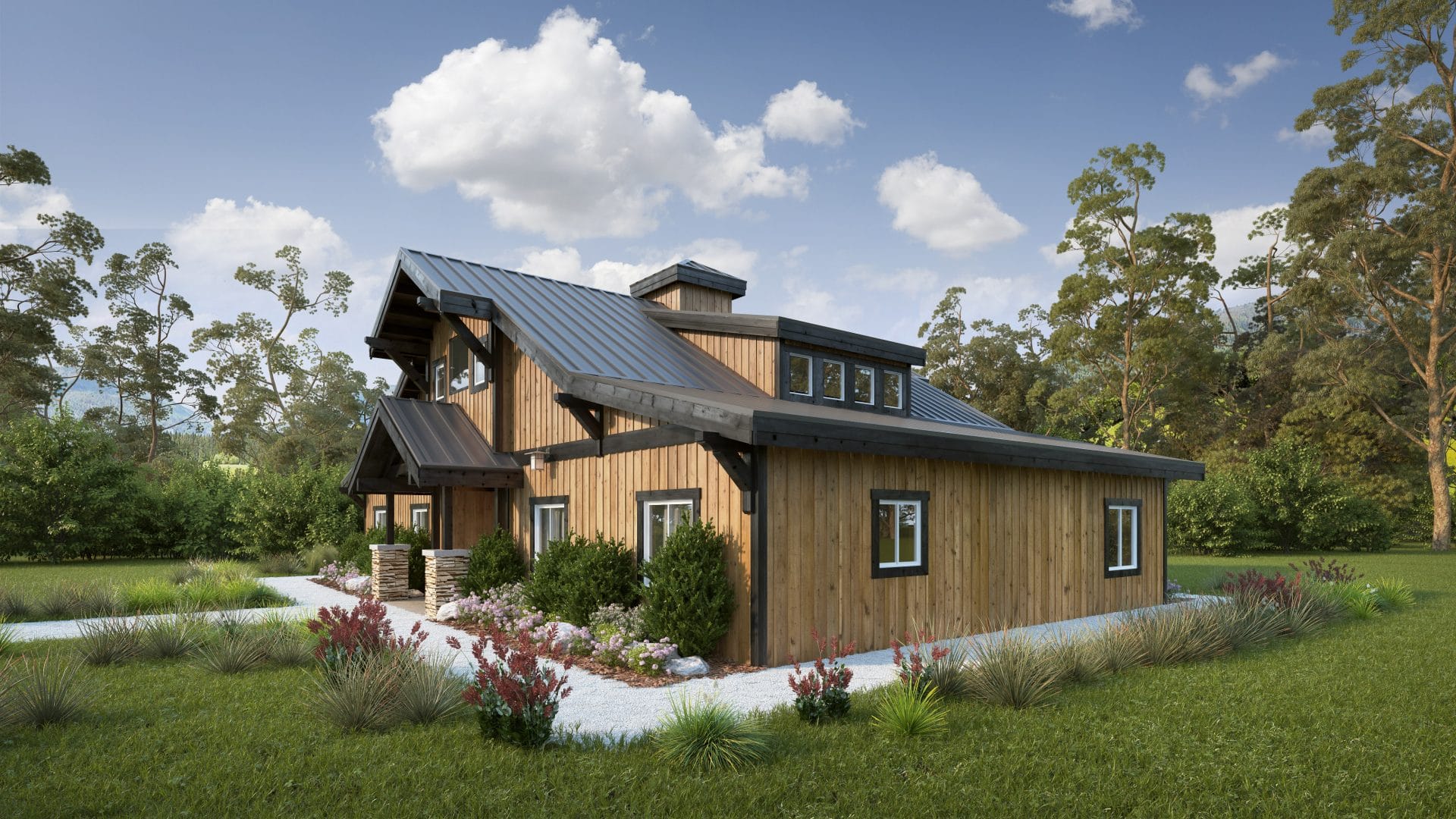 "I'm not that easy to please, but I can tell you DC structures not only met but exceeded my expectations."

— Bob Coen—Damascus, OR

"Our animals are around us constantly; we are able to have our dogs, horses and cats in one location so we don't have to be commuting to take care of them."

— Jeff Meyer—Fairplay, CO

"We've lived on this property for 22 years and it's a wonderful piece of property with spectacular views. The barn looks like it should have always been here."

— Brian Sonnenberg—West Linn, OR
The Concordia

 Floor plan

The Concordia floor plan was designed with space and comfort in mind. The open concept allows for a generous amount of natural light.
Floor Plan Details
Spread out in the Concordia's spacious floor plan.
This example floor plan of the Concordia Barn Home showcases the openness and livability of the home. The open-concept dining room, kitchen and living room offer an open, airy feel. All of our pre-engineered barn home packages come with the highest quality materials to make for a structurally sound and beautiful home.
Additional resources include:
Build support from real builders
All hardware necessary for assembly
Site-specific structural engineered blueprints
Want to know exactly what's included with your Concordia Barn Home Kit? Download our detailed materials list!
LOOKING FOR MORE BARN HOME PLANS? GREAT NEWS!
We have other building designs that might meet your needs.