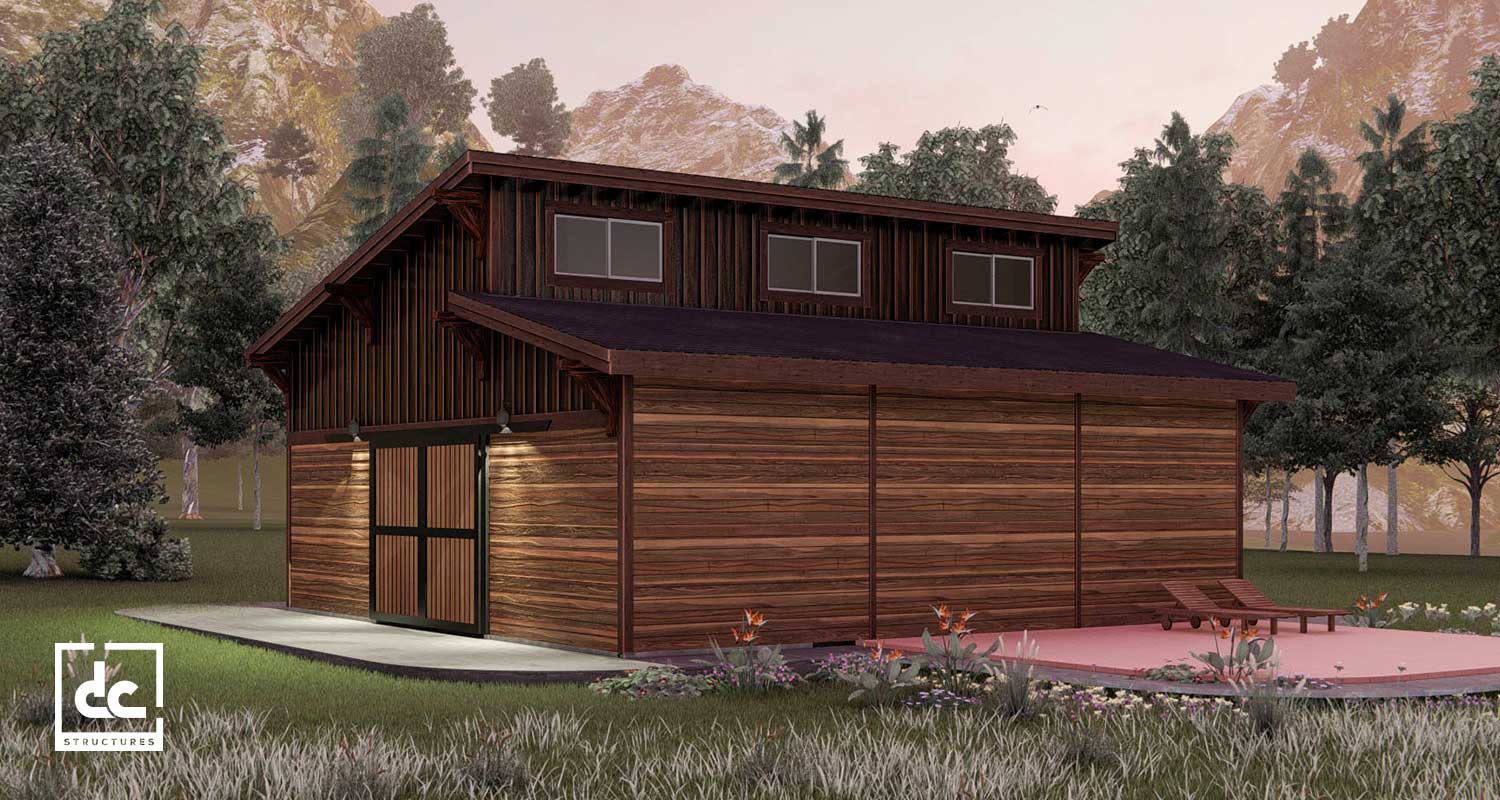 The Brightwood 36′
Clerestory Barn Kit
This versatile barn package can be adapted for a variety of uses.
THE 
BRIGHTWOOD 36′
The Brightwood 36′ is the perfect structure for your hobbies and interests.
The Brightwood 36′ is a compact clerestory barn that can be adapted to suit your lifestyle. Whether you're looking for a barn to keep your horses, a workshop to hone your craft or a garage to store your outdoor equipment, the Brightwood's flexible and functional design is the perfect structure in which to pursue your passions.
Drawing on the reliable method of post and beam construction, the Brightwood 36′ is a durable and long-lasting addition to your property. With 1,296 sq. ft. of space for work and play, the Brightwood is sure to be your home away from home. All kits include two steel-framed breezeway doors, clerestory windows and highly detailed blueprints.
Turn the Brightwood into a barn, garage or workshop—whatever suits your lifestyle!
Brightwood 36′
Specifications
This builder-friendly package is construction-ready.
12′ Breezeway
11′ 6″ Sidewall
Window Package
3/12 Roof Pitch
Douglas Fir Posts
2 Breezeway Doors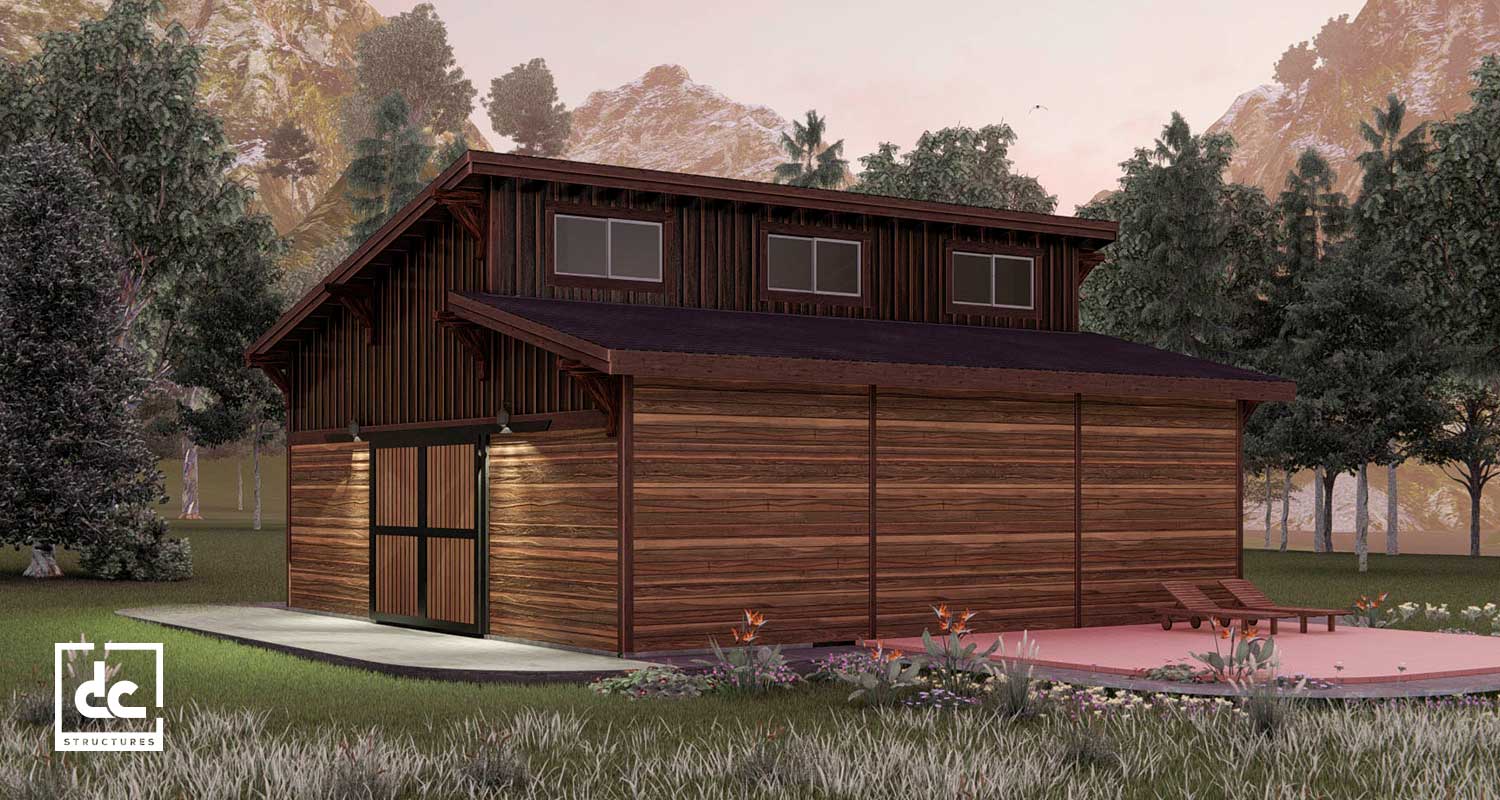 "I'm not that easy to please, but I can tell you DC structures not only met but exceeded my expectations."

— Bob Coen—Damascus, OR

"Our animals are around us constantly; we are able to have our dogs, horses and cats in one location so we don't have to be commuting to take care of them."

— Jeff Meyer—Fairplay, CO

"We've lived on this property for 22 years and it's a wonderful piece of property with spectacular views. The barn looks like it should have always been here."

— Brian Sonnenberg—West Linn, OR
Brightwood 36′

Floor plan

This classic clerestory barn can be modified to meet your needs.
Floor Plan Details
Your hobbies your way.
This example floor plan is one of many possible configurations for the Brightwood 36′. A compact and versatile structure, this barn has room for up to six horse stalls or more than 1,200 sq. ft. of workshop space. With its generous center aisle and classic clerestory windows, this package is as functional as it is attractive.
Additional resources include:
Build support from real builders
All hardware necessary for assembly
Site-specific structural engineered blueprints
What materials come with the Brightwood 36′ barn kit? Download our materials list and learn more!
See how our clients have adapted their kits to make them their own.
With all of our options and upgrades, it's easy to customize.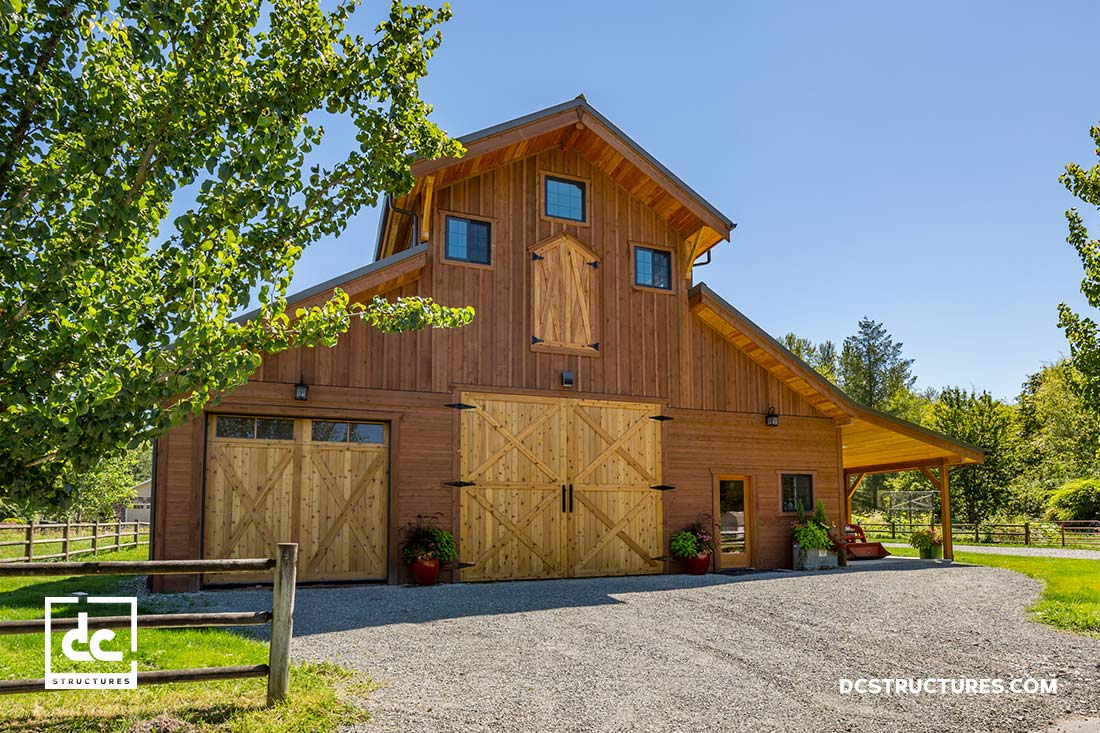 Washington
This modified Powell barn kit was designed for a home business location. Upgrades include the addition of a center aisle loft and an extra 10 feet of width, providing ample space to operate the business.
West Linn, OR
This Prairie arena kit provides a large covered space for riding in all seasons. Spectators can enjoy the warmth of infrared heaters from an enclosed viewing room, creating a wonderful place to gather and pursure equestrian interests during the winter.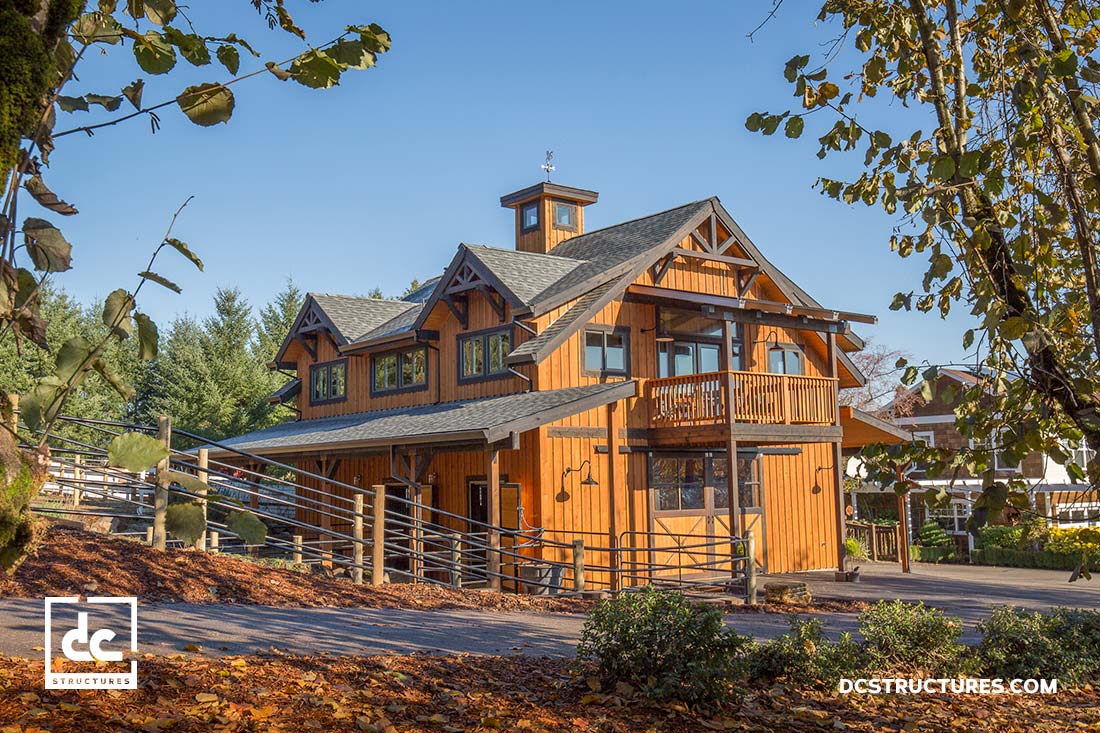 Cornelius, OR
This adapted Oakridge apartment barn boasts two horse stalls and two dog stalls on the ground floor, and a cozy living space upstairs. Sustainable upgrades such as a solar panel and electric car charging station help lessen the property's carbon footprint.