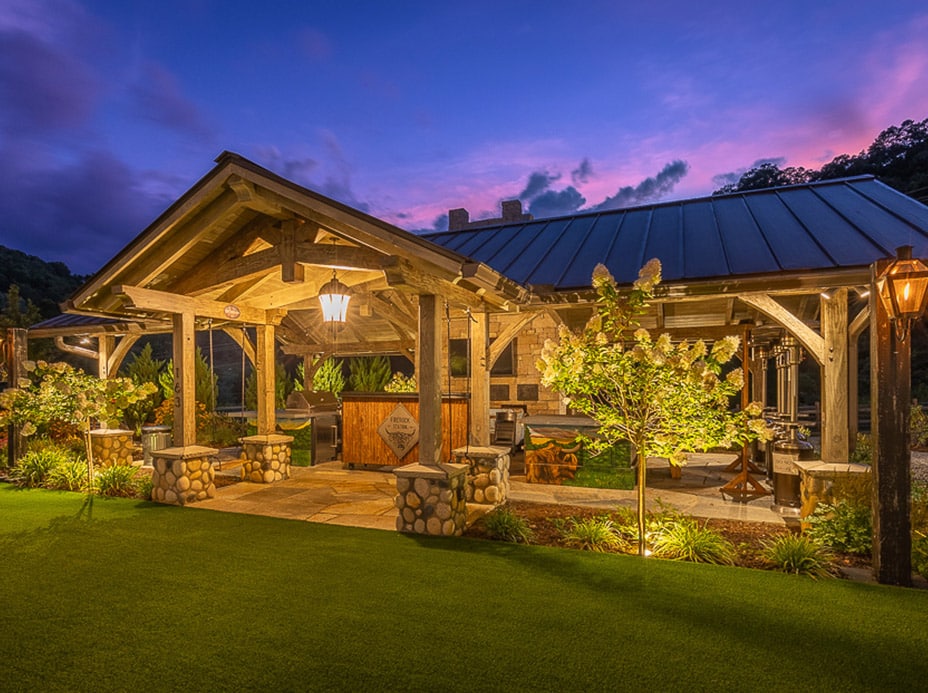 Sugar Grove, NC
720 Sq. Ft.
Project Summary:
---
This custom pavilion in Sugar Grove, North Carolina, is one of three structures we designed for our clients as part of their FireRock Station venue and property. Adjacent to their tented concert and event area, this 20′ x 36′ pavilion offers a relaxing, covered space primed for open bar capabilities.
Two L-shaped islands surround the center bar countertop — one equipped with a grill, kitchen sink, and wine storage, and the other designed with a bar tap and refrigerated storage. Decorative accents like a stone accent wall and colorful cattle murals add personality to the space, making the pavilion feel distinctly rustic and appropriate to its Southern landscape. As with our clients' home, this pavilion features pre-stained heavy timber roof materials that mimic the gray wash on our Central California Barn Home project. Whether guests are seeking a relaxing escape from the festivities or a drink to keep the party going, this pavilion offers plenty of possibilities for their evening.
General Overview:
CUSTOM PAVILION:
720 SQ. FT. Total
Two Built-In Islands
Timber Frame Joinery
Stone Wall
BAR & KITCHEN SOLUTIONS:
Kitchen Sink
Wine & Refrigerated Storage
Bar Tap
Stainless Steel Grill
UNIQUE DETAILS:
Gray Washed Framing Materials
Cattle Murals on Bar Islands
Scissor Truss Additions
Stone Accents
Custom Features:
Like the custom Columbia 48′ and Shasta 84′ structures on the property, this 20′ x 36′ pavilion features a one-of-a-kind design that highlights our clients' personalities and the uniqueness of their vision. With its dual islands and center bar top, this pavilion offers complete bar and kitchen solutions for guests of the space, with this structure providing the ideal setting for an open bar. We pre-stained the framing materials to mimic another project of ours in Central California. The combination of its gray wash, stonework, and vibrant mural additions makes this pavilion stand out from others in our gallery while providing future customers with a great idea of what they can do with their pavilion designs.