Barndominiums, or barndos for short, are some of the most popular home designs to emerge in the 21st century; and for those who love the look of classic American barns, it's not difficult to see why! With their wide-open interiors, high ceilings, and modern design features, barndominiums make beautiful family residences that are both highly unique and timeless in their appearance. Although there's been some debate in recent years over what a barndominium is, the reality is a barndo can be many things depending on how you see it. If you're interested in learning more about barndominiums, their origin, and, more importantly, what we offer in the way of these structures, keep reading below! 
What is a Barndominium?
As the name suggests, barndominiums are essentially part barn and part condominium in the sense that they offer the aesthetic of a traditional barn and the function of a condo or home. Though primarily designed for living, barndominiums can also include hobby workshops, garages, horse stalls, or anything else you envision, making them the perfect fit for those seeking a multi-purpose structure. In many ways, barndominiums are synonymous with our barns with living quarters and barn home designs, considering all three offer similar features and floor plans. However, the primary difference between our offering and most barndominiums on the market lies in the construction method used to create these structures, as we typically use heavy timber construction or hybrid clear-span construction as opposed to steel framing or post-frame building methods.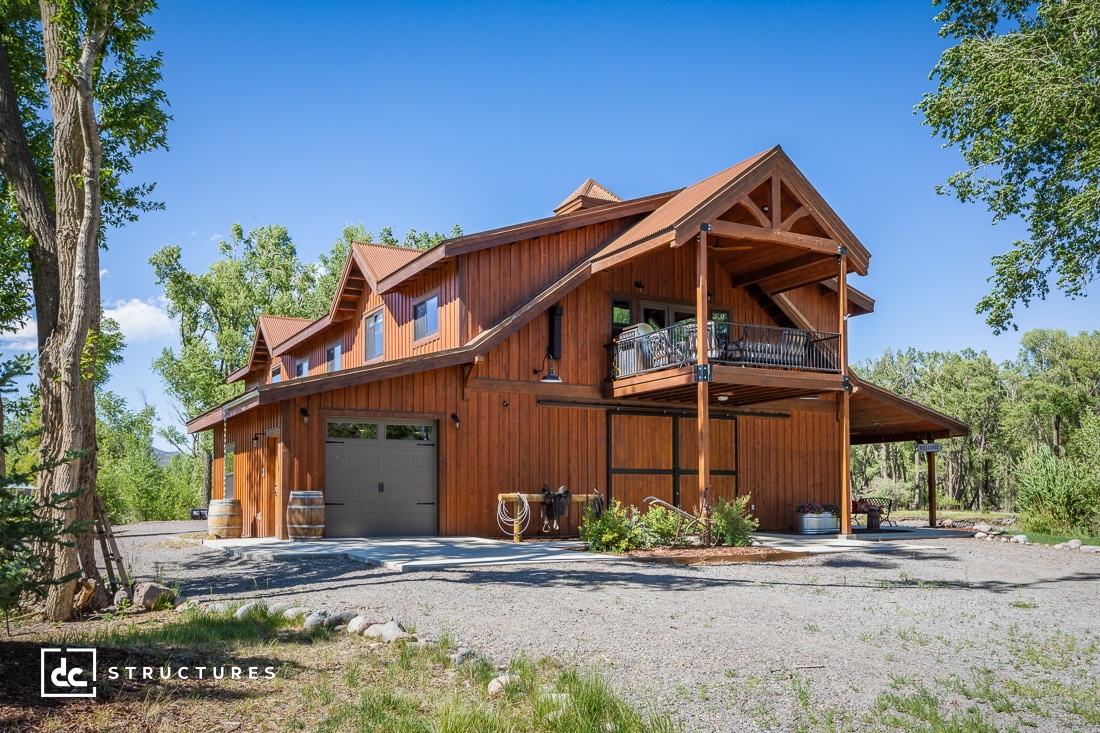 Where Did the Term Barndominium Originate? 
Despite being a relatively new concept, it may surprise you to learn that the term barndominium has existed for over three decades. Initially coined by Connecticut real estate developer Karl Nilsen in 1989 to describe residential properties that include boarding facilities, barndominiums now encompass everything from renovated barns to metal-built barn kits and pre-engineered wood buildings. Although Chip and Joanna Gaines of HGTV's Fixer Upper are to thank for breathing new life into the term, a big reason barndominiums are so popular today is their affordability and ease of construction. While barndominiums converted from old horse barns and agricultural barns can be expensive and time-consuming to renovate, the average barndominium is a prefabricated, steel-framed or wood-framed building that is generally cheap and easy to build. 
What We Offer
At DC Structures, we offer numerous ways to build your dream barndominium, with the most cost-effective being to invest in our Meridian Barndominium Kit. Designed with pre-manufactured vaulted wood trusses, the Meridian boasts wide-open interiors free of load-bearing walls or obstructing posts. This hybrid clear-span structure gives you the ability to customize your space however you see fit and add exterior components that enhance your investment like decks, awnings, covered patios, and more. 

Another way that clients can create a beautiful barndominium for their property is by adapting one of our post and beam or timber frame building kits to their lifestyle and taste. Our apartment barn and barn home designs make excellent starting points for clients interested in a heavy timber barndominium. However, if you have a preference for another kit of ours, we can always modify that specific model to match your vision and taste.
Heavy Timber or Clear Span: Which is Better for Your Barndominium? 
Over the years, our offering has grown exponentially to include a wide range of structures beyond our traditional post and beam barns and barn homes. Of the many innovative practices and designs added to our line, hybrid clear-span construction is one of the more prominent implements to gain popularity amongst our client base, considering the countless benefits it brings to one's space.
With a hybrid clear-span structure (like the Meridian, which utilizes a combination of stick-framing methods and pre-manufactured vaulted wood trusses), you can look forward to an expansive interior space that inspires total creative freedom. With all framing materials concealed behind drywall, and no interior posts or load-bearing walls necessary for structural support, this type of building makes the perfect blank canvas for your future home, workshop with living quarters, or anything else you envision.
Because our hybrid clear-span method requires fewer materials to construct, this structure is generally less costly and faster to build than our pre-engineered post and beam and timber frame structures, which already take 30% – 50% fewer framing hours than conventionally-framed buildings. All of this makes hybrid clear-span construction a great option for clients seeking a budget-friendly, flexible, and durable solution for their barndominium project, as it guarantees speedy construction, significant cost savings, and quality throughout. 
That said, there are some reasons why clients may choose post and beam or timber frame "barndominium" designs over our Meridian Barndominium Kit offering. One of those reasons is that post and beam or timber frame structures offer greater built-in insulation and durability for your build, considering these buildings utilize premium heavy timbers to form their structural frame as opposed to standard lumber.
The strength of these timbers alone makes our post and beam and timber frame structures naturally suited to virtually any climate, with these buildings displaying unmatched strength in extreme weather conditions like snowstorms, tornadoes, and hurricanes. In comparison, our hybrid clear-span structures may need additional reinforcements and engineering upgrades to increase their load capacity and strength in regions subject to inclement weather, though this largely depends on location and climate specifics.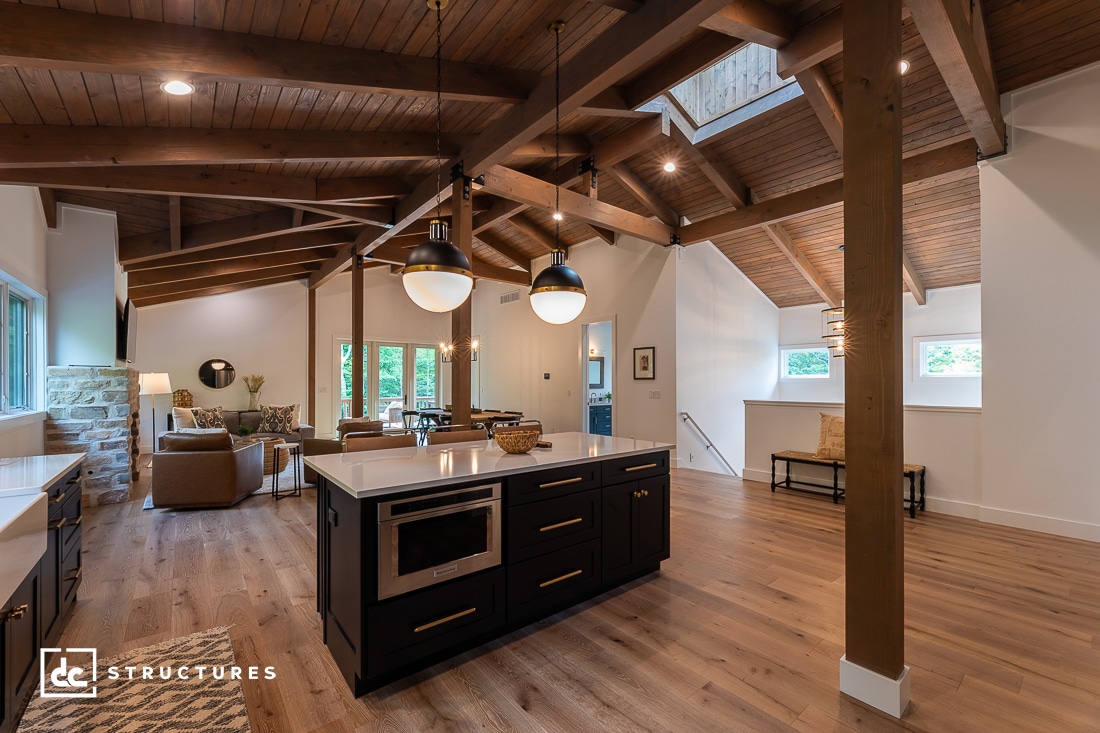 Another bonus to post and beam and timber frame barndominiums is their structural flexibility. While our Meridian Barndominium Kit can be modified to include awnings, decks, and other, less complicated exterior add-ons, it doesn't offer nearly as many configuration abilities as our post and beam and timber frame structures. For example, clients have the option of adding an upstairs loft or living quarters to their Meridian Kit. However, if you wanted to expand the original size beyond extending its length and width, or add more hefty structural components like cupolas and dormers to your design, it may make more sense to invest in a post and beam or timber frame structure instead, as these additions will surely raise the cost of the kit and potentially not even be feasible for the design.
Last but certainly not least, post and beam and timber frame "barndominiums" offer exposed timbers throughout that you simply won't find in one of our hybrid clear-span structures. This added touch makes a considerable difference inside your space, as these exposed timbers give your barndo unparalleled warmth and beauty from top to bottom.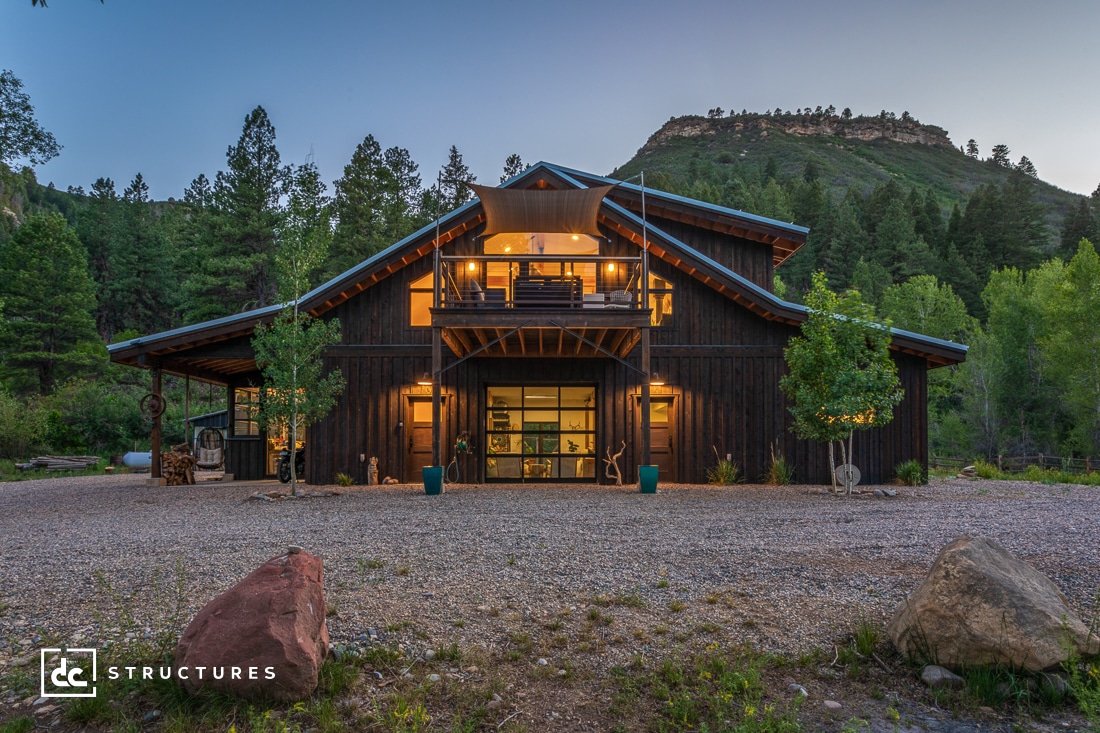 The final decision between a heavy timber or hybrid clear-span structure comes down to your preference and goals. If you're looking for a budget-friendly option that offers flexibility, durability, and simplicity, our Meridian Barndominium Kit could be the ideal fit for you! Otherwise, if you love the look of traditional heavy timber buildings and couldn't see yourself with anything other than a post and beam or timber frame structure, you have your answer there. 
Ready to get started on your barndominium project? Request a free quote today or give us a call at (888) 975-2057!